The safe disposal of plastics is a challenge facing nations across the world and new sustainable practises – like a circular economy for plastic – are long overdue.
This global issue won't be news to many of our followers, but the scale of the problem might shock you.
In the UK, of the 5 million tons of plastic used each year, only 370,000 tons are recycled. That's a mere 7%. Of the 381 million tons of plastic produced globally each year, around only 9% is recycled.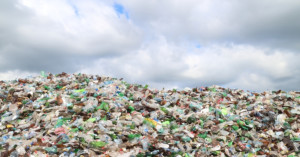 What happens with the remaining plastic waste? A staggering 40% goes to landfill, a devastating 32% is leaked into the environment (around 8 million tons of which is leaked into the sea), and the rest is incinerated or lost to the inconsistencies of the current recycling process.
As global awareness of this problem has increased, rather than putting global recycling practices under the spotlight, plastic has been wrongly demonised and considered a problematic, unsustainable material.
It is in fact, the restrictive nature of our existing recycling system that helps to perpetuate this misconception and push the frightening statistics higher still.
Though all polymers are technically 100% recyclable, the recycling sector deems a large percentage of plastic waste "unrecyclable".
PVC plastics (found in cling film, blister packaging, hoses, and plastic pipes), polystyrene-containing plastics (like plastic forks, takeaway packaging, styrofoam and insulation etc), as well as rubbers, elastomers, and thermosets, are just some of the plastics considered unfeasible and unprofitable to recycle.
With a new system, we could reuse this "unrecyclable" plastic, reducing the emissions of gases in our atmosphere, conserving oil, and reducing the consumption of energy used in the production of new plastic.
Imagine not only the incredible environmental benefits of recycling and reusing this waste, but the possibilities of all this previously unused plastic when used as a sustainable material.
Imagine if, rather than sitting in our landfills and oceans, this "unrecyclable" plastic could be used to benefit our communities.
By adopting a circular economy for plastic, and the principles of circularity, we could make all plastic a sustainable material, ensuring it remains in circulation, and used as the valuable resource we at British Recycled Plastic know it to be.
What does a circular economy for plastic look like?
Achieving a circular economy for plastic relies on three key factors, or pillars: Eliminate, Innovate and Circulate.
Without eliminating, or dramatically reducing, unnecessary plastic use, we will be unable to safely dispose of the accelerating flow of plastics entering our economy and environment.
Innovation is key to ensure that 100% of plastic waste can be safely reused, easily recycled, or composted by 2025.
By circulating all plastic in the economy via a dedicated infrastructure designed to facilitate collection, sorting, as well as a biological breakdown process, and a rebuilding stage, we can turn all plastic waste (including that currently deemed "unrecyclable"), into new products or packaging, keeping it out of landfill and protecting the environment.
While governments across the world are looking into pilots and research initiatives, it is private sector organisations, tapping into the exciting possibilities of a circular economy for plastic, who are exploring how we can innovate using all plastic waste, including the staggering percentage currently deemed "unrecyclable".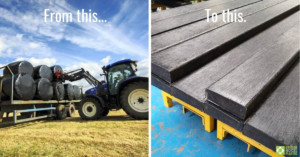 How British Recycled Plastic have adopted a circular economy for plastic
At British Recycled Plastic, we have adopted the principles of circularity both in the way we work – implementing a circular economy for plastic in the manufacturing of our recycled plastic products – and the way in which we operate.
We manufacture sustainable recycled plastic products here in the UK, using only British waste. All of our processing and distribution is kept onshore, providing employment opportunities, as well as environmental and economic benefits, to the British public.
We have designed and implemented a process of best practice – our own circular economy for plastic – that enables us to transform plastic agricultural film into recycled plastic furniture, sustainably.
Our feedstock is shredded, washed, and separated (filtered and checked for impurities throughout the process) before being turned into pellets. Bagged into 1-ton bags, these recycled plastic pellets are moulded into high-quality, durable lumber, which we use to manufacture our recycled plastic outdoor furniture, and entire range of products.
Our commitment to circularity doesn't stop there. As a business, we invest heavily in our employees' growth and development, allowing them to expand their skill set in whichever way they'd like to, which both strengthens our capabilities as a business and increases employee wellbeing, helping us to retain our talented team of fellow sustainability advocates.
The incredible, innovative results of adopting a circular economy for plastic
British Recycled Plastic is not alone in our commitment to circularity and innovating new, sustainable ways to reuse and recycle plastic in ways which benefit both the environment and our communities.
We have recently shared some fantastic news stories across our social media channels, which provide fascinating insight into how adopting a circular economy for plastic could quite literally change the way we live.
Norwegian start-up, Othalo, have partnered with the United Nations in Africa to produce components from 100% plastic waste which will be used to build sustainable, affordable housing.
These homes will be built in Kenya, Cameroon, and Senegal, regions of Africa experiencing a serious housing shortage, the growth of slums and rising poverty.
8 tons of recycled plastic waste are required to build a home of up to four floors, and 60 square metres. According to Othalo, a single production line, in a single factory, can produce 2,800 housing units, every year. Impressive, right?
By shredding plastic waste, and mixing it with non-flammable materials and other elements, Othalo are able to sustainably reuse and recycle plastic waste, harnessing the incredible versatility, strength, and durability of the material to build their 100% recycled plastic homes, whilst providing a solution to a region experiencing a serious housing crisis.
Over in Columbia, the creative thinking of Fernando Llanos, a Columbian native looking to build a new home from recycled plastic, and the expertise of architect Óscar Ménde (who developed a thesis on the topic) has led to the conception of a fascinating business.
Patenting a system of 100% recycled plastic bricks and pillars, Conceptos Plasticos (Plastic Concepts) use their recycled plastic components to build "lego-style" homes. The pieces fit together section by section, enabling a two-story home to be built within a speedy 5 days.
Working with a plastic base material – which the factories of the region discard by the ton every day – the company uses an extrusion process, melting and moulding the recycled plastic into their patented bricks and pillars. Their recycled plastic bricks weigh three kilos, similar to clay bricks of the same dimension, enabling Conceptos Plasticos to build durable, naturally insulated, and earthquake-resistant homes.
By adopting a circular economy for plastic, the organisation recycled 200 tons of plastic waste, and with a team of 15 people, completed a development in just 28 days that now houses 42 Columbian families torn apart by conflict.
In the UK, Swansea-based business Affresol are also producing family homes with frameworks built entirely from recycled plastic. 18 tonnes of recycled plastic waste are used to create a single home, and the company aims to ease both the UK's housing and recycling problems with their sustainable model.
Universities and private sector businesses across the country, keen to explore how adopting a circular economy for plastic might yield new developments in the construction industry, are researching and creating innovative new ways to create viable building materials from recycled plastic waste.
Sibele Cestari, a research fellow at Queen's University Belfast, has assembled a team trying to develop a building block made from a mix of both virgin and recycled plastic, as well as other local waste-stream materials, such as hemp, sawdust, concrete waste, and red mud.
By dedicating themselves to uncovering the potential of plastic currently deemed "unrecyclable" for this sector, the team hope to create recycled plastic alternatives to natural building materials, creating a more sustainable planet.
We told you! Adopting a circular economy for plastic could quite literally change the way we live.
How can you adopt the principles of circularity?
While some organisations are making exciting developments by adopting the principles of circularity, it will take global support and costly infrastructure changes to achieve a truly circular economy for plastic across the world.
However, remember the Elimination element of circularity – it's one of the key pillars.
By eliminating unnecessary plastic from your life, recycling (of course), and exploring reuse and refill options, you can begin to adopt the principles of circularity in your day-to-day life.
Purchasing more sustainable products can also go a long way. By supporting businesses like ours, which implement the principles of circular economics, you can make the investment with the assurance that our high-quality, recycled plastic products have been sustainably made.
We can't build you a home out of 100% recycled plastic. Yet. But…
We can help to make your home or business a little more sustainable
Our outdoor furniture is an attractive addition to any garden. Made from our high-quality recycled plastic lumber, it's incredibly durable, weatherproof and resistant to rot and splitting. It will maintain its aesthetic appeal for decades, whatever the elements throw its way.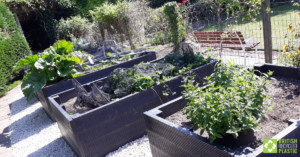 For the green-fingered, our raised beds are a long-lasting, maintenance-free solution. For commercial spaces requiring some greenery or a splash of colour, our planters are an attractive, environmentally-friendly addition to any outdoor space.
We supply recycled plastic picnic tables and benches to sports clubs and hospitals, schools and councils across the UK, helping a wide range of organisations to make more sustainable, environmentally-friendly purchases.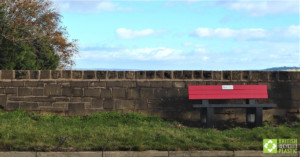 Our picnic tables and benches boast the same strength and weather-resistant properties as our recycled plastic furniture. They're guaranteed for life and require zero maintenance. Not only are they an investment in circularity, but they'll reduce your total-life costs, too.
It is in small ways like this, and by adopting the principles of circularity to your life and the way you run your home or business, that you can make an impact.
Though awareness of the global issue is increasing, more must be done further up the chain to support a new, sustainable circular economy for plastic across the world.
However, with more research, more governments exploring new sustainable models, more organisations beginning to adopt the principles of circularity, and more individuals doing what they can to eradicate unnecessary plastic waste, a sustainable future with a global circular economy for plastic, might not be too far away.