Goose Green's Smog Shield Planters
A recent update about their smog shield project from our friends and customers, Goose Green School in London, put a smile on the faces of everyone at British Recycled Plastic.
We worked with Goose Green to supply recycled plastic smog shield planters. which were used to create a barrier between the busy road and the pavement the children use to line-up for school each morning. The aim was to shield the young pupils and reduce air pollution across the school's playground.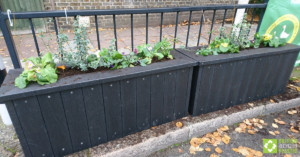 Now in bloom, our recycled plastic smog shield planters look beautiful and work hard to protect the small children of Goose Green School from harmful vehicle emissions. The pictures here show the evolution and growth of the planters.
The Benefits of Our Smog Shield Planters
Though it may seem unlikely that a little shrubbery can help tackle the national issue of air pollution in our towns and cities, the statistics speak for themselves.
A scientific paper by RHS compared the effectiveness of different shrubs as air pollution barriers and concluded that the humble Cotoneaster franchetti absorbs 20% more pollution than other shrubs.
Though old faithful Cotoneaster franchetii may be a champion pollution absorber, RHS scientists report that dense hedging, whatever the species, is key to absorbing harmful emissions.
In fact, their paper states that in just seven days, a one-metre length of well-managed dense hedge will absorb the same amount of pollution that a car emits over a 500-mile drive. Even modest planting can make a difference, as Goose Green School report, below.
Goose Green School specifically sought out planters made from recycled plastic for such benefits as its incredible durability, lifetime guarantee, and low-maintenance requirements.
From the update the school sent us, it's clear they made the right choice. Our recycled plastic planters look as good today as when they were delivered, and are producing impressive results.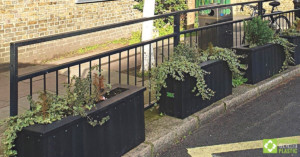 The Results of Our Smog Shield Planters
We're delighted to hear that the school playground's air pollution has been cut by almost half since adopting our recycled plastic smog shield planters. Indicative results of nitrogen dioxide (NO2) levels inside the Green Screen show a 48% reduction compared to the level measured in early 2018 before the installation of the Green Screen. Current NO2 levels inside the Green Screen are also 52% lower than the current levels outside, next to the road. These reductions mean that the whole of Goose Green School's playground falls within the EU legal limits for NO2.
Kimberly Hickman, leader of the school's clean air project, told us:
"Now that the smog shield is a mature project, it's been great to see the basics working well – the shield is really effective at limiting smog exposure, and the recycled plastic construction works in exactly the way we hoped it would".
It doesn't stop there. Our recycled plastic smog shields have had additional benefits that neither Goose Green School nor British Recycled Plastic, could have foreseen.
Kimberly informed us that the smog shield planters have had a significant impact on the local East Dulwich community. Not only did local residents thank the school for bringing a splash of green to the street and improving the air quality, but when lockdown was announced, residents organised a community watering rota.
Members of the community who otherwise may not have met have connected and helped the plants to thrive while the school was closed. It's been a priceless gift in a year of social distancing, as well as increasing awareness of clean air initiatives and the risks of air pollution.
British Recycled Plastic are pleased to have worked closely with the school on such an important initiative, and want to build relationships with other schools to extend these benefits to as many young children across the country as possible.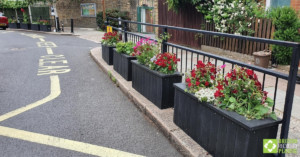 The Wider Potential of Our Planters
While smog shield planters are a perfect solution for use around UK schools, to protect our smaller members of society from harmful vehicle emissions, we would love to see them rolled out across the country in a wider range of applications.
By scaling up the approach, smog shield planters could be used to tackle air pollution in town and city centres across the nation, helping to protect each and every citizen from high levels of vehicle emissions.
As the recent update from Goose Green School, and our decades of experience working with recycled plastic shows, the material is perfectly suited for outdoor applications of every nature.
Incredibly strong, durable and low-maintenance, our recycled plastic smog shield planters are vandal-resistant, weatherproof and will never rot, split or splinter, making them suitable for public spaces of all kinds.
We supply our recycled plastic planters to councils and organisations across the country, for both decorative applications and to absorb harmful emissions in various roadside locations. Usually a one-time purchase, our recycled plastic planters maintain their structural integrity and visual appeal for decades at the mercy of the elements.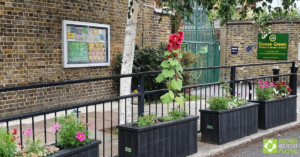 As individuals, we can use planting to help reduce air pollution around our homes. Garden trees and hedges can help absorb harmful vehicle emissions and improve air quality around your property.
Our recycled plastic raised beds are popular with green-fingered homeowners, and could be used around your property to bring a splash of colour to your home's exterior with floral planting, or maybe to add a few home-grown vegetables to your fridge.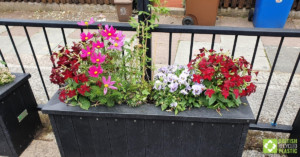 Protecting the Environment with Recycled Plastic
British Recycled Plastic believe passionately that to protect our environment, plastic waste must be kept out of landfills and oceans and seen as the valuable, sustainable resource we know it to be.
Implementing a process of best practice that adopts a circular economy for plastics, we manufacture a wide range of other recycled plastic products, including benches, picnic tables, and garden furniture, in a sustainable and environmentally-friendly way.
Sustainability is at the heart of everything we do and by helping councils, organisations, and individuals across the country to minimise air pollution with recycled plastic smog shield planters, we can help them be a little more sustainable too.
Get in touch with our trusted and friendly team:
01422 419 555