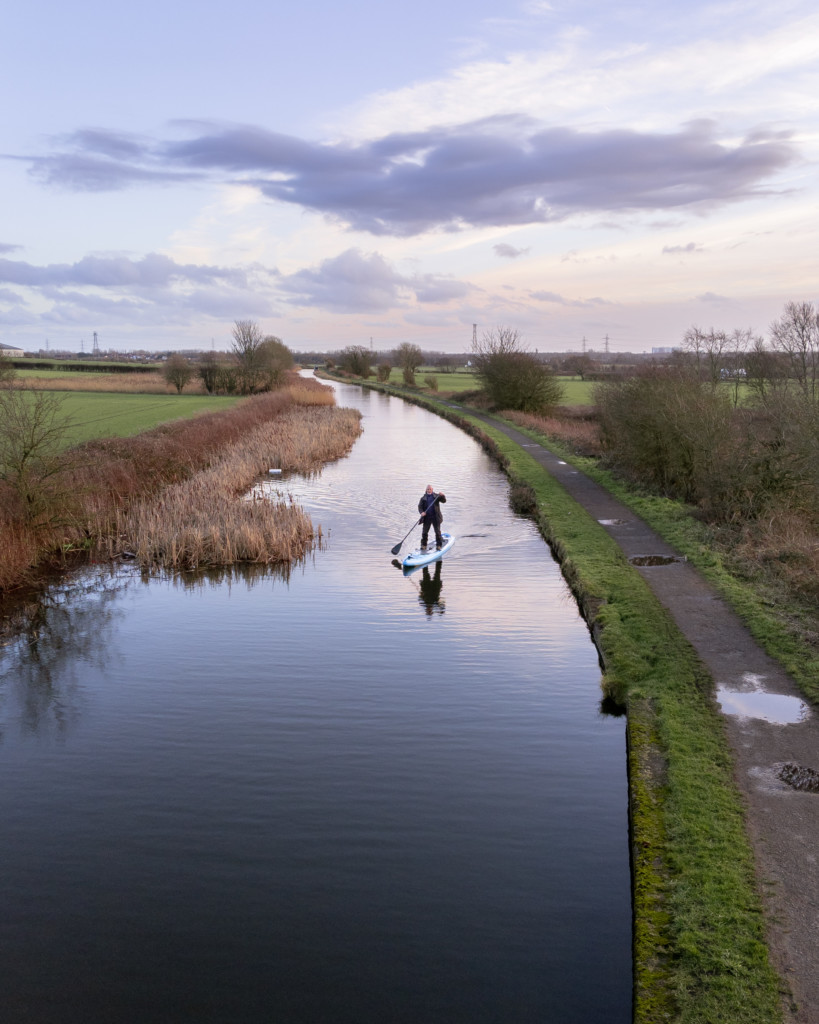 British Recycled Plastic founder and director Jason Elliott has become the first person to travel coast to coast entirely on standup paddleboard, setting out to highlight the issue of pollution caused by single use plastic in the UK waterways and raising money for environmental charity Surfers Against Sewage along the way. (You can donate here if you like.)
Jason set off from Liverpool on 7 February and reached Goole on 16 February, having endured headwinds from Storm Erik on the first three days of his challenge, setting him behind schedule.
Jason persisted with his journey despite the bad weather and has paddled an extraordinary 162 miles (255km) along the Leeds & Liverpool Canal and Aire & Calder Navigation.
Jason, a seasoned surfer, canoeist and paddleboarder said "I knew completing this journey in winter was going to be tough, and Storm Erik hitting just as I was setting off added adverse weather to the challenge… not to mention the multiple swan attacks along the way!"
He has been traversing the country using the Desmond Family Canoe Trail– a project run by waterways and wellbeing charity Canal & River Trust – taking part in community clean ups along the way to highlight the problem of single use plastic in our waterways.
Every minute 2 million single use plastic bags and 1 million plastic bottles are sold, creating a worldwide plastic epidemic.
"The Canal & River Trust charity spends over £1 million every year removing litter from towpaths and waterways and they do a great job… but the plastic problem is not going away. The biggest difference we can make is by moving away from single use plastic packaging and disposing of our waste responsibly – something each and every one of us can do.
"Having seen firsthand on this journey how plastic pollution impacts on the canals, I believe it is more important then ever that we stop using single use plastic, especially as 70% of plastic that ends up in the sea has come from the inland waterways."
Danny Matley, programme manager at Canal & River Trust, commented: "Through our Desmond Family Canoe Trail project and regular community volunteering sessions we work really hard to look after our canals and rivers to ensure they remain great places for people and wildlife.
"We're really glad that Jason has undertaken this challenge to help raise awareness of the problem of single use plastic pollution, and we hope his efforts will remind people to always bin or recycle their rubbish and encourage them to get involved in helping to care for their local canal."