Take advantage of our Buy 4, Get 5 offer on all recycled plastic picnic tables, benches and planters to create an inviting, accessible and comfortable outdoor space. That's an amazing 20% off each included item.
School playgrounds, college rec areas, employee break spaces, cafes, pubs, restaurants… All of these have had to move outdoors recently and, as communities, we're having to rethink the way we use our outdoor spaces. Our Buy 4 get 5 deal will help you get started – whether you're building from scratch or expanding your existing space.
Accessibility
Accessibility is always an important consideration for us here at BRP and any of our A-frame picnic benches are adaptable for wheelchair access.
We know that providing wheelchair access isn't the only way to help, though, so we also offer the Batley V-frame. This table permits users to walk right into their seat without the need for swinging their leg over the bench, as is usually necessary with traditional tables.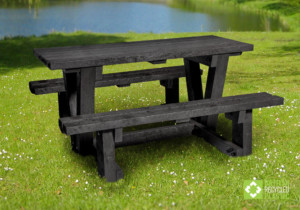 In addition, the Calder 8-seater can be built with with back rests for those who prefer a little more support – backrests are great if you need something to grab hold of and steady yourself with, too.
If you'd rather have a bench than a picnic table, take a look at the Ilkley – it has arms for extra support and grab-ability when moving between sitting and standing. It's available in an XL 3m version, too.
Social distancing
We developed the Calder Plus to be a flexible choice, with seats on extendable spurs. For distancing at 2m, extend the spurs to accommodate 2 users sitting opposite each other. Extend the seats with one user on each bench for distancing at 1m+. When things start to get a little more normal, just undo a couple of bolts and return the seat units to their normal placement.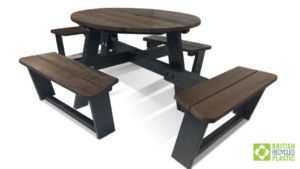 Planters
Our Haworth planters are heavy-duty items, including built-in bases and attractive finishing sills. Once filled with compost, they're extremely heavy and impossible to move by hand. They're often used as street furniture in town centres, but they're also great for dividing up outdoor space and creating defined walkways so that you can control the direction and flow of pedestrian traffic. If, for instance,  you wanted to create a one-way footpath through your pub garden, they'd be a great choice.
What's included in the Buy 4 Get 5 offer?
Order any 5 identical picnic tables, benches or planters. When selecting A-frame tables (Denholme, Holmfirth, Otley) a single wheelchair space can be included in any of your tables at no extra charge.
Is there a limit to the quantity of furniture for which this offer can be used?
No. Take 5, or take 55 – you'll get the same great deal. You can also choose any combination of our coloured lumber for seat and table slats (available on black frames only). Take the classic rainbow combination or select the colours of your school, club, team or organisation – fly your flag!
Why choose our products?
As always, the recycled plastic lumber used to build all our furniture and planters is guaranteed for 25 years, but lasts much longer. It never rots, splits or splinters and is resistant to both UV and the growth of mould/algae. It will tolerate just about any conditions you can throw at it, including salty coastal winds and permanent submersion in water. It never needs treating, needs zero maintenance and is approved for use in SSSIs. Fixing kits are available for both hard and soft ground, for extra security.
In short, you'll only need to buy our products once and you'll never need to maintain them.
Buy once, buy well.
Order via our webshop.
Schools and local authorities can pay via invoice – if you'd like to do this, please call our office on 01422 419 555 or drop us a line via [email protected]