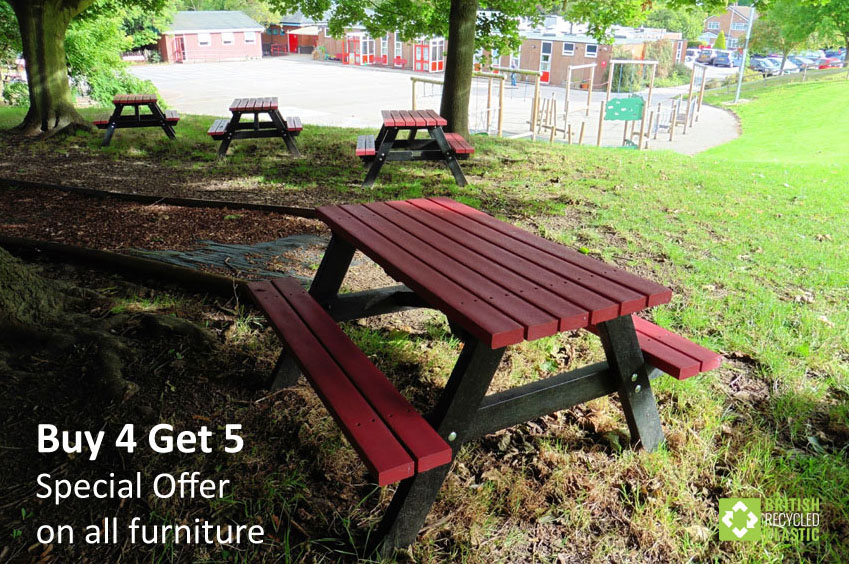 We are delighted to say that, due to the massive popularity of the British Recycled Plastic "Buy 4, Get 5" special offer on flat-packed furniture, we have decided to make the offer a permanent fixture.
Not only that, but we have decided to extend it to include pre-assembled benches and picnic tables as well as our range of bins.
Please note that this offer is only for multiples of the same item, sent to the same delivery address. The only exception to this is the activity tables which can be supplied with different tops and still qualify.
It's also worth pointing out that, in the case of flat-packed items, they can usually be stacked five-high, meaning that the carriage costs for five are normally the same as they are for one item.
This special offer has proved exceptionally popular with schools and colleges as, not only can they have furniture made up into their chosen colours, they are virtually eradicating ongoing maintenance costs at a stroke.
It isn't just schools that have been taking advantage of this particular special offer. Other businesses that are used to frequently replacing wooden picnic tables and benches, particularly pubs, caravan sites and holiday parks, have also been keeping us busy turning British waste plastic into vandalproof and maintenance free outdoor furniture.
Give us a call on 01422 885761 or send us an email to find out what we can do to help you and what would be right for your particular circumstances.