We are very lucky to have received some lovely testimonials from our wonderful customers. We work hard to provide as much information as possible prior to a purchase, before pulling out all the stops to provide the best customer service we can, so these testimonials give us the encouragement we need to constantly strive for improvement.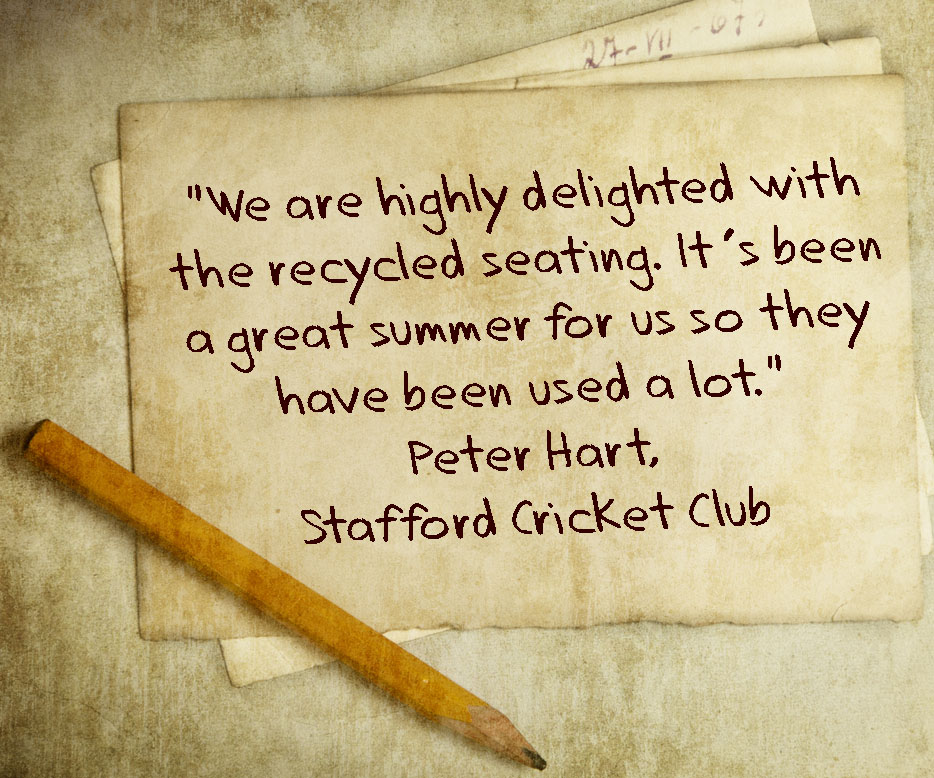 "I am the Chair of Friends of Longsight Park and we are very happy with your service and the benches we now have in Longsight Park, Bolton.
We were initially advised to pay £1800 for wooden benches and were very pleased to find recycled plastic tables at a much more manageable price.  The seating stays warmish unlike some others in the park which are metal so cold, does not need painting so does not peel off like paint. The park looks a lot better for it. They are well used as the locals now have clean seating for many years to come, thankyou."
Jane Wilcock, Chair of Friends of Longsight Park
"As I was installing the product myself it was helpful and reassuring to have the advice and information from the British Recycled Plastic team. I researched comparable products and their Hebden grids met all my requirements regarding stability, load and cost. They were exceptionally easy to use… they are perfect."
Simon Newman, Castaways Guest House
"The people at Jubilee are loving their new furniture and yesterday enjoyed showing off their new garden by hosting an afternoon tea party to celebrate. Despite the rain everyone enjoyed themselves and where very impressed with the picnic tables! With regard to the service please feel free to quote me as saying 'Top quality service from a company that cares about their customers' we have found you to be very supportive towards us and would have no problems in recommending your product and service!"
Julie Knight, Jubilee House
"The benches I purchased from British Recycled Plastic were of excellent quality and at a reasonable price, also the service was of the highest standard."
Alan Houghton, Durham County Council
"Just a little email to express my delight with the picnic tables I purchased from you. Very well made and sturdy well worth the price I paid, excellent value for money."
Steve Skinner, RotoMetrics International Ltd
"We are highly delighted with the recycled seating. It's been a great summer for us so they have been used a lot."
Peter Hart, Stafford Cricket Club
"The picnic tables are of excellent quality and the janitor mentioned they are easy to assemble. We have ordered picnic tables twice from British Recycled Plastic which goes to show we were very pleased with the product. Delivery was very quick and the picnic tables seem to be withstanding all weathers and are well used by the pupils."
Alison Crowe on behalf of Helen Gillanders, Head Teacher, Dunbar Primary School
"The ordering of the benches was simple, the service and delivery was first class while the appearance of the benches even after one year on the course attests to their quality. Thoroughly recommended."
Peter Gillion, Three Rivers Golf Club
"The new benches have made a big difference to the appearance of the Park and it is the first time all the benches are the same. They are appreciated by young and old alike and I hope they will last a long time."
David George, Kilsby Recreation Group
"Arley Parish Council has purchased two of your benches and one of our Councillors liked them so much that she purchased one as a memorial to her mother and installed it in their local church.
Our Councillors liked the fact that they are recycled material, ie 'green'. They are handsome pieces of furniture and blend well with our rural environment; they are sturdily built and should remain in place for many years. Customer service and delivery arrangements were good."
Gerry Brough, Arley Parish Council
"The service from British Recycled Plastic was first class. The benches are of excellent quality, comfortable and reasonably priced."
Mark Abdy, Fairbourn Cricket Club
____
If you have bought products and would be happy for your feedback to go on this Testimonials page, we'd love to hear from you.