This is an installation of Hebden X-Grid, beautifully laid with gravel a couple of years ago on a private driveway in St Albans.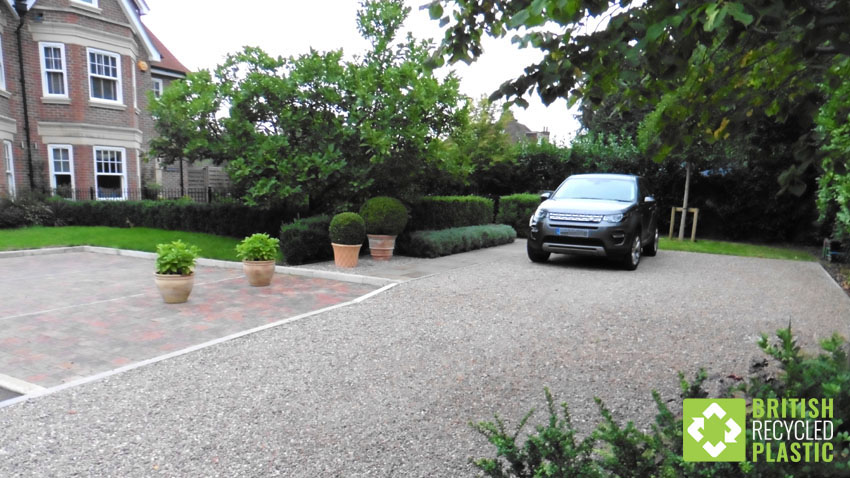 After the devastating widespread flooding of 2007, one of the Government's responses was to require that any area over 5sqm at the front of a house must require planning permission from the local authority to be covered by tarmac or any other impermeable surface.
The idea behind this was to get as much of the falling rain this island is so famous for to return directly to the water table rather than into already stressed drainage systems, many of which date back to Victorian times, thereby reducing one of the main causes of urban flooding.
As a normal car parking bay is around 8sqm, the common practice of tarmacking over a front garden to provide extra parking had to change for the good of the country.
Some people plumped for attractive but expensive block paving while others thought gravel would be better. But how would they stop it migrating on to the road or "trenching" due to vehicles taking the same regular routes, pushing to gravel to the sides and making the driveway look ugly?
This is what our Hebden X-Grid is perfectly suited for.
Made from recycled plastic and tested to support an axle load of 16 tons, the Hebden X-Grids interlock to provide a super-strong matrix that can contain not only elegantly laid gravel as in this case, but also grass-seeded soil for an almost invisible finish.
The grids are not only for parking on; many clients also use them for access routes, golf buggy trails, shed bases, lay-bys on highways, equine paddocks, helicopter landing pads and many other applications that require the ground to be free draining yet load-bearing at the same time.
Of course, our clients usually choose the Hebden X-Grid for its performance but all of them remark afterwards just how good it looks once installed. The client in this particular case mentioned three times during my very short visit last week how impressed he was about how level and smooth everything looked two years later, especially over the angled step up in the middle of the driveway.
To talk to us about your driveway or other requirements, give us a call on 01422 885761 or drop us a line at [email protected] and we'll help you choose the most appropriate solution for your needs.