If you're involved with running a venue, you'll know that one of the fundamental challenges is maximising and making full use of your available space. From small bars to wide open outdoor terraces, you need to ensure that your place is practical and your patrons are plentiful.
The hospitality sector is now seeing an increase in spending after a difficult couple of years, and many venues are taking the opportunity to update and improve their spaces to welcome back customers. So if you're looking for stylish and sustainable space-saving furniture for your venue, our Harrogate set could be exactly what you need.
Introducing the Harrogate
The Harrogate Garden Furniture Set – as the name suggests – is perfectly suited to gardens and patios, but it's also an excellent choice for a wide range of indoor venues. Comprised of two benches and one refectory-style table, it's equally at home in bars, restaurants, and entertainment venues of any size. It's clean, slideaway design makes it especially useful for anywhere with limited space.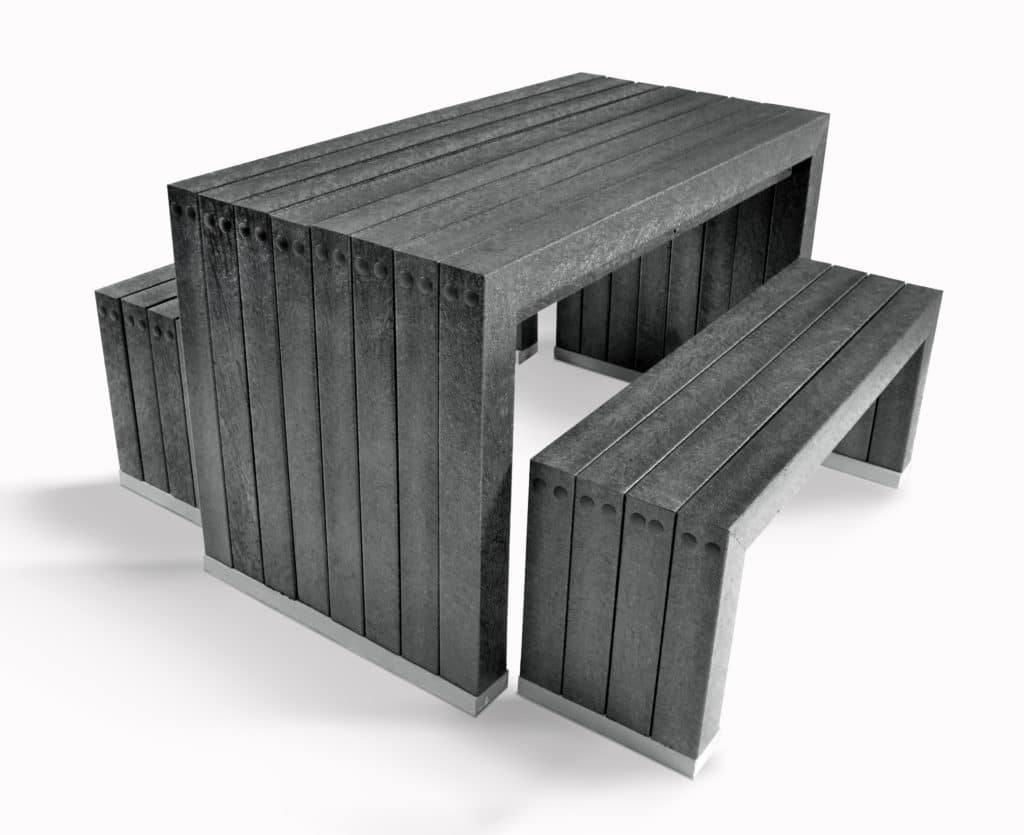 Saves space, saves time
As well as being an effective space-saving solution, the Harrogate set can also save you time and effort – and that's got to be good news, right? If you're in the hospitality sector, you'll know all about the importance of opening up and closing down a space quickly and efficiently, and the functional design of the Harrogate makes that job a breeze.
Made from 100% British recycled plastic, the Harrogate set will never rot, split or splinter, towel-dries instantly, and will keep its classic looks for decades without degradation. All pretty valuable attributes for furniture that may be frequently moved around, stacked up, or permanently kept outside.
Robust functionality and classic style are built into this product – whether you're preparing an indoor or outdoor venue for live entertainment, arranging restaurant space, or setting up a sports club, the Harrogate Set will blend unobtrusively into its surroundings.
The Boathouse
Hospitality venues up and down the country are already on board with the product. The Boathouse in Christchurch is a hugely popular venue, with a large outdoor area for cocktails and al fresco dining.
When the venue – located in an idyllic spot on the banks of the River Stour – decided it needed to augment its outside area with sustainable outdoor furniture, we were happy to supply it with fifteen of our Harrogate sets.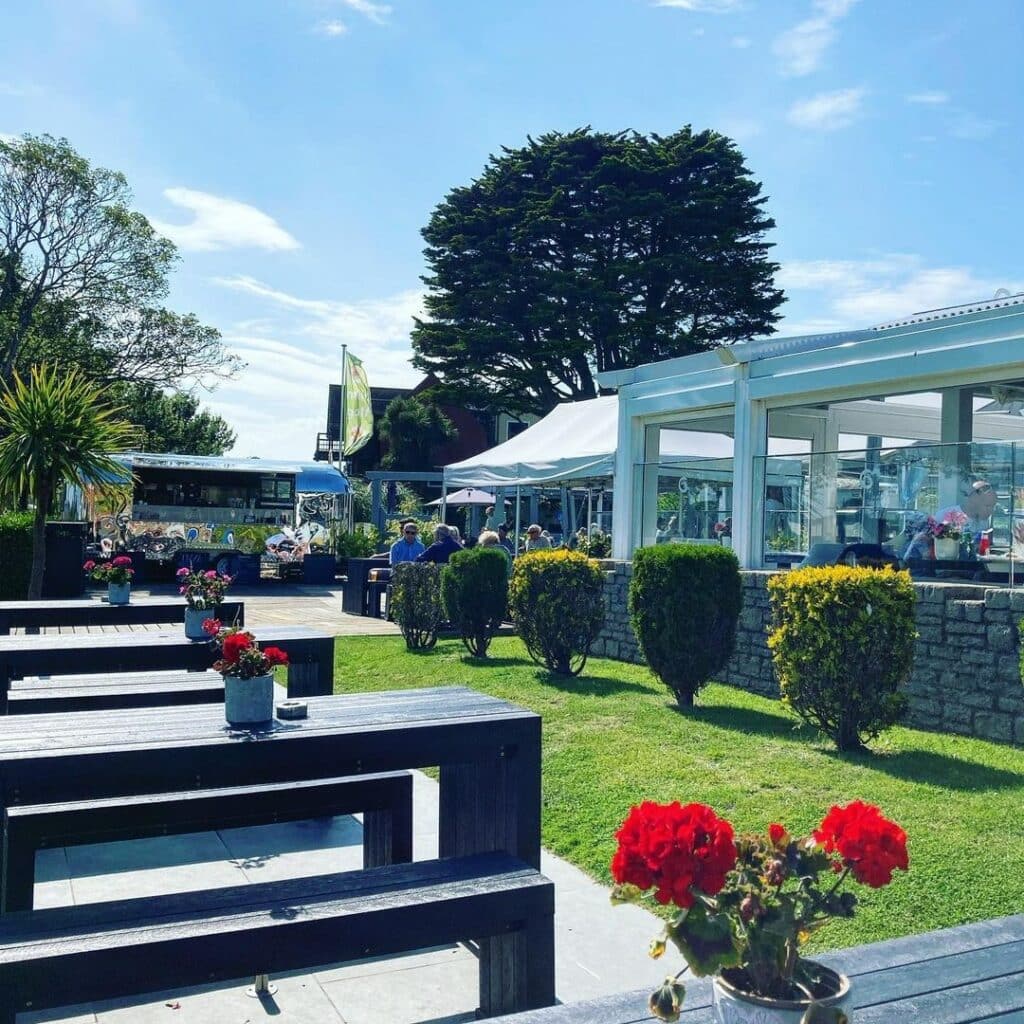 Rich Slater, Operations Manager at the Boathouse, said he was very keen to get outdoor furniture that was not only robust and practical, but also suited the overall aesthetic of the venue:
"Our image is an important part of our business, so when we were looking for outdoor furniture we wanted something that looked the part as well as being functional.
"The benches from British Recycled Plastic were just what we needed; strong, sturdy, and stylish. A very busy year later and they still look like new, we would definitely recommend."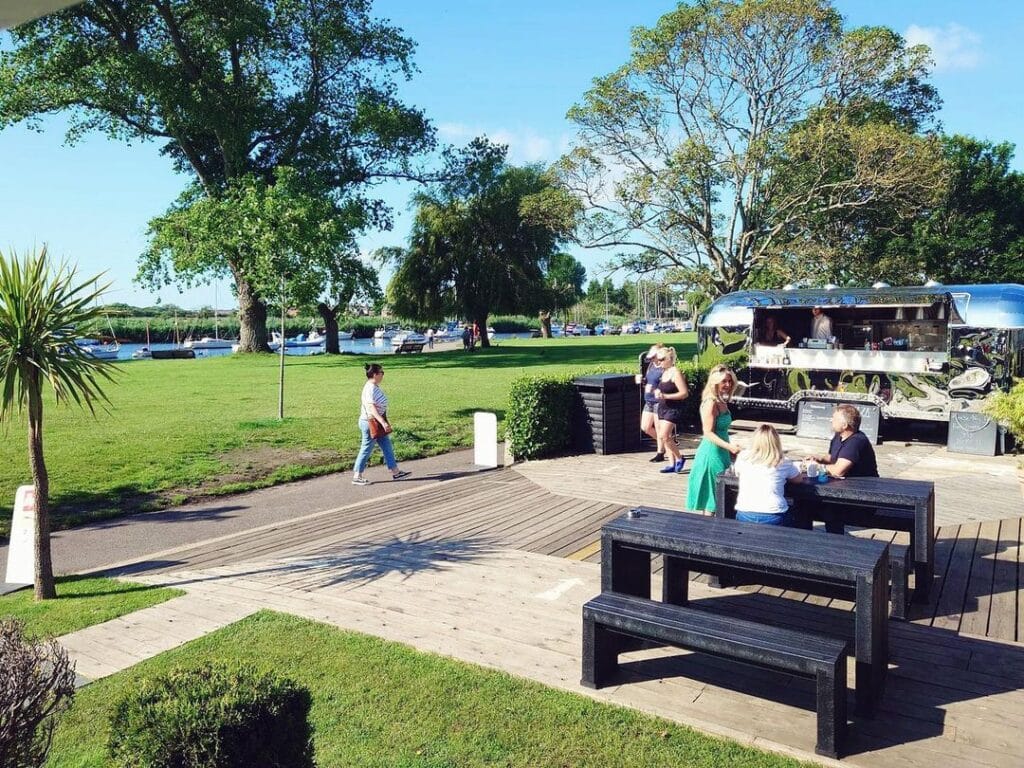 Functional and versatile
Did we mention that the Harrogate is also incredibly versatile? As well as being an excellent choice for an array of indoor and outdoor venues, it's equally at home in schools and universities.
When Rastrick High School in Brighouse developed plans last year for a new canopy-covered area for its students, it used fifteen of our Harrogate sets for the project as a way to make maximum use of the space.
The canopy-covered area is now fully up and running, with the Harrogates looking resplendent and providing plenty of sitting room. We visited the site recently to get a feel for the layout, and it was clear the products had worked perfectly within the newly created space.
Shirley Graham, Site Manager at Rastrick High School, told us: "We're a very environmentally conscious school, and always keen to invest in our site and the environment. Our canopy area has been a big hit with the students since being added last year.
"We first used products from British Recycled Plastic around fifteen years ago, and they are as good now as the day we purchased them. It made sense for us to use more of the company's furniture for the canopy-covered area. Using recycled plastic is a great way to increase our pupils' awareness about waste reduction and sustainability."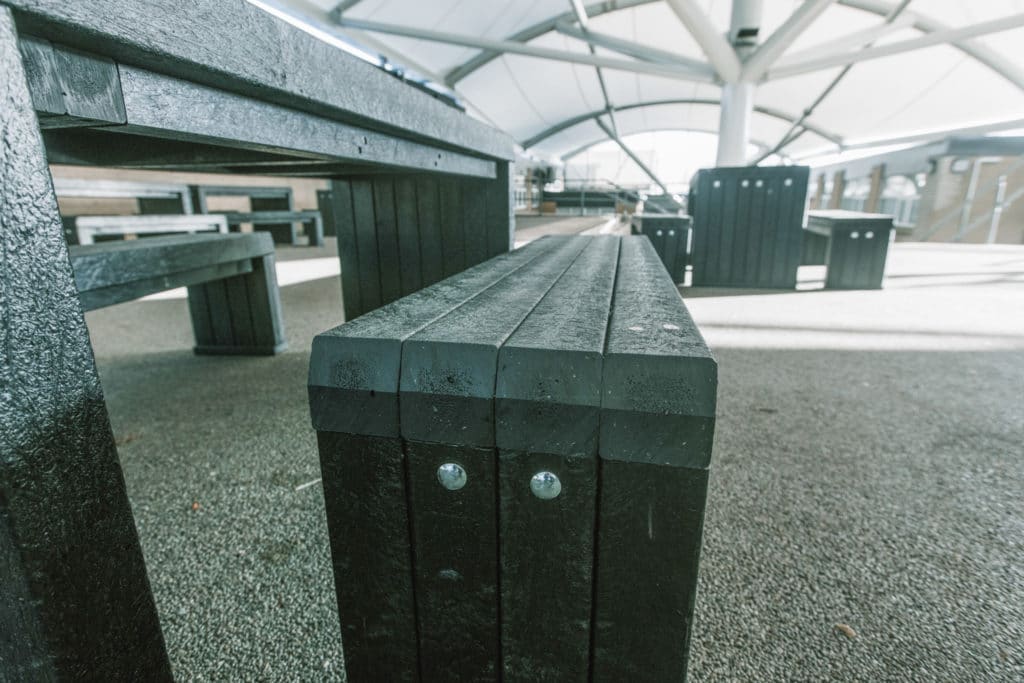 It's always gratifying to know that customers are faithful to us after so many years, and that our products continue to serve them well. Conversely, if you're new to recycled plastic and want to make a financially savvy and environmentally friendly choice for your hospitality venue – or any other area that wolud benefit from space-saving furniture – then the Harrogate set is a great place to start. Come and join us in the sustainability revolution!
About British Recycled Plastic
Our products can be seen in an array of locations up and down the country, from parks and playgrounds, to hospitality venues and nature trails. Some of our prestigious customers include the NHS, the National Trust, the MoD, and various school and universities throughout the UK.
All of our recycled plastic products are not only incredibly tough and durable, but actively help to dismantle the UK's domestic waste mountain and keep plastic out of landfill.
Our recycled plastic is completely rot-proof, splinter-proof and maintenance-free and it comes with a 25-year guarantee. This means that year after year after year, it will keep its good looks and robust functionality without needing anything other than an occasional wash down. Of course, as it is chemically inert, it can be washed as often as wanted, with bleach, disinfectant or any other regular cleaning product.
Our role in the world of recycling is helping to reduce domestic waste and create products which are useful, long lasting and beautiful. Engineered from 100% British waste, our products are supplied to thousands of organisations and private homes across the UK: we believe they are the very best money can buy. We're making waste wonderful.
Check out how our products are made here.
Visit British Recycled Plastics Webshop
Get in touch with our friendly and knowledgeable team by phone or email: 01422 419 555 [email protected]