Reliable Recycled Plastic for Government
Economical, durable, maintenance-free – recycled plastic for government departments and the public sector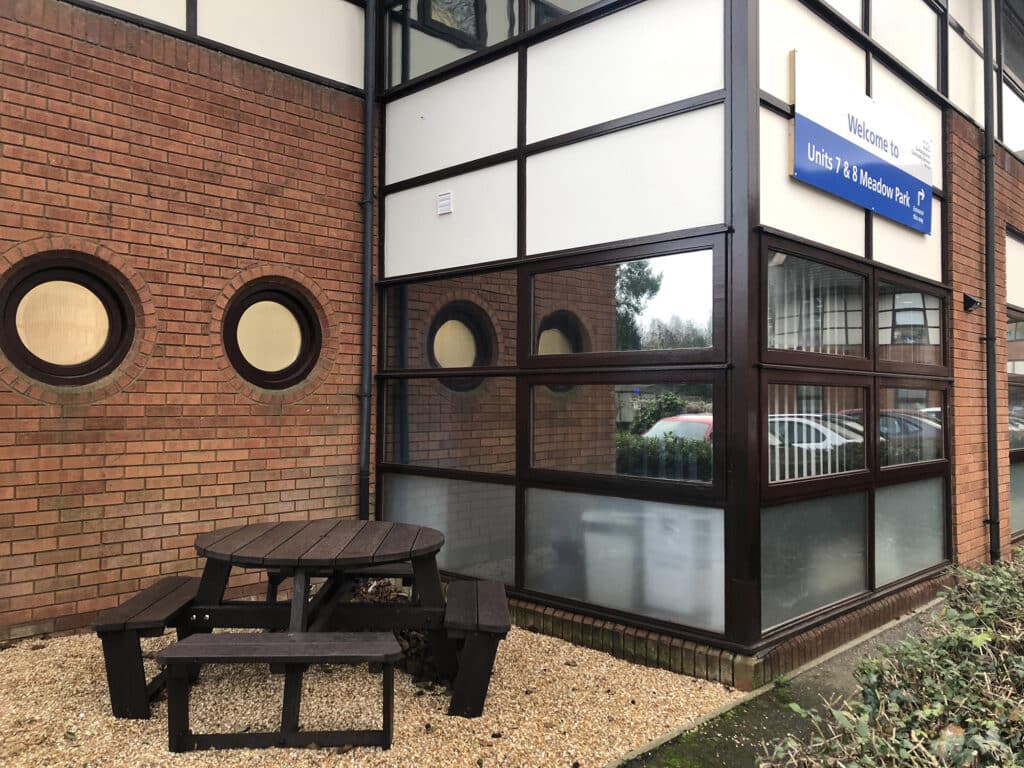 Our products are British-made, durable, economical and sustainable – that's why they're chosen by public sector organisations and government offices up and down the UK. We're able to provide accurate life cycle analysis for embodied carbon – a key factor for consideration where public expenditure is concerned and often an essential element of supplier approval protocols.
Whether you need utilitarian furniture in bulk for staff breakout areas, or accessible and supportive furniture for wards and care facilities, you can rely on our experienced operation to fulfil your order with maximum efficiency and minimum fuss. Payment terms are available for all publicly funded bodies.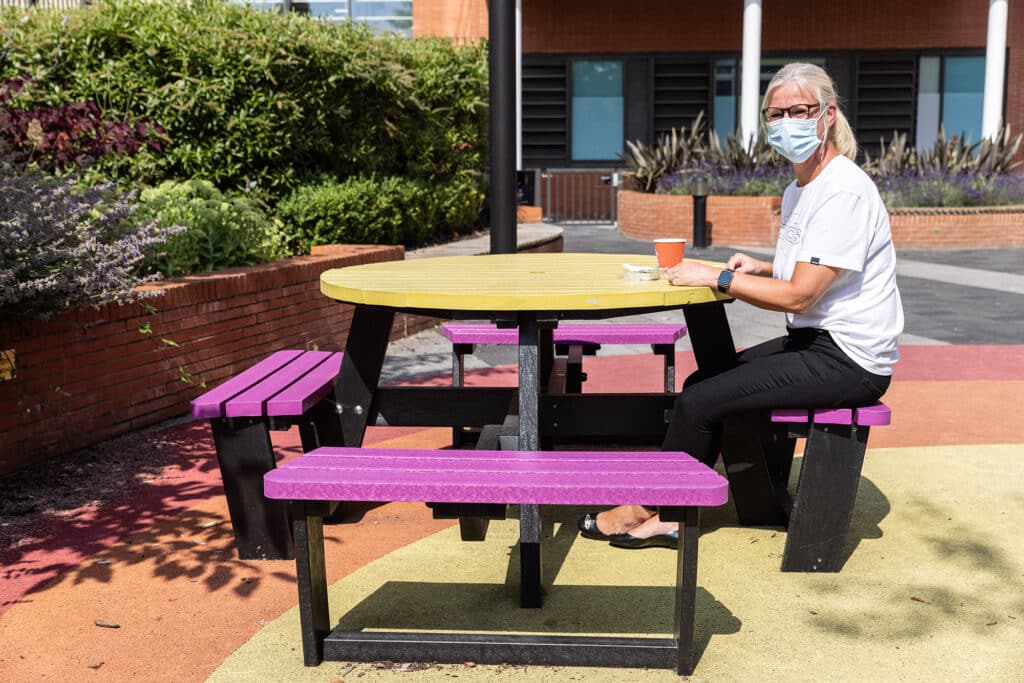 Our recycled picnic tables and benches already reside in numerous NHS and MoD sites around the UK. As well as our standard models, we also offer accessible versions of our products for users with a range of mobility needs. A large range of colourways are available, both in block colours and the combinations of your choice, offering easy branding opportunities, as well as the option to colour-zone areas of larger sites. If security is a concern, fixing kits are available for both hard and soft ground.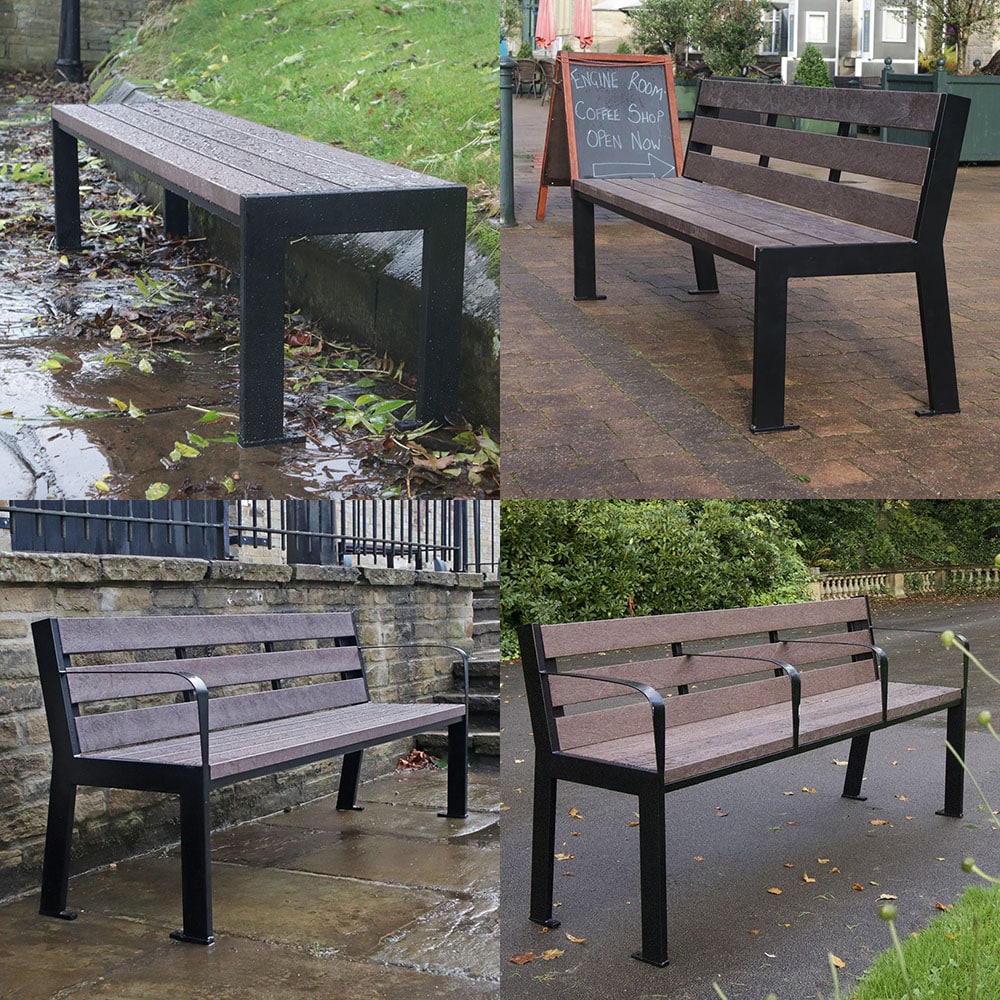 Elegant, sustainable and robust steel and recycled plastic benches enhance any built area. With a 25 year guarantee and fixable feet they are a great addition to any hospital grounds, town centre or other area of hard landscaping.
After discovering by chance that almost all steel in the UK is recycled, we started to design a range of benches that used steel for a strong and classicly designed frame and recycled plastic for warmer and subsequently more comfortable seat and back slats. We started with a conventional backless bench, (the Shibden), added a back, (the Selby), added armrests, (the York), and then as a direct response to a request from several accessibility groups, we produced a model that also had armrests in the middle of the bench and was elevated an additional 100mm to aid standing and sitting for users with reduced mobility, (the Loxley). The images to the left chart this journey.
We also took the decision to keep the embodied carbon as low as possible by using a zinc primer topped with a rugged powder coating, rather than dipping the frames into a 450C galvanising bath.
While these are the first of our products to use the steel and recycled plastic combination, they are very unlikely to be the last with a range of picnic tables due in 2024.
Our X-Grid permeable paving is an excellent choice for lay-bys and carparks, providing an incredibly strong surface for heavy vehicles to drive and park on, as well as mitigating and alleviating surface flooding. The grids are SUDS-approved and can be filled with 14-20mm angular chippings, which provide a stable surface and are big enough to avoid migration into the tyre tread of large vehicles. They can also be backfilled with topsoil and grass seed for a lawned finish. They're safe to use on gradients of up to 1 in 10 and do not require pegging below 1 in 20. X-Grids are also Part M-approved and can be used for the provision of wheelchair-friendly public access pathways.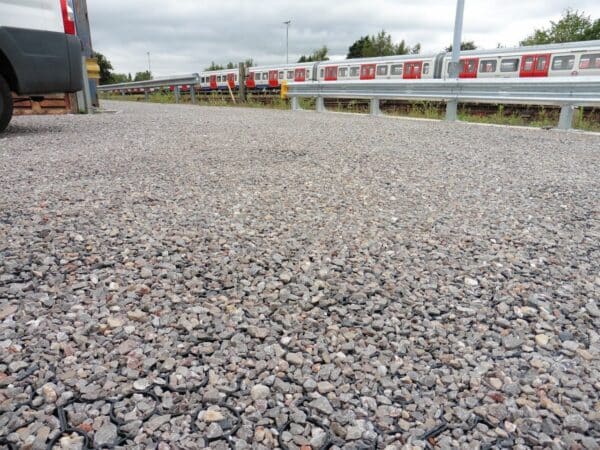 Why switch to recycled plastic?
There are many benefits of switching from timber to recycled plastic. Firstly, recycled plastic absorbs no moisture, so it will never rot, split or splinter, no matter how damp the environment in which it's used. As a result, replacement and refurbishment requirements are immediately reduced. Secondly, it requires no maintenance whatsoever, offering even more reductions to your total-life costs. Thirdly, it's chemically inert, making it resistant to the growth of mould and algae and conferring a lower slip risk than timber equivalents. Its inert nature also protects it from degradation, making it safe for use in vulnerable ecosystems: indeed, it's the material of choice for the Environment Agency and a number of conservation and wildlife organisations.
Why choose British Recycled Plastic?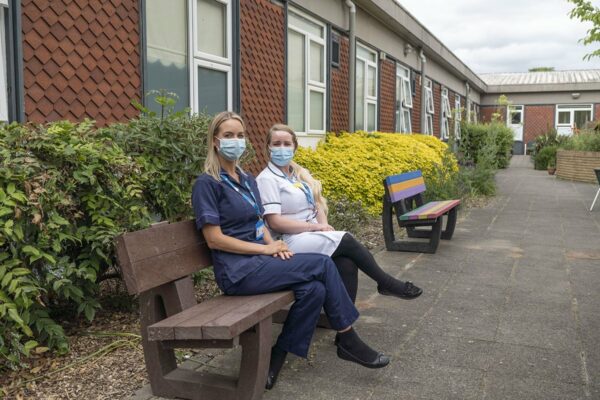 The principles of sustainability are embedded in every stage of our operation and service and our commitment to sustainable production far exceeds many other retailers. Our recycled plastic picnic tables, benches and planters are made exclusively from UK-sourced waste, directly preventing it from being landfilled. Our products are processed and distributed solely within the UK. We work only with UK partners and third parties, ensuring that our business benefits and supports the British economy, rather than investing in exploitative economies in vulnerable nations.
The Midlands Partnership Foundation Trust, which added our benches to its shared garden for older patients at St George's Hospital, said: "We're quite big on sustainability within the Trust, and looking at ways in which we can increase our sustainability and be more efficient in that respect. So we really liked that your products utilise plastic that would have ended up in landfill. It made sense for us to invest in something that would save us money in the long run – as there's no upkeep to them – and they'll last a lifetime."
We supply the majority of our furniture semi-assembled to ensure that no space is wasted during haulage. This brings the best possible value for money to our customers, as well as ensuring that the carbon footprint associated with delivery is minimised. All semi-assembled items are provided with stainless steel fixings and straightforward assembly instructions.
The green credentials of any products are a major consideration today, so we've done a full life cycle analysis of our product; the results show that 66% less carbon is emitted by our products than by virgin resin. It's more difficult to get accurate figures comparing our plastic to timber, as there are too many variables at work, but it's fair to say that some commercially grown softwood has an outdoor lifespan of as little as five years. When compared to the 25-year guarantee that all our maintenance-free products carry, the benefits of using recycled plastic for government departments are clear.