We're No. 1 for Parks and Open Spaces – From Waste, to Wonderful
We're proud that our maintenance-free recycled plastic products adorn numerous parks, reserves, National Trust properties and other open spaces up and down the UK. As the market leader in our sector, we've built our business on supplying local authorities with sustainable, weatherproof and economical outdoor furniture and accessories.
We're chosen by numerous borough councils, parish councils and clubs, as well as many large organisations such as the NHS, Ministry of Defence and the Environment Agency; you can rely on our experienced operation to fulfil your order with maximum efficiency and minimum fuss. Payment terms are available for all public bodies.
Why choose recycled plastic for your park?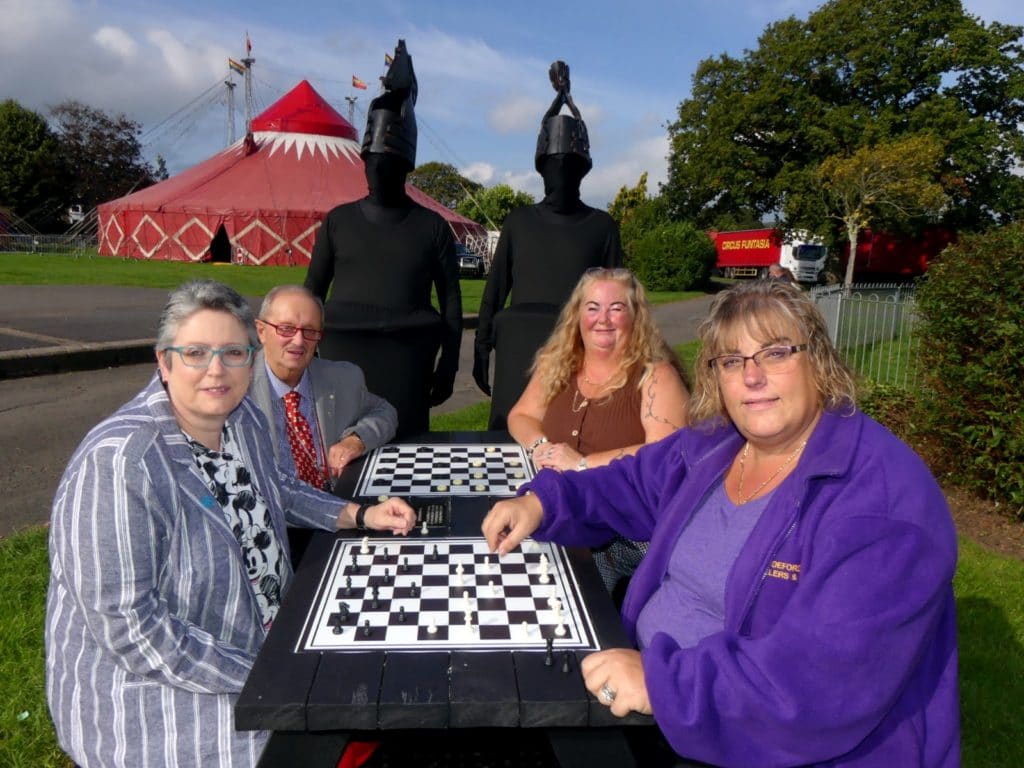 Our recycled plastic products won't absorb any moisture; as a result, they'll never rot, split or splinter, reducing your replacement and refurbishment budget. They require no maintenance whatsoever, further reducing your total-life costs. Because our products don't absorb moisture, they towel-dry instantly, for year-round use. Our material is chemically inert, making it resistant to the growth of mould and algae, with a lower slip risk than timber. This property also prevents graffiti sticking to it – although a thin layer may settle on the surface, it will jet wash away instantly.
We're so confident of the quality and durability of our products that they all carry a 25-year guarantee, although we expect them to last much longer. When you choose British Recycled Plastic, you can be assured of decades of reliable service with exemplary customer support.
Our durable recycled plastic picnic tables and seats are supplied in a wide range of styles.
Our Benches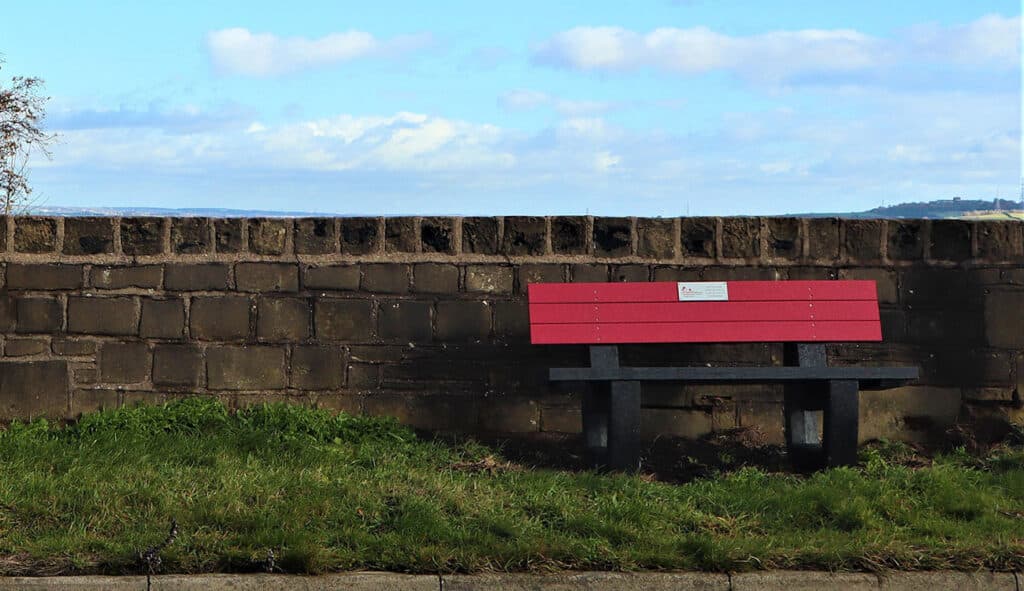 Popular parkland benches include the classic Ilkley Sloper, the stylish Harewood and our brightly coloured Buddy Bench. We also offer a selection of fully assembled Memorial benches, fitted with plaques to your specifications.
Our Picnic Tables
The Denholme picnic table is a traditional A-frame design, while the Bradshaw uses the same design with a single cutaway space to allow wheelchair access. These are complemented perfectly by the Batley, using an innovative X-frame to allow walkthrough access, removing the need for users to swing a leg over a bench to take their seat. The Batley also provides sufficient room for access with walking aids, making it a very flexible item. A junior A-frame – the Holmfirth – is also available, along with the Otley activity tables in both standard and junior sizes. Our junior furniture is suitable for most children up to the age of eight.
All benches and picnic tables are available in classic black or brown and a number of bright colourways, available both as block colours and in the combinations of your choice, offering the option to colour-zone areas of larger sites. Fixing kits for both hard and soft ground are available for additional security.
Street furniture for parks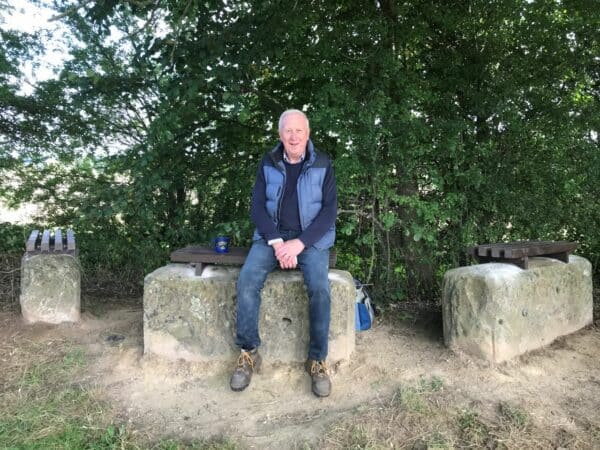 It's not just furniture that's loved by parklands and open spaces, either – we also supply litter bins and heavyweight planters, all of which have the same budget-busting, zero-maintenance qualities as our furniture. Our lumber planks, posts and boards can be used to build decking, boardwalks, platforms and fencing, as well as custom planters, sandpits, tree benches and many more joinery and refurbishment projects.
"Since lockdown, increasing numbers of people are using the Harland Way. Several of the seating benches on the Spofforth side of the railway cutting have deteriorated with age to the extent they are unusable. Wetherby Lions are delighted to have refurbished four of these benches using recycled plastic lumber and to have had the support of Harrogate Borough Council and Sustrans in doing so." – Martin Doxey, Wetherby Lions for Harrogate Borough Council.
Accessible pathways for parks and open spaces
Our Hebden X-Grid permeable paving provides part-M compliant hardstanding and pathways, creating wheelchair-friendly surfaces in areas of public access. It can be filled with either sharp gravel or topsoil + grass seed to blend perfectly with your existing landscaping.
Why choose recycled plastic?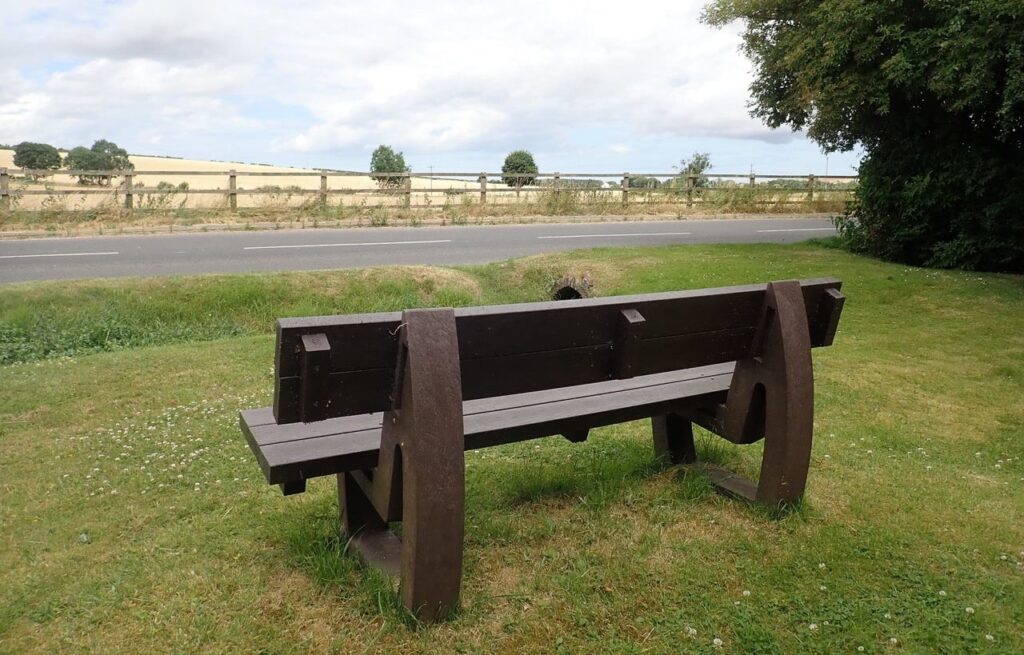 There are many benefits of switching from timber to recycled plastic. Firstly, recycled plastic absorbs no moisture, so it will never rot, split or splinter, no matter how damp the environment in which it's used. As a result, replacement and refurbishment requirements are immediately reduced. Secondly, it requires no maintenance whatsoever, offering even more reductions to your total-life costs. Thirdly, it's chemically inert, making it resistant to the growth of mould and algae and conferring a lower slip risk than timber equivalents. Its inert nature also protects it from degradation, making it safe for use in vulnerable ecosystems – indeed, it's the material of choice for the Environment Agency and a number of conservation and wildlife organisations.
"Knowing that, once installed, the British Recycled Plastic Harewood benches not only look attractive, fit well with their surroundings, are maintenance free and are environmentally friendly, fulfilling all of our Parish Council key requirements given our strong focus on community, the environment and on sustainability." – Martin Pearce, Chair of the Luttons Parish Council Environmental Working Group.
Why choose British Recycled Plastic to supply your park?
The principles of sustainability are embedded in every stage of our operation and our commitment to sustainable production far exceeds many other retailers. All our products are manufactured in the UK from British waste, helping you reach your carbon reduction goals. Our full life cycle analysis is transparently published. Unless otherwise specified, the majority of our products are delivered semi-assembled, ensuring maximum value for money with minimal carbon footprint.
Payment terms are available for all local authorities and publicly funded bodies.