Recycled Plastic Lumber Planks
Recycled plastic lumber planks and posts provide a sustainable and zero-maintenance alternative to timber for a variety of construction applications.
Recycled plastic lumber planks are the basic material from which much of the British Recycled Plastic range is made.
Key benefits: Rot-proof, impact-resistant, splinter and maintenance-free, algae and moss-resistant.
Designed as an alternative to traditional construction materials like wood, concrete and metals, recycled plastic planks allow for the easy and quick construction of fences, platforms, fishing pegs, revetments, boardwalks, steps, pontoons and many other applications.
It is particularly suitable for areas subject to flooding or standing water as our recycled plastic does not rot.
Please note: It is important to understand, that while recycled plastic planks and posts can be used as alternatives to wood, steel and concrete for many applications, they should not always be treated as like-for-like replacements. They have different mechanical properties, and considerations should be taken for things like spans and for thermal movement.
It is fundamentally an excellent material, so please familiarise yourself with the downloadable sheets below and, if in any doubt whatsoever, ask for a sample, call us or send us an email. We'd be delighted to offer you some guidance regarding your project, although, ultimately it's your responsibility and only you can decide if this is the right material for you.
Technical Information Overview for Recycled Plastic Planks and Posts
Expansion
The lower the temperature during installation, the more the planks or posts may expand.
British Recycled Plastic has an average linear expansion of 0.109mm/m/°C.
It is vital to calculate the maximum expansion/contraction of the boards in order to establish correct expansion/ contraction gaps.
Calculation example: Installation of 3.1m decking at a temp of 15°C Max.
Temperature expected 40°C
Temperature at Installation 15°C
Temperature difference 25°C
Interval = 0.109mm/m/°C.
Calculation: 0.109mm x 3.1m x 25°C = 8.44mm
Flexibility
Recycled plastic is more flexible than wood or metal.
All product and structure designs facilitate this technical characteristic (e.g. maximum distance between fence posts), furthermore, all of our products are supplied with installation or fabrication recommendations.
Material Structure
British Recycled Plastic planks and posts bear a non-porous surface resembling timber grain and a honeycomb core. The internal air pockets (caused by evaporation of surface moisture from the ground waste plastic feedstock) may be visible when the end of the profile is cut.
Bolts and Screws
We recommend that all fixings are made from stainless steel/brass or are plated, to retain the integrity, long life, rot free, maintenance free, quality of the final product.
When bolting or screwing profiles together, the pilot hole must be larger than the bolt.
Elongated slots are recommended to facilitate temperature related expansion/contraction of the material, particularly on runs of fencing.
Impact
Use of a ram or protective sleeve is recommended if profiles are hammered mechanically into the ground – it will prevent potential damage to the product.
Storage
Direct sunlight may affect profile alignment and cause profile distortion.
To prevent planks and posts bowing, profiles should be stored on a flat surface, strapped in batches.
Our recycled plastic lumber is available in an extensive range of sizes, along with decking boards and other profiles designed for civil engineering.
Technical Information about ordering
We can provide lumber posts, planks and boards to you in full lengths of 3100mm, or we can cut it to your requirements.
Before you request a quote, please read the following guidance notes to help you find the easiest and most economical way to have your order transported.
There are four main considerations:
Speed of shipping: Lumber purchased in full lengths will generally be dispatched the fastest, as it doesn't need to pass through our workshop. However, it will occupy three pallets-worth of space in a wagon at a cost of around £60 per pallet space. The lead time for cut lumber varies according to the volume of work we have passing through our workshop. As such, if you're working to a tight schedule, we'd recommend giving the office a call to check on timescales.
Access: If you have restricted access to your property and will be unable to accept delivery by articulated truck, then your delivery can be made in a smaller vehicle. This smaller truck will be around the same size as a small bin lorry. Such vehicles can only offload via a tail-lift, so you must ensure that no item on your order exceeds 2000mm in length (see notes on offloading).
Cost: As mentioned above, the more pallet spaces your order occupies, the more your delivery will cost. Planning your project and carefully considering the lengths of lumber you work with can make considerable savings.
1200mm – 1 pallet space
2400mm – 2 pallet spaces
3600mm – 3 pallet spaces
Offloading: The maximum length which can fit on a tail-lift is 2000mm. If there is one piece of lumber on your order which exceeds 2000mm, you will be responsible for offloading the entire order yourself, via the curtain-side of the vehicle. Offloading will require either the use of a forklift, or manual "handballing". If you wish to handball, please note that you will not be permitted access to the flatbed of the vehicle and you will need to offload from ground level. Due to drivers' time constraints, two able-bodied people are required for every 50 pieces of lumber in an order.
The golden rule for the most economical and easy-to-handle delivery is this – keep all of your lengths at 1200mm or less, wherever possible. If you do this, you'll only pay for one pallet space (weight-dependent), your order can be tail-lifted to the ground and it'll fit in a small truck. That's why we designed our raised bed kits around 1000mm panels.
In order to provide you with a quote for cut lumber, we will need a cutting list with measurements in metric units.
We operate rather like a timber yard, so will need a code, a quantity and lengths. We regret that we are not able to design on your behalf, or to interpret sketches, technical drawings, photographs or written descriptions.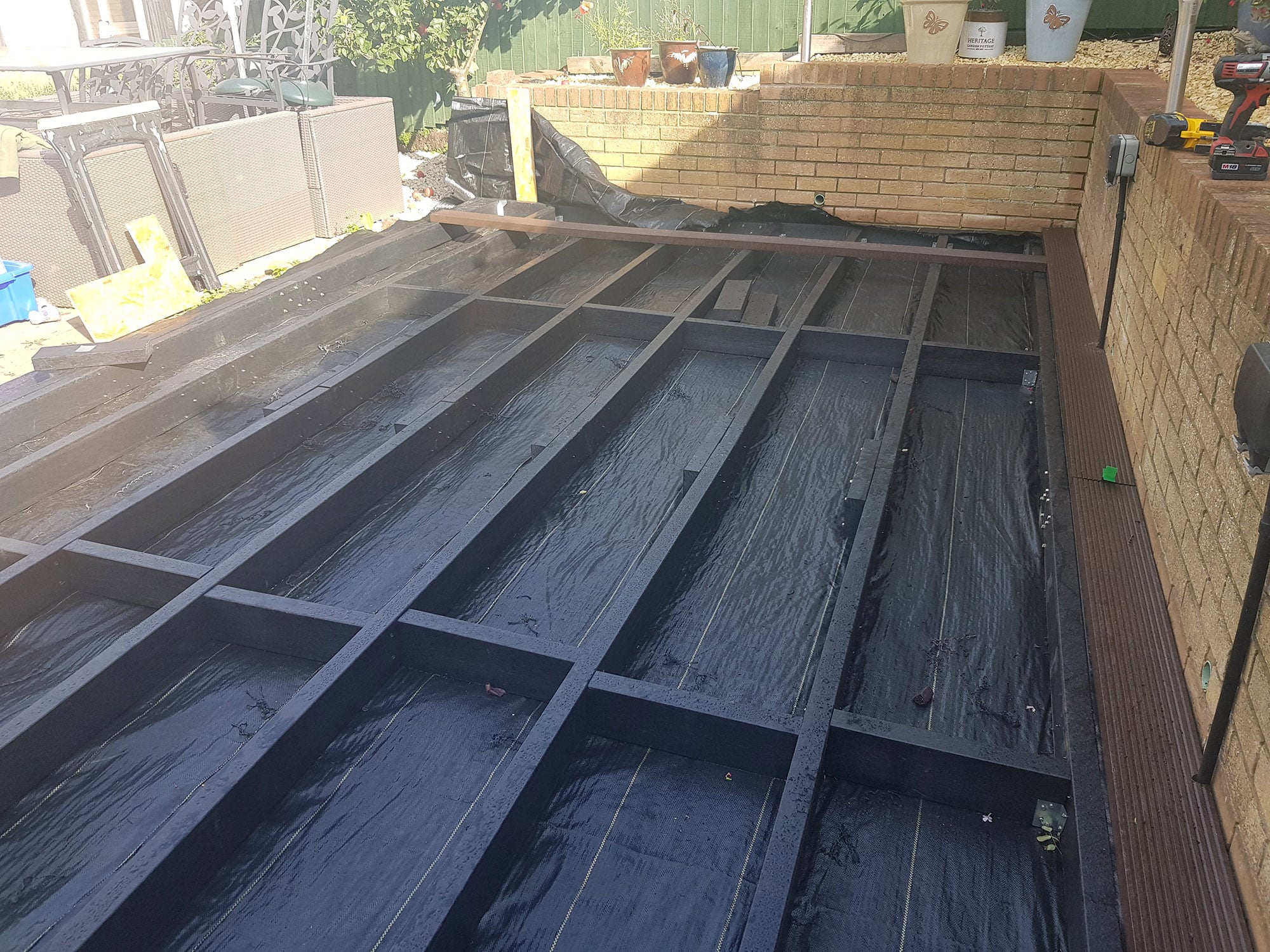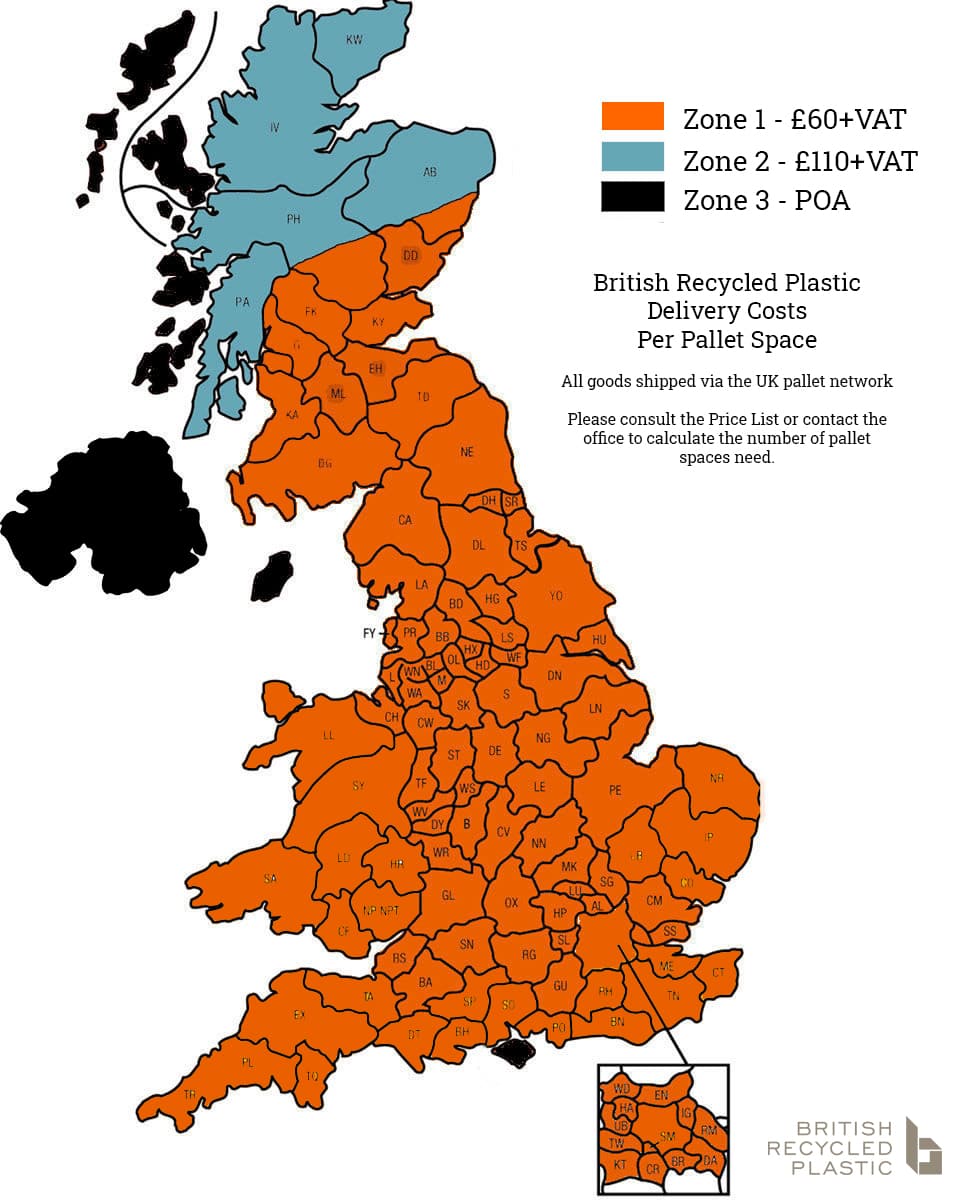 Delivery information for lumber. Please contact our office for more information on 01422 419 555
Our Range of lumber planks and posts
Here's an example of a cutting list:
24no. RPL004 BLK @1200mm
16no. RPL001 BLK @600mm
Square Posts
RPL100 – Square Profile 38mm x 38mm x 3100mm Black or Brown 300 on 3 pallet spaces 3.91kg
RPL001 – Square Profile 50mm x 50mm x 3100mm Black or Brown 300 on 3 pallet spaces 6.77kg
RPL003 – Square Profile 75mm x 75mm x 3100mm Black or Brown 100 on 3 pallet spaces 15.5kg
RPL004 – Square Profile 80mm x 80mm x 3100mm Black or Brown 100 on 3 pallet spaces 17.41kg
RPL005 – Square Profile 100mm x 100mm x 3100mm Black or Brown 75 on 3 pallet spaces 27.09kg
Rectangular Planks
RPL005 V CUT – Square Profile 100mm x 100mm x 1500mm with V- CUT Ends Black or Brown 75 on 2 pallet spaces 27.09kg
RPL017 – Rectangle Profile 100mm x 20mm x 1800mm Black or Brown 300 on 2 pallet spaces 3.68kg
RPL0171 – Rectangle Profile 100mm x 20mm x 1200mm Black or Brown 300 on 1 pallet space 2.45kg
RPL018 – Rectangle Profile 100mm x 30mm x 3100mm Black or Brown 200 on 3 pallet spaces 8.13kg
RPL020 – Rectangle Profile 100mm x 40mm x 3100mm Black or Brown 200 on 3 pallet spaces 10.84kg
RPL022 – Rectangle Profile 100mm x 50mm x 3100mm Black or Brown 150 on 3 pallet spaces 13.54kg
RPL023 – Rectangle Profile 120mm x 50mm x 3100mm Black or Brown 120 on 3 pallet spaces 16.25kg
RPL019 – Rectangle Profile 150mm x 30mm x 3100mm Black or Brown 150 on 3 pallet spaces 12.19kg
RPL024 – Rectangle Profile 150mm x 75mm x 3100mm Black or Brown 50 on 3 pallet spaces 30.49kg
RPLCOL02BLUE – Rectangle profile 18mm x 140mm x 3200mm Blue 200 on 3 pallet spaces 5.64kg
RPLCOL02LIME – Rectangle profile 18mm x 140mm x 3200mm Forest 200 on 3 pallet spaces 5.64kg
RPLCOL02RED – Rectangle profile 18mm x 140mm x 3200mm Red 200 on 3 pallet spaces 5.64kg
RPLCOLBLUE – Rectangle profile 38mm x 90mm x 3200mm Blue 200 on 3 pallet spaces 15.90kg
RPLCOLFOREST – Rectangle profile 38mm x 90mm x 3200mm Forest Green 200 on 3 pallet spaces 15.90kg
RPLCOLLIME – Rectangle profile 38mm x 90mm x 3200mm Lime 200 on 3 pallet spaces 15.90kg
RPLCOLORANGE – Rectangle profile 38mm x 90mm x 3200mm Orange 200 on 3 pallet spaces 15.90kg
RPLCOLPINK – Rectangle profile 38mm x 90mm x 3200mm Pink 200 on 3 pallet spaces 15.90kg
RPLCOLPURPLE – Rectangle profile 38mm x 90mm x 3200mm Purple 200 on 3 pallet spaces 15.90kg
RPLCOLRED – Rectangle profile 38mm x 90mm x 3200mm Red 200 on 3 pallet spaces 15.90kg
Decking
DECK001 Decking 150mm x 40 x 3150mm Black 120 on 3 pallet spaces 16.22kg