High quality, 100% recycled plastic outdoor furniture, landscaping and construction products for commercial and private use.
Maintenance free with a
25-year guarantee.
Our most popular products for your garden or organisation
A range of recycled plastic products including outdoor furniture, raised beds in a variety of sizes, and lumber for self-build projects.
A broad range of recycled plastic products suitable for commercial use including picnic tables, benches and ground reinforcement grids.
Picnic Tables
Various styles of recycled plastic picnic tables in colours and sizes to suit any location, organisation or household.
SHOP NOW
Benches
A range of zero-maintenance recycled plastic benches in many styles and colours to suit any location, all with a 25 year guarantee.
SHOP NOW
Accessibility Products
We are committed to growing our range of accessible products, from picnic tables with cutaways, wheelchair accessible fishing platforms, products for traversing gravel pathways, and more…
SHOP NOW
Raised Beds
Recycled plastic raised bed kits in a variety of sizes and heights.
SHOP NOW
Planters
Heavy-duty recycled plastic planters for on-street, domestic and commercial use.
SHOP NOW
Garden Furniture
Space-saving design with clean lines, engineered from our sustainable recycled plastic, 100% British and guaranteed for 25 years.
SHOP NOW
Lumber Planks
Recycled plastic lumber planks and posts provide a sustainable and zero-maintenance alternative to timber for a variety of construction applications.
SHOP NOW
Compost Bins
Compost bins to suit every garden. Made from solid, 100% British, recycled plastic.
SHOP NOW
Fencing
Slash your total-life costs and reduce the carbon footprint of your project with fencing constructed from our solid, 100% British recycled plastic.
SHOP NOW
Memorial Benches
Zero-maintenance recycled plastic benches supplied with plaques and in styles to suit any location, all with a 25 year guarantee.
SHOP NOW
Ground Reinforcement Grids
Grids for ground reinforcement, driveways and pathways which can prevent and alleviate surface pooling and flooding.
SHOP NOW
Posts for Signs
Manufactured from our trusted recycled plastic lumber for decades of reliable, zero-maintenance service.
Decking & Boardwalks
Boardwalks, fishing pegs and dipping platforms constructed from our durable and weatherproof, 100% British recycled plastic.
SHOP NOW
Litter Bins
Heavy-duty litter bins for schools, town centres, parks and playgrounds.
SHOP NOW
"Arley Parish Council has purchased two of your benches and one of our Councillors liked them so much that she purchased one as a memorial to her mother and installed it in their local church. Our Councillors liked the fact that they are recycled material, ie 'green'. They are handsome pieces of furniture and blend well with our rural environment; they are sturdily built and should remain in place for many years. Customer service and delivery arrangements were good."
"My father and I run a five pitch caravan site on Exmoor, and decided to add to the site by purchasing five recycled picnic tables. From start to finish the company were extremely professional in every way and delivery happened on the date and time stated. We were able to assemble them with the help of a friend. The quality is second to none, they are extremely heavy and look stylish. We have had so many compliments about them from our caravaners. Many thanks to you all and keep up the good work."
Trust Pilot Review 5 stars: Excellent
"This is exactly what I have been… This is exactly what I have been looking for for a few years, and being made from recycled plastic it's absolutely perfect!!! A wooden bench would need continual up-keep and would need winter storage, I simply do not have the garage space to store such a thing. And with the harsh Shetland winters and high winds, this bench is nice and heavy and would not budge!!! A very sturdy product and easy to put together. The communications with British Recycled Plastics has been top class, from initial order to delivery. Would highly recommend. Thank you."
"Great benches! Our charity has bought several benches from British Recycled Plastic over the past few years. Their service is always very friendly, helpful and efficient. Delivery arrangements are always accurate. Benches themselves are easy to assemble and install, sturdy, hard wearing and resistant to vandalism. Thank-you!"
Trust Pilot Review 5 stars: Excellent
"Bought 10 recycled benches for our local bowling club. Great quality, sturdy, easy to assemble, delivered on time and competitive prices. So impressed, will be ordering 9 recycled picnic tables from them soon."
Trust Pilot Review 5 stars: Excellent
Any questions? Contact us.
Our team of support specialists are available to discuss your project needs and offer technical support and sales advice.
Call us on 01422 419 555 or complete the form by clicking the link below:
Recycled plastic lumber is the core component of our product range here at BRP, but have you ever wondered exactly how the lumber planks are made? By using UK-sourced plastic waste, we're able to produce durable and sustainable lumber planks that can be used almost...
There are few things more restorative than spending time in the fresh air, and we're always keen to enjoy the great outdoors here at British Recycled Plastic. We also have a passion for food a drink, so combining the two is a no-brainer for us. We've developed a stylish and practical selection of outdoor furniture designed to make alfresco dining comfortable and enjoyable all year round, whatever the weather.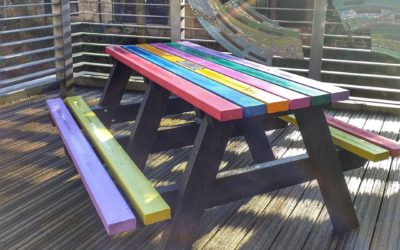 June is Pride month, and in 2022 the LQBTQ+ community is proudly celebrating 50 years of Pride events in the UK. As well as commemorating the last half century of progress, Pride 50 will look to the future and ask what we can achieve in the next fifty years....