Recycled Plastic for Sustainable Urban Spaces
Urban development is changing and sustainability is fast becoming a core concern for planners and architects. A number of the UN Sustainable Development Goals apply to urban development and settlement planning, inviting more integrated and imaginative visions for our shared future.
UN Sustainable Development Goal 11 – Sustainable Cities and Communities – states the following objectives:
By 2030, enhance inclusive and sustainable urbanisation and capacity for participatory, integrated and sustainable human settlement planning and management in all countries.
By 2030, reduce the adverse per capita environmental impact of cities, including by paying special attention to air quality and municipal and other waste management.
By 2030, provide universal access to safe, inclusive and accessible, green and public spaces, in particular for women and children, older persons and persons with disabilities.
By 2020, substantially increase the number of cities and human settlements adopting and implementing integrated policies and plans towards inclusion, resource efficiency, mitigation and adaptation to climate change.
Accessibility in urban developments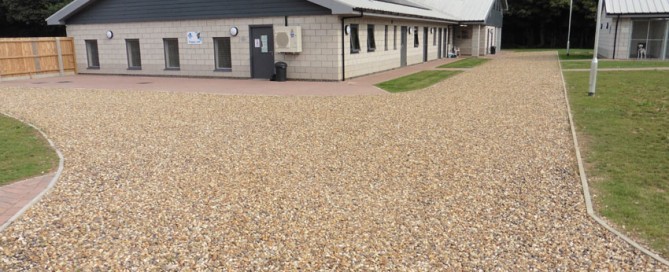 Ensuring equality of access within community developments in urban spaces is a key goal and one which is easy to achieve with our Hebden X-Grids. These permeable pavers are a SUDS-approved solution – they prevent and alleviate flooding by drawing surface water down into their cellular structure, holding it until the ground dries sufficiently for reabsorption. Filled with either sharp gravel or topsoil + grass seed (see installation instructions) they deliver a Part M-approved surface, providing wheelchair-friendly pathways for areas with public access.
Developing green spaces and increasing biodiversity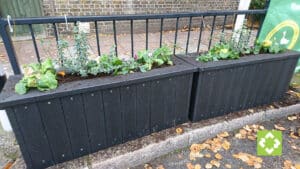 Planters are an effective means of delineating space and offer an aesthetically pleasing alternative to bollards. Judiciously planted, they can absorb excess carbon dioxide and nitrogen dioxide by creating a "smog shield" which has been shown to improve local air quality. In addition, they can be used to increase net biodiversity gain in urban spaces by encouraging pollinators and other valuable species, thus reducing the per capita impact of new developments – another of the UN goals.
We offer two off-the-peg planters – the Haworth and the Marsden – and can supply lumber planks and posts for your custom planters, as well as for a multitude of other uses, including decking, boardwalks, handrails and fencing. Litter bins are available to ensure your space stays clean and tidy.
Kimberly Hickman, of Goose Green School, said: "It's been great to see the planters working so well – the smog shield is really effective at limiting smog exposure, and the recycled plastic construction works in exactly the way we hoped it would."
Integrating food security and sustainable food production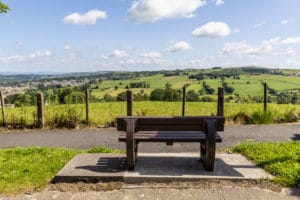 Our raised bed kits can be used – along with composters – to develop community food gardens within urban housing developments and parklets. The expansion of "integrated plans towards inclusion" as well as the provision of "safe, inclusive and accessible green and public spaces" speaks, among other things, to the integration of produce horticulture into settlement planning and the consequent fortification of community food security. The introduction of community food gardens into settlement planning fulfils a number of the UN Sustainable Development Goals and offers opportunities for a shift in planning practice which will benefit our communities for generations to come.
Of course, no urban garden or parklet is complete without somewhere to sit. Our range of sustainable and weatherproof furniture has something for everyone and every space.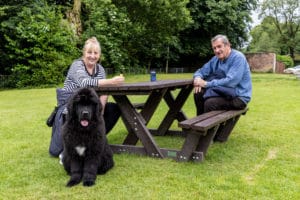 Our benches and picnic tables are available in a wide variety of colourways, including bespoke combinations. Our selection of picnic tables includes wheelchair-accessible versions of both our 4-seater and 8-seater tables, as well as an innovative "walkthrough" table designed to make access easier for ambulatory users with limited mobility, while our 8-seater table can be supplied with backrests to offer a little more support. Our benches include everything from sleek and unobtrusive backless designs, to the classic parkland Sloper, with a backrest and arms. Included in our selection of picnic tables is also an activity table (available in both standard and junior sizes), as well as a junior version of our classic A-frame table.
Our products are rot-proof and zero-maintenance to virtually eliminate ongoing maintenance costs. All products are guaranteed for 25 years and are vandal-resistant, with graffiti jet washing off easily and quickly. Our recycled plastic towel-dries instantly for year-round use. For additional security, fixing kits are available for both soft and hard ground.
All our products are manufactured in the UK from British waste, helping you reach your carbon reduction goals. Our full life cycle analysis is transparently published. Unless otherwise specified, the majority of our products are delivered semi-assembled, ensuring maximum value for money with minimal carbon footprint.
Payment terms are available for all local authorities and publicly funded bodies.