Recycled Plastic Raised Beds
British Recycled Plastic offer a selection of tough, maintenance-free recycled plastic raised beds as handy kits, all stacked and dispatched on single pallets for easy distribution, even down narrow country lanes, regardless of the overall length of the finished item.
If like Huw Richards you are tired of replacing your raised beds every few years when they break down, our maintenance-free kits could be what you're looking for. With a 25 year guarantee on materials, we believe that they are the ultimate solution and the very best raised beds that money can buy.
As recycled plastic is chemically inert, it doesn't degrade or rot in any way so there is no need for any harmful preservatives to be applied and, as a consequence, there is no leeching into the soil.
As they are incredibly easily fixed together with steel bolts, not screws, our recycled plastic raised beds are suitable for allotments, schools' kitchen gardens or for private use.
Our kits come in two widths of 500mm or 1000mm; three heights – 300mm for kneeling, 600mm for seated access and 750mm for users who prefer not to bend; and six standard lengths – 1 metre, 1.5 metres, 2 metres, 2.5 metres, 3 metres and 3.5 metres.
Of course, if you have existing raised beds that are rotting away and do not conform to our kit sizes, or just want something to your own particular measurements, we will be more than happy to cut our recycled plastic lumber planks to your specific requirements. You'll need to get your own fixings but we can certainly give you a little guidance in that respect. Just give us a call on our freephone number 01422 419 555 or drop us an email to [email protected] and we'll be delighted to help.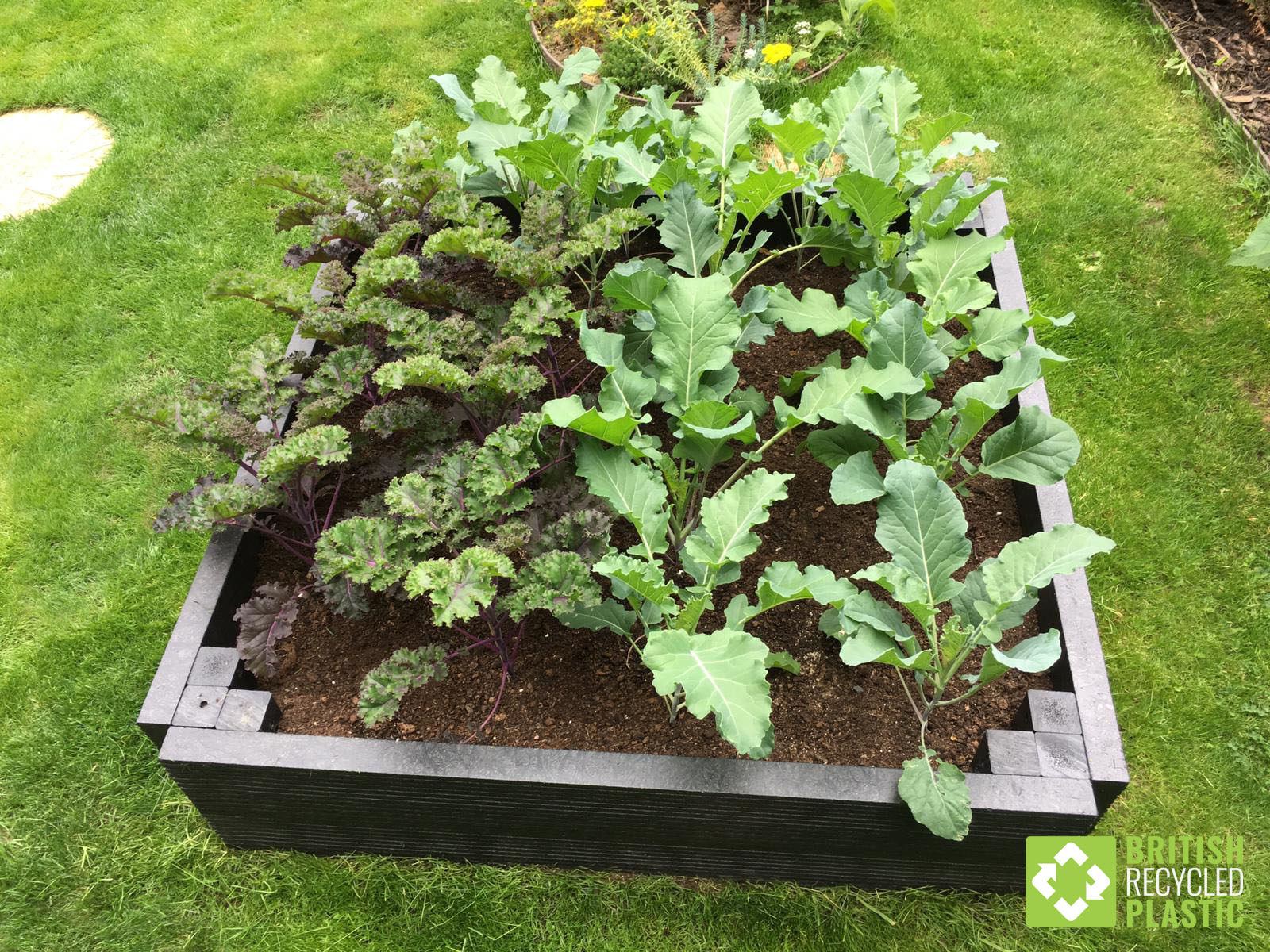 Why choose recycled plastic for your raised beds?
There are a number of materials to choose from once you've decided that raised beds are for you. Wood is readily available and easy to work with but even when treated it rots quickly and is by far the least long lasting option. Sleepers are more durable but heavy and difficult to cut. They may also have been treated with preservatives in the past which will leak into your soil making it toxic. Bricks need a building expert on hand to ensure a safe construction and can also leak toxic lime into your soil. Concrete blocks will leave you needing either machinery or a strong team of helpers to put into place.
Recycled plastic raised beds are a permanent, maintenance free option that come either fully assembled or in easy to construct kit form. No heavy lifting, no plant hire and no team of body builders required.
What about size?
When it comes to raised beds size really does matter which is why British Recycled Plastic have designed a range of sizes to suit your need whatever it may be.
With two choices of width, 1000mm or 500mm, all our raised beds are fully accessible without the need to walk across them with your heavy, soil compacting boots on.
Height is a huge consideration too of course and there are three to choose from so whether you're a kneeler (300mm), a sitter (600mm) or a stander (750mm) British Recycled Plastic has a raised bed for you.
Lengthwise, our kits start at 1000mm and go up to 3500mm, but they are modular and use either 1000mm or 500mm lengths so you can have as long as you like, but if you want longer than 3500mm please contact us for a bespoke quote.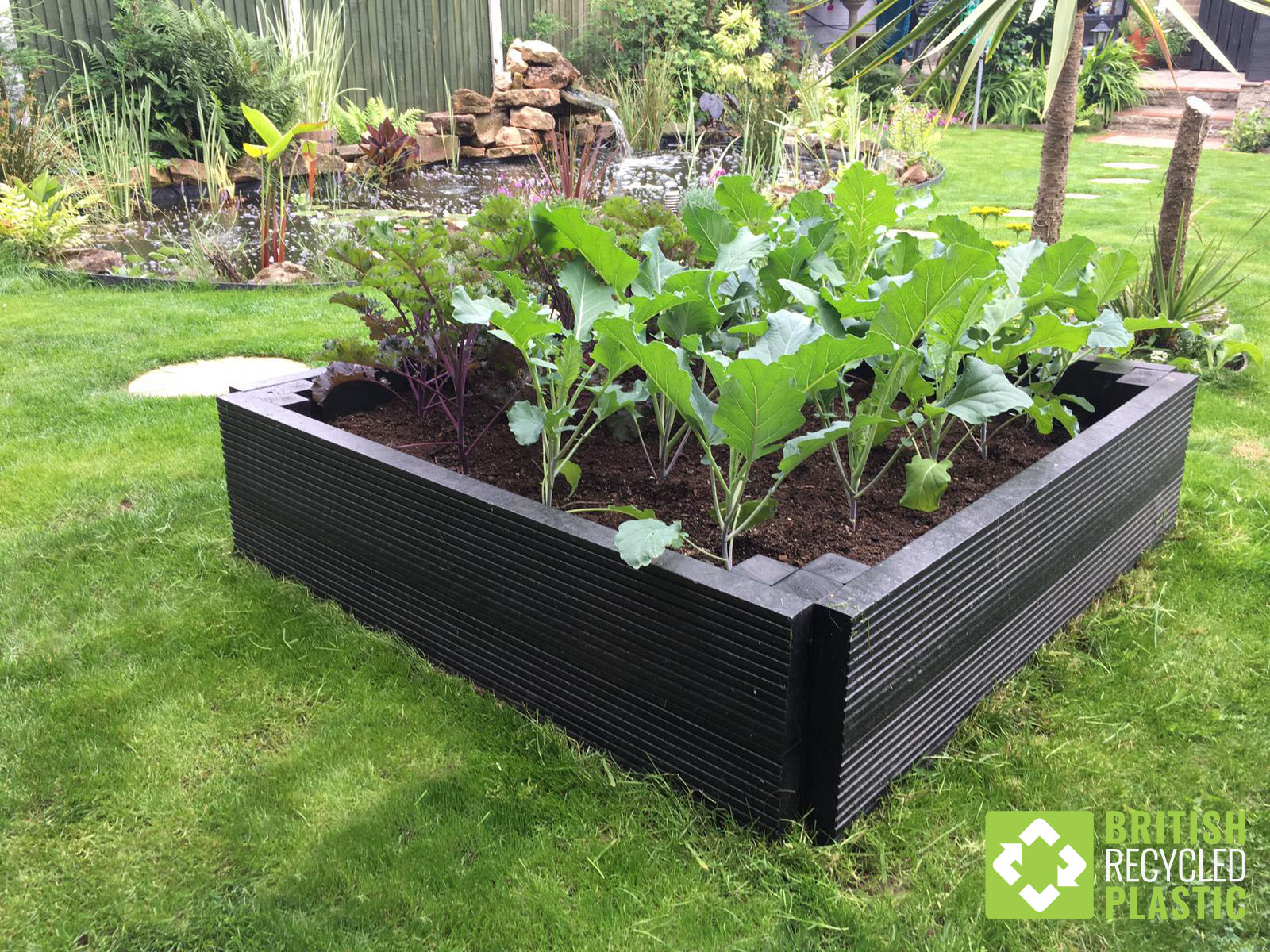 What about the aesthetics?
Raised beds are perfect for growing flowers, soft fruits or vegetables and make an attractive as well as a practical addition to any garden. We have taken great care to ensure that our raised beds blend perfectly into your garden and both the black and brown options are designed to be a harmonious addition to your outdoor space. All the advantages of wood without the maintenance.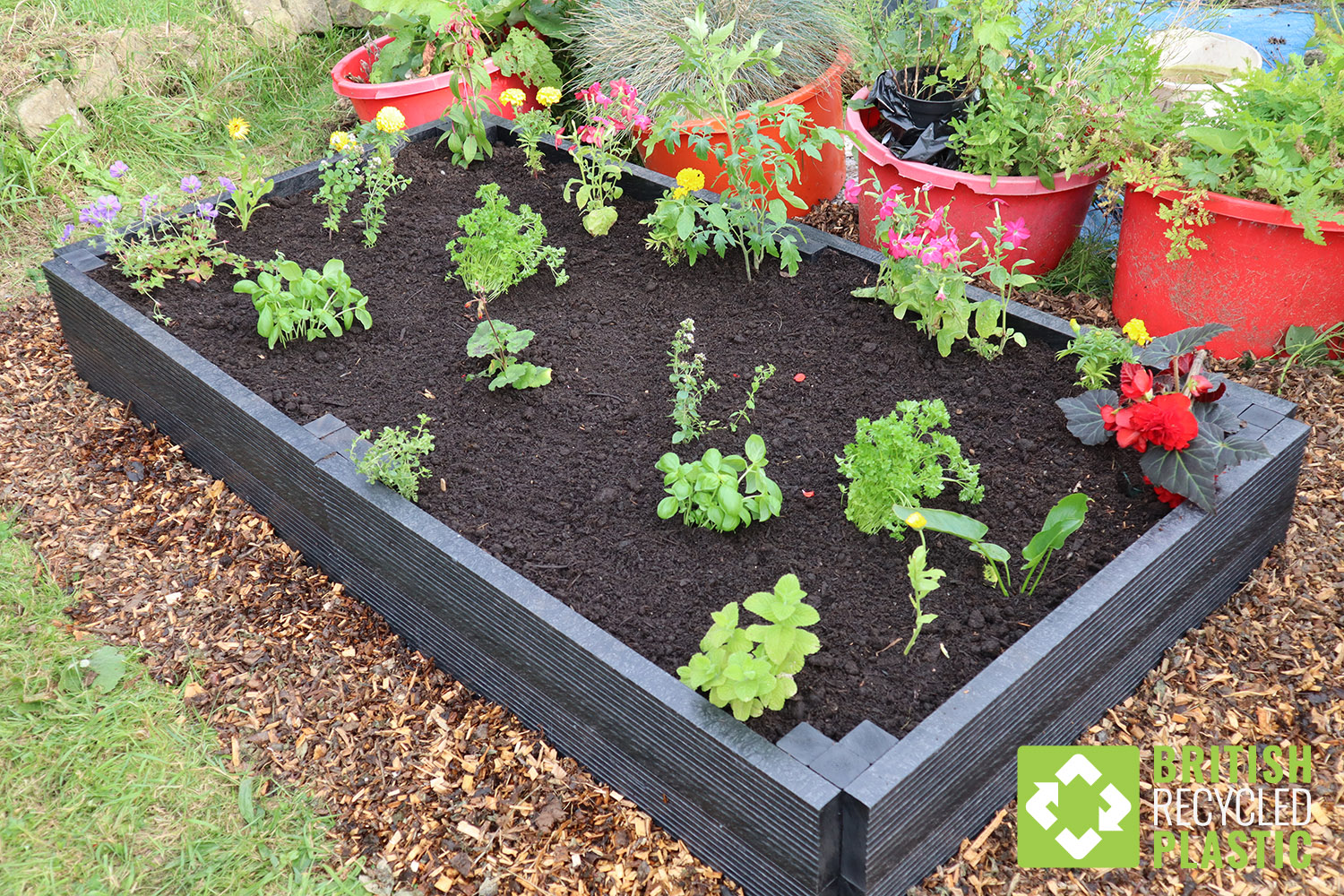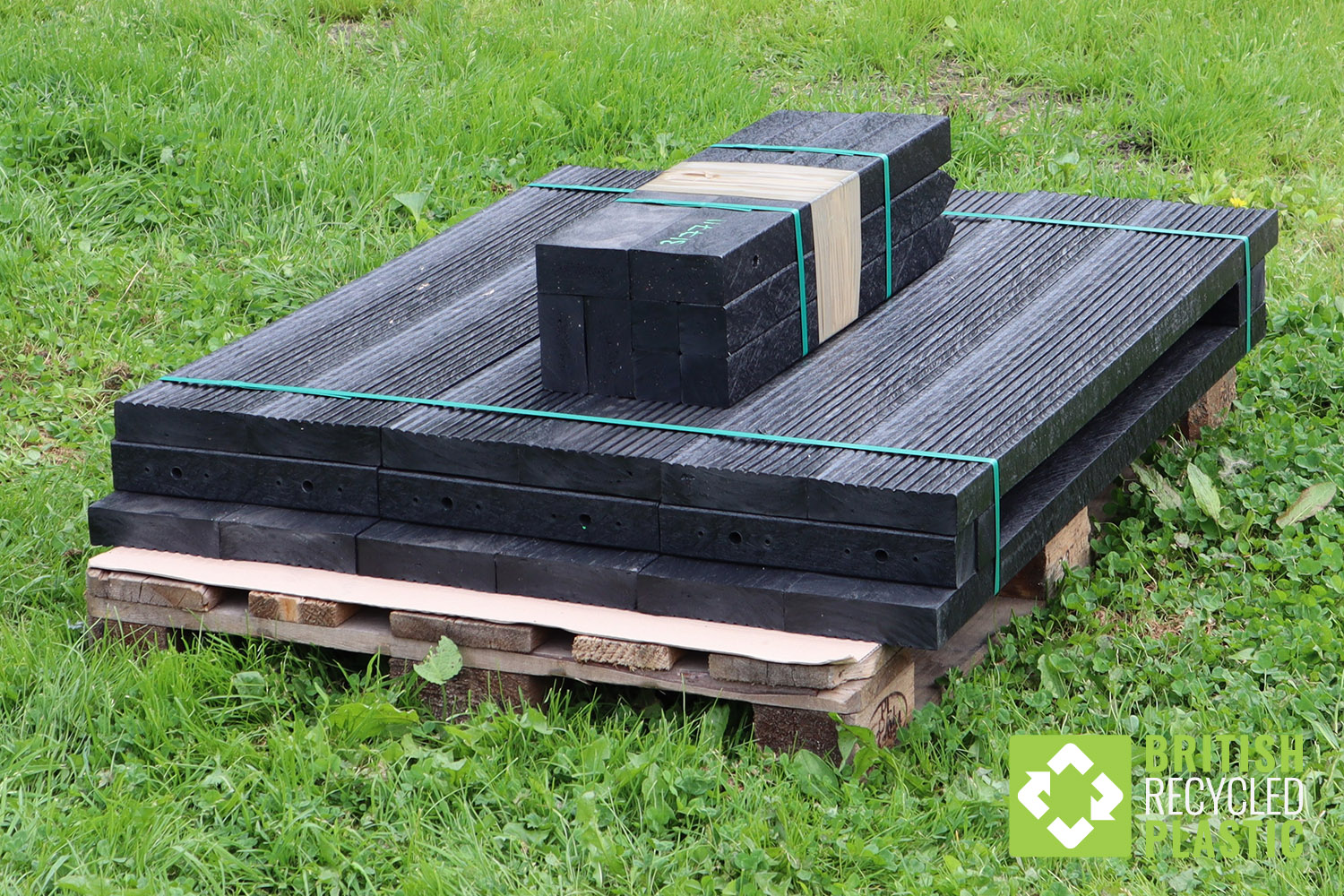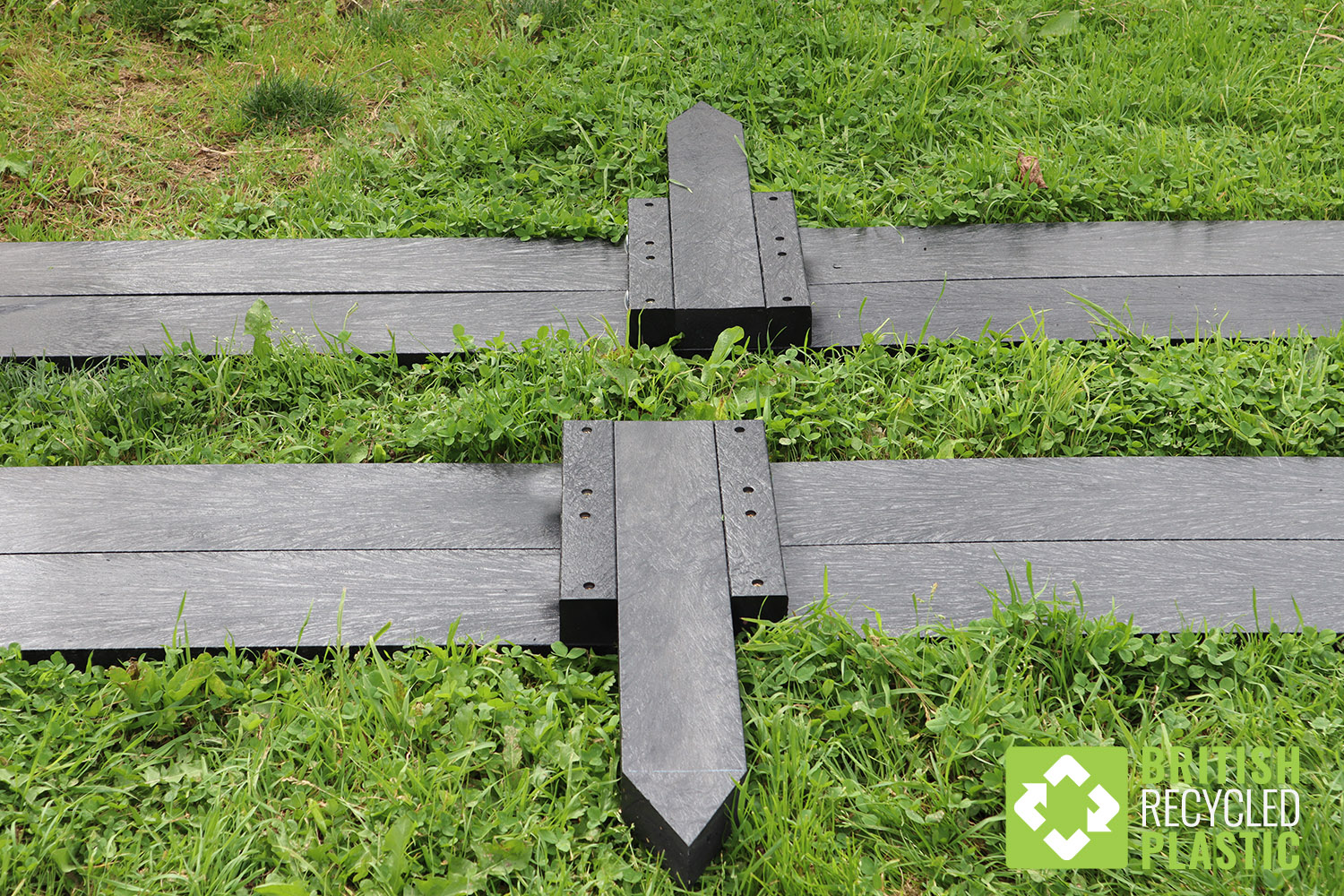 Cross-ties are an important structural element on our longer raised beds, preventing the raised beds' walls from bowing out under lateral pressure from wet and heavy soil. (See images below.)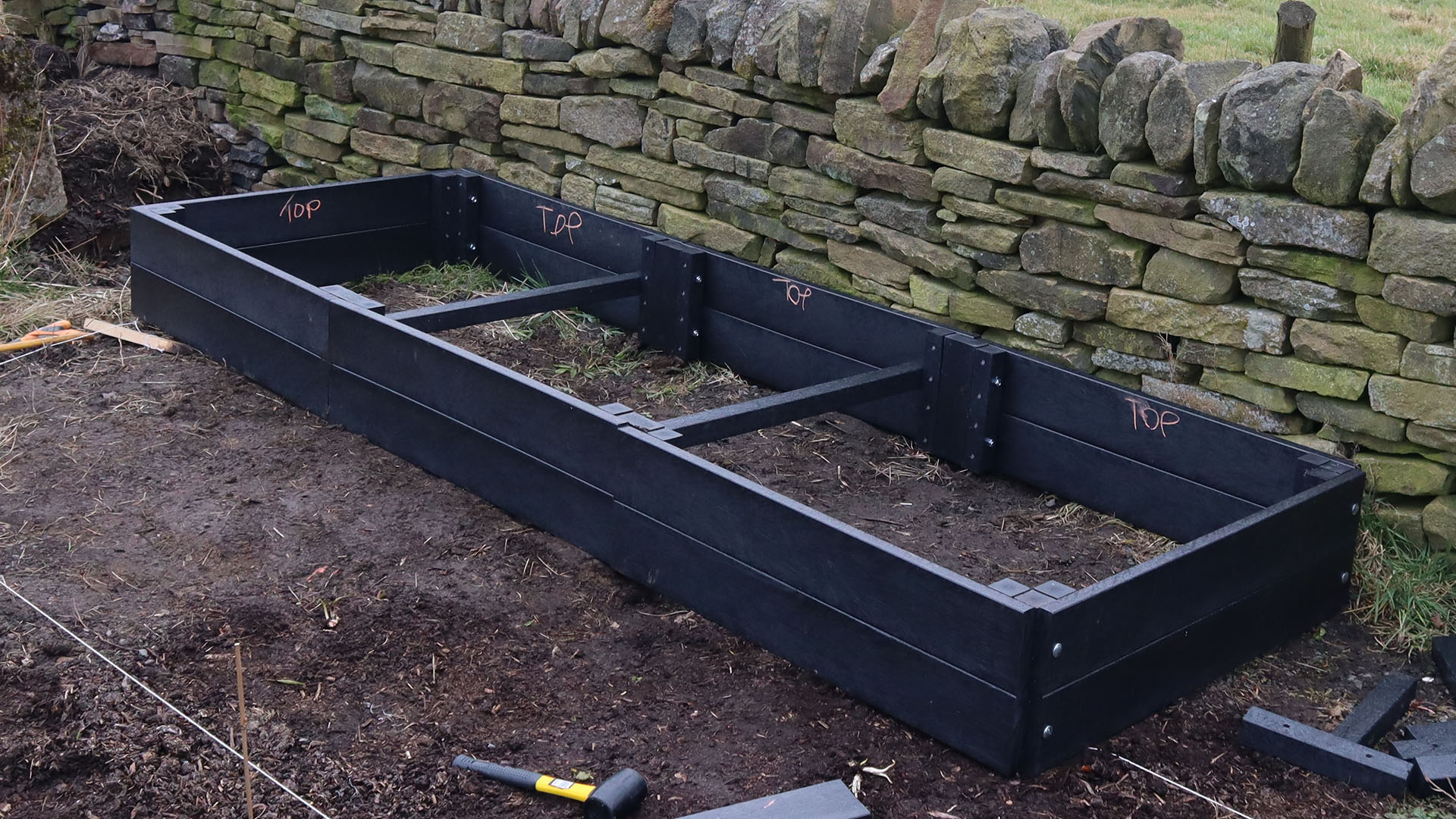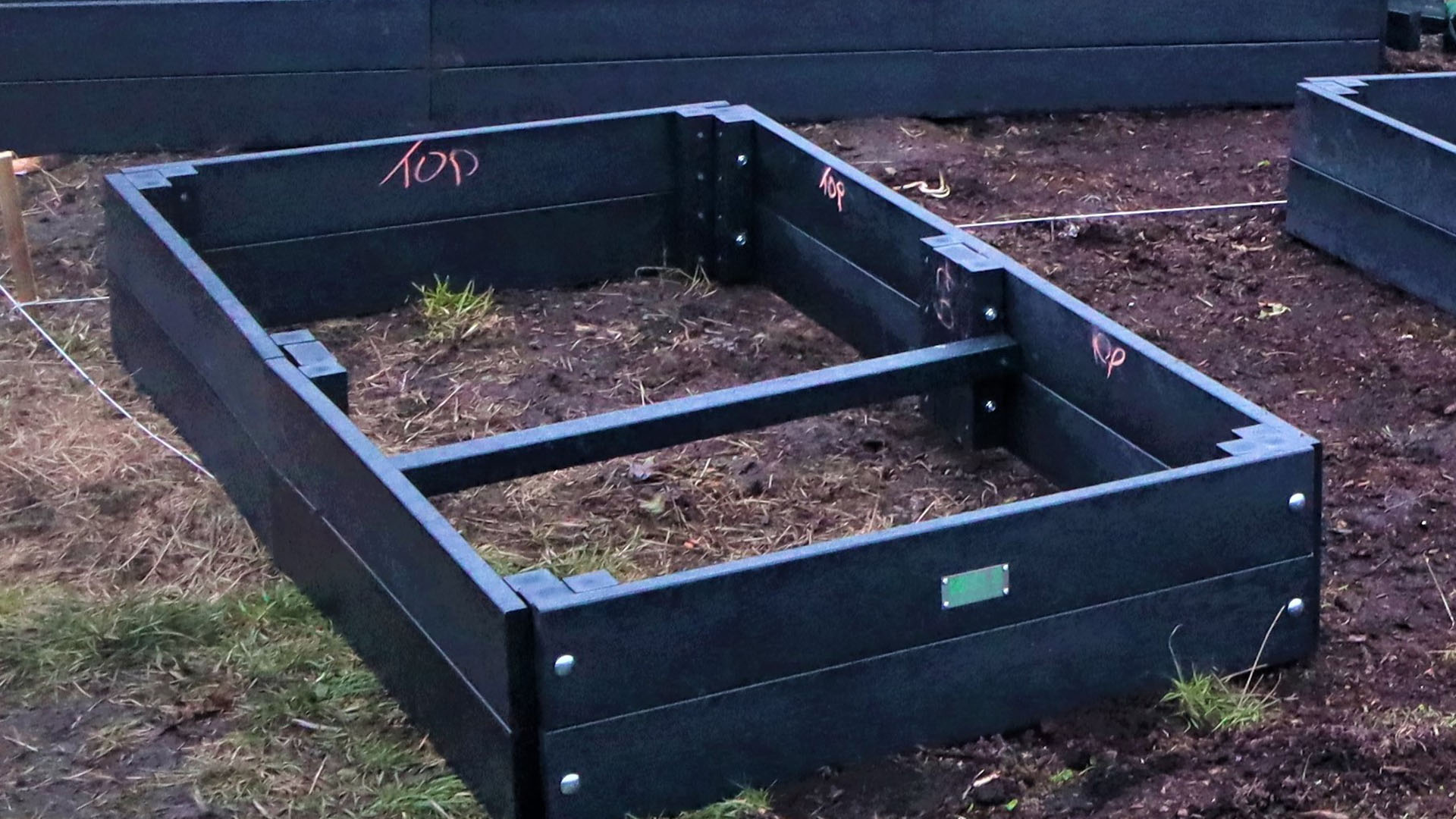 FAQs about raised beds
Once it's been delivered, how do I store my raised beds parts before I start assembling them?
Recycled plastic lumber should always be stored laid flat on delivery, until you start work on it. It's best to just leave everything on the pallet.
Can the recycled plastic lumber be worked like wood?
In many scenarios, recycled plastic lumber can be worked like hardwood, however it is worth noting that it should never be cut lengthwise.  This is to do with differing tensions between the "skin" of the recycled plastic and the inside. Nor should deep notches over 50% of the width of the plank be cut into it.  Cutting a notch into a lumber plank weakens it as would be the case with timber.  Therefore if notched planks are integral to your design, we suggest this is only as part of a finished product which remains static, ie. not something which is regularly moved or dismantled.
I have replaced a number of wooden raised beds in the past, often after only a few years. How long will these last?
Raised beds made from recycled plastic will last for many decades, maybe even 100 years, but ours come with a 25 year guarantee.
I have one of your raised beds and the seedlings seem to sprout earlier than they did in my old wooden beds. Why is this?
The recycled plastic acts as a thermal store, retaining heat and allowing for earlier germination.
Will the beds leach any preservatives into the soil?
Not at all. They are chemically inert, neither absorbing nor releasing anything.
Do I need to buy a kit or can I make my own by just buying the lumber and fixing it together myself?
You can do either. If you have specific dimensions you wish to fill, you may prefer to buy full lengths and cut them to your exact requirements, saving a little money in the process. If you want something easy to assemble, pre-cut and with fixings supplied, a flat-packed kit is probably best for you.
Why do your kits and flat packs come in three different heights?
300mm is good general height for those people who are able to kneel while tending the bed; 600mm is the perfect height for wheelchair users and 750mm is a good height for those who would prefer to stand without bending too much.
Why do your kits come in two different widths?
500mm wide kits are perfect for those people who have only access to their raised beds from one side, for example if they are on the edge of a garden or against  a wall, whereas 1 metre wide beds are ideal when access is possible from all around the raised bed.
Can I buy these from garden centres?
No, they are only available direct from us. Please email your enquiries to [email protected] or call us on our freephone number of 01422 419 555 and let us know what you're interested in and where you are.
Where does the plastic come from?
All of the plastic is sourced in the UK, much of it from Scotland's agricultural sector, but also from other manufacturing and commercial sources .
How are they shipped out?
Due to the very heavy weight of these and all of our other products, they are sent out strapped to pallets through the national road haulage network. Due to the kit form, even 3.5 metre long raised beds are stacked on individual pallets making them suitable for relatively small delivery vehicles that can in turn access narrow lanes.
Is the delivery included?
Delivery to most of mainland Britain is included, however there is a small additional charge for the Highlands, Islands and Northern Ireland, depending upon your postcode. Please contact us for specific prices in you are in one of these areas.
How long does delivery take?
All of our products are made to order so under normal circumstances please allow up to three weeks for delivery. On rare occasions at extremely busy times delivery may take a little longer, but we will let you know when you order if this looks likely.
Read more about how our recycled plastic raised beds have been used by our customers
A few photos from our customers, both kits and bespoke designs