The use of raised beds for growing fruit and veg has become increasingly popular over the last decade or so, and with good reason. With sustainability and planet-friendliness being higher on the agenda than ever before, more and more people are discovering the benefits of growing their own produce. Using recycled plastic raised beds can be incredibly rewarding, as swathes of seasoned growers will readily attest. Growing your own fruit and veg is no longer just the preserve of pensioners pootling about on the allotment, now raised bed projects are being embraced by household families, urban gardeners, schools and community groups across the UK.
The global pandemic has also played a part in the recent gardening boom – when Covid took hold in 2020, allotments saw their waiting lists dramatically increase, and many suburban and urban gardeners used the extra time at home to get a growing project underway. Self-sufficiency, personal satisfaction and the chance to teach the younger generation about sustainability are all encapsulated in raised bed growing, values we can all get behind at any time.
Ease and convenience
The are several obvious benefits to using our recycled plastic raised beds – they substantially improve drainage, reduce weeding, and make companion planting and crop rotation quick and simple. They also encourage healthy and vigorous growth by absorbing thermal energy from the sun.
However, construction and maintenance are common concerns among those considering plastic raised beds for the first time. Many people find the prospect of building their own beds daunting, and worry they may be lacking the technical know-how for the job. This is exactly where our raised beds come in, as the whole building and upkeep process could not be simpler.
Our raised beds arrive flat-packed in kit form, with all the necessary fixings supplied. They are easily assembled with bolts, no tricky drilling or cutting is required – welcome news for those less confident when it comes to DIY! As well as the ease of construction, one of the main benefits of raised bed growing is the ability to work at a comfortable height. Whereas traditional veg patches would have been at ground level, our raised bed kits are available in three different heights to perfectly suit your needs.
The 300mm height is a good choice for those who are comfortable kneeling for longer periods, and prefer their planting to be closer to ground level. However, some of us are not quite as nimble as we once were, so the 600mm and 750mm options mean you can look after your plants while sitting or standing – ideal for wheelchair users and those with limited mobility.
Take a look at our easy assembly video here.
Customer stories
Some of our customers have have been a little apprehensive about building and installing their own raised beds, but have been pleasantly surprised as how straightforward it proved to be. In 2020, Hannah and Helen bought raised bed kits for their garden in Hebden Bridge, and have enjoyed developing their growing project in the subsequent months:
"We're two years into our gardening adventure in the Pennines; quite a challenging environment. We decided in the first year that raised beds would be really helpful but didn't relish the idea of ongoing maintenance and potential replacement, especially as we're not exactly spring chickens! The British Recycled Plastic beds were the perfect solution and after the installation – which was pretty straightforward, even on our sloping site – we're looking forward to many years of maintenance-free growing.
"We've enjoyed crops from the beds throughout the year, beans, mange tout, spinach, sugar snaps, carrots, beetroot, onions and loads of salad and herbs. It's exciting to discover what thrives and what doesn't in our West Yorkshire climate and the beds are at the heart of that."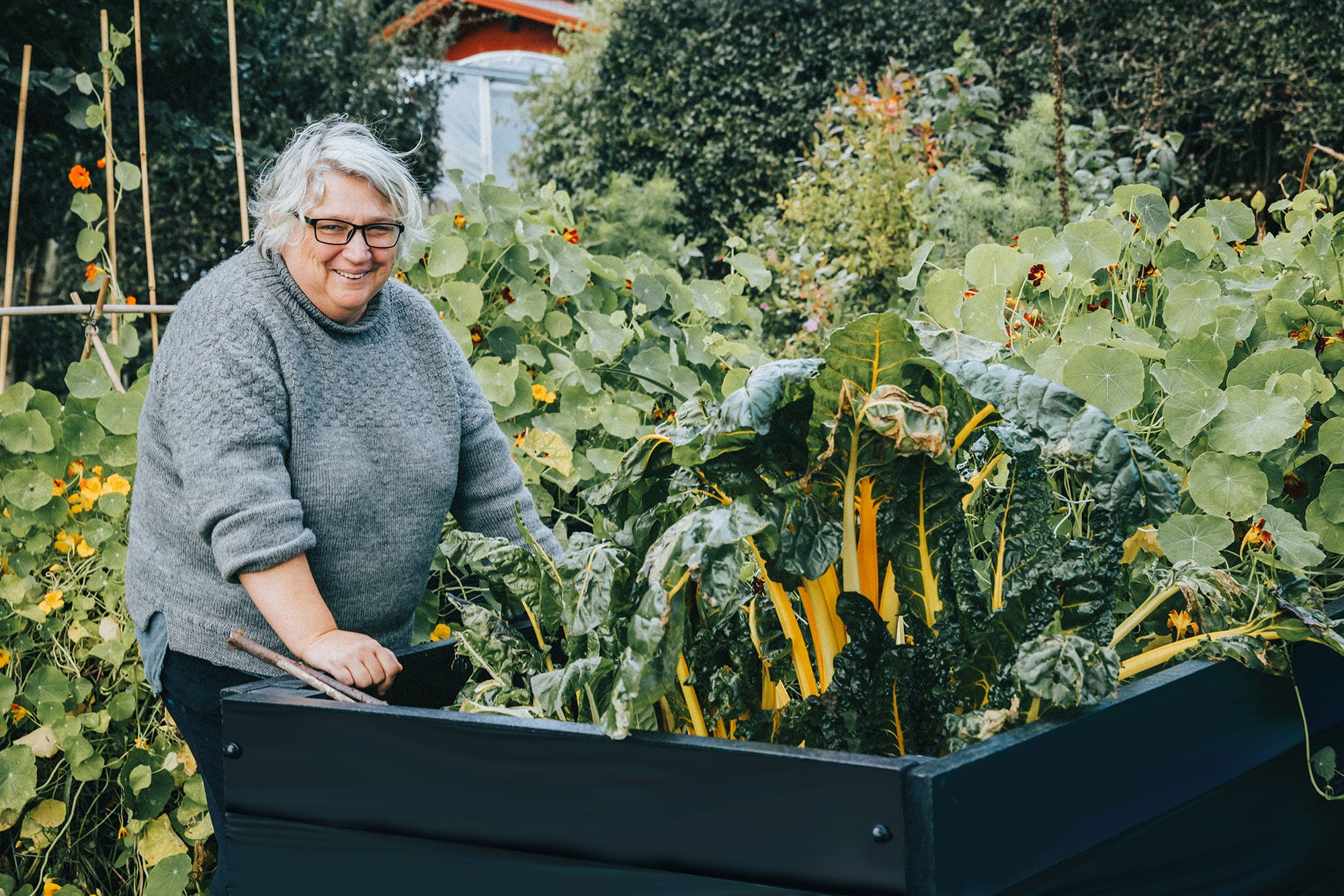 Glenn in Cambridge is also a couple of years into his gardening project, having deciding that plastic raised beds would be preferable to more traditional materials such as wood or brick. Impressed by the ease and resilience of the plastic beds, he's now a convert!
"This is my second year using my plastic beds and I couldn't be happier. They were very simple to assemble, and only required screwing together. They haven't warped or bleached, and look as good as the day I bought them. I will be taking them with me when I next move house!"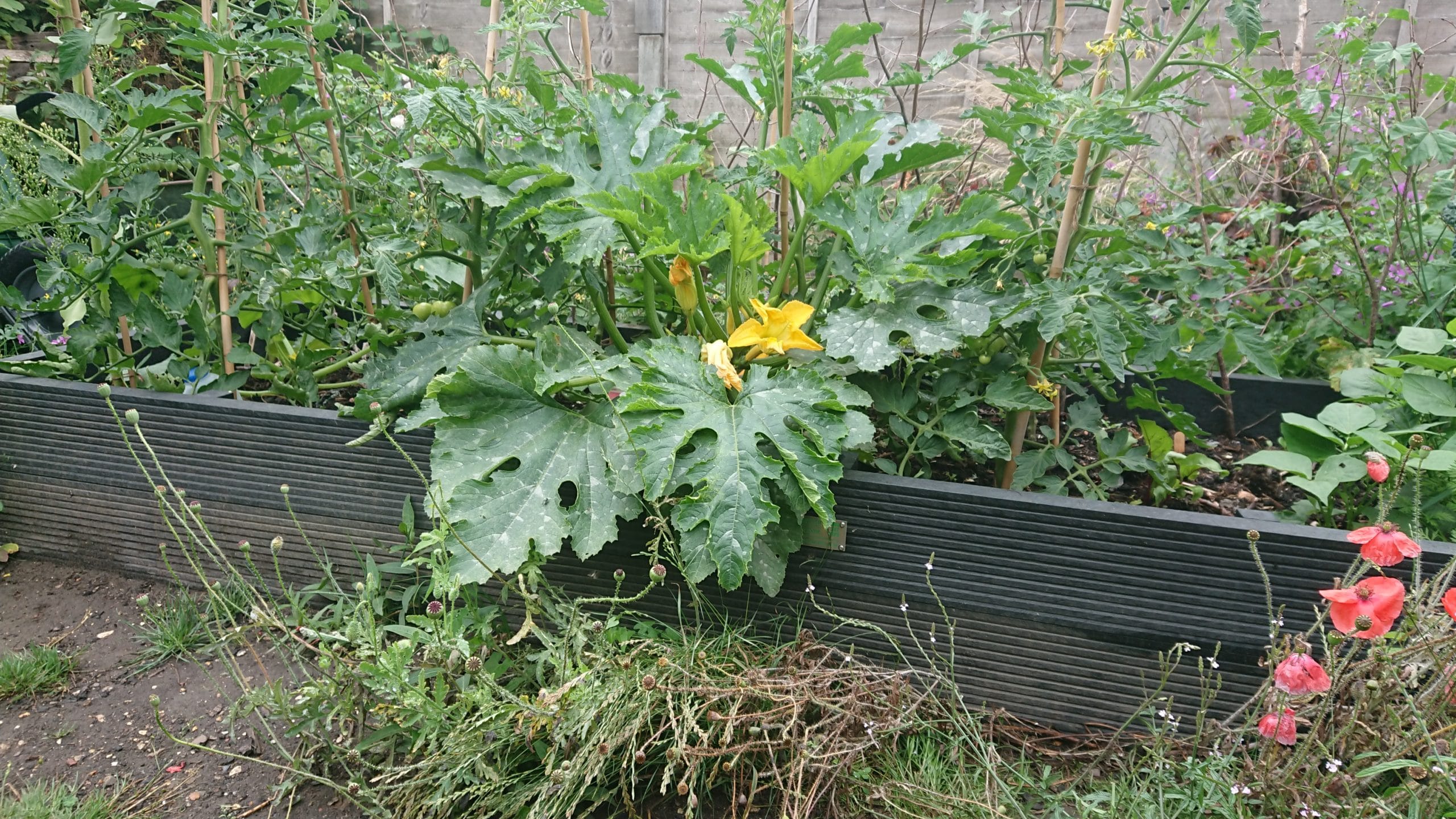 The longevity of our raised beds appeals to many of our customers, as once in place they will never need to be replaced or rebuilt every few years. Eileen in Worcester chose plastic over other materials, deciding that our raised beds would be a wise investment.
"My husband and I assembled them ourselves, and we are no experts! Although they may be more expensive than other wooden raised beds, they will last for many many years. Longer than wood. For us, as we plan to stay in our house for the forseeable, it made economical sense to go for something that will last. The black finish looks very smart alongside the white gravel paths we laid between the planters."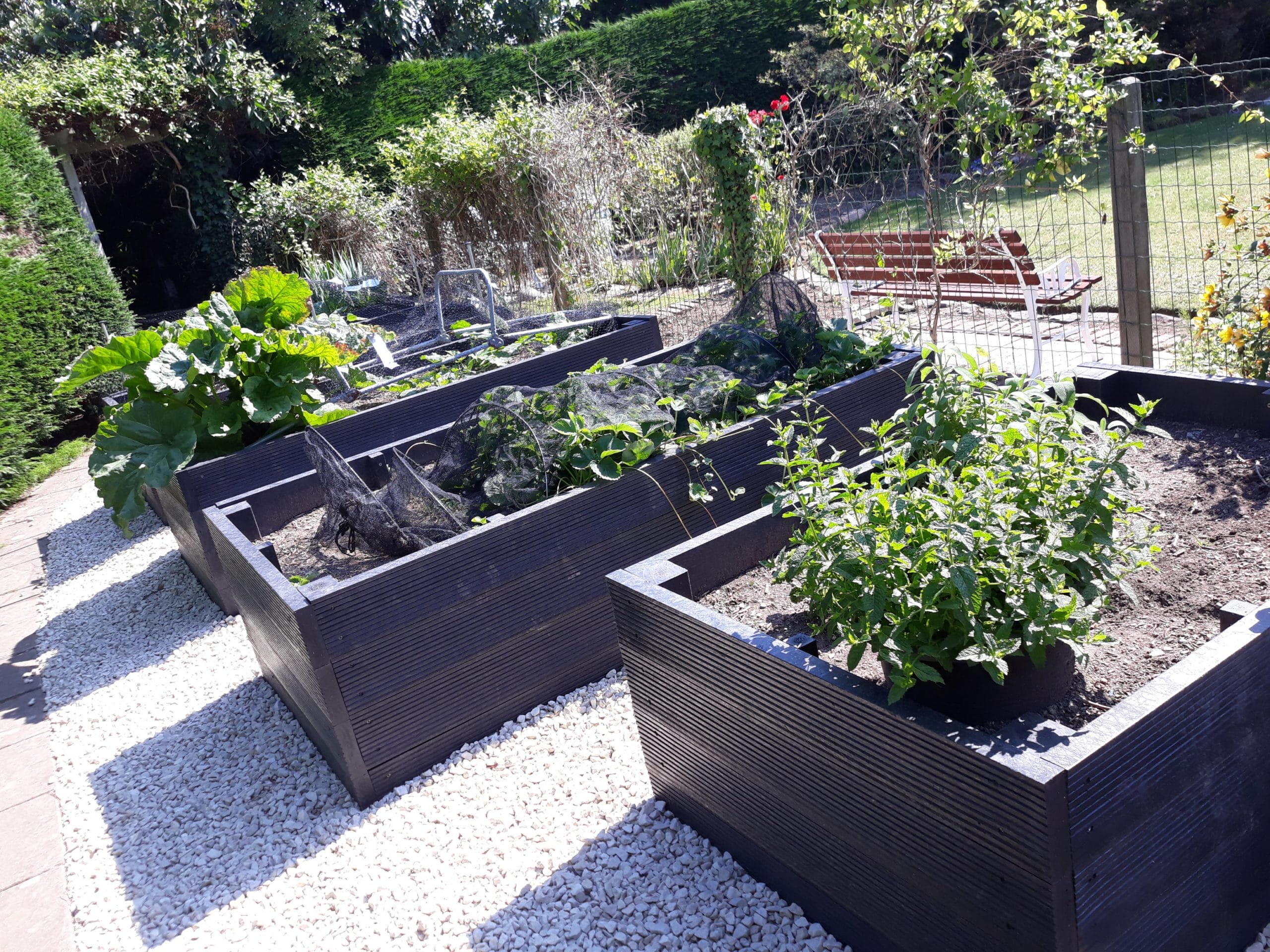 Paula, in the Scottish Highlands, also opted for plastic after discovering its benefits. The weather can get pretty turbulent up there, which is where plastic beds come into their own.
"Buying plastic raised beds for my garden was not something I initially considered but rather stumbled across when researching wooden products. Reading about British Recycled Plastic I realised what a great solution it could be. Treated wood is expensive, needs maintenance and will rot, needing replacement in 10-15 years. Plastic, whilst still expensive at first, doesn't require maintenance and will outlast me!
"My only concerns were about strength and appearance not wanting a weak and tacky looking set of beds. Ringing the company to ask more about the product I was reassured about their strength, appearance and design features. I garden on glacial moraine – a few centimetres of soil, then compacted stone that has broken more than one garden fork!
"The product arrived on pallets and was very easy to assemble with the enclosed instructions. Any reservations I had about strength or sturdiness were unfounded. The supplied screws were good as I put them into the very dense plastic, everything is supplied straight and square so went together well. They were set up on a flat grass area with a weed suppressing membrane at the base followed by a deep layer of rotted manure then filled with compost.
"Having been in place for two years they have seen sunshine, rain, hail, snow and ice in the Highlands without discolouration, fading or warping. All of the plants – flowers, shrubs, fruit and veg – are doing very well."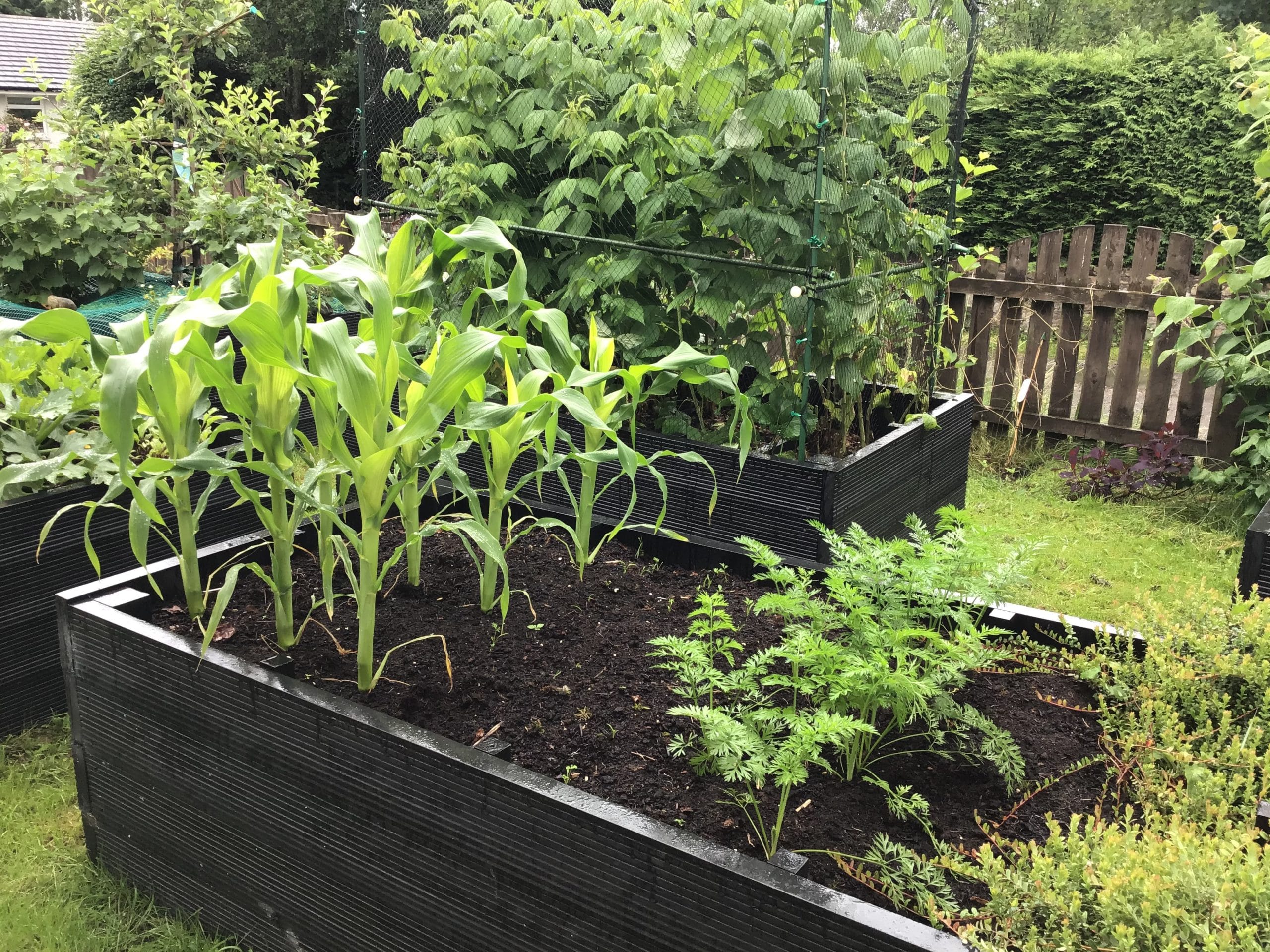 As an experienced gardener, Helen in Bedfordshire has been very happy with recycled plastic raised beds, having used many different materials in the past.
"My daughter assembled the beds and found it pretty quick and easy, not at all complicated. She and her partner moved them into place and I spend the winter adding material to the beds.
"Everyone who has seen them has admired them, I have shared them on our local environmental group and people have been impressed. I have told anyone who will listen that more plastics ought to be recycled – it is obviously possible.
"Before this, I did have raised beds made out of all sorts of things, old wall tiles, toughened glass, bricks, but the wood frames were rotting, and they were basically falling apart. I didn't want wooden ones that needed preserving as didn't like the idea of chemicals leaching into the soil, many other sorts of kit were either the wrong shape or size, not much choice as to the dimensions, and none of them looked that durable.
"I liked that they are made from recycled British plastic and have such a long guarantee, and am sure that they will outlive me. And they are a British product, and I like to support businesses from my home area (am actually from Bradford, but Calderdale is close enough!)"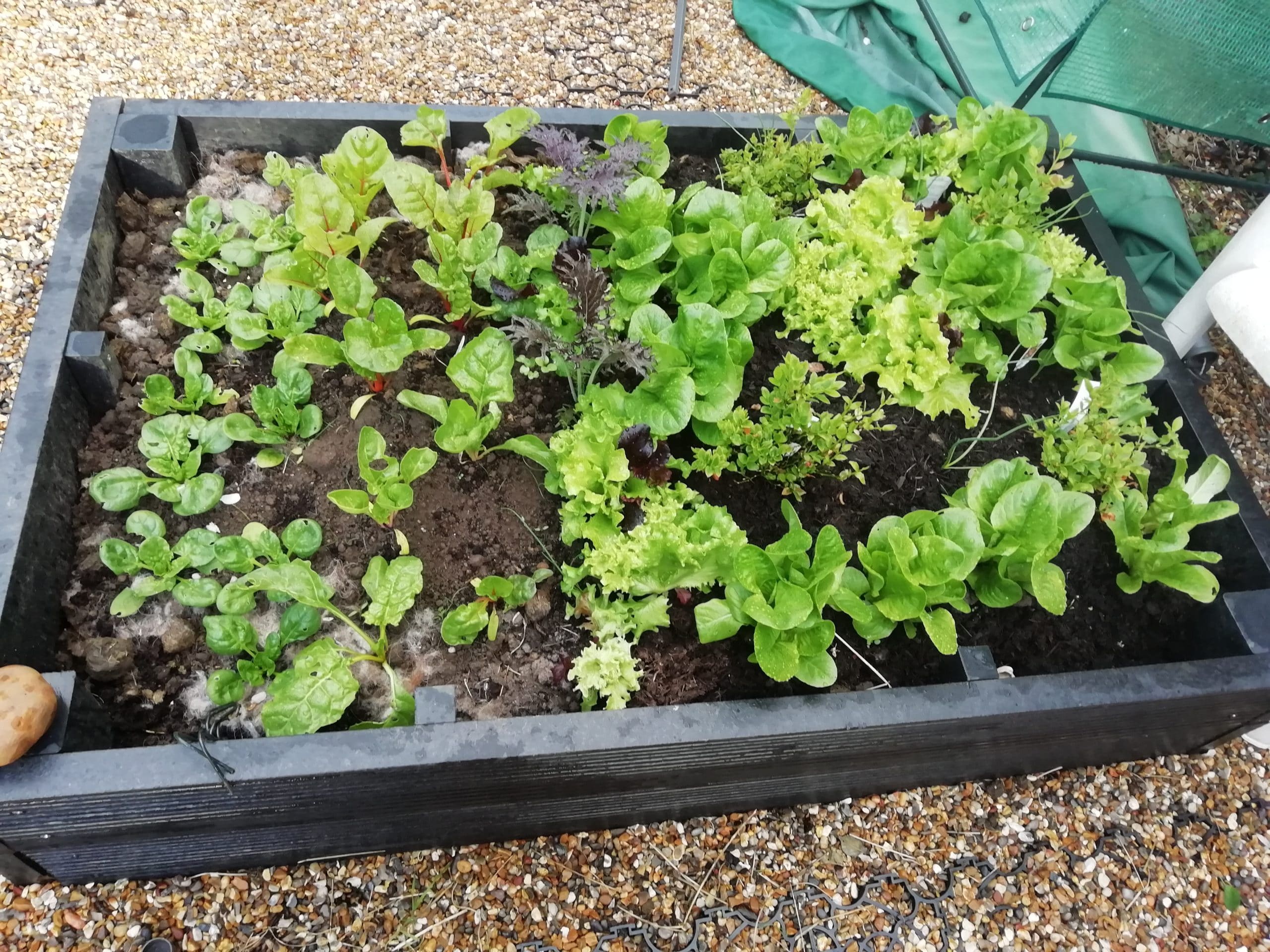 In 2020, West Kirby School in Merseyside decided to invest in raised beds to develop its horticulture area. Keen to find a solution that was both sustainable and easy for the pupils to work with, the school installed several of our standing-height raised beds., which the kids have taken to enthusiastically.
Luke Cowell, Operations Director of West Kirby School, told us: "We're really pleased with the quality of the beds. They also support the environmental ethos at the school, whilst being hard wearing and natural looking."
Miss Harris, Horticulture Teacher, added: "They're great! Practically they're easy for planting and weeding. And the growth has been absolutely brilliant in them."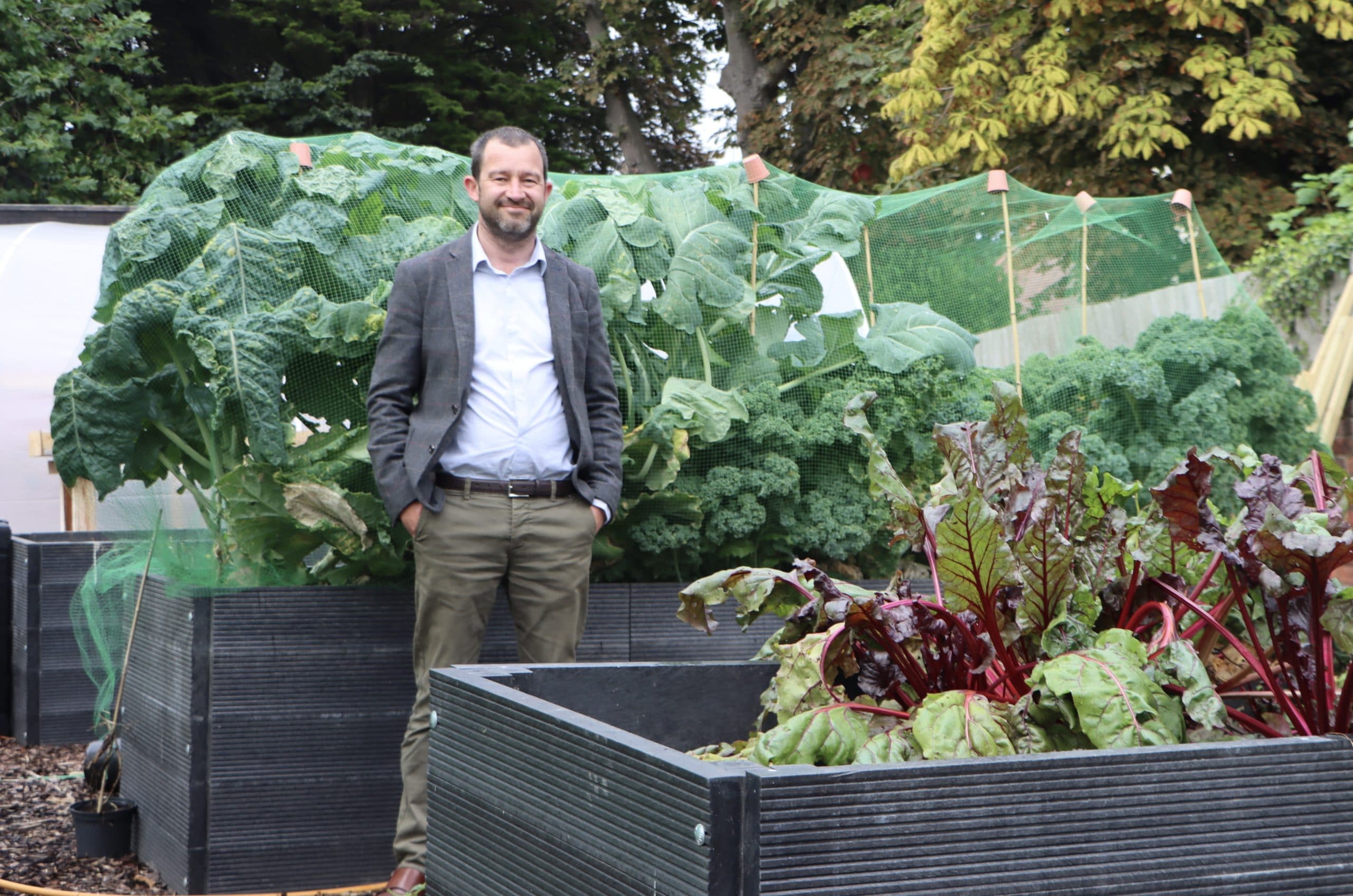 Join the raised bed gang
We've got customers throughout the UK who have discovered the simplicity and satisfaction of growing fruit and veg in raised beds. Whether for a school, allotment or domestic garden, we're confident you'll find something to suit your requirements in our large range of kits. If you can't, give us a call to discuss your custom order.
Our raised bed kits are designed with ease and convenience in mind – they are all strapped to single pallets, so they can be tail-lifted from the truck and can travel in smaller box trucks, for simpler delivery. They're easy to assemble and need only coach bolts (provided) to fix them together. They're available in our webshop, so your purchase can be completed online, easily and securely.
They last for decades and never need treating. They don't rot, split or splinter and don't leach toxins into the ground, so your plants and the wildlife around them are safe.
The eagle-eyed among you will have noticed that our raised bed design has changed a little over the past few years. We've listened to your feedback and developed a design with closed corners and a slimmer, smoother profile, as seen in this article's featured image.
Who are we?
British Recycled Plastic is proud to offer a range of products that are not only incredibly tough and durable, but actively help to dismantle the UK's domestic waste mountain and keep plastic out of landfill. Engineered from 100 percent British waste, our products are guaranteed for 25 years and supplied to thousands of organisations and private homes across the UK. We're making waste wonderful.
Visit British Recycled Plastics Webshop
Get in touch with our friendly and knowledgeable team by phone or email:
01422 419 555
[email protected]
Do check back as we update our blog regularly.
You'll find more tips to recycle effectively, as well as other relevant topics.