Platforms, Decking, Walkways, Boardwalks and Other Structures
Recycled plastic decking is maintenance free and ideal for making a variety of different structures.
Boardwalks, decked gardens, fishing pegs, viewing and pond dipping platforms and cycle ways made from recycled plastic decking are impervious to frost, algae, salt and fuel and as such will last a lifetime.
Recycled plastic decking is also used in domestic settings as it offers a non-slip surface that doesn't require annual jet-washing to remove the build up of dangerous algae so common on timber decking every winter.
Achieving value for money is a key driver for any purchasing decision and, as our recycled plastic is completely rot-proof and splinter free, the "whole life" costs of recycled plastic are considerably lower than standard timber.
We have added a few of our drawings below as guidance for you and to help you understand how recycled plastic decking can be used to make structures, but you should always check your own calculations and build to your own specifications.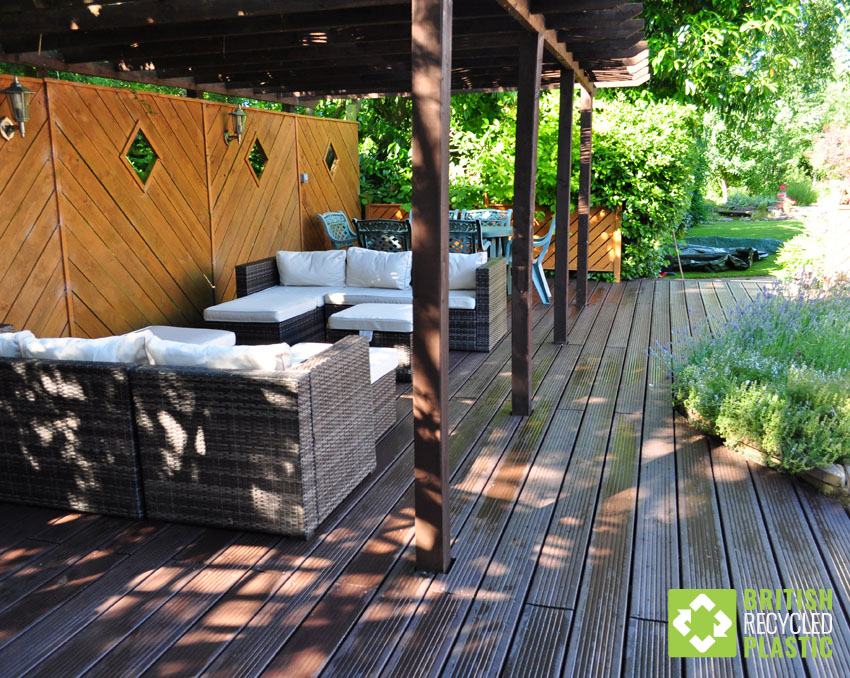 FAQs about boardwalks and other structures
Once they've been delivered, how do I store the boardwalk parts before I assemble them?
Recycled plastic boardwalk parts should always be stored laid flat on delivery, until you assemble them.
What kind of tools to I need to use to work the recycled plastic?
It can be cut and drilled like hardwood, but please be aware that this means you will go through blades and drill bits more quickly than if you were working with treated pine.
Can the recycled plastic lumber be worked like wood?
In many scenarios, recycled plastic lumber can be worked like hardwood, however it is worth noting that it should never be cut lengthwise.  This is to do with differing tensions between the "skin" of the recycled plastic and the inside. Nor should deep notches over 50% of the width of the plank be cut into it.  Cutting a notch into a lumber plank weakens it as would be the case with timber.  Therefore if notched planks are integral to your design, we suggest this is only as part of a finished product which remains static, ie. not something which is regularly moved or dismantled.
For an elevated structure, what should I use for posts and how far apart should they be?
We strongly recommend using 100x100mm posts (RPL005) spaced at a maximum of 1.5 metres apart, centre to centre.
Can you calculate how many planks and of what size I need to make something if I give you the overall measurements?
No, sorry. You will need to do your own workings out based on what you need and using our price and product list for the sizes.
Can you supply planks cut to size?
Yes, we can cut your material to your specified sizes for a small charge (see price list).
Is there an easy way to work out how many decking planks I need to cover a surface?
Allowing for a 10mm gap between boards, each decking plank can be roughly counted as half a square metre.
How far apart do the stringers under decking planks need to be to create a surface that isn't too springy?
500mm centres are fine.
Do you have any drawings that I can use for guidance?
We have a number of drawings you might like to look at here.
Do the decking boards need to be laid in a particular direction?
The grooves on the surface should always be laid across the direction that people will walk. Where used over water, the grooves should always be parallel to the bank.
Can I screw directly into the recycled plastic?
It is difficult and can be frustrating. We always advise drilling a pilot hole.
Can you give me a price to design and install a recycled plastic boardwalk?
I'm afraid we don't design and install ramps, platforms or boardwalks. We just manufacture and supply the boards.
Our recycled plastic does, however, cut and perform in a similar manner to hardwood planks, so the people you would normally use to make this if it were wood should be able to construct it from recycled plastic.
We would be happy to give you a price for the material and can cut it to size if you would like to supply a list of the planks you need. We are also happy to talk to any installers/joiners/volunteers on the phone if they would like additional support.
The wooden boardwalk we have has rotted and become dangerous in under ten years. How long will yours last?
We'd expect it to last several decades, probably 40-75 years if you build it well.
What sort of fixings should I use?
We would strongly recommend using stainless steel bolts and screws for any recycled plastic structure, whether boardwalks, platforms or anything else, otherwise the fixings will need replacing long before the planks, rails and posts.
Features & Benefits of Recycled Plastic Decking
Extremely durable – The walkways have an expected life expectancy of at least five times that of timber alternatives, with little or no visible wear

Rot and algae proof – Very little or no maintenance is required and no painting nor preservatives need to be applied

Crack proof and insect resistant – Recycled composite material will not crack or dry out and is impervious to attack by insects

Non slip – The surface texture created in the manufacturing process produces a low slip risk surface and does not require the addition of chicken wire.

Splinter free – Recycled composite materials do not splinter

Whole life costs – Whole life costs are considerably reduced

Reduced frost/ice hazard – Composite materials also retain latent heat efficiently resulting in a reduced frost/ice hazard for users of walkways or hard standing during cold periods
Recycled Plastic Decking Drawings
Please see below for drawings with some suggested layouts for structures. While we have found these to work as general guidance tools, they are in no way a substitute for engineers' or landscape architects' drawings and you must make your own calculations for any structure you may wish to construct as Low Carbon Products Ltd cannot accept any liability for your design.