Looking for ground reinforcement grids to use in the fight against flooding?
Ground Reinforcement Grids from British Recycled Plastic work as permeable paving allowing water to seep away instead of pooling. Based in the Calder Valley, scene of devastating flooding in 2012 and, more recently, on Boxing Day 2015, we have long championed the idea that it's best for rainwater to return to the water table rather than through our often antiquated drainage network, much of which was built by the Victorians.
As more of the world gets covered by tarmac while rainfall increases year on year, ground reinforcement grids or plastic grid paving have become more of an essential tool in the battle against flooding. Take a look at the video below to gain an insight into how they work.
Generically, this type of product is often referred to as cellular paving, porous paving, ecopaving, permeable paving, ground reinforcement grids, SuDS pavers, gravel grids, ground stabilisation grids or plastic grid paving.
The ultra-tough Hebden X-Grid
Made in Yorkshire from 100% British recycled plastic, the Hebden X-Grid Ground Reinforcement Grid is the highly durable, permeable alternative surface for permanent and overspill car parks, private driveways, emergency vehicle access lanes, golf buggy paths, helicopter pads, cycle routes, pathways, verge stabilisation and many other uses.
Hebden X-Grid has been developed as a replacement to Hebden 402, providing greater strength for the matrix when many grids are clipped together.
Domestic and public friendly
Ever since the Hebden 40 was launched in 2008, our Hebden ground reinforcement grids grids have been designed to be finished with either grass or gravel allowing them to blend unobtrusively and elegantly into private homes, parks, rural areas or heritage sites whilst maintaining extraordinary load bearing capabilities, unlike unsightly asphalt or expensive block paving.
The modular grid system makes it easy to fit and allows rainwater to filter back to the water table, making them perfect for incorporating into SUDS (Sustainable Urban Drainage Systems) strategies as an essential weapon in the battle against flooding.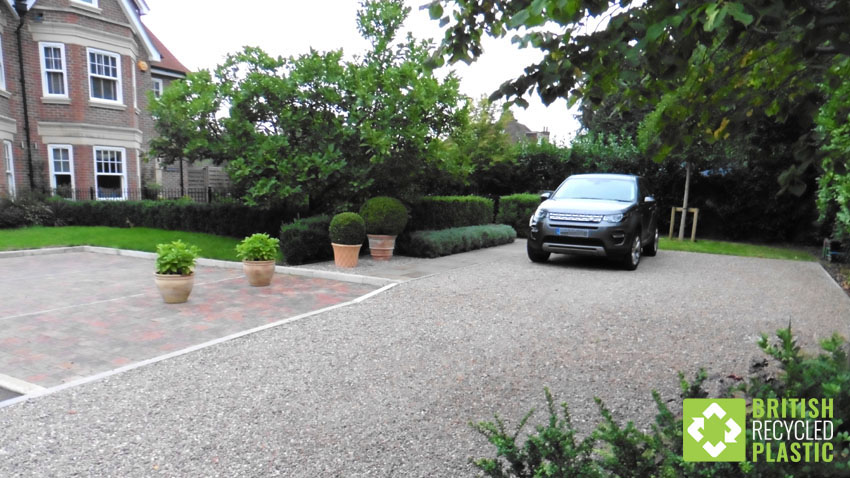 If it's good enough for the government…
Our ground reinforcement grids have been a popular choice with governments of all flavours.
Back in 2009, the Ministry of Defence was one our first big customers, choosing our Hebden 40 grids for an 11,000m2 car park, and this continues up to the present day with Highways England using our Hebden X-Grid for a number of projects across the country. Pictured is a 10,000m2 project to create access routes and hardstanding for emergency vehicles at the newly opened Chelmer By-Pass in Essex.
Big organisations taking responsibility
In general, Britain's large organisations take their environmental responsibilities seriously.
With more and more awareness of tarmac's contribution to flooding and the need for Sustainable Urban Drainage Strategies to "slow the flow" of rainwater, many organisations like NHS Primary Care Trusts and Transport for London (right) have been buying our Hebden ground reinforcement grids in the last few years.
As you can see here, for areas that get a lot of traffic, 14-20mm angular chippings are the most common filling for the grids. This is because, not only to the chippings bed down to provide a stable surface, they are also big enough to avoid migration in the tread of the tyres of large vehicles.
However…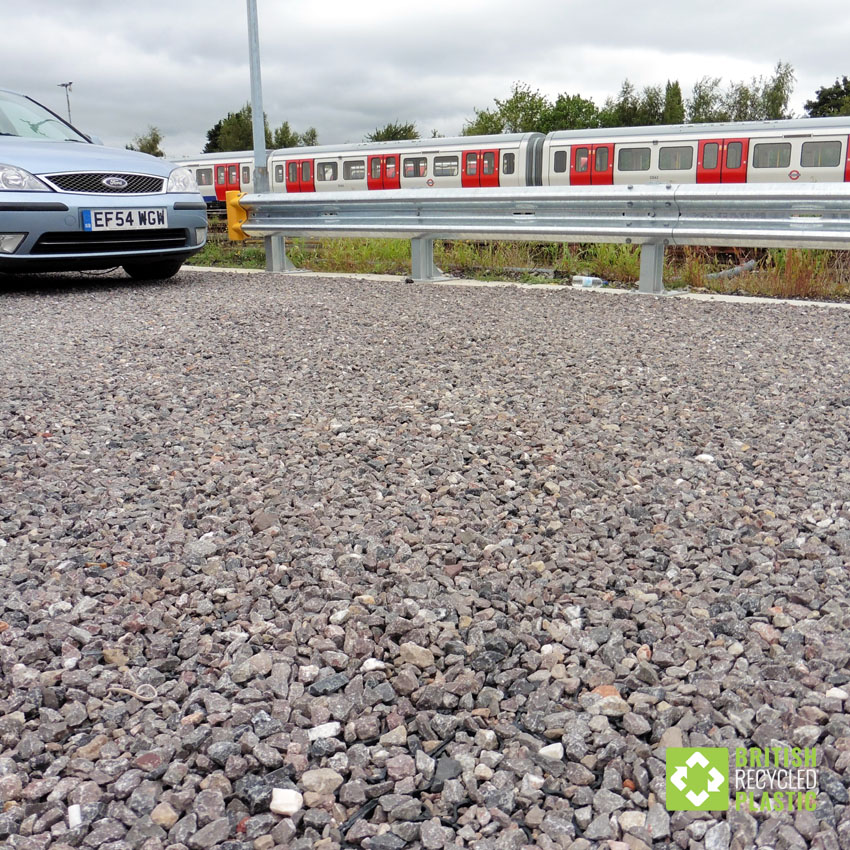 Keeping it green and natural…
For reasons of durability and ease of installation, gravel chippings are the most popular method of filling our Hebden ground reinforcement grids, but the most beautiful filling is grass.
Grass is particularly suitable for areas that see less traffic like emergency access routes, overspill car parks, helipads, private gardens and golf buggy routes as well as public car parking bays like here.
The key, as with so many things, is patience. Once the grass has grown through the ground reinforcement grids for the first time, it then needs to be cut back and allowed to grow fully back a second time before traffic is allowed on to the grids.
It's not all about cars, you know.
Of course, the primary use for our Hebden ground reinforcement grids is as very strong, permeable paving for vehicles to drive and park on, but they also have a (relatively) secret superpower.
If you have ever tried to push a wheelchair or a child's pushchair across normal, unbound gravel you will know that it is such an incredibly hard thing to do. Fortunately, it can now be made passable for small wheels by laying down our Hebden X-Grids first, like in the photo of Long Eaton Community Garden here.
If your path is in a public area, this is an even more important thing to do as the area then becomes what is called "Part M compliant" as Part M of the Building Regulations is the section that deals with ensuring access for all, regardless of any disability.
This, as well as being absolutely the right thing to do from an access perspective, also aids aids in planning application processes.
FAQs about Hebden X-Grid ground reinforcement grids.
What are the ground reinforcement grids made from?
Our Hebden X-Grids are made from recycled British industrial plastic, sourced in the Midlands.
Can they be used on a sloping driveway or access roads?
Yes they can. Depending on the gradient they may also need some of our U Pins or J Pins to fix them more firmly to the ground.
1 in 8, or 12%, is a reliable maximum.
What is the maximum weight of vehicle they can carry?
Calculations are done slightly differently, as this can depend on how many wheels, what size tyre and a number of other factors.
One of the main tests is how much weight can be applied to an un-filled square metre before it collapses, which is 420 tonnes in this case.
The maximum axle weight of 30 tonnes is a more practical indicator, as this shows that our grids are suitable for any UK road-legal vehicle, assuming the sub-base has appropriately installed for the type of traffic expected.
I've read on the internet that vans and lorries need 50mm or 80mm grids, not than the 40mm grids you supply. Is that true?
No, it isn't at all true. Moulds for these type of products are costly, so when manufacturers have stock of 50mm and 80mm products it is understandable that they will want to get rid of them, but we have been selling 40mm grids to people like England Highways, various Police forces, the Ministry of Defence, Transport for London and many others since 2008.
How quickly can the grids be laid?
The grids arrive to you on a pallet and clicked together in nines to make a square metre, so once the base has been prepared, they can be laid by pretty much anyone at a rate of 100m2 per hour. It really is very swift.
Our area is prone to flooding. Are your grids any help to us?
93% of the grid is an open structure, meaning that the vast majority of rain that falls on them heads straight back to the water table, rather than being forced into an overburdened drainage system, as would be the case with tarmac.
Any method of "slowing the flow" of rain water reduces the risk and subsequent impact of flooding.
I want to be able to park on my lawn. Can I just roller the grids in?
No, sorry. You need to create the base layer and then grow the grass within the grids. See our installation guide for more information.
Why do I need angled chippings instead of pea gravel to fill my grids?
Angled chippings work their way into a more stable grouping when they have been travelled over a few times. This stability makes the overall surface stronger, although the whole installation will need topping up once the chippings have settled. This usually requires another 12-15% of filler material being added a couple of months after the surface has been used for the first time.
Why is the recommended size for chippings a 14-20mm blend?
Lots of vehicles, particularly SUVs and 4X4s, use tyres with deep treads. Using a 14-20mm blend ensures that the gravel does not then migrate in the tyres away from the site on to tarmac where it could become a skid risk.
I'm buying some grids for my driveway. Can I get a few extra to use for a base for my shed?
Absolutely. The Hebden X-Grids make an excellent damp-proof base for all sorts of things including sheds, greenhouses, hot tubs and garden rooms.
Are the grids available in colours other than black?
We used to supply them in green or white, but due to the very high costs involved and the fact that over 99% of orders were for black, these colours have now been discontinued. We apologise for any inconvenience caused.
Read more about how our recycled plastic ground reinforcement grids have been used by our customers