Have you ever wondered just how much the power of community can achieve? Get yourself to Driffield to see what can be done.
Driffield is a small market town in the East Riding of Yorkshire, not far from the popular tourist resorts of Bridlington and Hornsea. Driffield Beck runs though the town, toward the River Hull. It's an unassuming but important watercourse which is the northernmost chalk stream in England and one of the most northern in Europe. The Beck is acknowledged as an important habitat and conservation area. The water and the area of parkland in which it sits are home to diverse species of wildlife, from kingfishers and egrets to brown trout and grayling.
People power at work
Also in Driffield, is Darren Baker, a man who considers himself so much a part of the area that he says if you sliced him in half, you'd find him chockfull of the hometown he clearly loves so much. Darren has been an active volunteer in a number of community projects in Driffield, one of which was litter-picking in the Beck. Once he and other volunteers had collected their 1,000th bag of litter, he decided it was time to expand the vision for the park and founded Friends of the Beck, Driffield, in 2017. Like so many projects, they started small. Darren, a few friends and his team of carers (Darren's a quadriplegic wheelchair-user, following a car accident in his youth) each chucked in £50 to cover the public liability insurance they'd need to officially begin work. By 2020, they'd secured grants from donors such as East Riding Council, Horace Taylor Trust and Tesco and fund-matched these with their own charity events. Their hard work paid off and with £30,000 in the bank, they started to plan works. Today, a team of around a dozen active volunteers continue work. Darren – at a mere 47 years of age – is one of the youngest, whilst their eldest is an 82 year old retired policeman.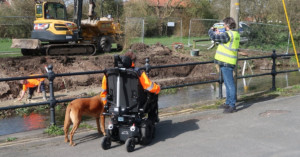 Driffield Beck redevelopment project
Darren is not a man who thinks small, it must be said. The first job – completed by local groundworkers, Kent Worx – was to lay foundations for the gabion baskets which now reinforce the banks of the Beck. This is big, structural work and a far cry from rescuing crisp bags from the pathways and banks. Groundworks currently continue ashore, with the creation of a seating/viewing area, and coming soon, a large planter, engineered from British Recycled Plastic with the help of Men In Sheds, another example of community power in action. This project provides opportunities for (mostly retired) tradesmen and craftsmen to share their skills within their local community, fostering new friendships and combatting isolation and loneliness.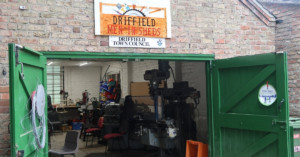 For their part in the Driffield project, their first in East Yorkshire, Men In Sheds have been provided with some local workshop space by the Environment Agency, in which they are currently building the aforementioned planter. Next on the list is more fundraising, this time to pay for the 20 tonnes of topsoil required to fill the planter, for which Kent Worx have kindly volunteered their time.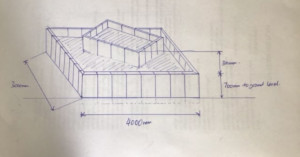 The British Recycled Plastic planter will never rot or need any maintenance and it will stand for decades. Friends of the Beck have chosen to use stainless steel fixings to ensure their ironmongery doesn't end up being the weak point of their structure, so they can relax and enjoy the flowers for many years to come. Men In Sheds say that British Recycled Plastic planks and posts have been a fantastic product to work with and we hope to get some more working tips and feedback from them when we visit the site in the next few months.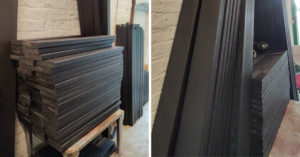 As you'll have gathered by now, this entire project – though imagined and instigated by the powerhouse that is Darren Baker – has been achieved by an extraordinary level of community support and co-operation. So many volunteers and organisations have contributed time, money and hard work to completely transform Driffield Beck and work continues apace. Ultimately though, the project is driven by Darren and earlier this year, his hard work was recognised when he was honoured with the East Riding of Yorkshire Council Chairman's Award. He was up against some stiff competition and to say he was surprised when Claire Frisby of BBC Look North announced him as the winner of his category, would be an understatement. COVID restrictions have denied him the opportunity of a gala celebration, but the presentation was duly made in Darren's front garden, flanked by the kingfisher logo of the Friends of the Beck, designed by Darren's artist mother, Irene.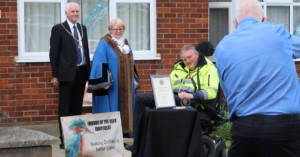 Many congratulations to you, Darren. Your honour is well-deserved and your work at Driffield Beck is an absolute inspiration. We look forward to visiting, meeting you and your gang in person and seeing for ourselves the beauty of Driffield Beck.
Why choose recycled plastic for your outdoor project?
Where would you like us to start?! Here's a list of the many reasons why our solid, recycled plastic planks, posts and boards are the right choice for you:
Zero-maintenance – feel free to brush or hose your plastic down a few times a year, but it will suffer no ill-effects if you don't. It'll never need any treatments and you're relieved of the time and expense involved in patching and refreshing rotted sections.
Does not absorb moisture – this means your plastic structure will never rot, split or splinter and will towel-dry instantly. It also means it's perfectly suited to being placed in soggy and inaccessible areas – in fact, it can be permanently submerged and is often used for boardwalks and platforms in lakeland and wetland areas.
No chemical "key" – our plastic has no chemical key to which substances or microbes can bond. This means it's impervious to the growth of mould and algae and although a very thin layer of graffiti will adhere, the paint is sticking to itself rather than the plastic, so will easily jetwash off. Once the factory finish has worn off, no mould or algae means our decking boards carry a lower slip-risk that their timber equivalent, so there's no need for unsightly chicken wire.
Lifetime-guaranteed – the worst thing about plastic waste (it barely degrades and lasts forever) is the best thing about recycled plastic. An industry lifetime guarantee is 25 years, but we're confident our products will last many decades longer. If your British Recycled Plastic product ever reaches the end of its useful life in your custodianship, simply return it to us and it will be re-recycled. All of our factory-assembled pieces have workmanship guarantees, too.
Why choose British Recycled Plastic as your supplier?
Buy independent and buy British – our products are made from waste plastic sourced and processed within the UK. This means we're resilient to whatever's going on in the outside world. When you choose British Recycled Plastic, you're helping to dismantle our own, domestic waste plastic mountain, as well as supporting an independent company who will genuinely value your custom and provide personal, tailored service.
Trusted – We have long-standing and valued relationships with many high-profile customers. You'll find our bollards in many a Morrison's car park and our X Grids sit in a number of Highways England sites. The MoD continue to furnish their breakout areas with our picnic tables, while our lumber is used for waymarkers, fences and signposts in several National Trust properties. We're trusted not only for the quality of our products, but also for our reliability, solid customer service and technical expertise.
Sustainable practices – being sustainable has never been a trend for us. Even before the inception of British Recycled Plastic, our MD was blazing a trail in sustainable housing practices. Each of our staff members have been chosen because they share our core values and are brand ambassadors and advocates – as a team, we're in this for the right reasons and we operate with integrity and sincerity. We believe in what we do and we're proud of our company. Because we work with UK-generated waste and distribute only onshore, we keep our little corner of the waste economy circular: our profits stay in the UK, boosting our local economy and providing jobs for UK employees.
Technical support – a fortunate side-effect of your staff being personally invested in your company is that they care about both their customers and the quality of their work. This means you get excellent customer service and technical support from people who genuinely care about your experience and the properties and applications of the products they're retailing. We'll always take the time to ensure you get the best product for your needs and support you throughout your purchase and installation.
If you'd like a quote, please check our full product and price list before submitting a cutting list to: [email protected]
For all other enquiries:
01422 419 555
Credit for all images to Darren Baker and Friends of the Beck, Driffield.