We know that not everyone who wants to compost has oodles of space…
…and that's why we've created our micro-Callis compact composters. Based on the popular Callis, the micro-Callis is a mere 500mm wide (or deep, depending on which way you like to name your dimensions). Put simply, it'll stick out 500mm from whichever wall you put it against. This means it's not only compact and space-saving, but will also slot neatly in around our 500mm raised beds – they're the perfect combination for urban gardens and balconies. They're available in black only, as black plastic stores maximum thermal energy from the sun, to speed up the composting process. Lids are optional, but a great way to keep flies and smells at bay.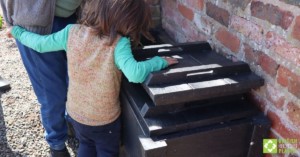 What's all the fuss about composting?
Behind composting is the principle of making your waste work hard for you. Organic waste contains sources of nutrition for new plants, but unfortunately, throwing that limp bag of forgotten spinach directly onto your runner beans just won't work. In order to make the nutrients available, your organic waste needs to be broken down into a much finer material, which requires a controlled environment and the help of some insects and micro-organisms. It's not complicated, but it is fairly detailed, so we'll leave it to the experts to explain. There's a link further down to a Composting Masterclass, by the wonderful RHS.
Why are your compact composters better than the cheap, plastic barrel-style bins?
That's a really good question and we're pleased you've asked! Firstly, all of the products we sell are made from 100% recycled materials. Off-the-peg compost bins sometimes use recycled materials, but not always, despite being marketed as "eco-friendly". Our products are also infinitely recyclable, while most cheaper products are not – once they reach the end of their (relatively short) lives, they become yet another piece in the huge mountain of plastic waste we're trying so hard to reduce. Secondly, they often don't last very long. Many types of plastic – particularly thinner, moulded items like plant pots, rubbish bins and composters – don't stand up too well to frost and are easily damaged. This is particularly bad news when they're made from non-recycled materials and you can't recycle them at the end of their life. Our products are made from solid plastic planks and have a lifetime guarantee. They'll never crack or split, unlike cheaper items. One of the pillars of sustainable practice is the principle of Buy Once, Buy Well – when we purchase good-quality items, we replace them less frequently, using fewer resources and generating less waste.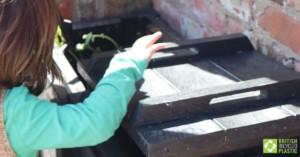 Tell us more…
Ahhh, go on, then! All of our products are engineered from our solid, 100% recycled plastic lumber posts, planks and boards. They're made from UK-generated waste plastic, most of which starts out as plastic film in agriculture – the stuff you seeing wrapping bales of hay and silage. We process it – again, within the UK – and mould it into the durable, weatherproof, zero-maintenance planks which you see used across our range. By employing the principles of circular economics: using British waste, processing it onshore and distributing it within the UK, we're solving our own waste plastic problem, providing employment for UK staff and investing in UK businesses.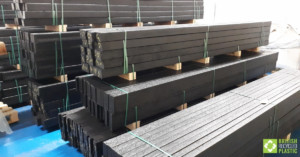 Why use recycled plastic?
Our plastic doesn't absorb any moisture, so it'll never rot, split or splinter. It's impervious to the growth of mould and algae and resistant to UV-fading. There's no maintenance required whatsoever and all of our products have a lifetime guarantee, so you can be assured you'll never need to replace or refurb them. Of course, every piece of our plastic you use saves the equivalent weight of UK waste from landfill – our products have just as many benefits for the environment as they do for you.
Why choose British Recycled Plastic as my supplier?
We've been in this business for a while and we're trusted by many customers, from National Trust, the MoD and Highways England, through a multitude of schools and councils, to numerous homeowners, gardeners and allotmenteers. We started small – the kind of small where every customer is precious – and we still operate with the same attitude. You'll get the right kind of service – our staff have the technical nouse to give you high-quality support and we'll work with you to make sure that whatever you buy is the perfect product for you. We'll be right there with you all the way through the purchasing process and beyond, with great aftersales care. If we don't offer the product you need, we won't sell you something for the sake of it and if we know another company who can help, we'll send you their way.
More info
Here's some handy links:
Get in touch
If you want to make a fast and efficient purchase, we'd recommend you head straight to the webshop. Otherwise, give our fab and friendly team a yell by either phone or email:
01422 419 555