With summer in bloom and the days getting longer and warmer, many of us will be looking forward to relaxing in our outdoor spaces during the coming months. Creating a comfortable and verdant garden can be an incredibly rewarding experience, and our recycled plastic raised beds and decking can help you do exactly that.
The use of raised beds has become increasingly popular in the last few years, as more and more people are discovering the joys of growing their own food. As well as improving drainage and making companion planting a breeze, our raised beds are quickly and easily assembled, leaving you more time to nurture your plants and enjoy the garden.
Along with ease of construction, one of the main benefits of raised bed growing is the ability to work at a comfortable height. Whereas traditional veg patches would have been at ground level, our raised bed kits are available in three different heights to perfectly suit your needs.
The 300mm height is a good choice for those who are comfortable kneeling for longer periods, and prefer their planting to be closer to ground level. However, some of us are not quite as nimble as we once were, so the 600mm and 750mm options mean you can look after your plants while sitting or standing.
Catching up with Hannah
In 2020, Hannah and Helen bought raised bed kits after moving to a new property in Hebden Bridge, and have enjoyed developing their growing project over the last couple of years. Shortly after purchasing the beds, Hannah told us:
"We decided in the first year that raised beds would be really helpful, but didn't relish the idea of ongoing maintenance and potential replacement, especially as we're not exactly spring chickens!
"The British Recycled Plastic beds were the perfect solution and after the installation – which was pretty straightforward, even on our sloping site – we're looking forward to many years of maintenance-free growing."
We've recently had a chance to catch up with Hannah at home to see how the garden was coming along, and the raised beds have proved to be an excellent addition.
"When we moved to the new place, we were so lucky to have all the space. So we always knew that we'd start growing things as soon as we got space to be able to do it. My wife had some raised beds before, but quite low ones. We're getting a bit older as well, so we decided that we'd get some quite high beds so that we didn't have to do the bending down, and we wanted ones that would last.
"So it just made sense – instead of getting wooden ones that would rot down after a bit, getting something that would be a bit more durable. And obviously recycled is really good – using something else to make something that's going to last."
You can see the raised beds in all their glory in the video below:
Adding decking
While the raised beds are taking care of the plants, how about adding some of our decking to further upgrade your outdoor area? Recycled plastic decking is an excellent choice for domestic settings, as it ensures a slip-resistant surface. Unlike timber, it's impervious to the build up of slippery algae that's common during autumn and winter, so no need for strenuous jet washing, either.
The aesthetic of our decking also pairs nicely with raised beds in domestic spaces, one of the reasons why Hannah and Helen have made use of both in their garden.
"We really like the way it looks. So much so, that we've now got a shed that we've put a platform around, and we've used the same recycled plastic for that as well. Instead of using wooden decking, we've got recycled plastic decking. It's partly for the practicalities – we're not going to have to maintain it, it's going to stay slip-free for longer – but actually we really do like the way it looks. And there is a great joy in coming out of your house and grabbing salad, just straight out of these beds and deciding what you're going to eat by what's available out in the garden."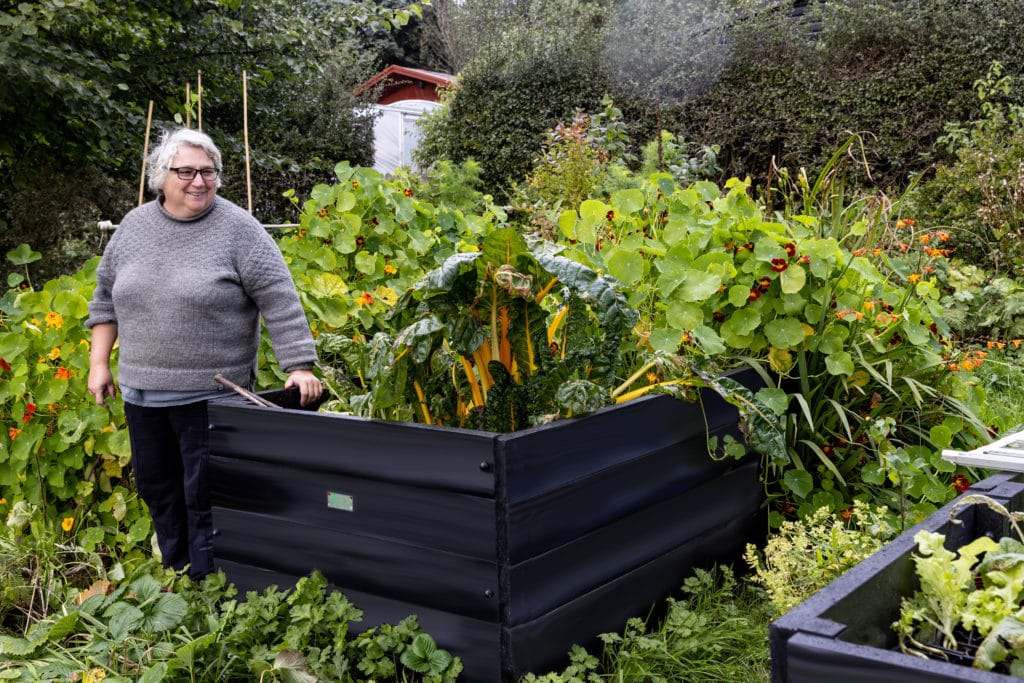 More decking
Another one of our customers recently used recycled plastic decking for a garden project at his home in Kettering. Glyn was keen to replace his existing timber deck that had rotted, and chose our recycled plastic decking for the job. He used our black lumber for the substructure, and completed the build with decking boards in brown.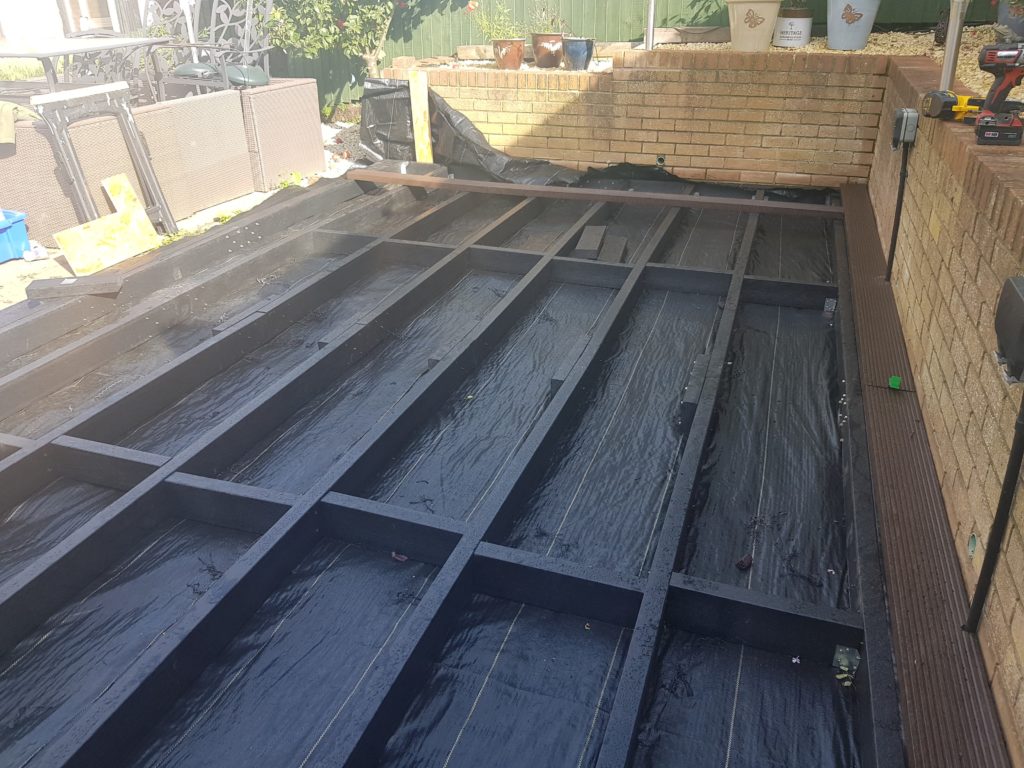 "The recycled plastic cuts and drills like timber, and will hopefully last a lifetime", Glyn told us.
"The product was easy to work with and I was able to carry out the project on my own. Highly recommended."
As you can see from the pictures, the finished job looks great and Glyn is rightfully very proud of it!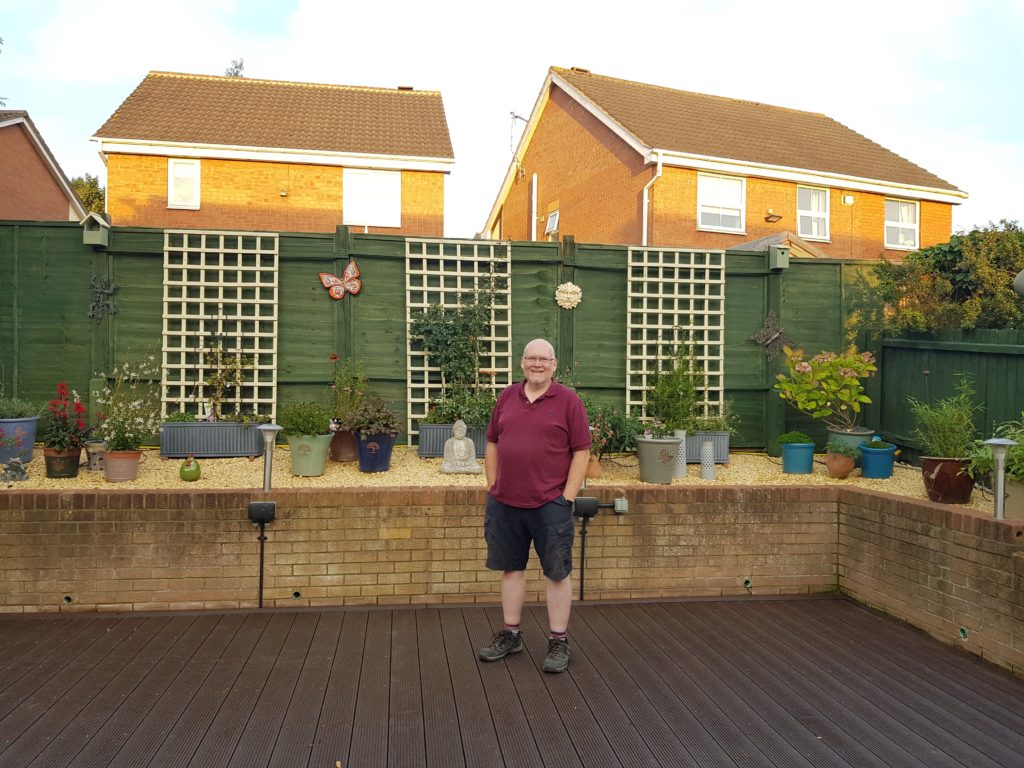 Our raised beds and decking
We've got customers throughout the UK who have discovered the simplicity and satisfaction of growing fruit and veg in raised beds. Whether for a domestic garden, school or allotment, we're confident you'll find something to suit your requirements in our large range of kits. If you can't, give us a call to discuss your custom order.
Our raised bed kits are designed with ease and convenience in mind. They are all strapped to single pallets, so they can be tail-lifted from the truck and can travel in smaller box trucks for simpler delivery. They're easy to assemble and need only coach bolts (provided) to fix them together – no tricky drilling or cutting is required.
As well as being a durable and sustainable solution for domestic gardens, our decking is also ideal for fishing platforms, boardwalks, cycleways and viewing areas. It's especially well suited to aquatic environments, as it does not not absorb water and will never rot or deteriorate, no matter how long its stays wet. Neither will it leach any harmful chemicals into delicate ecosystems, so it's beneficial to you and safe for the planet.
Choose British Recycled Plastic
By choosing British Recycled Plastic, you're making a making a hugely positive change for the environment and actively helping to create a more sustainable planet. So why not get on board?
Our products can be seen in an array of locations up and down the country, from parks and private gardens, to hospitality venues and nature trails. Some of our prestigious customers include the NHS, the National Trust, the MoD, and various school and universities throughout the UK.
All of our recycled plastic products are not only incredibly tough and durable, but actively help to dismantle the UK's domestic waste mountain and keep plastic out of landfill.
Our recycled plastic is completely rot-proof, splinter-proof and maintenance-free and it comes with a 25-year guarantee. This means that year after year after year, it will keep its good looks and robust functionality without needing anything other than an occasional wash down. Of course, as it is chemically inert, it can be washed as often as wanted, with bleach, disinfectant or any other regular cleaning product.
Our role in the world of recycling is helping to reduce domestic waste and create products which are useful, long lasting and beautiful. Engineered from 100% British waste, our products are supplied to thousands of organisations and private homes across the UK: we believe they are the very best money can buy. We're making waste wonderful.
Check out how our products are made here.
Visit British Recycled Plastics Webshop
Get in touch with our friendly and knowledgeable team by phone or email: 01422 419 555 [email protected]