The eagle-eyed amongst you will recall the recent installation of 40 of our coloured picnic tables at The Piece Hall, in Halifax. We popped back to get some pics, both before and after the recent reopening.
For those who missed it, we partnered with The Piece Hall in Halifax to provide sustainable furniture for visitors to have somewhere dry and safely-social to sit. These 40 picnic tables have diverted the equivalent weight of waste plastic from landfill and incineration, transforming them into beautiful and durable items. We're especially pleased to be involved with a local, Yorkshire high street, of course!
Streetlife
A streetside coffee or beer is such an important aspect of UK culture and we're all excited for life to return to normal. Venues like The Piece Hall play an important part in providing their communities with space to meet, greet and enjoy entertainment and events. As we make our way out of the pandemic and ease ourselves back into normality (hopefully with some sunshine), outdoor spaces like this are becoming more important by the day. We're proud to be trusted with the task of providing sustainable and durable products in community and hospitality venues up and down the land.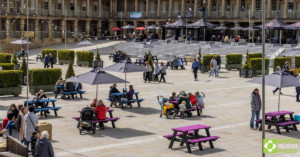 Nicola Chance-Thompson DL, Chief Executive of The Piece Hall Trust said: "The Piece Hall is so much more than just a building. It is woven into the very fabric of our town and is something that so many people are proud of. Part of our role is to contribute to the growth of the local and regional economy as well as helping improve people's lives and livelihoods. We aim to do this in a way that is responsible and protects our natural resources".
The Piece Hall is indeed much-loved by locals who are very proud of the area's heritage in the cloth trade. Given that it's only up t'road from British Recycled Plastic HQ, we're personally looking forward to a bit of a shopping spree and perhaps even a couple of drinks in the sun.
Benefits of British Recycled Plastic
The Piece Hall will get decades of faithful, zero-maintenance service from these lifetime-guaranteed picnic tables. In line with the sustainability principle of "Buy Once, Buy Well" and by choosing products which are manufactured sustainably with natural durability and longevity, they're bringing down their replenishment/refurb costs and contributing to the preservation of our valuable natural resources.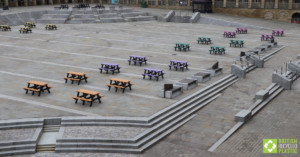 Here's a quick guide to how our products can help your organisation:
Because our products require no maintenance and are guaranteed for a lifetime, once you've installed them, you can forget about looking after them altogether. Our lumber planks, posts, boards and furniture will never rot, split or splinter, so you'll never need to treat, patch or replace them. Ever.
Our recycled plastic is chemically inert, so it's difficult for nasties to get a hold on it. What this means for you is that grafitti won't stick to it and neither mould nor algae will grow on it. It's UV fade-resistant, too.
It won't absorb any moisture, so it towels dry instantly. Not only do bums stay dry, but our recycled plastic is easy and safe to disinfect.
Our products are UK-made, so we're slowly demolishing our own waste plastic mountain, rather than shipping it overseas. In these post-European days, we're also a little more resilient by virtue of our entire operation being onshore.
You'll receive exceptional customer service, regardless the size of your cheque book. We pride ourselves on developing relationships with our customers, whether they're buying a single raised bed for their garden or 50 coloured picnic tables for a pub chain. Our staff are passionate and knowledgable about our full range of products and are always happy to assist in any way they can.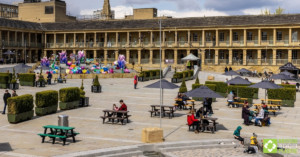 How to buy
Our webshop is a great place to start, whether you're looking for single items or bundles. When we're running special offers, you'll find those on the webshop, too. If you're buying for a school or local authority, choose BACS at checkout to take advantage of 30 days' payment terms.
And – if you're up this way, bob on over to The Piece Hall. Once you've checked out the independent retailers, grab yourself a drink, get comfy on one of those fab coloured picnic tables and watch the world go by, Yorkshire-style (whippet and flat cap optional).
Get in touch
01422 419 555