Check out this raised bed project by our customer, Stuart Lowe. While our raised bed kits are the best option for most residential customers out there, some people want to match the exact dimensions of the old timber beds they're replacing and decide to go for a custom self-build. Stuart's been kind enough to provide lots of detail on his planning and building process to help those of you who are also considering a DIY project. Now that the hard work is done, Stuart and his wife will enjoy maintenance-free, lifetime-guaranteed beds for decades to come.
"My wife and I moved into our house approximately seven years ago. As avid gardeners, creating a vegetable patch was a high priority for us. We both enjoy gardening; we find it relaxing, hugely satisfying, a great way of spending time together and immensely tasty. We grow all sorts of fruit and vegetables – over the years we've had a go at pretty much everything it's possible to grow in the UK.
Our garden is billiard-table flat with very poor soil quality. For our first few years we relied upon raised beds, constructed by repurposing some railway sleepers that had been left by the previous owners and filled with many wheelbarrows of commercial soil and compost. Recently we noticed that, even with a plastic membrane to protect the sleepers inside the beds, they had rotted and – at 20cm – weren't as deep as we would have liked. A bit of online research showed great reviews for British Recycled Plastic. We've all seen programmes about the increasing problems associated with plastic waste and thought this was a way to use some of that waste for a good purpose".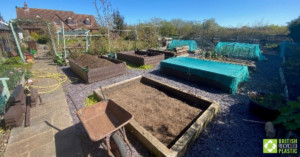 "British Recycled Plastic made everything really easy – the online price sheets with detailed measurements, helpful tips and lots of pictures of similar projects were really handy. Once I had worked out how many planks and posts I required, Sarah and Nadia were careful to ensure I had taken everything into account to make my project work – unusually, the company was keen to ensure I got the most out of their product even after it had arrived.
A large 600kg delivery of nearly 50 planks and several posts arrived a few weeks later and I eagerly helped the lorry driver to unload these onto our driveway – predictably, it was pouring with rain at the time…
I sourced all the necessary screws, washers and nuts seperately. I found that zinc-plated M10 screws weren't too expensive, were rustproof and seemed incredibly strong, they were also available in many useful lengths. I fully anticipate these lasting 20-25 years, along with the plastic components.
I didn't select one of British Recycled Plastic's kits as my plans were to construct four 2400mm x 1400mm beds as well as one longer 4650mm x 600mm bed – a bit larger than the kits on offer. All would be 450mm (3 planks) high. This depth of soil not only ensures that our raised beds don't dry out as much during summer (resulting in healthier plants), but also means we don't have to bend over as much! I chose RPL019 planks for the sides (150 x 30 x 3100mm) and for the corner posts, RPL003 (75 x 75 x 3100mm). Cross bracing is required every 1000-1500mm to ensure the sides of large beds don't bow out and I chose RPL001 posts (50 x 50x x3100mm) for this purpose.
The plastic posts and planks were surprisingly easy to work with – all I needed was a normal wood saw and drills. Once assembled, the raised beds were immensely strong and not too heavy – I could manage to locate and move them on my own. The brown planks have a finish that looks like well-varnished wood.
I'm so pleased with how these beds have improved the look and function of our veg patch and I have since ordered enough extra planks and posts to rebuild every single one of our beds. Now that our beds are zero-maintenance, my wife and I can focus solely on the growing (and eating!) of our produce".
Read all about Stuart's build
"I began by emptying our old, wooden beds of soil – allow some time for this – it's hard work!"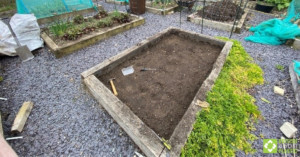 "My design for the corner posts – two bolts at the end of each of the 3 planks on each side, taking care to ensure none overlap".
"After assembling both of the longer 2.4m ends, the shorter 1.4m ends were attached and bolted together.
A completed raised bed, with cross brace. Each of the four corners and the vertical centre brace were sunk into the soil by approximately 20cm to prevent the bed from moving and, especially, bowing out when filled – this is extremely important".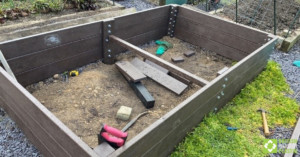 "I used a captive-bolt design to secure the cross brace (see above image, shown with corner design). I drilled a normal 10mm hole into the cross brace from each of the ends and then used a 18mm drill to drill sideways into the beam to affix the nut onto the end of the hex screw. As the hex screw is tightened from outside of the bed, the nut pulls the cross brace tight and secure.
Four completed beds, filled with soil, ready for an appointment with the rotovator, then they're ready to be planted up".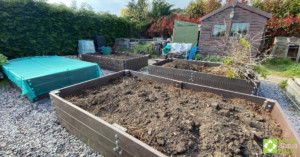 Stuart – thanks for sharing your project. We love seeing our products out there "in the wild" and we're sure our readers will be grateful for your insights.
Why choose British Recycled Plastic?
Our products aren't only technically brilliant, they're ethically wonderful, too.
Here's how they can help you:
Unlike their timber equivalent, our recycled plastic posts, planks and boards will never absorb water. This means they'll never rot, split or splinter and they'll towel-dry instantly. They're impervious to the growth of mould and algae and they're resistant to UV-fading, too. Our products are entirely maintenance-free and will never need treating. A quick hose down every now and then will remove any dust or debris, but that's purely a cosmetic consideration. As Stuart explained above, standard wood tools are all you need to work the material. Once installed, our lifetime guarantee means you can sit back and relax while your new raised beds provide years of faithful service, leaving you to focus on your garden.
And here's how they help our planet:
All of our recycled plastic lumber is engineered in the UK from British-sourced waste plastic, giving that waste a chance at a second life. When you use our products, you're keeping the equivalent weight of waste plastic out of UK landlfill and you're also preventing it from being shipped overseas for disposal. You'll never need to replace your raised beds (or whatever else you choose to build with our materials), so you really are making a sustainable choice – buy once, buy well. As our entire operation – from waste collection to product delivery – is onshore in the UK, we're keeping our little corner of the waste economy circular. We're doing our best to solve our own problems, dismantling the domestic waste mountain piece by piece. We'd love you to join us – let's make waste wonderful.
Find out more
If you've been inspired by Stuart's project and want to design your own raised bed garden, we'd recommend having a look at our kits before you rush into planning your own. We've designed them to be easy to deliver and build and for the majority of customers, they're still the most suitable option. You'll find all of the different available sizes on our webshop.
Are you new to all this gardening lark and wondering what all the fuss is about raised beds? Fear not – here's a handy guide to the benefits of raised bed gardening from the RHS.
If you'd like to know more about our recycled plastic lumber planks, posts and boards, take a look at our website. Our experienced and friendly team are always on hand to answer any questions you've got – get in touch with us here:
01422 419 5554