Brand new for autumn 2023, double wheelchair accessible picnic tables.
British Recycled Plastic have always been keen to prioritise accessibility with our products. We try as far as possible to create options across our range that make it as easy as possible for all users, regardless of their degree of mobility, to get the most out of everything we offer.
What we have achieved with the Bradshaw and the Brimham recycled plastic picnic tables however, just turns the dial a little further by creating double wheelchair options.
Recycled plastic picnic tables are a common enough sight these days, and even tables with a space for a wheelchair user are not as rare as once before. What is rare however is to see individual recycled plastic picnic tables with two spaces dedicated for wheelchair users.
This is now changing.
After a chance conversation on holiday with a lady who works at a care home, (hello Hazel), and who asked why there were no double wheelchair accessible picnic tables in our range, we quickly got to work to rectify the omission.
There are many situations, particularly in the social care and education sectors where double wheelchair accessible picnic tables are especially welcome that, to be honest, we hadn't fully considered until now.
We quickly amended our designs to both the classic wheelchair accessible Bradshaw table and our newer Brimham square recycled plastic table to offer them in versions that are more sociable for wheelchair users.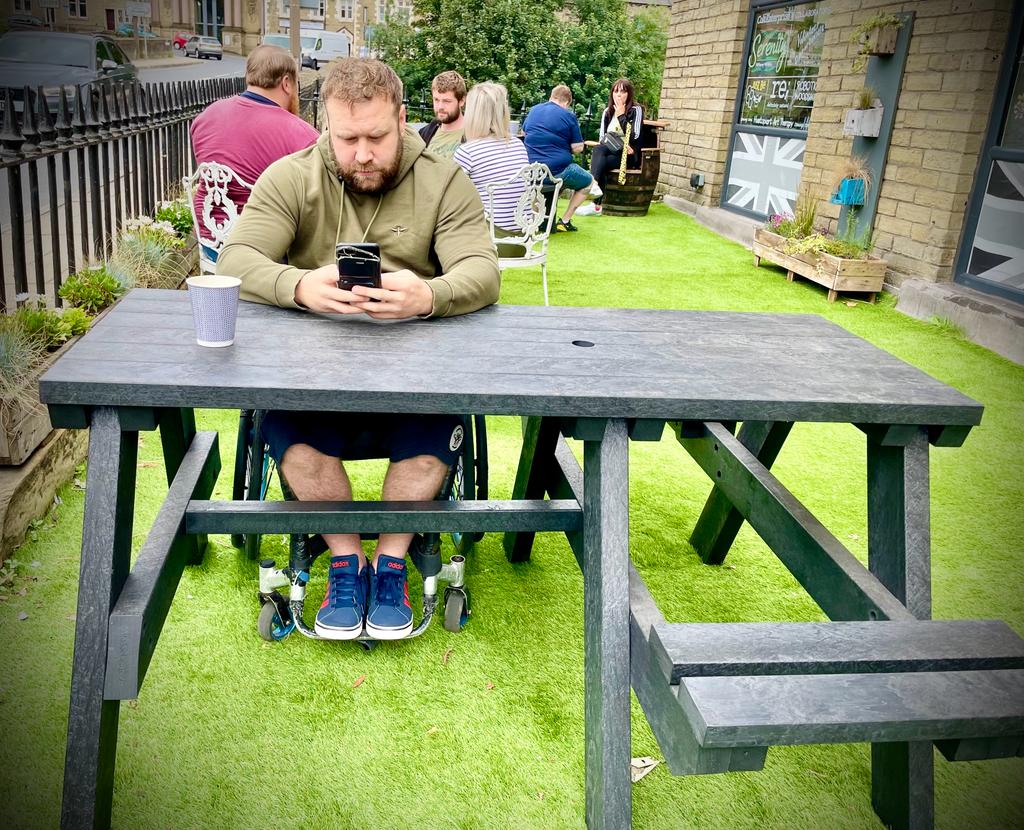 Both designs were then sent to Project Colt, a fabulous organisation we work with in our borough of Calderdale, for their evaluation.
Delighted with the tables, Project Colt Manager, Rusty Davis said, "This is a game changer for us. Many wheelchair users actually want to hang out with other wheelchair users, especially in dedicated facilities like these, so double wheelchair accessible tables are very welcome indeed.
As the lead of the enterprise at project colt one of my goals was to make our new space as inclusive as possible. No matter what age, creed, gender, able bodied, disabled, fulfilled or looking for fulfilment. We are trying to create the safest place possible.
Comfort without effort helps towards our welcome because without a warm welcome and a tasteful environment the feeling of safety is compromised.
Having our outdoor area furnished with the wheelchair friendly benches, made with recycled materials help us to promote our inclusive and environmentally considerate nature where we can let our guests that require chair access, enjoy our space with with as much ease as our able bodied guests."
You can find out more or order our Brimham tables here or our Bradshaw tables here.
You can see an overview of our accessibility range here.