"Inclusion elevates all" – Elaine Hall
We couldn't have said it better ourselves, and it's a sentiment that very much chimes with our own as a progressive, forward-thinking company.
Inclusivity is central to our ethos here at British Recycled Plastic, and we firmly believe there is always room for everyone at the table. Diversity makes our communities stronger, and we want to contribute to a world where everybody can occupy the same space without fear of exclusion. Accessibility is the key to making that happen.
The stats
According to the World Health Organisation, disabled people currently make up around 10 percent of the global population, with 11 million disabled people living in the UK. The Equality Act was introduced in the UK in 2010 to ensure adjustments were made to prevent discrimination and promote inclusivity, but figures suggest it's an ongoing process of incremental improvements.
According to the Office of National Statistics, over a quarter of disabled people say they do not frequently have choice and control over their daily lives, while one-third of disabled people experience difficulties accessing public, commercial and leisure services. Around three-quarters of disabled people also say they have left a shop or business because of poor disability awareness and understanding. British Recycled Plastic strives to be part of the solution, which is why we want to play our part in changing these figures.
Life in a wheelchair
There are currently around 1.2 million wheelchair users in the UK, with two thirds of those being regular users. We believe that wheelchair users need to have exactly the same experience as their able-bodied peers, without feeling conspicuous or uncomfortable.
Krishna Francis suffered a life-changing cycling accident just a few years ago, which left him without feeling in the lower half of his body and permanently requiring a wheelchair. Speaking to us about adjusting to sudden disability, Krishna said it's often the smaller gestures of inclusivity and accessibility in everyday life that are the most gratifying.
"When I'm out and about and I encounter a world that doesn't require me to make sacrifices it's a small joy. It's not always the big, expensive things that are the most helpful. Easy but thoughtful solutions like the presence of a wheelchair-accessible picnic table can mean I have the chance to participate in an ordinary activity like eating out in a pub garden, without giving details like where I'm going to sit a second thought.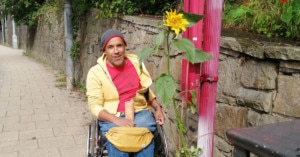 "It's easy enough to fit in and not grumble. There are plenty of times that I've removed my foot paddles to lower my knees in order to fit under a low table. Or I've sat at the end of the bench and eaten with my body at a 45 degree angle to the table. It's not painful or humiliating but it's not straightforward. Initially I figured it was just one of the things that one puts up with after suffering a spinal injury. I'm not dead, I can make do. Yet when the element that requires me to put up is absent, when a piece of public furniture allows me to use it without any concessions on my part it really helps. Not that I exactly notice. Oddly, I'm not conspicuously grateful, I'm just not forced to sacrifice my comfort or my dignity to fit in.
"To say I'm not grateful is perhaps to miss the point. In the moments when the world around me has taken into account the peculiarities of my new way of being I feel present. I'm not the person who needs special attention to be included. I'm also not reminded that the human made environment isn't naturally given to thinking of people in my position. Instead I can get on with interacting with friends and family or simply existing in a space that has me already in mind in the way that it has been put together. Feeling ordinary is a boon when everything about the way you live reminds you that you have special needs that distance you from the everyday. More than I feel grateful for good design, I feel ordinary when it has been taken into account for me."
How we aim to help
Krishna's story highlights our own approach to business and customers – we passionately believe that disability or mobility issues should not compromise inclusivity, which is why we've carefully developed our own accessibility range. Our accessibility products have been meticulously designed to reflect their standard counterparts – in both construction and aesthetics – providing a shared experience without compromise, discomfort or awkwardness.
The Bradshaw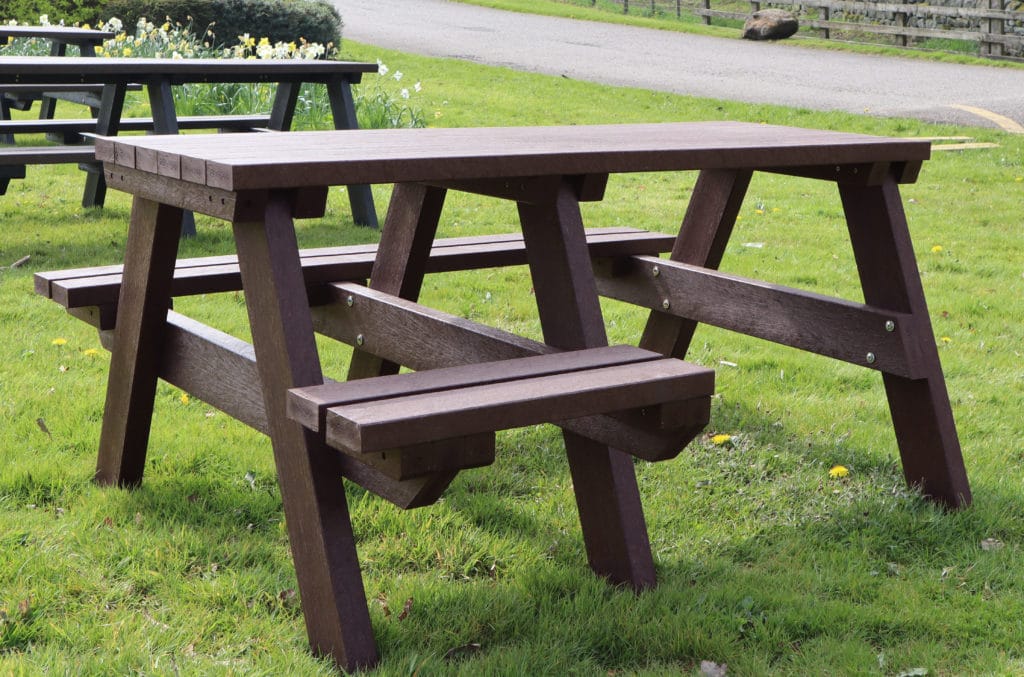 The Bradshaw Wheelchair-Accessible Picnic Table is the flagship of our accessible range. Based on the classic A-frame design of our bestselling Denholme picnic table, it features a cut-out on one side that allows full, front-facing access to a wheelchair with ample room for foot paddles. No awkward sitting at an angle or twisting your neck around to face the table here, everybody is equally comfortable at the Bradshaw. It is available in black, brown, or a selection of vibrant colours to really stand out in any open space.
The Batley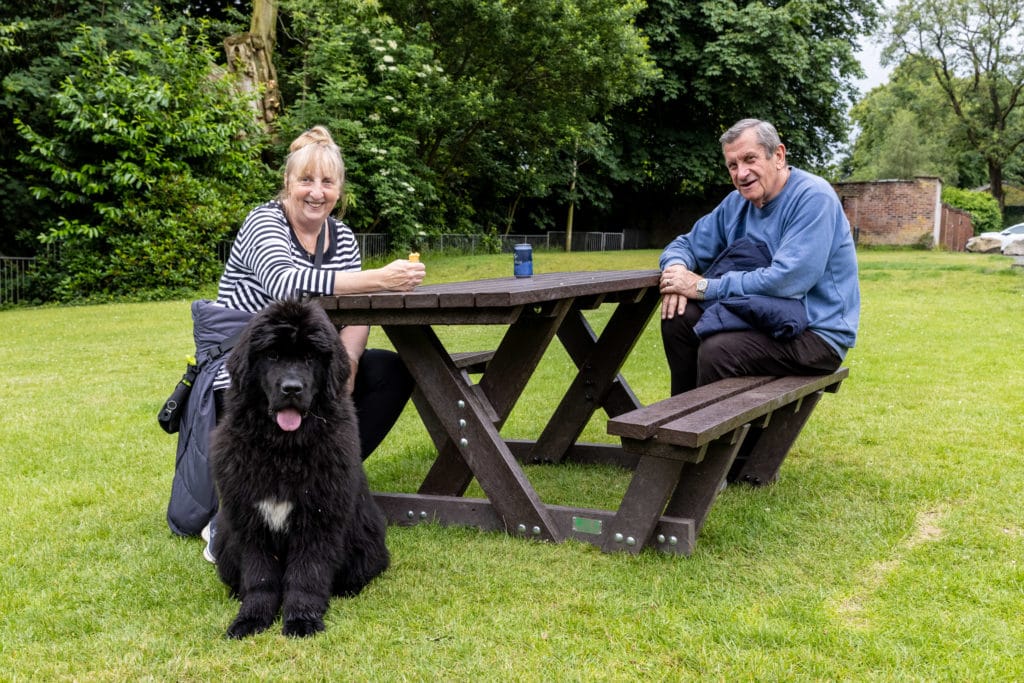 The Batley Walkthrough Picnic Table features an innovative design which inverts the standard A-frame to create V-shaped table legs. This means users are able to walk straight into their seat, without having to swing a leg over the bench – reassuringly easy for those with limited mobility or anybody that's a little less steady on their feet.
The Calder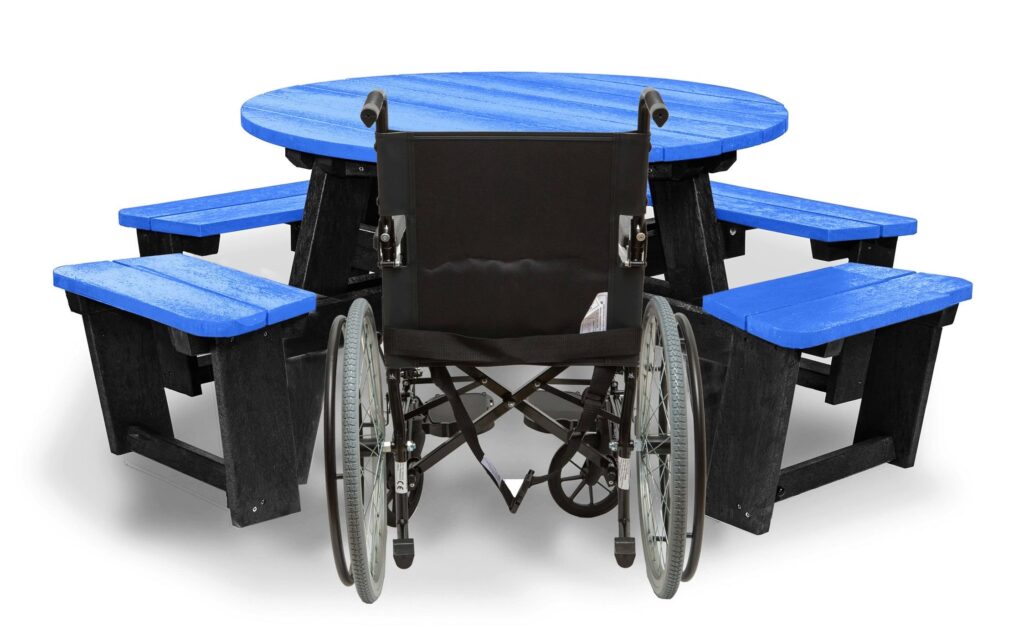 One of our staple products, the standard Calder Picnic Table is a round, heavy-duty table that also has a couple of accessibility design options. It can now be ordered with a wider gap between two of the seats to create ample space for a wheelchair, while the Calder with backrests affords a little extra stability as users move around the table.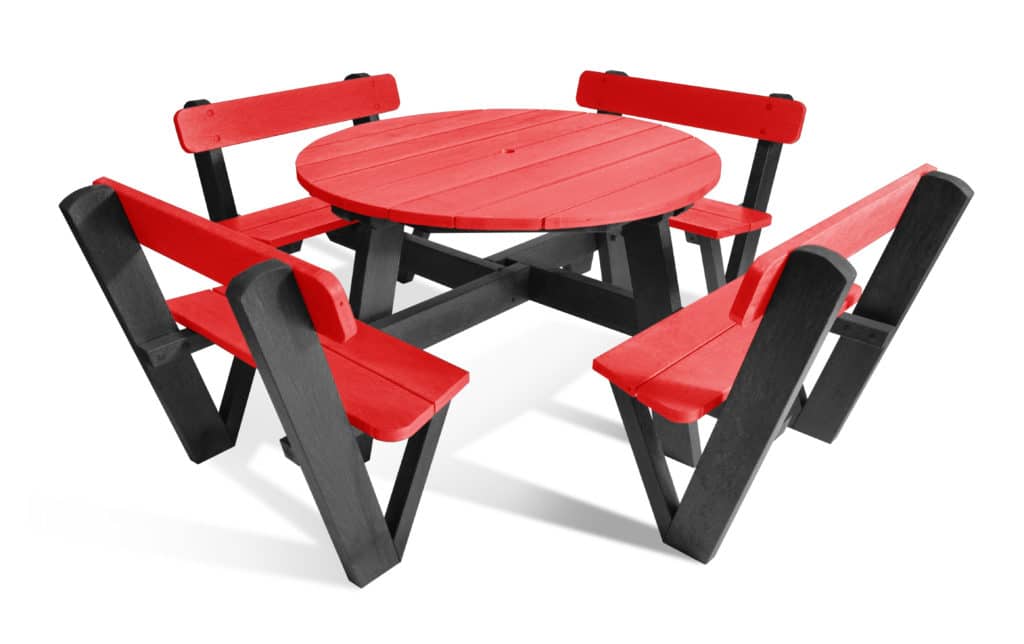 The Ilkley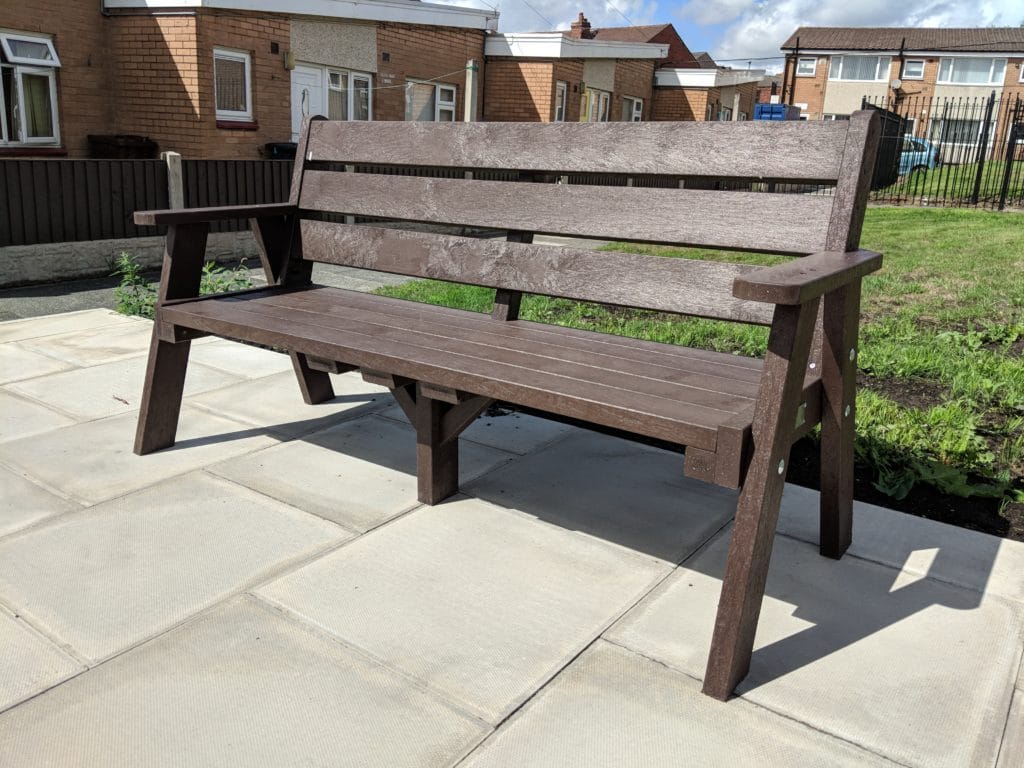 A British classic taking pride of place in parklands up and down the country, the Ilkley Sloper Bench also has accessibility built into its sturdy design. Its sloping backrest and high arms make it an excellent choice for those that require a little extra support when moving around the bench.
More accessibility options
It's not just our picnic tables and benches that promote accessibility, either. While tables and seating are always important areas for design innovation, inclusivity is also integral to several of our other products.
The Hebden X-Grid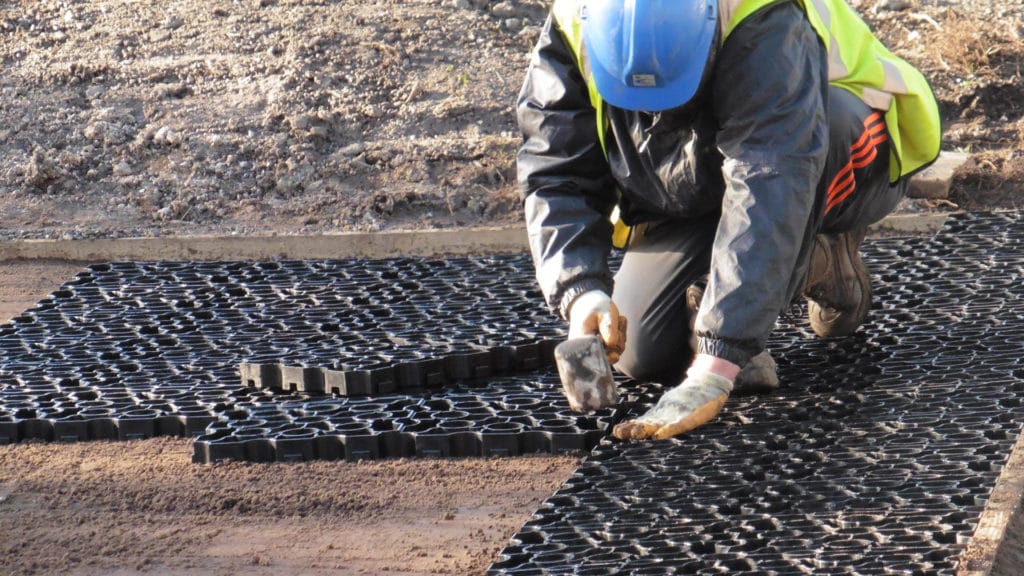 Getting onto and around sites – especially rural sites like nature reserves and picnic areas – can be tricky for wheelchair users. Our Hebden X-Grid ground reinforcement grids strengthen and stabilise gravel paths, making them Part M compliant. Once the grids are laid and filled, they hold gravel in place so that it can't migrate or sink – that makes getting wheelchairs across a whole lot safer and easier.
Raised beds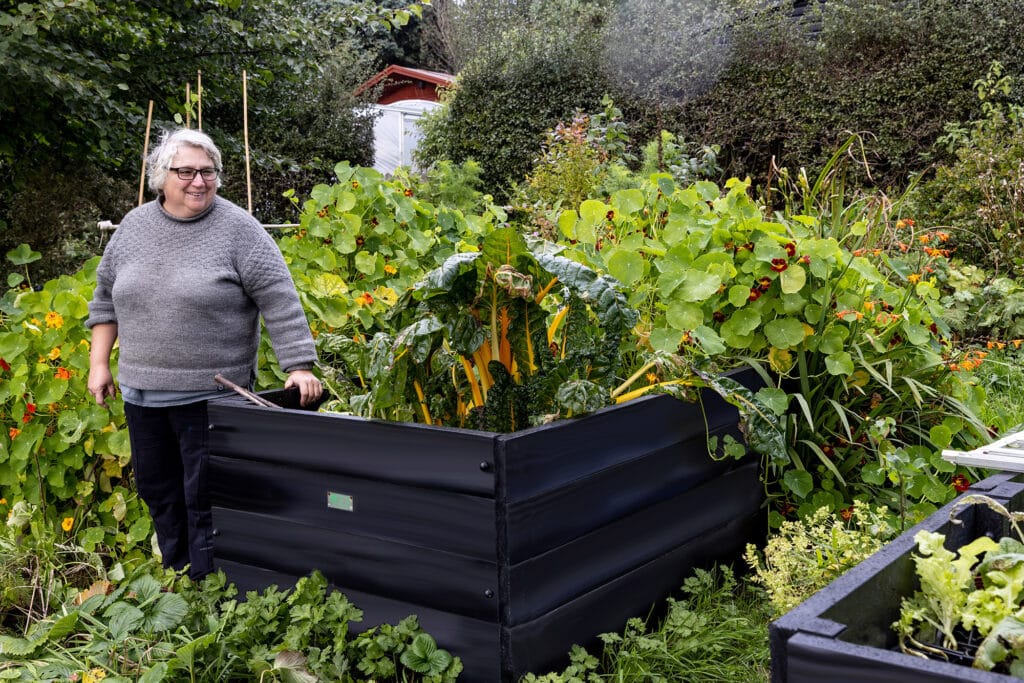 We're very aware that one size does not fit all when it comes to raised beds, so that's why our kits are available in three different heights. If you're not as flexible as you once were or need to tend the beds from a sitting or standing position, then not to worry. Our kits can be ordered in heights of 300mm, 600mm or 750mm, so there's a specification to perfectly suit your needs.
Fishing pegs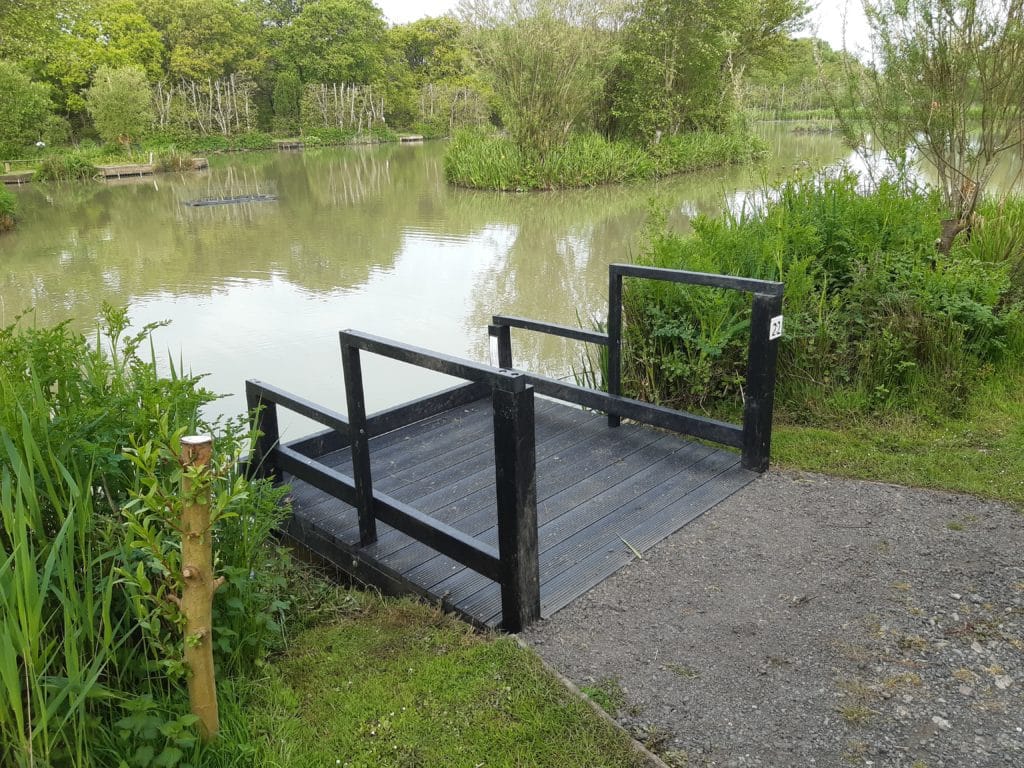 We're always open to new designs that incorporate our products, and we were proud to be involved with an accessible fishing peg back in 2020. Built using our recycled plastic lumber, the platform was a joint venture between Bideford & District Angling Club and the British Disabled Angling Association (BDAA). Here's what they had to say about the build:
"We were planning to construct platforms which were long lasting and offered access to individuals with limited mobility. The BDAA supplied the original drawings and we modified them to utilise your product instead of steel and wood, as per the original drawings. The plastic lumber was very easy to work with. Corner fixings were bolted together with all four corner posts driven into and secured to the ground.
"The decking boards were screwed down to the frame using stainless steel screws with a gap between planks for drainage. The decking boards are very forgiving in the wet. They have good grip, thus making them safe for all users, regardless of mobility. Overall we are very happy with the product and are considering installing more in the future."
Accessibility and Hebden Bridge Town Hall
Last year, we donated one of our Bradshaw Wheelchair-Accessible tables to Hebden Bridge Town Hall, where it now takes pride of place in the outdoor courtyard. Our friend Krishna spoke to us again and noted how the table provided inclusivity and accessibility without being obtrusive:
"On a trip to the Town Hall in Hebden Bridge I was sitting in the courtyard watching the customers to-ing and fro-ing. I'd gone there with the dual purpose of meeting with the writer's group I run weekly and taking a look at the newly installed wheelchair-accessible picnic table, donated by British Recycled Plastic. Whilst chatting to the one member of our group, I noticed something: two women were taking a photograph whilst sat at the table looking out at the river.
"Seizing the moment, I excused myself from my group of one and whizzed across to them. I asked if they could take a photograph of me using the new installation. What is noticeable about the table, aside from the array of colours, is how un-noticeable it is. Its primary quality isn't immediately apparent. As I approached the photographer I pointed out what she hadn't noticed – there is a gap designed specifically for a wheelchair user to get their feet under the table. It was delightful for the fact that the design didn't seem to be shouting about the useful element. It's another way that Hebden Bridge Town Hall is leading the way on such things as accessibility.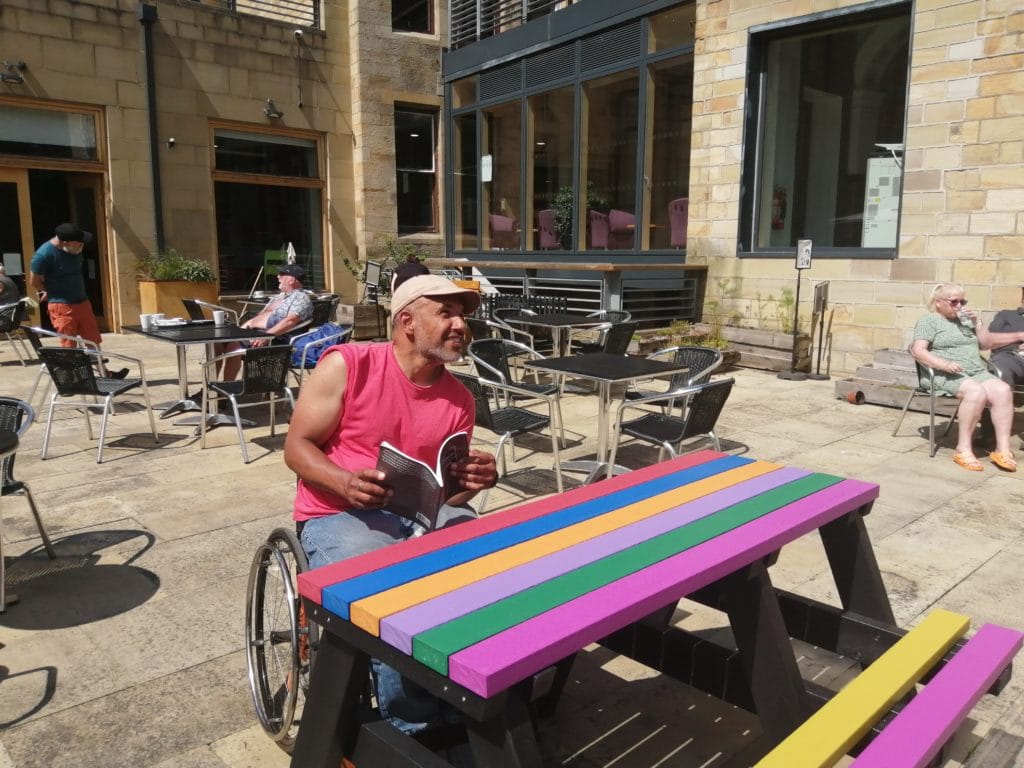 "Hebden Bridge Town Hall is an excellent example of modern building practice. It is a beacon to visitors, shining a light on what is possible when it comes to accessibility. There has been every thought given to who may use the spaces and how to allow them to do so with the least fuss. It's great that British Recycled Plastic has chosen to donate a wheelchair-accessible picnic table. So many people make use of the café and have the opportunity to see it in action. It reinforces the sense of possibility, what can be done rather than what ought to be done. Of the regular participants in my writing group three of them have difficulties with mobility. When we were unable to use our regular meeting place, the Town Hall became an obvious choice for this reason. Everyone was able to come along every week without having to make special arrangements."
About British Recycled Plastic
We're very proud to offer our range of accessibility products that actively promote inclusivity and diversity, which can already be seen in various sites throughout the UK. We steadfastly believe that there is room for everyone, and we have an ongoing commitment to promote that ethos as widely as possible.
All of our recycled plastic products are not only incredibly tough and durable, but actively help to dismantle the UK's domestic waste mountain and keep plastic out of landfill.
Our recycled plastic is completely rot-proof, splinter-proof and maintenance-free and it comes with a 25-year guarantee. This means that year after year after year, it will keep its good looks and robust functionality without needing anything other than an occasional wash down. Of course, as it is chemically inert, it can be washed as often as wanted, with bleach, disinfectant or any other regular cleaning product.
Our role in the world of recycling is helping to reduce domestic waste and create products which are useful, long lasting and beautiful. Engineered from 100% British waste, our products are supplied to thousands of organisations and private homes across the UK: we believe they are the very best money can buy. We're making waste wonderful.
Visit British Recycled Plastics Webshop
Get in touch with our friendly and knowledgeable team by phone or email: 01422 419 555 [email protected]