One of the benefits our recycled plastic lumber is often noted for is its sheer versatility. As a durable and sustainable alternative to more traditional construction materials such as metal or wood, the build possibilities are seemingly endless. We've already seen our lumber used for a vast array of innovative projects, from lock paddles and mini-railways, to bus shelters and bird hospitals. However, the long-term resilience of recycled plastic is especially well suited to fishing pegs.
Providing a clearly defined area for anglers, fishing pegs need to be sturdy, secure, safe and able to withstand all types of weather. While pegs made from wood and other materials are common, these platforms can often be compromised with prolonged exposure to wet weather and moisture. Recycled plastic has numerous advantages when compared to its more traditional counterparts, which is why more and more anglers are turning to us with their fishing peg plans.
Zero water damage
Given that the legs of most fishing pegs are permanently submerged in water – with the upper platform itself being wet much of the time – it's no surprise that wooden structures give way to water damage over just a few short years. This is where recycled plastic really comes into its own, as it does not not absorb water and will never rot or deteriorate, no matter how long its stays submerged. Neither will it leach any harmful chemicals into delicate ecosystems, so it's beneficial to you and safe for the planet.
Recycled plastic is resistant to mould and algae and has significantly less slip risk than timber, so no need for regular jet washing or chicken wire overlays, either. Our lumber posts and decking can be used to create safe and durable fishing pegs that will last a lifetime, leaving you to get on with the more important business of sitting by the waterside and catching fish.
Slipper Bridge Angling Club
We love working alongside customers to help with a fishing peg project, and we're always keen to see how they apply our products. In 2017, Slipper Bridge Angling Club in Gilberdyke near Hull approached us, as they were looking to replace their rotten and dangerous fishing platforms. A few years earlier, the club had installed hollow composite decking boards to restore two long platforms, but the material had since failed. Keen to ensure the platforms would last much longer this time around, the club opted for recycled plastic lumber and came to us. Wise move!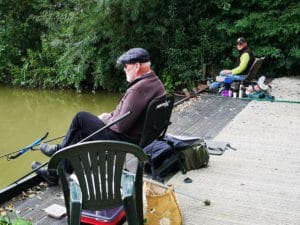 Club member Andy Eccles told us the recycled plastic had been an excellent replacement for the previous material:
"It's a lot thicker and more durable. It'll take many years hard wear from our anglers, so it won't need to be maintained by members of the club.
"The plastic decking is solid and much thicker. The older material had holes in it, which meant it eventually became brittle. It also had much more flex, whereas there's very little flex in the recycled plastic.
"There are recesses along the length of the decking boards which allow the water to run off, and it's much less slippery underfoot than normal timber. We can quickly and easily clean the boards with a sweeping brush, and they'll be safe and sturdy for many years to come."
Southport Fly Fishing Club
Back in 2019, Southport Fly Fishing Club contacted us about using recycled plastic for scaffolding-based fishing platforms they were planning around their newly dug lake. The requirement from the planners was to use materials that blended with the surrounding landscape, so the club chose our brown lumber for the job due to its aesthetic similarity to timber, as well as the fact that it would need minimum maintenance.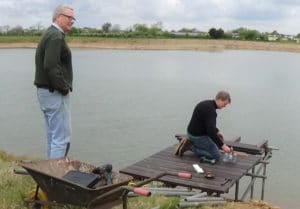 With the platforms now in full use, club chairman Martin Grimshaw got back in touch with us to tell us about his experience:
"The delivery of the recycled plastic arrived on time on three pallets, which were easily offloaded using a fork lift truck. We set out to build 10 fishing platforms using scaffolding and brown decking (150x40x3150mm). We used brown square profile pieces (100x100x3100mm) as a base to lay the decking on. A purpose-built jig made by two of our members was used to correctly place the scaffolding.
"The platforms were put together by the club members – one is used as a boat platform and one of them is to be a disabled platform with a concrete path leading to it from the car park.
"The platforms are now over a year old and are in perfect condition and will last for many years without any foreseeable problems. The three-acre lake is now full and stocked with fish. The area around the lake is being landscaped with trees and plants and will develop into a nice fishery".
Fishing for all
Here at British Recycled Plastic, we're big on inclusivity, so we were delighted to be involved with an accessible fishing peg project using our plastic lumber. A joint venture between Bideford & District Angling Club and the British Disabled Angling Association (BDAA), the platform was designed especially for those anglers with limited mobility. Here's what the club had to say about the build:
"We were planning to construct platforms which were long lasting and offered access to individuals with limited mobility. The BDAA supplied the original drawings and we modified them to utilise your product instead of steel and wood, as per the original drawings.
"The plastic lumber was very easy to work with. Corner fixings were bolted together with all four corner posts driven into and secured to the ground. The decking boards were screwed down to the frame using stainless steel screws with a gap between planks for drainage.
"The decking boards are very forgiving in the wet. They have good grip, thus making them safe for all users, regardless of mobility. Overall we are very happy with the product and are considering installing more in the future".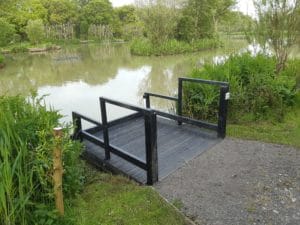 Why British Recycled Plastic?
Our lumber decking, planks and posts are the ideal material for the wettest environments, so perfectly suited for your fishing peg project. Our recycled plastic will never rot, spilt or splinter, and has been used by the Environment Agency in SSSIs (Sites of Special Scientific Interest). It is resistant to mould and algae, won't leach toxins into the water, and is substantiality less slippery than wood – that's got to give you a peaceful, easy feeling.
The total life costs are also significantly reduced: our recycled plastic will never need to be treated or maintained in any way whatsoever. It's guaranteed for 25 years, although we expect it last far longer than that – a sound choice for your pocket and the planet.
Our recycled plastic lumber is made primarily from UK agricultural waste film. It's processed, fabricated and engineered in the UK and we distribute within the UK only. We do this to keep our little corner of the waste economy circular. Keeping our end-to-end recycling operations within the UK means that all the revenue generated remains within the UK, supporting UK business.
Using recycled plastic for your fishing pegs will bring you peace of mind and allow you to enjoy the day's angling without concern. We'll leave you with a quote:
"Fishing provides time to think, and reason not to." – Carl Safina
You can read more about our recycled plastic lumber here.
And here's our fishing pegs page.
Give our team a call on 01422 419 555 or drop us an email if you'd like more info.