We're always happy to see our recycled plastic furniture used in schools, so it was a pleasure to catch up with the pupils and staff at Rastrick High School in Brighouse, Yorkshire, where an innovative new project has come to fruition.
The plans
Last year, Rastrick High School unveiled plans for an extensive re-roofing project, to include an environmentally friendly canopy covering as part of its ongoing sustainability drive. Working alongside local and regional architects, the school developed a state-of-the-art tensile-covered shelter with a translucent roof to provide additional social space for the students.
The school was keen to use this kind of construction over more traditional building means, as the new canopy allows natural light to flood through and has minimal impact on the environment.
We love to be involved with innovative projects as they take shape, so were delighted to receive an order from the school for recycled plastic furniture – specifically fifteen of our Harrogate Furniture Sets and fifteen Skipton Benches. An excellent choice for such a worthwhile project, even if we do say so ourselves!
One year on…
The canopy-covered area is now fully up and running, with our recycled plastic furniture looking resplendent and providing plenty of sitting room. We visited the site recently to get a feel for the newly created space, and it was clear the finished project has been a huge benefit for the school.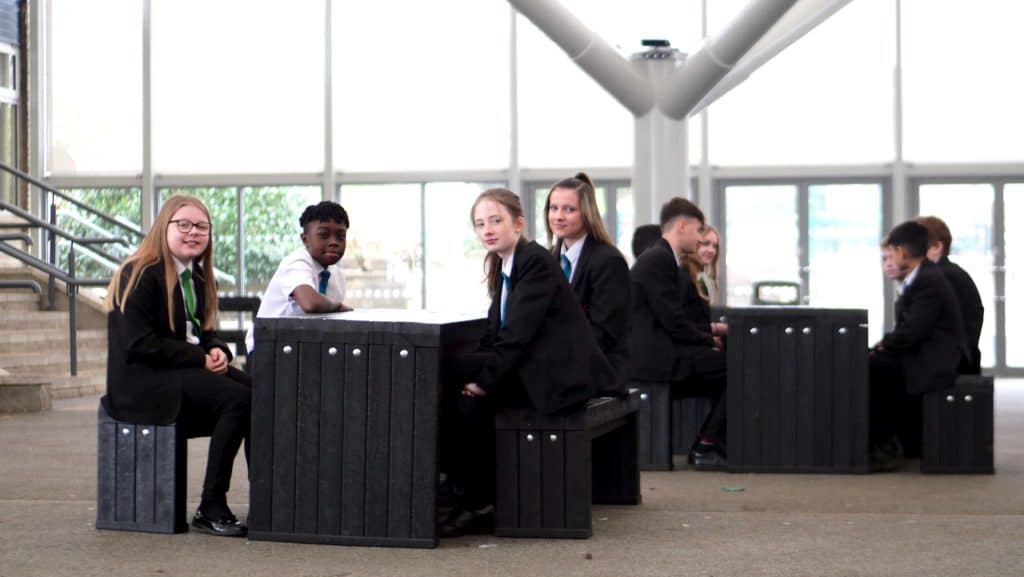 Shirley Graham, Site Manager at Rastrick High School, told us: "We're a very environmentally conscious school, and always keen to invest in our site and the environment. Our canopy area has been a big hit with the students since being added last year.
"We first used products from British Recycled Plastic around fifteen years ago, and they are as good now as the day we purchased them. It made sense for us to use more of the company's furniture for the canopy-covered area. Using recycled plastic is a great way to increase our pupils' awareness about waste reduction and sustainability."
It's always gratifying to know that customers are faithful to us after so many years, and that our products continue to serve them well. The Harrogate Furniture Set is especially suited to a busy social area with many people milling around, as it saves space while being stylish and highly robust. The Skipton bench is one of our most versatile designs, and is also a popular choice for schools and communal outdoor spaces.
About BRP and our recycled plastic furniture
We offer a range of recycled plastic furniture that is not only incredibly tough and durable, but actively helps to dismantle the UK's domestic waste mountain and keep plastic out of landfill.
Our recycled plastic is completely rot-proof, splinter-proof and maintenance-free and it comes with a 25-year guarantee. This means that year after year after year, it will keep its good looks and robust functionality without needing anything other than an occasional wash down. Of course, as it is chemically inert, it can be washed as often as wanted, with bleach, disinfectant or any other regular cleaning product.
We're proud of how our role in the world of recycling is helping to reduce domestic waste and create products which are useful, long lasting and beautiful. Engineered from 100% British waste, our products are supplied to thousands of organisations and private homes across the UK: we believe they are the very best money can buy. We're making waste wonderful.
Visit British Recycled Plastics Webshop
Get in touch with our friendly and knowledgeable team by phone or email:
01422 419 555
[email protected]