The warmer months are on the way, and what evokes the great British summertime more than blue skies, languid days, and the sound of leather on willow? So if you're looking forward to relaxing at one of the UK's many cricket clubs, what better way to do so than with our recycled plastic tables and benches?
Cricket clubs up and down the country have already embraced our furniture – something about its robust functionality and classic aesthetic lends itself perfectly to the cricket green. If you're part of a club that's keen to add a little class to the grounds, while making a sustainable choice for the planet, then our products are the perfect solution.
Funding
Sports clubs are often eligible for funding, and a number of our customers purchased picnic tables or benches for their club after applying for grants. You can find some useful information on funding for cricket clubs here.
The ECB also offers various funding options – its County Grants Fund supports clubs to create welcoming environments, provide enhanced facilities and playing opportunities, while helping to tackle the impact of climate change, so it's a win for everyone! This particular fund recently enabled Balcombe Cricket Club in Sussex to update its grounds.
Keen to replace several pieces of old wooden furniture, Balcombe Cricket Club successfully applied for the County Grants Fund and used it for ten of our Harewood benches and five of our Oakworth benches. Adrian Ruzicka said the club had looked into various eco-friendly options, and the grant had then enabled it to make a sustainable choice for the future:
"The ECB County Grants Fund has massively helped. Having benches that will last over 25 years and being maintenance free was a big incentive for the club to look for plastic instead of replacing with wood.
"We looked around on the internet for different companies, but British Recycled Plastic had the most appealing benches on offer and offered very good lead times for us to get them ready for the new season.
"We can't wait to get them outside ready for our members and visitors to make full use of them."
As you can see from the pictures, Adrian recruited some discerning help for the assembly of the benches!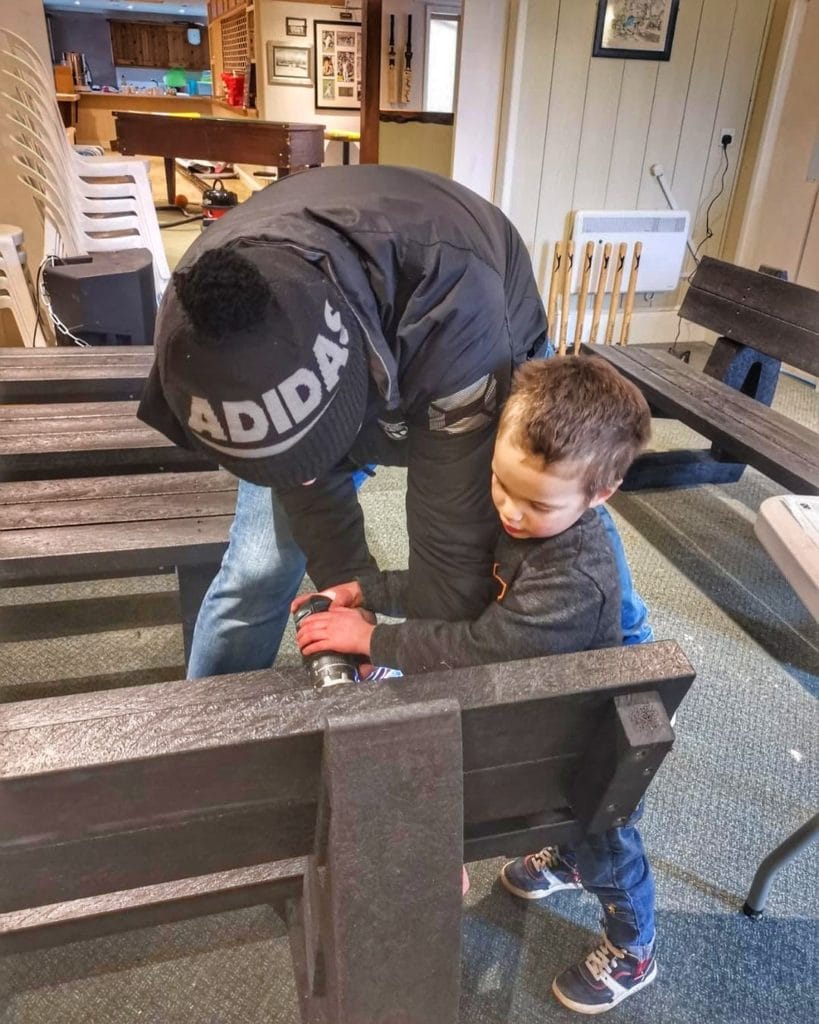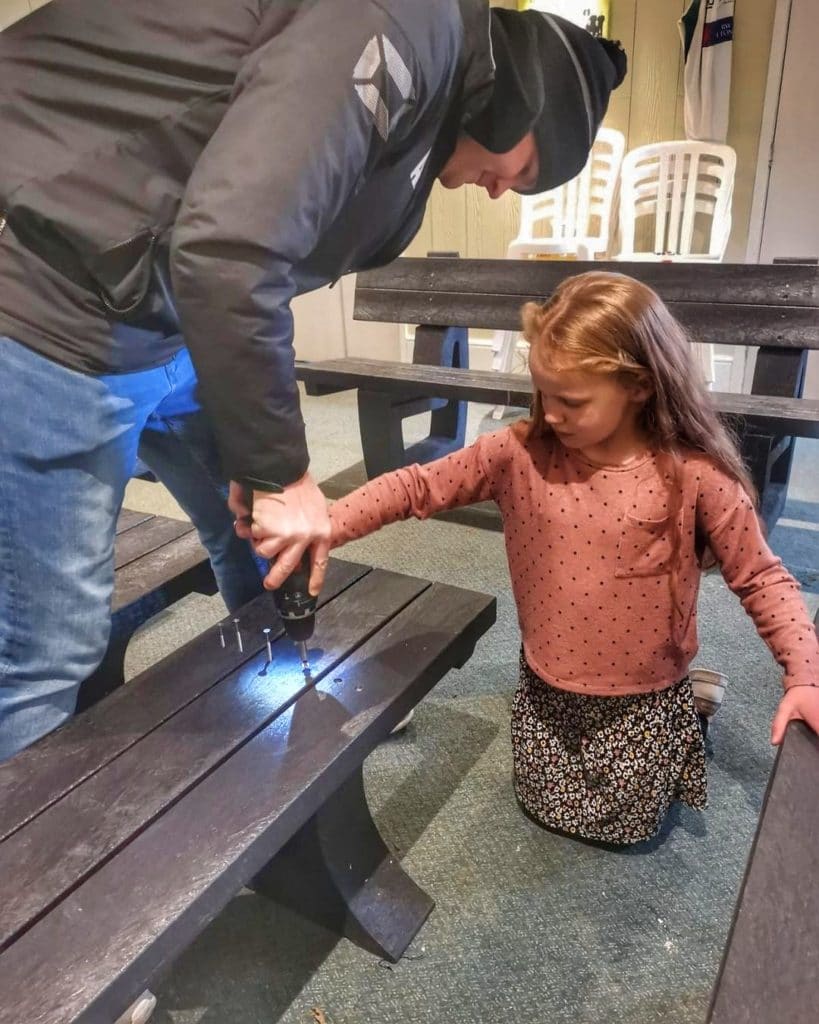 More cricket clubs
The Denholme picnic table and the Harewood bench are both very popular choices for crickets clubs, and Ribblesdale Wanderers in Lancashire has made great use of both. As a repeat customer, the club has used a selection of our furniture around the grounds to great effect.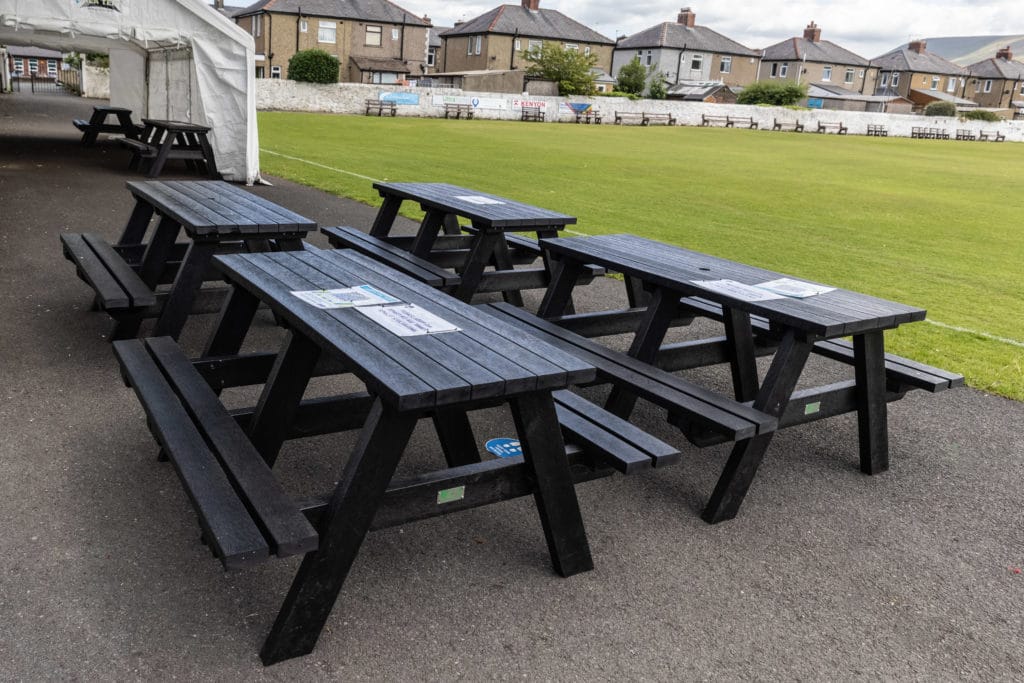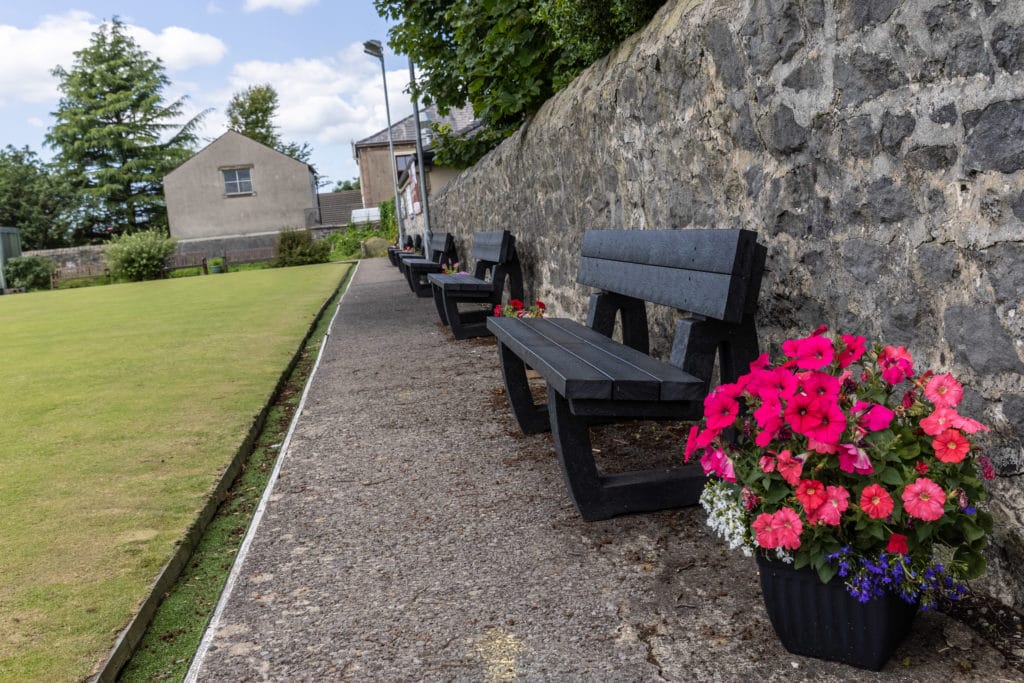 Whalley Cricket Club in Clitheroe has also augmented its grounds with a set of Harewood benches, and we think they look magnificent!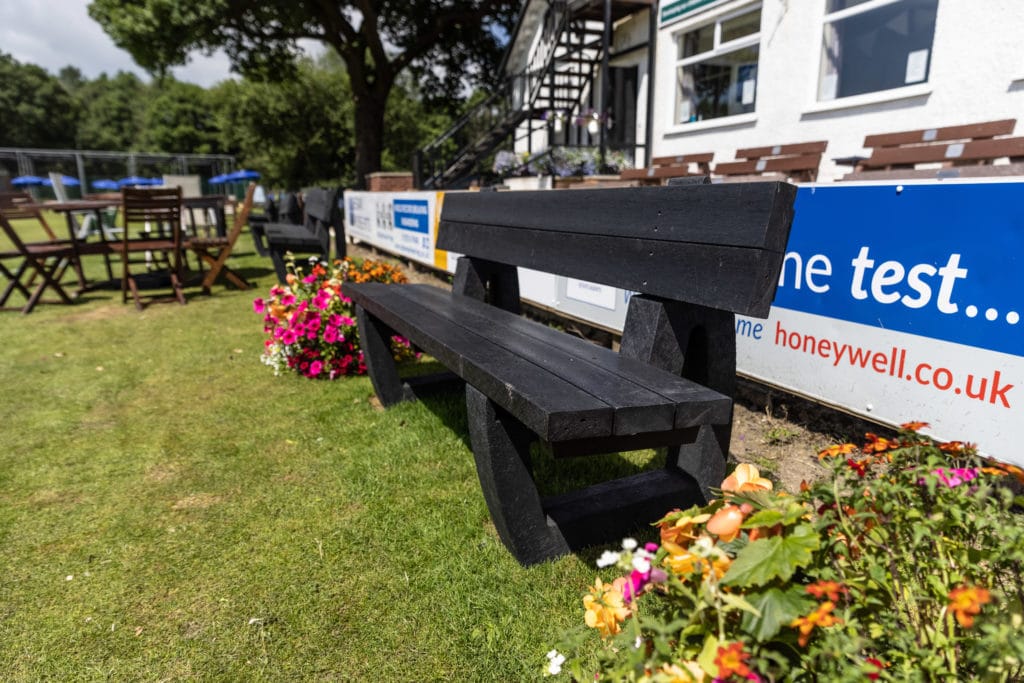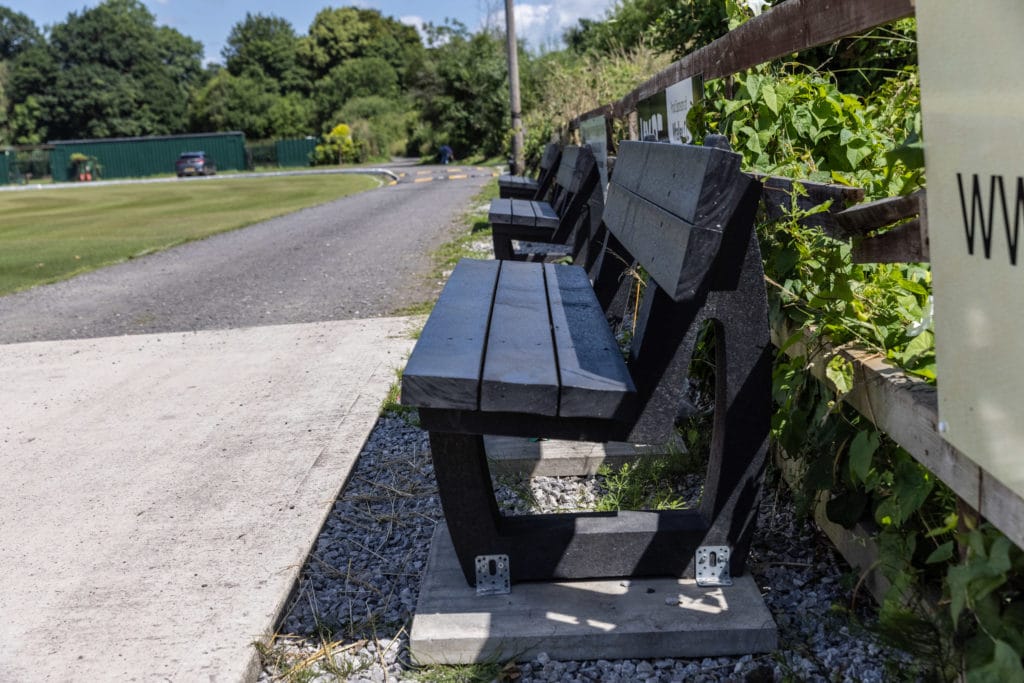 Another repeat customer, Clitheroe Cricket Club has been coming to us since 2018, gradually expanding its range of Harewood benches along the grounds. The club also wanted some memorial benches with custom made plaques as part of its Harewood collection. Need something similar? No problem, just get in touch with our office to discuss your requirements.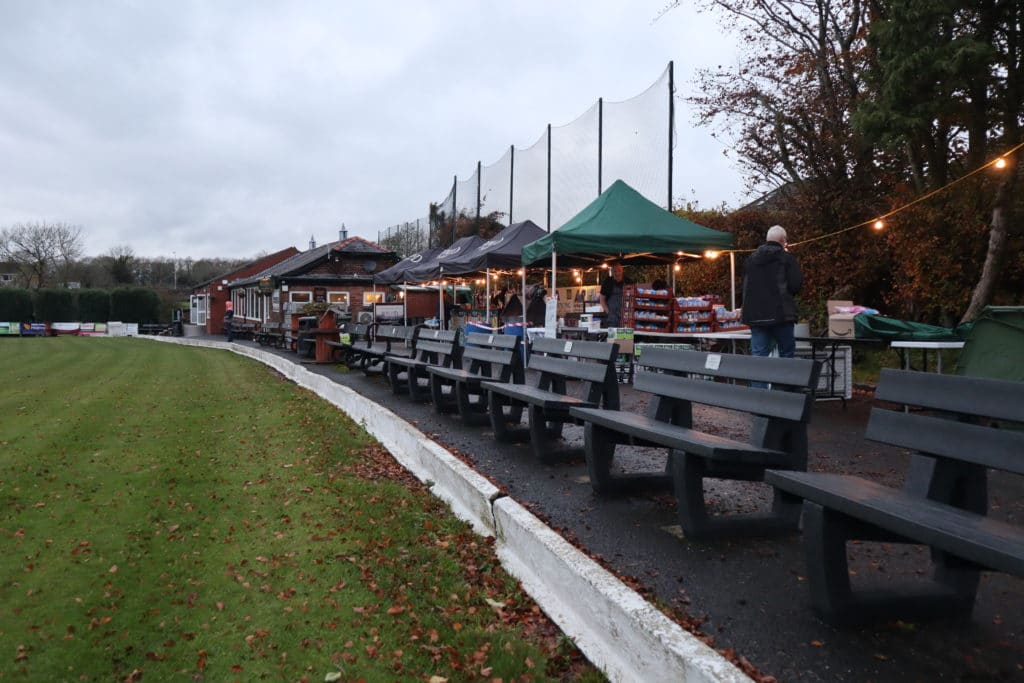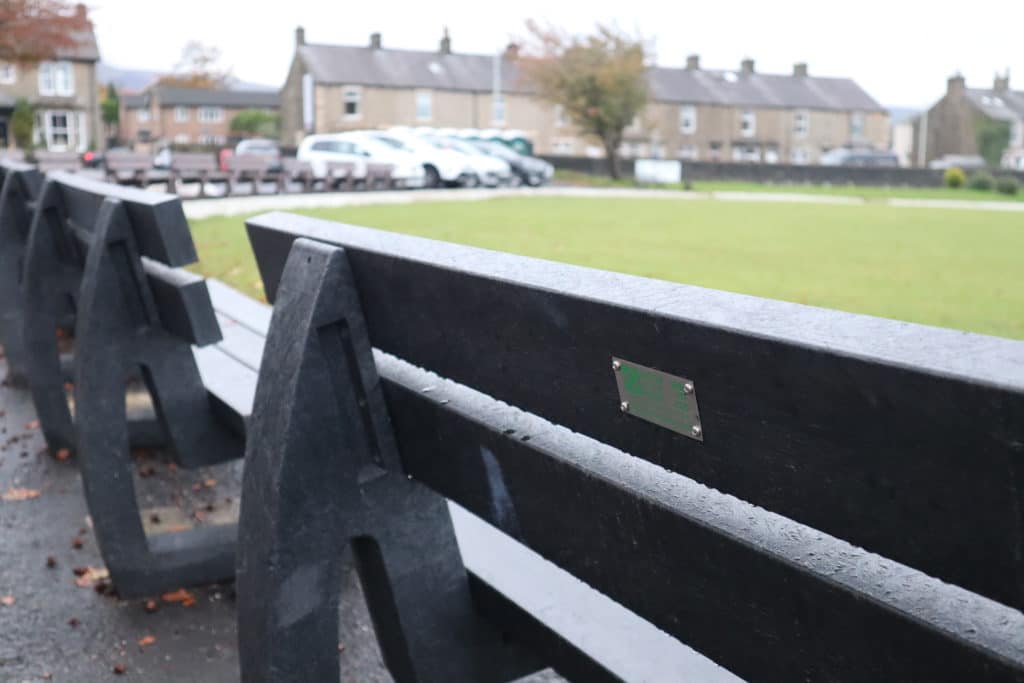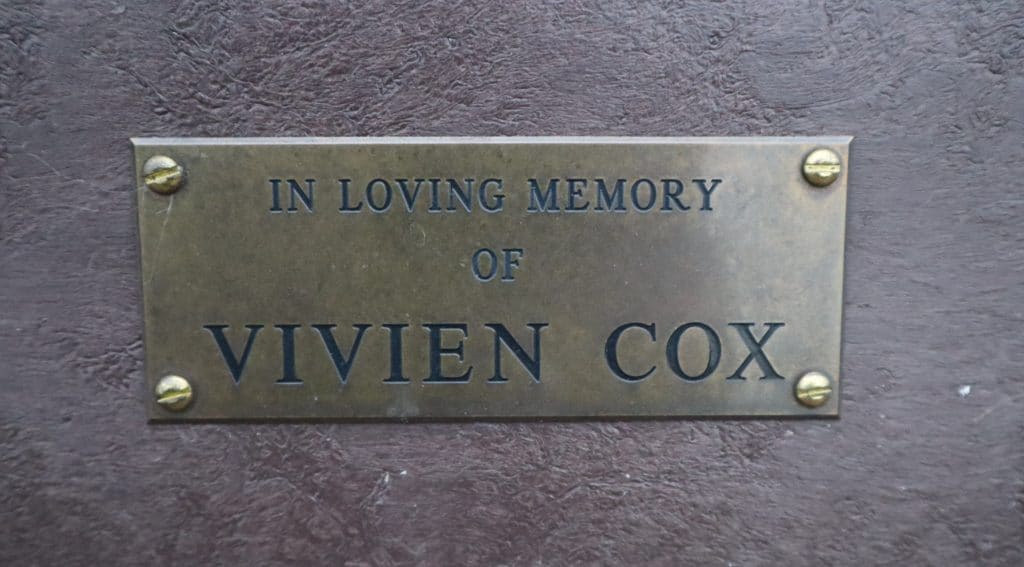 Why British Recycled Plastic?
As well as proudly standing on the grounds of numerous cricket clubs, our products can be seen in an array of locations up and down the country, from parks and playgrounds, to council buildings and nature trails. Some of our prestigious customers include the NHS, the National Trust, the MoD, and various universities throughout the UK.
All of our recycled plastic products are not only incredibly tough and durable, but actively help to dismantle the UK's domestic waste mountain and keep plastic out of landfill.
Our recycled plastic is completely rot-proof, splinter-proof and maintenance-free and it comes with a 25-year guarantee. This means that year after year after year, it will keep its good looks and robust functionality without needing anything other than an occasional wash down. Of course, as it is chemically inert, it can be washed as often as wanted, with bleach, disinfectant or any other regular cleaning product.
Our role in the world of recycling is helping to reduce domestic waste and create products which are useful, long lasting and beautiful. Engineered from 100% British waste, our products are supplied to thousands of organisations and private homes across the UK: we believe they are the very best money can buy. We're making waste wonderful.
Visit British Recycled Plastics Webshop
Get in touch with our friendly and knowledgeable team by phone or email: 01422 419 555 [email protected]