There are few things more restorative than spending time in the fresh air, and we're always keen to enjoy the great outdoors here at British Recycled Plastic. We also have a passion for food and drink, so combining the two is a no-brainer for us. We've developed a stylish and practical selection of garden furniture designed to make alfresco dining comfortable and enjoyable all year round, whatever the weather.
So if you're looking to make the most of your outdoor space at home, or need furniture for a public area or hospitality venue, we've got you covered. Alfresco parties, cocktails on the patio, or a quiet dinner with your partner – all great outdoor pursuits made even better with our luxurious garden furniture.
Feel-good garden furniture
We have a discerning selection of garden furniture available, all made from 100% British recycled plastic, so you can feel good about doing your bit for the environment as you sit back and relax. By investing in our products, you've already made a positive change for the planet by diverting waste away from landfill – what better reason to congratulate yourself?
If you're looking for a traditional outdoor dining experience, then our Roundhay Garden Dining Set is hard to beat. Comprised of a round table and four chairs, this design classic is perfect for relaxed afternoons with a meal and a chilled bottle. And if you're working with a smaller space and don't need a full set, the table and chairs are all available as individual items, too.
When our customer Sarah was looking for outdoor furniture for her garden in Surrey, she came to us after finding out about the benefits of recycled plastic over more traditional materials. Sarah was delighted with the results, and got in touch to tell us:
"Our new table and chairs are fantastic! Very robust and so easy to clean and maintain. The colour blends in perfectly with our garden and we know they will still look brand new in many years' time.
"The service from the team was fab throughout the ordering and manufacturing process, right down to getting a suitable delivery date and time for me."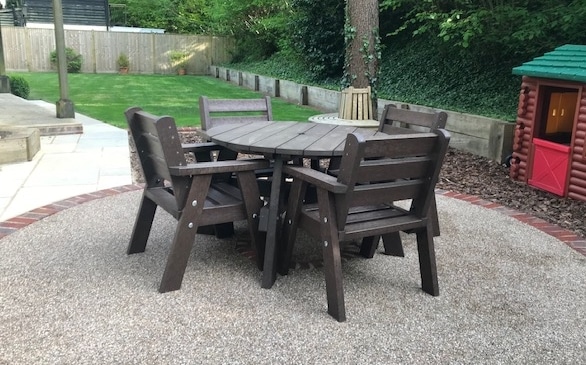 And if want to add a neat finishing touch to your garden furniture, we even offer engraving as an optional extra. Be like Bonnie and proudly claim your place at the table.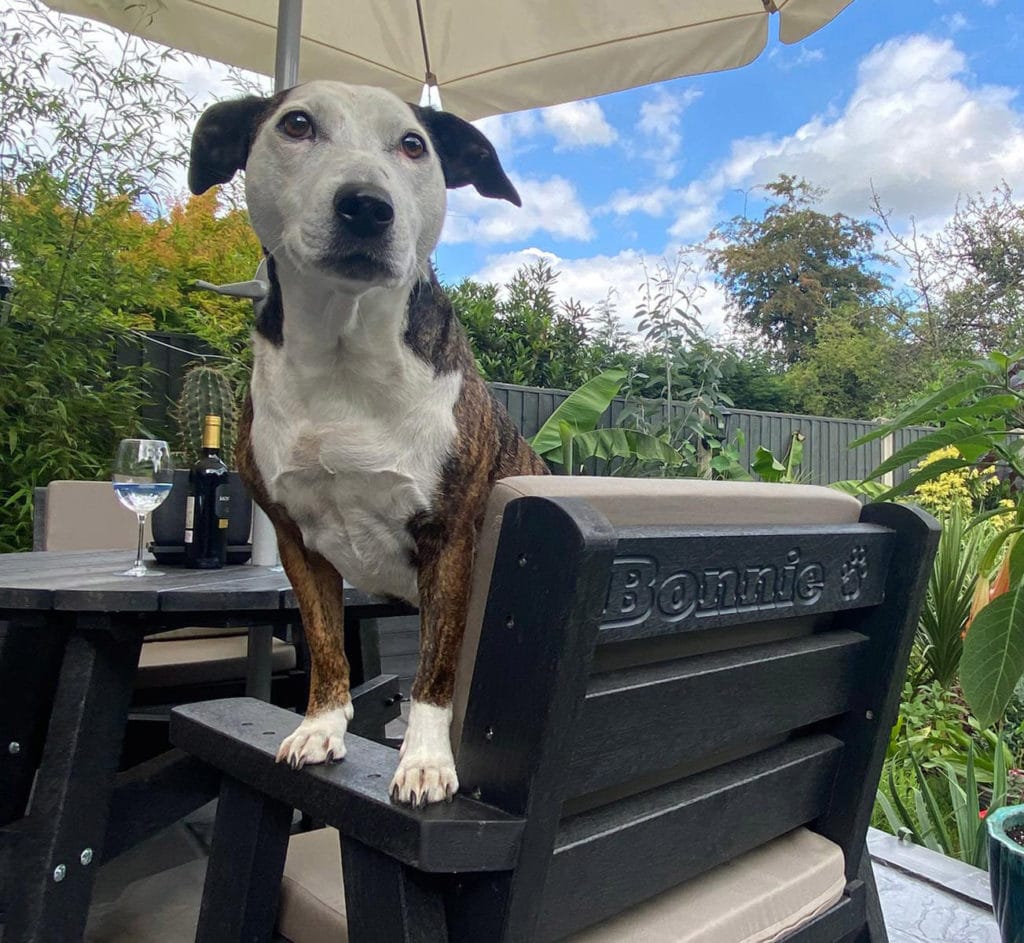 Those looking for a distinctively modern design may want to consider our Harrogate Garden Furniture Set. A classic slide-away space-saver with clean lines, it's a popular choice for domestic gardens, as well as outdoor eating spaces where space may be limited.
Hospitality venues up and down the UK are already on board with the Harrogate. The Boathouse in Christchurch is a bustling venue, with a large outdoor area for cocktails and alfresco dining.
When the Boathouse – located in an idyllic spot on the banks of the River Stour – decided it needed to augment its outside area with sustainable outdoor furniture, we were happy to supply it with fifteen of our Harrogate sets.
Rich Slater, Operations Manager at the Boathouse, said he was very keen to get outdoor furniture that was not only robust and practical, but also suited the overall aesthetic of the venue:
"Our image is an important part of our business, so when we were looking for outdoor furniture we wanted something that looked the part as well as being functional.
"The benches from British Recycled Plastic were just what we needed; strong, sturdy, and stylish. A very busy year later and they still look like new. We would definitely recommend."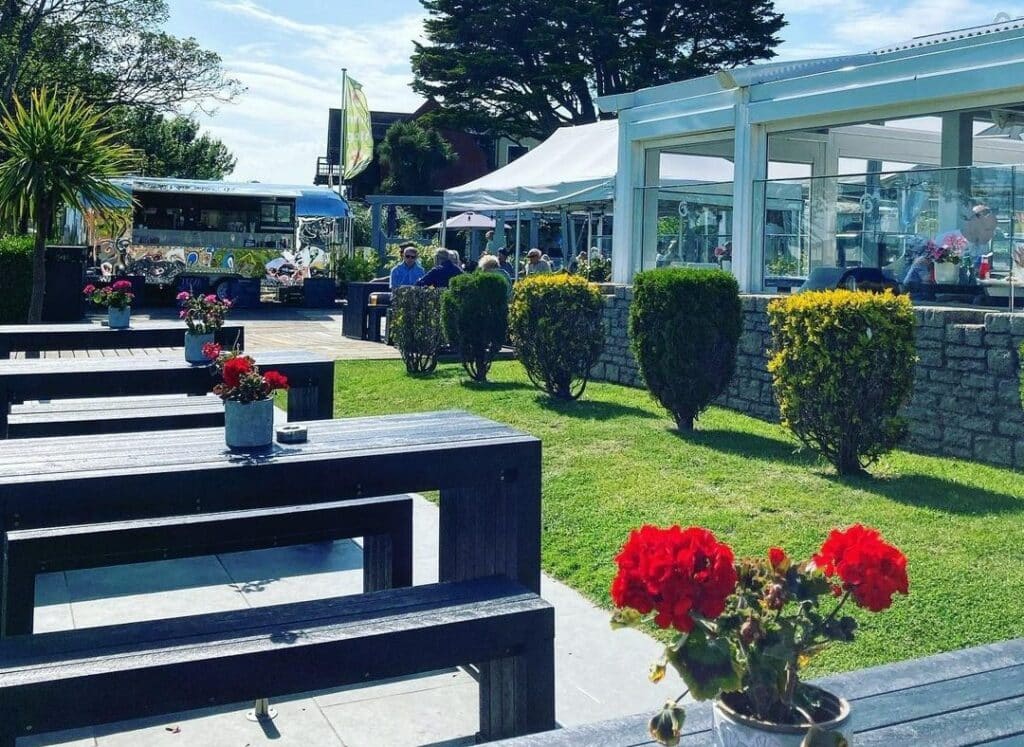 The Harrogate is also proving popular for landscaping projects, where outdoor space needs to be maximised for the benefit of visitors and employees.
Alfresco Landscaping in Northamptonshire recently improved communal conditions for staff at a local company, making great use of our Harrogate set. Alistair, director of Alfresco Landscaping, explained:
"We built the new area for a local company, creating additional outdoor space from unused car parking spaces. The staff now have somewhere to eat and meet outside, and the new garden furniture looks great."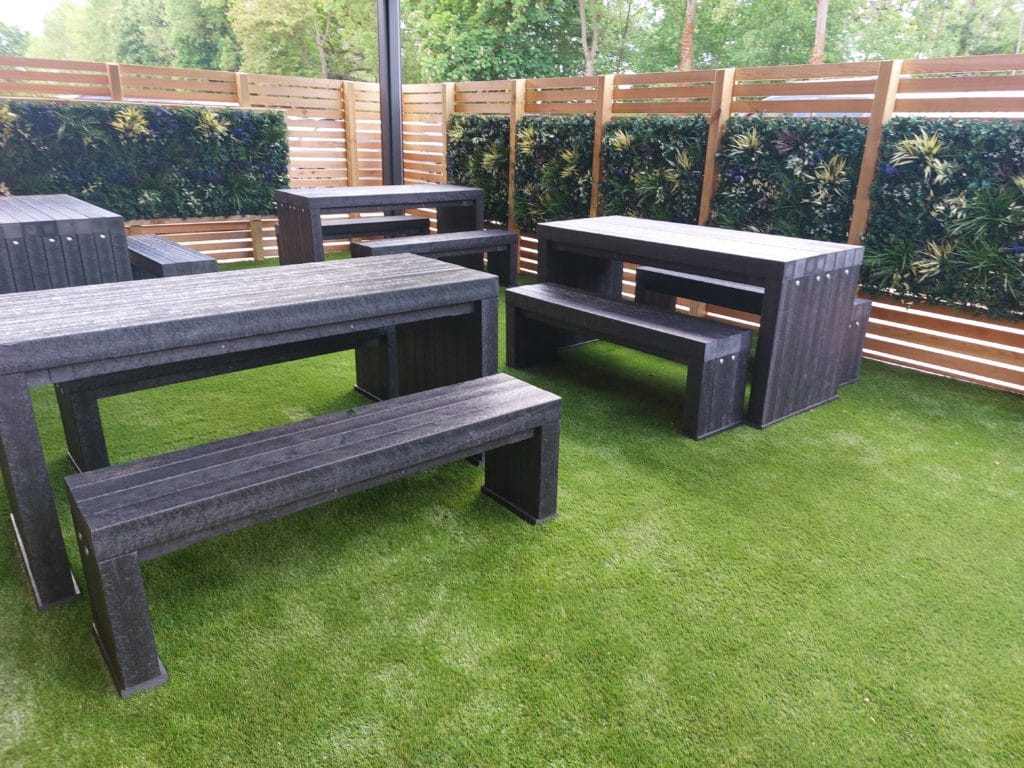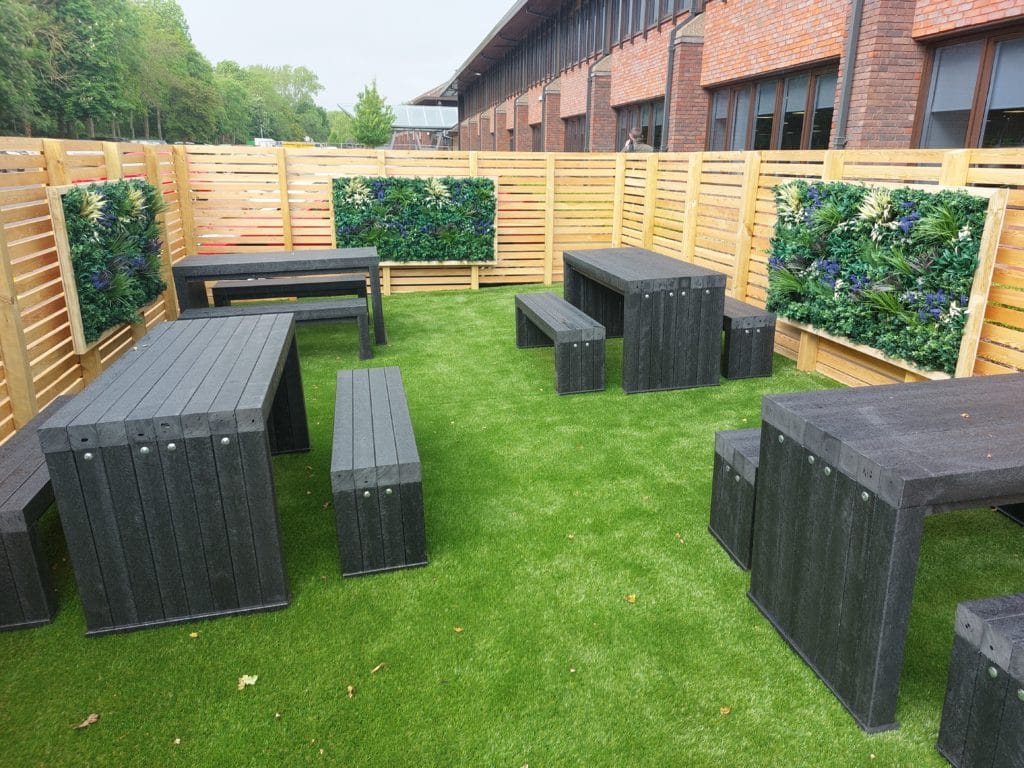 Rastrick High School in Brighouse recently added a canopy-covered social area to the site, where the students can congregate and enjoy lunch in the fresh air. As part of its sustainability ethos, the school opted for recycled plastic garden furniture and ordered fifteen of our Harrogate sets for the new build.
Shirley Graham, Site Manager at Rastrick High School, told us: "We're a very environmentally conscious school, and always keen to invest in our site and the environment. Our canopy area has been a big hit with the students since being added last year.
"We first used products from British Recycled Plastic around fifteen years ago, and they are as good now as the day we purchased them. It made sense for us to use more of the company's furniture for the canopy-covered area. Using recycled plastic is a great way to increase our pupils' awareness about waste reduction and sustainability."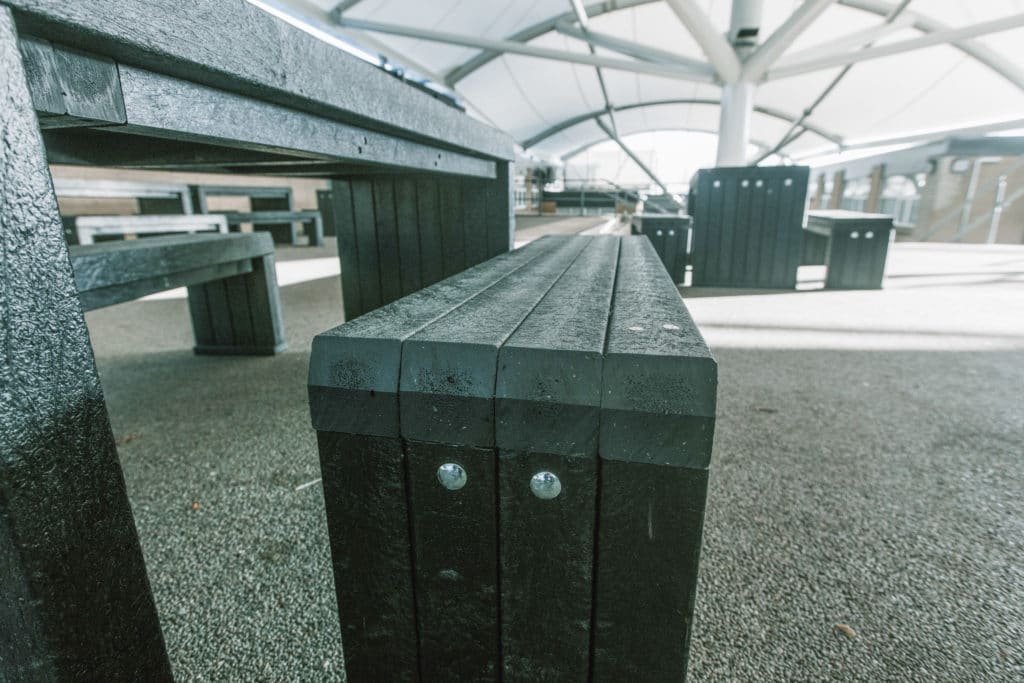 Resilience and style, rain or shine
One of the best things about recycled plastic compared to other materials is that it won't degrade when exposed to cold and wet weather. Forget about dragging your garden furniture around and storing it under cover for the winter months – you can leave our products in place all year round and never have to worry about them. Our garden furniture will prove just as resilient in the snow as it will in the soaring summer temperatures. Good news, especially if you prefer your drinks authentically chilled!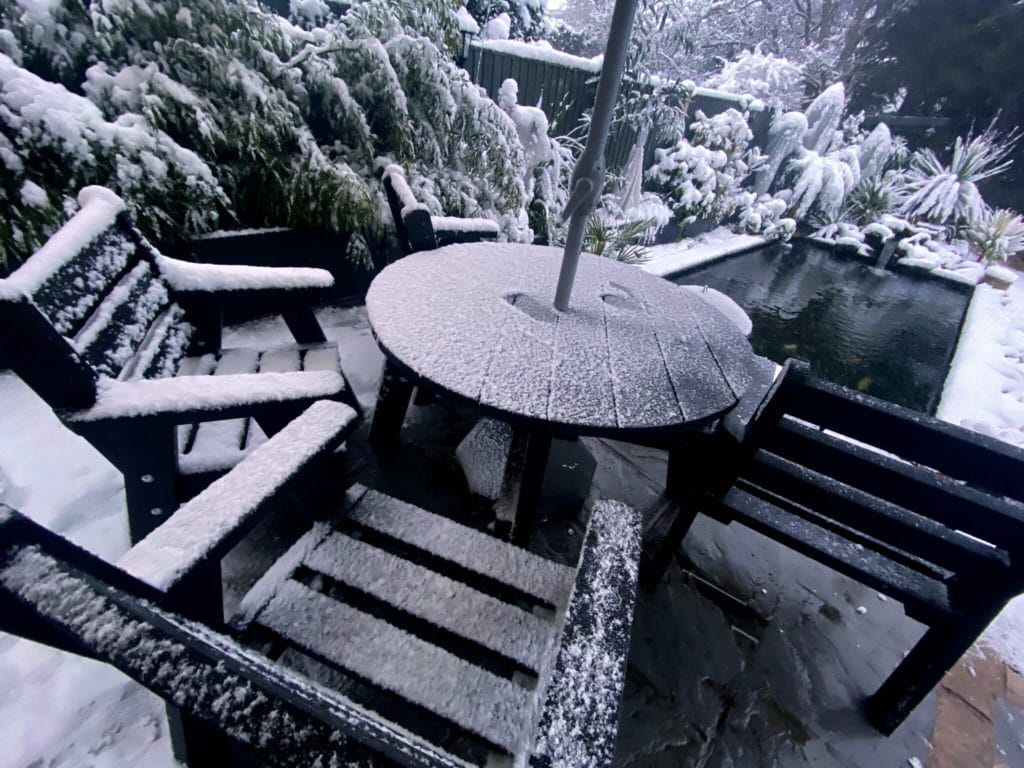 Choose British Recycled Plastic
By choosing British Recycled Plastic, you're making a making a hugely positive change for the environment and actively helping to create a more sustainable planet. So why not get on board? We offer a range of products that are not only incredibly tough and durable, but actively help to dismantle the UK's domestic waste mountain and keep plastic out of landfill.
Our recycled plastic is completely rot-proof, splinter-proof and maintenance-free and it comes with a 25-year guarantee. This means that year after year after year, it will keep its good looks and robust functionality without needing anything other than an occasional wash down. Of course, as it is chemically inert, it can be washed as often as wanted, with bleach, disinfectant or any other regular cleaning product.
We're proud of how our role in the world of recycling is helping to reduce domestic waste and create products which are useful, long lasting and beautiful. Engineered from 100% British waste, our products are supplied to thousands of organisations and private homes across the UK: we believe they are the very best money can buy. We're making waste wonderful.
Check out how our products are made here.
Visit British Recycled Plastics Webshop
Get in touch with our friendly and knowledgeable team by phone or email: 01422 419 555 [email protected]