June is Pride month, and in 2022 the LQBTQ+ community is proudly celebrating 50 years of Pride events in the UK. As well as commemorating the last half century of progress, Pride 50 will look to the future and ask what we can achieve in the next fifty years.
Inclusivity is absolutely central to our ethos here at British Recycled Plastic, and we'll be highlighting Pride throughout the month of June. If you're keen to show your support and fly the flag for Pride, then we're sure you'll love our range of rainbow-coloured furniture.
Almost all of our recycled plastic picnic tables and benches are available in rainbow colours, so why not commemorate Pride with some high-quality outdoor furniture? Our tables and benches look equally good in domestic gardens as they do in parks, beer gardens, hospitality venues, or anywhere else where you can sit and relax with friends.
We're running a Prize Draw Giveaway for Pride throughout June, which you can enter here.
Some Pride examples
Everyone loves a classic, and the Denholme is the quintessential picnic table that's perfect for a wide range of outdoor locations. As one of our most popular sellers, it looks great wherever it stands and the multi-coloured option brings added vibrancy to the party.
The Denholme comfortably seats four adults or six children, and can be mixed and matched with any of our picnic tables and benches to create a versatile and inclusive outdoor area.
We previously donated a Denholme picnic table to Hebden Bridge Town Hall (our hometown!) for Pride – here it is looking resplendent in the outdoor seating area.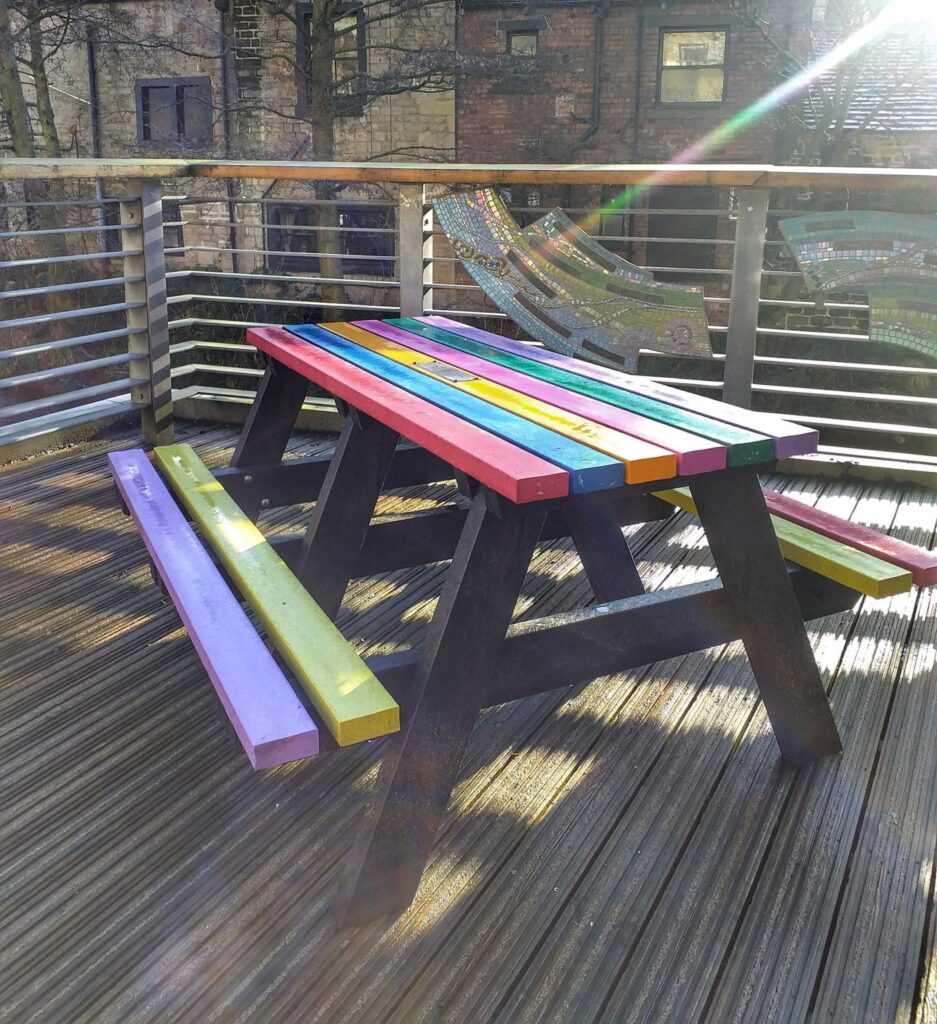 And if you need an accessible option, then look further than our Bradshaw Wheelchair-Accessible picnic table. Based on the same classic A-frame design as the Denholme, the Bradshaw – the flagship of our accessibility range – has a cutaway section that allows full, front-facing access to a wheelchair.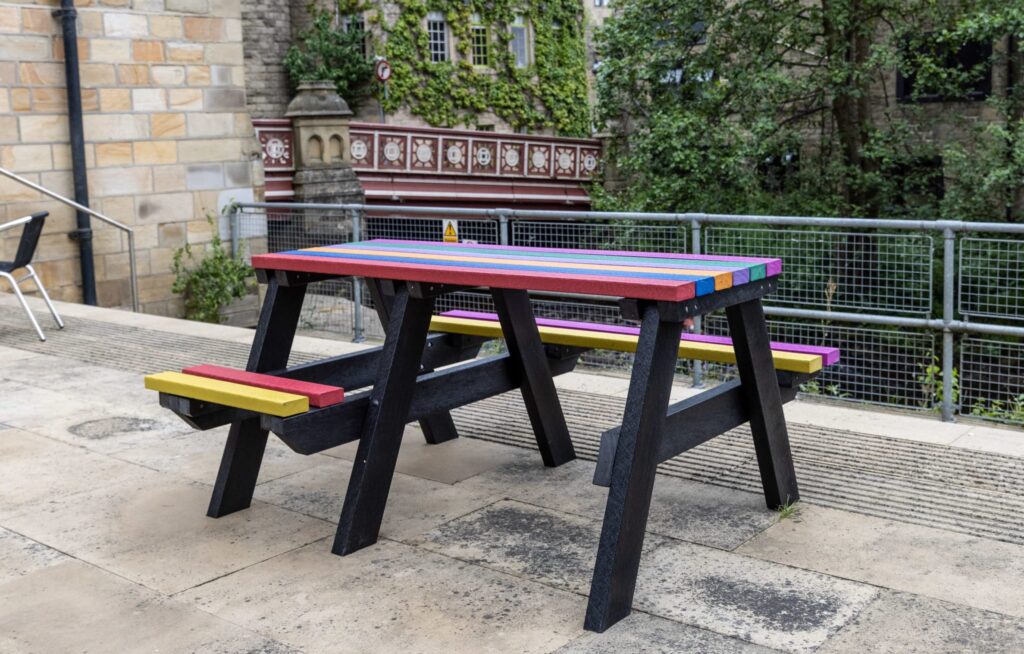 Along with the Denholme, we donated a rainbow-coloured Bradshaw Wheelchair-Accessible picnic table to Hebden Bridge Town Hall for Pride, which also stands proudly in the courtyard. Our friend Krishna told us how much he enjoys the inclusivity of such a design:
"It's not always the big, expensive things that are the most helpful. Easy but thoughtful solutions like the presence of a wheelchair-accessible picnic table can mean I have the chance to participate in an ordinary activity like eating out in a pub garden, without giving details like where I'm going to sit a second thought."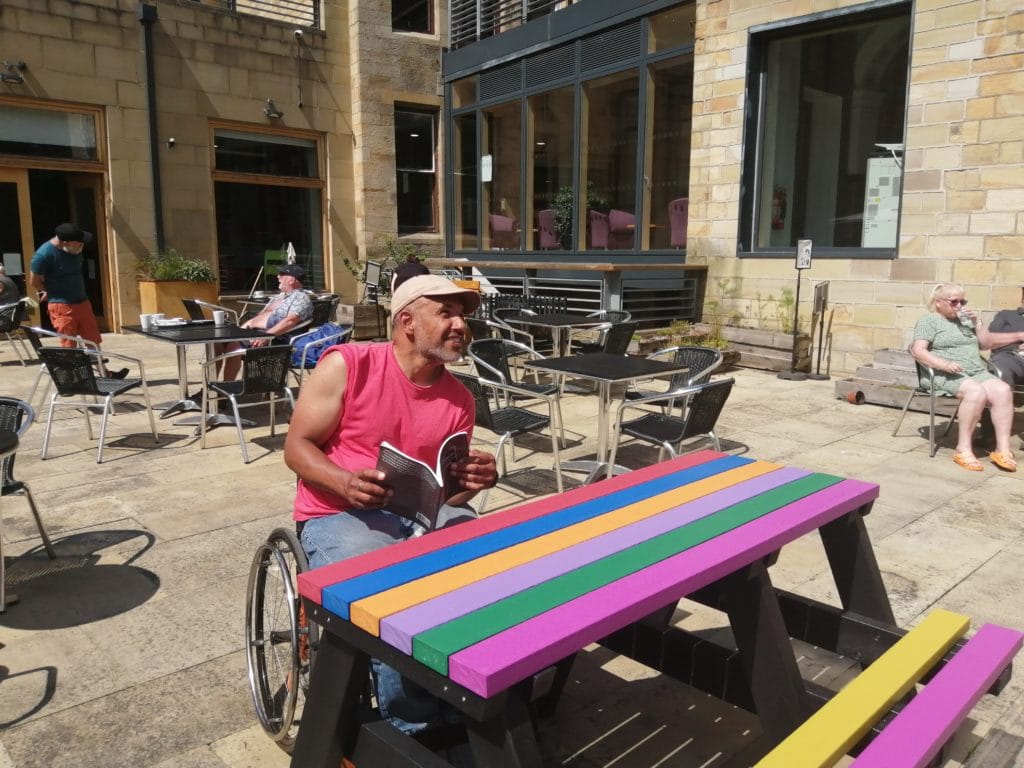 More rainbows options
The Holmfirth Junior picnic table is similar to the Denholme, but a little smaller – perfect for children up to the age of eight. It looks great alongside its standard counterparts, and the multi-coloured option is always a big hit with the kids!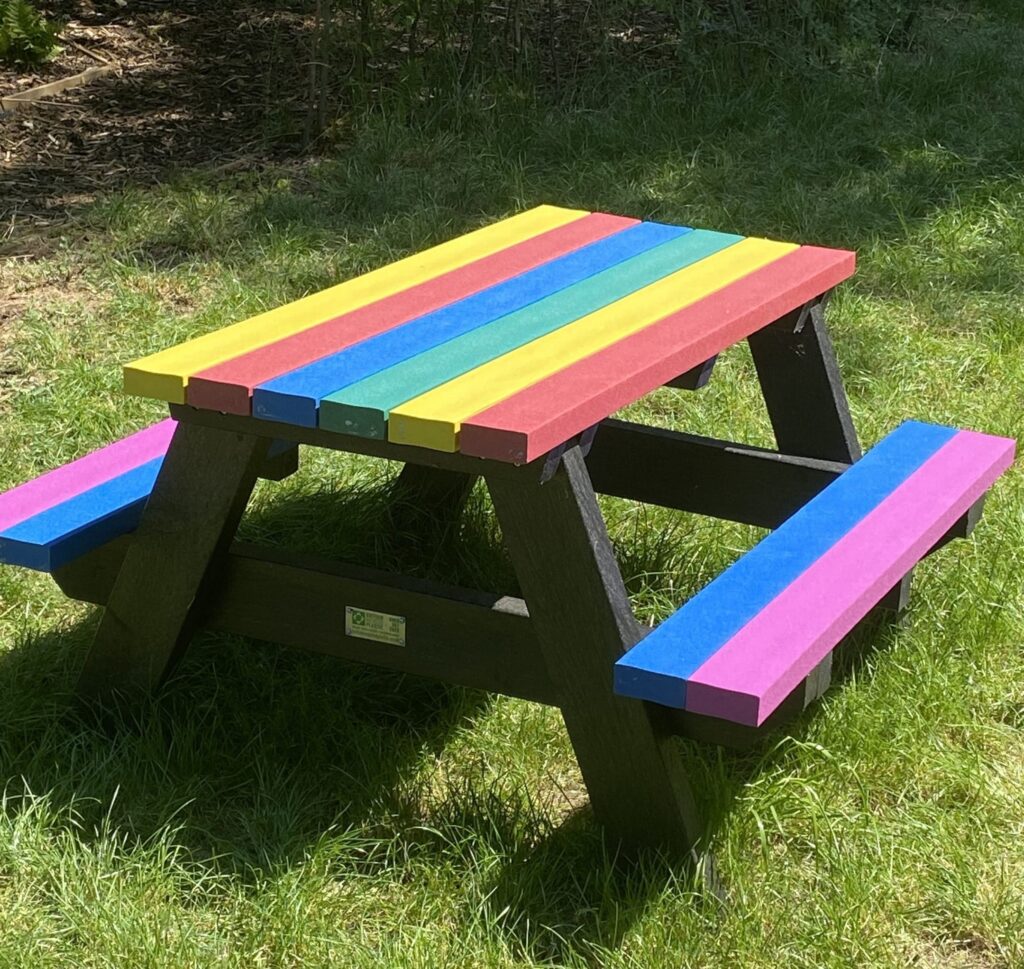 If you're looking to seat up to eight people at the table, then our Calder is an excellent choice. One of our largest picnic tables, the Calder is a heavy-duty, circular design that also co-ordinates beautifully with all of our other picnic tables and benches. And, of course, it looks great in rainbow colours.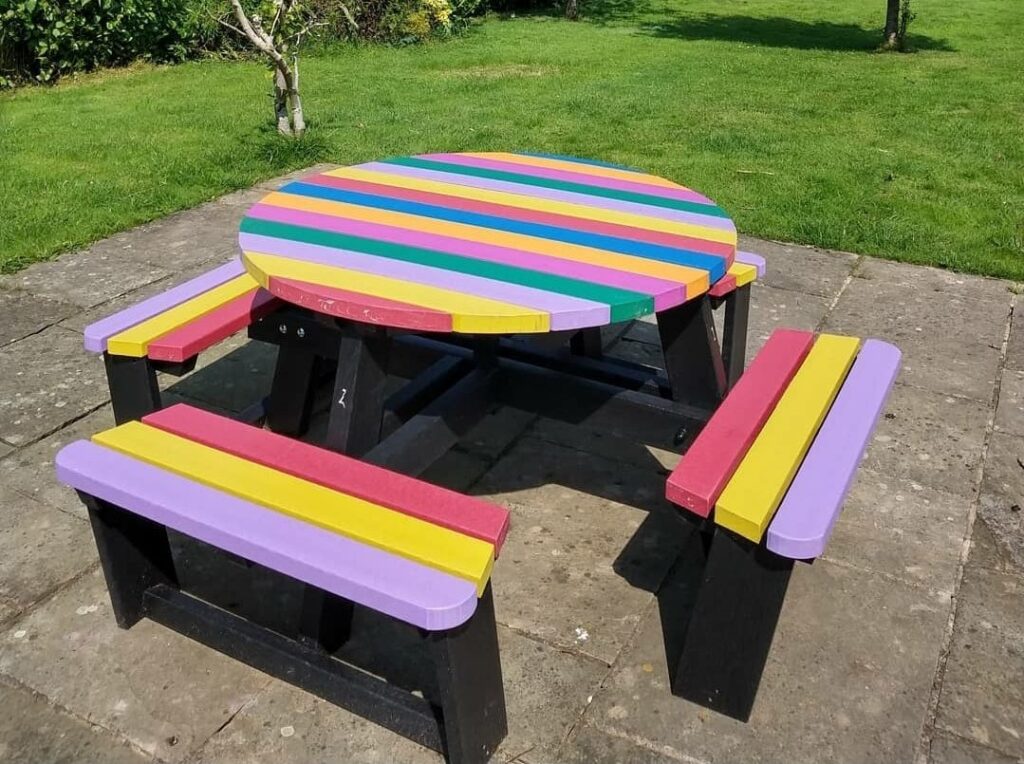 The Buddy Bench is another one of our products that not only looks great in rainbow colours, but also actively promotes inclusivity.
Like all the best ideas, the Buddy Bench is a pretty simple one: somewhere where children can sit if they feel lonely, to show others that they're in need of a friend. A way of reaching out without speaking out. The Buddy Bench comfortably sits four children or three adults, with engraving and multi-coloured slats that will brighten up any surroundings.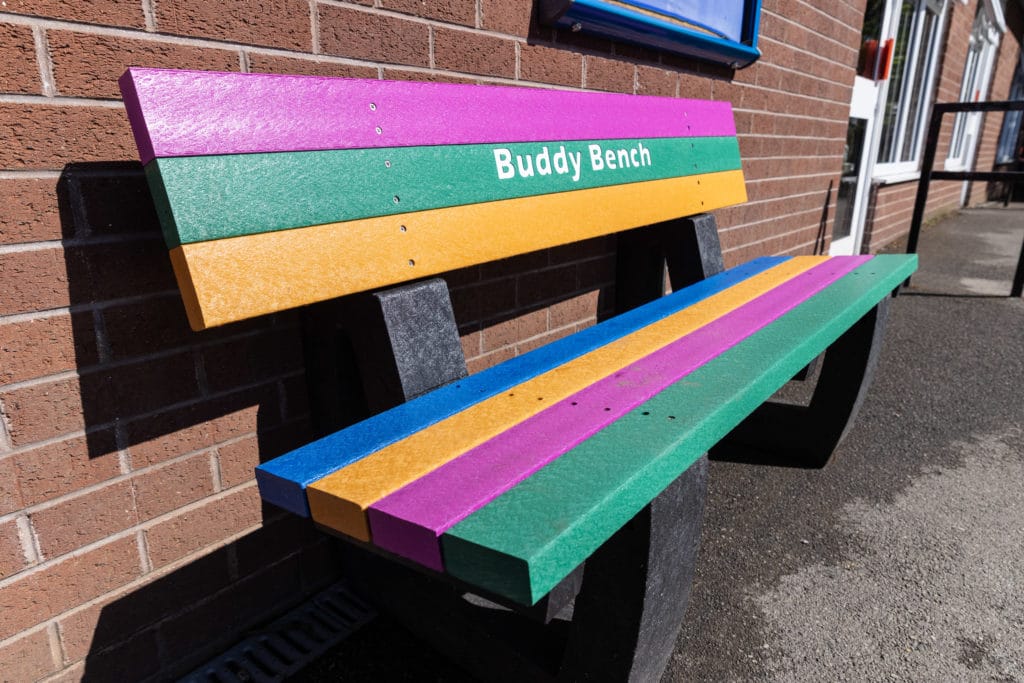 If you 're looking to keep it simple, practical and budget-friendly, the Oakworth bench is for you. It's a stylish, moulded-end bench without a backrest, already seen in parks and public spaces around the UK. Add those rainbow colours to really make it pop!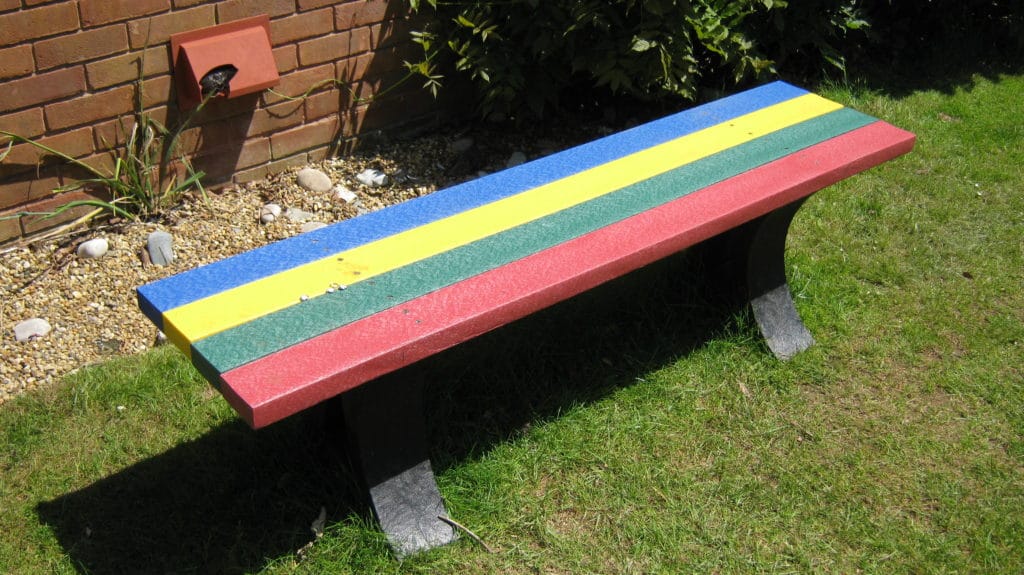 The Skipton bench is an elegant, slatted bench without a backrest, a popular and versatile product. With slats laid edge-on to reduce sitting water, it's ideal for changing rooms and poolside areas. Its sleek, clean design is stackable and compact, making it a smart choice for outdoor events that need setting up and clearing away quickly. As you can see, it wears those colours well.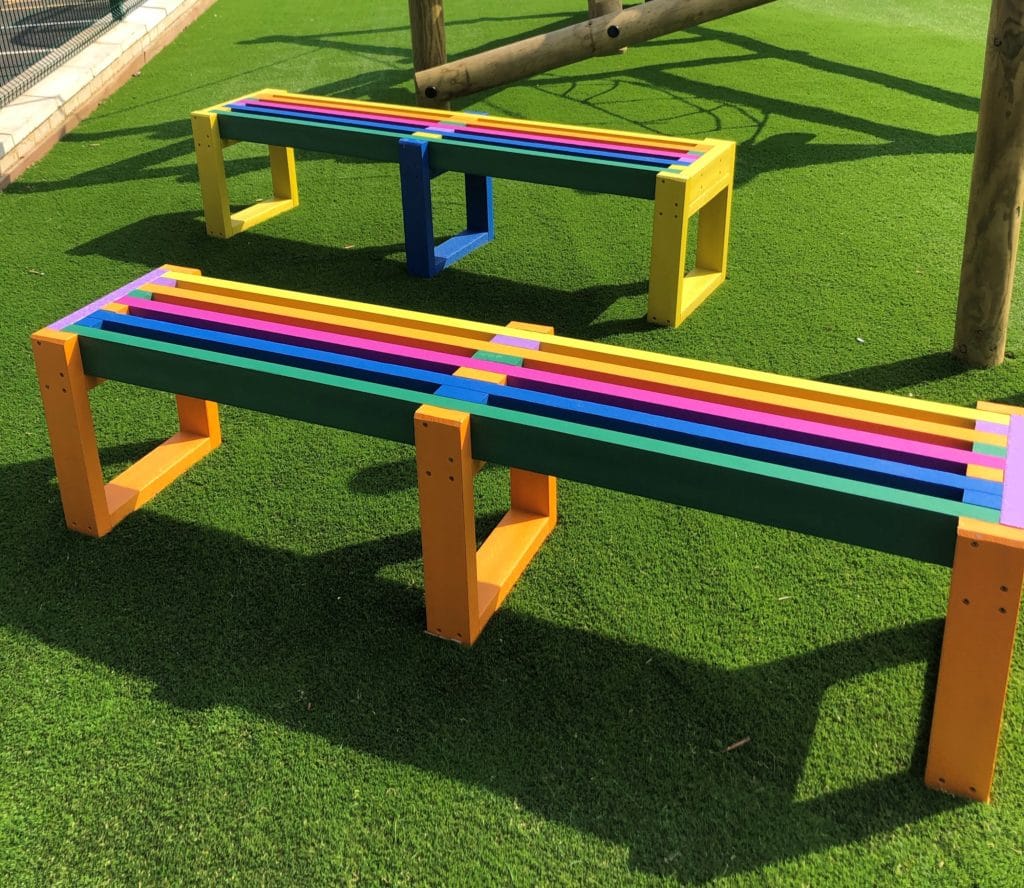 Take a seat and raise a glass to Pride – cheers!
Of course, Pride isn't just an opportunity to talk about our rainbow furniture. Pride means a great deal to us and we want to take a moment to honour all our friends in the LGBTQ+ community. Big thanks from us to all of you – we all benefit from a more diverse, inclusive and accepting world. Let's not forget that many of the battles for the equity we enjoy today were hard-fought – many lives were lost to hate and illness and we must never take the collective fortitude of our friends for granted, nor forget the work they've done to make our world a kinder place.
LGBTQ+ friends and colleagues – we see you, we honour you, we thank you, we stand with you.
About British Recycled Plastic
Our products can be seen in an array of locations up and down the country, from parks and playgrounds, to hospitality venues and nature trails. Some of our prestigious customers include the NHS, the National Trust, the MoD, and various school and universities throughout the UK.
All of our recycled plastic products are not only incredibly tough and durable, but actively help to dismantle the UK's domestic waste mountain and keep plastic out of landfill.
Our recycled plastic is completely rot-proof, splinter-proof and maintenance-free and it comes with a 25-year guarantee. This means that year after year after year, it will keep its good looks and robust functionality without needing anything other than an occasional wash down. Of course, as it is chemically inert, it can be washed as often as wanted, with bleach, disinfectant or any other regular cleaning product.
Our role in the world of recycling is helping to reduce domestic waste and create products which are useful, long lasting and beautiful. Engineered from 100% British waste, our products are supplied to thousands of organisations and private homes across the UK: we believe they are the very best money can buy. We're making waste wonderful.
Check out how our products are made here.
Visit British Recycled Plastics Webshop
Get in touch with our friendly and knowledgeable team by phone or email: 01422 419 555 [email protected]