Check out this gorgeous customer-built decking project. Glyn Jones has done a cracking job – and he's rightfully proud of it!
Glyn was replacing his old, rotted timber decking – an area of 6.5m x 3m. After preparing the area, he laid a weed-stopping membrane. He used black lumber for the substructure, to keep costs down, and topped it off with our brown decking boards. In hot weather, recycled plastic lumber expands and, if it's not supported frequently enough, can sag. Glyn was well-prepared – he'd familiarised himself with the expansion properties of plastic (you'll find a guide, here) and taken note of our example decking drawings, here. Armed with that knowledge, he knew that the stringers (the supporting beams running lengthways) needed to be no more than 500mm apart. Glyn used 450mm centres, so his decking will stay beautifully straight and square for many years to come. We love the way he's finished his decking with a trim at the edges – it's a really smart-looking project.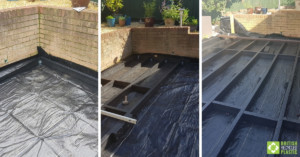 For the substructure, Glyn used RPL023 120 x 50 x 3100mm in black and for the decking he used DECK001 150 x 40 x 3150mm in brown. He used stainless steel decking screws for fixings.
Here's what he had to say about our recycled plastic lumber planks and boards:
Cuts and drills like timber (would recommend an electric chop saw)
Is a lot heavier than wood
Hopefully will last a life time (will probably outlast the stainless steel screws)
Project was carried out on my own (I didn't need help)
Would recommend this product
Thanks so much for sharing your project with us, Glyn. We wish you many happy summer evenings spent on your new deck.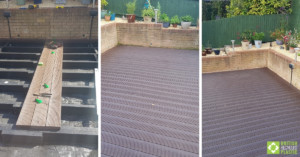 Why make the switch from timber to recycled plastic for your decking project?
Even responsibly-sourced , high-quality, tannalised timber has a life expectancy of only 5-10 years. It requires regular treating and repairs and is very slippery in wet weather. Our recycled plastic lumber planks, posts and boards are guaranteed for 25 years – although we expect them to last much longer – and need no treatment or maintenance whatsoever. By all means, hose your recycled plastic down a couple of times a year, but that's purely a cosmetic consideration and the product will suffer no ill-effects if you don't. Once worn in, you'll find it much less slippery than timber. We recommend using stainless steel screws so that your fixings don't become the weak point of your structure.
Our lumber is resistant to the growth of mould and algae, as it's a chemically-inert material. For the same reason, it contains no "chemical key" to which paint can bind, so it's resistant to the application of grafitti. It's resistant to the effects of UV light, too, so it won't fade. It's approved for use in SSSIs (Sites of Special Scientific Interest), so you can be assured that no harm will come the local ecosystem. Our products work especially well in wet environments and can be submereged in water for decades with no ill-effect – even in marine environments – but again, we'd recommend stainless steel fixings.
Why choose BRP?
All of our recycled plastic lumber is manufactured in the UK from UK-generated waste, and distributed within the UK. We work hard to ensure our little corner of the economy remains as circular as possible. In short, we're trying to solve our own domestic waste problem and keeping all of the associated money within the UK, supporting UK business and employment.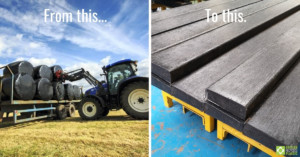 We want our products and business to be as sustainable as possible. We're not interested in cutting corners and costs by importing inferior products, manufactured in countries whose employment policies are exploitative. We want to provide products which offer genuine value for money – durable, high-quality products, manufactured and sold sustainably.
Make the switch – buy once and buy well.
Once you've built your decking, hop on over to our sister store, Low Impact Shop where you'll find our range of garden furniture, as well as a selection of sustainable products for your home and garden, hand-picked by us.
If you'd like more information or a quick quote, give our friendly team a call on 01422 419 555 or drop an email over.