This parking area used our Hebden X Grid permeable ground reinforcement grids and was part of a project to renovate a Grade 2 listed building. A condition of the planning permission was that the parking bay had to use a Sustainable Urban Drainage System to reduce the likelihood of surface flooding.
A bit of X Grid history
Back in 2009, the Ministry of Defence was one our first big customers, choosing our Hebden 40 grids for an 11,000m2 car park. Our partnership with the public sector continues today. As we become more aware of how surfaces like tarmac contribute to flooding, many organisations like NHS Primary Care Trusts and Transport for London have been buying our Hebden ground reinforcement grids in recent years. Our X Grid is approved for use as a Sustainable Urban Drainage System and is an important tool in the effort to "slow the flow" of rainwater.
Although our X grids are most often used as a strong, permeable paving for vehicles to drive and park on, they also have a secret superpower. If you've ever tried to push a wheelchair or a pushchair across normal, unbound gravel you'll know it's difficult and your wheels are likely to sink. Lay our Hebden X-Grids first, to contain the gravel, and paths becomes easily passable. If your path is in a public area, this will ensure compliance with Part M – the section of buiding regulations which deals with accessibility. The images below show the installation of an accessible gravel path at Long Eaton Community Garden.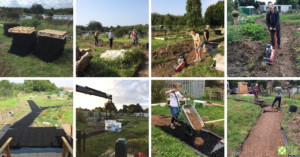 Installation and dressing
Our ground reinforcement grids blend unobtrusively and elegantly into private homes, parks, rural areas and heritage sites.
As X Grids qualify as a SUDS, they're approved for use in UK domestic driveways and no planning permission is required.
For areas which get a lot of traffic, 14-20mm angular chippings are the most common filling. The chippings bed down to provide a stable surface and are big enough to avoid migration in the tyre treads of large vehicles.
Grass is a suitable dressing for areas that see less traffic like emergency access routes, overspill car parks, private gardens and golf buggy routes. Be patient, though – once the grass has grown through the ground reinforcement grids for the first time, you must cut it back and it must grow through a second time before carrying traffic.
Below are images of our X Grids being used in a driveway, a car park and even on a living roof.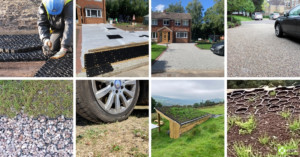 That's not the end of their uses, though. If you have a rough track with tyre ruts (they're called "desire lines") our X Grids will stop the gradual movement of the ground. You'll never have to backfill again. The same is true for boggy gateways and footpaths. Read more about our X Grids and download an installation guide here.
The project featured was completed by Cragg Builders.
If you'd like to more about our grids and discuss your project, give our friendly team a call on 01422 419 555 or drop us an email at [email protected].