Ever wondered what our raised beds are like to build? One of our customers recently sent some pics of their build and (with very little encouragement!) followed up with this lovely story. What can we say, except they have the same idea about gardening as we do at BRP Towers – it's always better in the sunshine, with a glass of wine…
Jane's raised bed build
"Our soil is very heavy clay – you could make a pot if you wanted! We thought raised beds would solve this problem and we really liked the idea of a positive use for plastic as it is such a problem for the planet. Your beds are more pricey than wood but we will not need to replace them in our lifetime so actually it works out cheaper over time! No maintenance either!
So far, we've been really impressed with your service, you answered lots of questions patiently (some rather silly as we are not DIY people!) before we bought and afterwards. Delivery was on time and by a pleasant bloke, who left the pallet as close as he possibly could to our garden gate.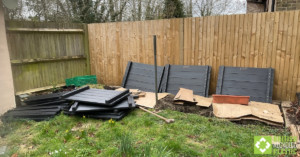 Construction! Haha! Well, when the kit first arrived the panels were heavier than expected and we panicked a little. Our amazing neighbour came to look ( socially distanced, of course) bringing confidence and tools – a spirit level and rubber mallet. Luckily the weather was kind and we managed to sink the corner posts and three panels before divorce proceedings commenced! The next day I worked by myself for a bit sinking the joining posts and roughly placing the panels. Once we were speaking again, (joking), my husband helped position the whole bed and we called for an appraisal from the inspector next door. We passed the inspection, although he said one or two of the panels were a little out according to the spirit level. Given that we live in a fifteenth century cottage with wonky beams, wobbly floors and a couple of Hobbit doors, we decided we could live with that!
So to the bolts….some bolts go in fine, others need a bit more persuasion but as you go around it gets more tricky and posts were moved, words spoken and posts were moved again. The sun came out – how can it be too hot in March? We needed a shower and some wine! It was an extremely windy night, but the bed was still standing the next day. Somehow, it seemed easy in the morning and I had finished by the time my husband came out to "help"! Hooray – our neighbour is impressed! So, we found the kit a little challenging but that is a reflection on us rather than the bed – the instructions were clear enough. But – what a sense of achievement!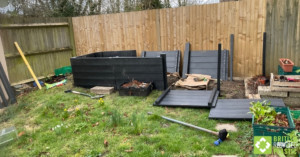 Once the topsoil has filled the bed and we have waited for two weeks, our neighbour and his wife are coming over for cheese and wine and the first planting…maybe a ribbon to cut? Photos to follow.
We have seeds/seedlings filling the dining room and our spare bedroom (just as well no one can come and stay!) – aubergine, tomatoes, onions, nasturtium, chilli peppers and cauliflower. And more to be planted: kale, spinach, courgettes, borage, lettuce and cucumbers. I received Huw Richards "Veg in One Bed" for Christmas, so I've lots of ideas and inspiration there.
To be honest the garden generally, and specifically, the raised bed – the research, planning , construction and eventual planting – have kept me going through this dark and gloomy lockdown. And hey…what about the eating?! We're looking forward to that!"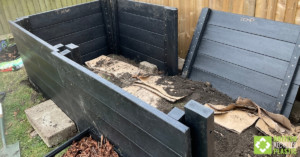 Jane – thanks so much for sharing. Glad to hear your marriage survived (phew!) and your work passed inspection. We can't wait to see the opening ceremony!
What's so good about our raised beds?
All of our raised bed kits have a 25 year guarantee, although we expect them to last much longer. They won't ever require any treatments or maintenance, so they're a genuine one-off investment – buy once, buy well. All of our recycled plastic is approved for use in SSSIs (
Sites of Special Scientific Interest
), so you can be assured no nasties will leach into the soil and whatever you grow in them will be safe to eat. They'll never rot, split or splinter and are UV-resistant, so they won't fade.
We offer a wide range of sizes in 6 lengths, 2 widths and 3 heights. You can mix and match dimensions to find a size which suits you, whether you've an expansive allotment or a narrow balcony. All of our raised bed kits comprise a combination of 500mm and/or 1000mm pre-assembled panels – you can find the full range in our
webshop
. If you can't find a size to suit you, just select a kit with the equivalent number of panels and reconfigure them – just tell us about it in the Order Notes, so we can ensure it's correctly drilled. If you're working with an awkward or irregular space, you have the option of a self-build raised bed. Send your cutting list over to our
friendly team
and we'll get a quote out to you in no time.
Top Tip
Here's a workaround for bolts which seem wonky – when arranging panels get your bolts in place, but leave them very loose. Once you're happy with the positioning, tighten them in stages, working diagonally.
For more info, get in touch:
01422 419 555