We're not all blessed with the perfect soil for growing and raised beds offer the perfect solution. While all soil types are perfect for growing something, it's not always the right thing! Whether your soil needs all-round improvement with additional nutrients and balanced pH, or you want to grow something which prefers a specific soil mix, our raised beds will enable you to create an abundant and sustainable garden. Check out our customer's raised bed project:
Meet Keith…
"Our garden soil is thick clay and acidic. We've been here 35 years and initially tried growing veg, but failed – at the time my neighbour told me he'd been here 25 yrs and failed to grow any! So, after 4 yrs of failure I reverted to patio gardening.
In the spring this year, my wife and I were talking about how much we miss having fresh veg from the garden. We thought "Let's try raised beds". I don't know why we'd not thought of that earlier!
We looked in local garden centres online (due to Covid restrictions) but they only had wooden structures. As we're in our late 60's we wanted something that would last and see us out.
We Googled raised beds and came across your site. Once we decided on the type of beds we needed (deep enough for runner beans and broad beans) we got in touch with customer services with some questions and were given all the answers we needed to be confident in ordering the right things. They were delivered in full, on time and the delivery driver couldn't have been more helpful.
From flat-pack it took me an afternoon to assemble both units. One thing to watch is the weight – the panels are quite heavy on the model we have and so I assembled them in situ.
The broad beans are already coming through. The runner beans are just starting in a propagator and I'm using the raised beds to harden off flowering plants until the canes go up and the are beans planted out".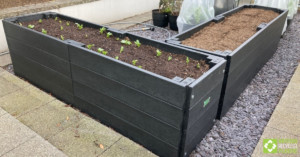 Thanks for sharing your story, Keith . We look forward to seeing more from your garden as the season progresses.
British Recycled Plastic raised beds
Made in the UK from British-sourced waste plastic, our raised beds have been designed to make your life easier. We listened to our customers and made sure that all our kits could fit on a single pallet and be carried in a smaller vehicle, where required. They're super-easy to assemble – you need only an adjustable spanner to fix the pre-assembled panels to their posts with the included stainless steel coachbolts. All kits include cross-ties for additional lateral strength and, if your garden slopes, you can request staked posts, too. They need no maintenance whatsoever – they'll never need treating and while you're welcome to hose the dust off every now and then, they'll suffer no ill-effects if you don't.
All kits are constructed from a combination of 0.5 and 1 metre panels. If you can't find the size you're looking for in our webshop, drop us an email and we'll add extra panels to suit. Have you got an awkward, weird or wonky space? If you can design your own custom raised bed project, we can provide you with the lumber planks, posts and boards you need. Send though a cutting list by email and we'll have a quote with you in no time.
Our raised beds aren't just great for nurturing ideal growing conditions, they also help to reduce weeding by separating your crops or flowers from less well-tamed bits of the garden, so you can enjoy a pollinator-friendly wildflower area without it infiltrating more controlled sections. They're the perfect way to manage crop rotation and companion planting, too. Choose black beds and you'll benefit from their thermal storage properties – your plants will grow a little faster and be a tad more frost-resistant.
Who are British Recycled Plastic and what's so good about us?
We have our hearts (and our offices) in Hebden Bridge, West Yorkshire, but our products get all over the place, from the windswept Hebridean islands to sunny Cornwall. You'll find our picnic tables, benches, raised beds, composters, fencing and decking in gardens, parks and playgrounds up and down the land, standing firm in all manner of weather conditions and guaranteed for a lifetime.
We've been around a while and are trusted by clients as diverse as the Environment Agency, the National Trust, Highways England and the MoD, as well as countless schools, local authorities, cricket clubs and nature reserves. Our experience in the sector has seen us develop a broad range of products for both commercial and residential customers. Whether you're a gardener, a hobby joiner, a headteacher or the procurement lead for a vast chain of pubs, you'll have access to the same great-value trade prices and friendly customer service.
What we do and why
At the core of our business is sustainability. We offer an alternative to the production of new "virgin" plastic while we dismantle the UK's waste plastic mountain, piece by piece. It's hard work (it's a big mountain…), but we believe in our mission. Every chunk of waste plastic recycled into a useful item means one less chunk of virgin plastic entering circulation. In addition, the worst thing about waste plastic (it lasts forever) is the best thing about recycled plastic (it lasts forever). Our lifetime guarantee gives you the assurance that your British Recycled Plastic products will never let you down, ever. When you only have to buy something once, it's not just your wallet that breathes a sigh of relief, the planet does, too. Buy once, buy well.
Whatever it is you're looking for, we'll help find the right product for you. We won't sell you something that's not suitable for your needs, because that's just not our style. If we can't help you ourselves, we'll try and point you in the direction of someone who can, because as far as that mountain of waste plastic goes, we're all in this together. It's our aim to offer the kind of down-to-earth, welcoming service you'd expect from a proud Yorkshire crew, with the experience, professionalism and expertise you'd receive from a large national concern. Each of our staffers are passionate about our planet and extremely knowledgable about our products – we're here to go the extra mile, with a (broad Yorkshire) smile.
Get in touch:
01422 419 555