"Low maintenance." "Hardwearing." "Guaranteed for decades." We throw phrases like these around every day here at BRP Towers, but the proof of the pudding is in the eating, they say, and recycled plastic proves its worth over time. Recycled plastic is a relatively new material but there are some great examples out there of the kind of long-lasting appeal that we bang on about.
Iconic Venue
The Trades Club, Hebden Bridge, is almost a century old as a social club but they're far from stuck in the mud. As well as being a vital community hub, they're also the current NME Small Venue of the Year and lots of big-name acts play the intimate 250-capacity concert room. They needed long-lasting seating for their on-street outdoor space – where so many people congregate sometimes it's hard to get in the door – and so they went with recycled plastic.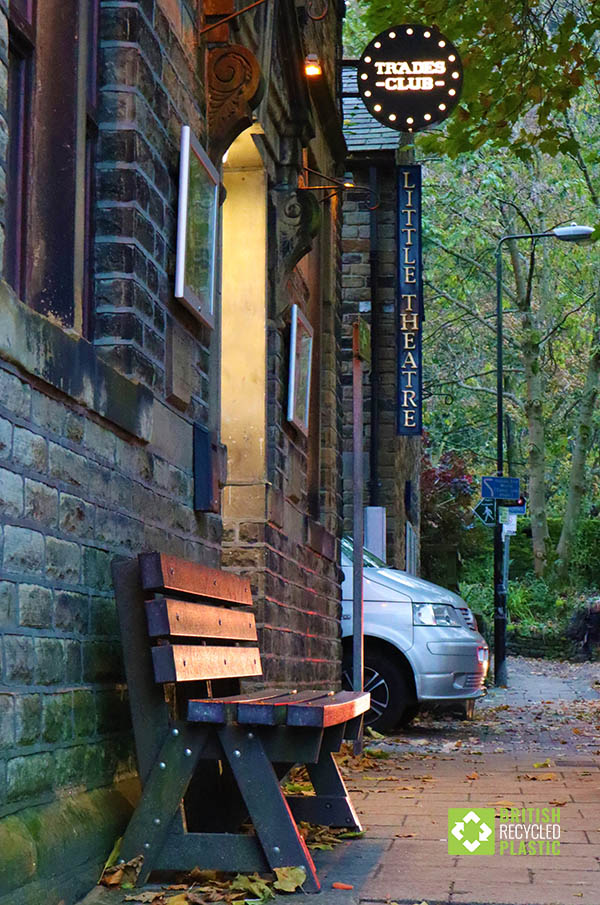 Their bench has now been in place for over a decade, yet shows no visible signs of age. Tens of thousands must have sat on it over the years from Ian McCulloch to Laura Marling to The Fall to Richard Hawley to us, the humble BRP office staffers and of course the sometimes weird and always wonderful Hebdenites. It's withstood the often fierce Calderdale winters… and has been submerged by flood waters on at least two occasions. Nothing more than an occasional wipe down is really needed to keep it looking pristine though, and we're looking forward to watching the Trades Club bench stand the test of time.
If the thought of almost-indestructible outdoor furniture has got you thinking about what you might do with some, you can find our complete list here and more about our benches here.