As adults, we're acutely aware of the importance of climate change and what steps we need to take to preserve our planet. The information is increasingly visible as we go about our daily lives, from the foods and clothes we buy on the high street, to how we work and travel. We're already engaged, aware, and willing to play our part in tackling the climate crisis.
But how do we go about teaching sustainability to kids? How do we make sure that younger generations are getting the right messages for them to make positive change? It's not one-size-fits-all when it comes to sustainability communication, so we need to consider how children and younger people are receiving their information and what we can do to help their understanding.
A recent global survey found that climate anxiety is rife among young people. The survey – conducted across 10 countries by Bath University in collaboration with five universities – found that almost 60 percent of young people felt worried about climate change. More that 45 percent of respondents said anxiety about climate change affected their daily lives.
Tom Burke, from the think tank e3g, told BBC News: "It's rational for young people to be anxious. They're not just reading about climate change in the media – they're watching it unfold in front of their own eyes." Clearly then, the earlier sustainability values can be taught to children to try and counter such anxieties the better, as it will help to build a generation of environmentally aware adolescents. The world definitely needs a few more Gretas!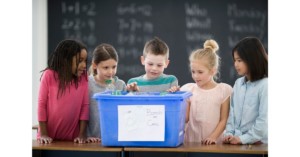 Start early
It's never too early to start teaching the principles of sustainability to your children or grandchildren. It doesn't have to be complicated or made to feel like a chore, just teaching them about the importance of small steps will instil instinctive values around climate change from an early age. Sustainability is a broad subject, but it essentially comes down to understanding the impact our actions have on the planet. So the key is to make learning about such issues enjoyable and fun. Because we all know kids don't like being bored, right?
Recycling
Recycling isn't really a choice anymore, given the planet's finite resources. It's more important than ever to divert as much waste as possible away from landfill. Fortunately, recycling is one of the easiest and most effective ways of teaching children about sustainability. It's an activity the whole family can be enthusiastic about and can quickly become part of your daily routine. Have separate bins for all types of waste at home and teach your kids to sort the rubbish accordingly.
Encouraging your children or grandchildren to decorate the recycling bins is also an excellent way to engage them and increase awareness, as is creating a game that teaches them exactly what goes where. Take a trip to your local recycling centre – while this may not exactly be your idea of fun as an adult, it will likely prove fascinating for kids and is a great way for them to learn about responsible waste management.
Try using the power of nature to highlight the benefits of recycling. Even if children are too young to grasp the bigger picture in terms of recycling, they probably already enjoy talking about and being among trees. Exploring forests and parks is a great way to help them understand recycling and bring tangible meaning to their efforts. Explain that recycling paper and card at home is saving trees and helping the planet. Instilling a love and appreciation of nature in your children will reinforce what it is they're trying to protect. Nature is inspiring for kids – it will help them to understand that their small acts of recycling can make a huge difference to their natural surroundings.
Reducing and reusing
Reducing waste by reusing household items is fundamental to a greener lifestyle, so lead by example at home. Kids will surely be quick to pick you up on telling them one thing while you do another, so always put your words into action. Choose reusable products wherever possible, and make sure your children are aware that constantly throwing plastic away is bad for the planet.
Make a point of turning off lights and turning off all electrical items when not in use – if you want your kids to understand the value of these steps at home, it's crucial that they see you doing the same. Encouraging them to re-purpose old household items instead of throwing them away is also a great way to spark kids' creativity. Plastic and card can be made into an array of new objects, further teaching them the importance of reusing waste material.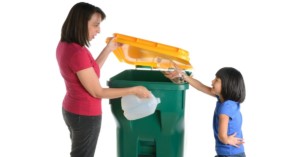 Language
Let's be honest, the language and rhetoric around sustainability can be repetitive and boring, so it's important to communicate with children in a way that they can enjoy and relate to. Rather than overwhelming them with unfamiliar ideas and how it's their duty to save the planet, keep it simple and fun. Children that can talk to their parents about recycling and reusing in simple and digestible terms are much more likely to respond in a natural and positive way.
Julia Giannini from ITV recently noted that the language around sustainability is often dull and clichéd, which stops people from engaging with it. "The reason why we're here is because academics and scientists were communicating when they're not communicators," she explains.
"Carbon dioxide levels, degrees of warming and environmental concepts are not going to motivate behavioural change. You need messages that cut through that are easy to understand, and allow people to act."
However, it's also important not to scare children with language that makes them think the end of the world is nigh. Use positive examples of how people have worked together to overcome ecological problems, such as reducing the hole in the ozone layer. Always explain – in simple and age-appropriate terms – that we are looking after the planet for future generations by recycling, reducing and reusing. Kids are way more likely to get on board with green habits if they know why it is so important.
Plant a garden
Planning and planting a garden can be a hugely enjoyable and effective way to get children thinking about sustainability. Kids will get a real sense of achievement from growing something they can eat afterwards, and it will inspire them to be green-fingered as they get older. It's a great way to teach them about growing food, and as an added plus they will likely end up eating more vegetables. Kids that actually want to eat their greens – imagine that! Making a composter container as part of a garden project will also give children a sense of responsibility as they learn more about sustainability.
Clean up
The simple act of cleaning up an outside area can be very effective way to teach children about waste responsibility. Kids love to have a sense of purpose, and collecting rubbish lets them enjoy the outdoors while teaching them about the environment. Make it a fun activity in a nearby park or woodland, with gloves, bags and hi-vis vests.
Choose British Recycled Plastic
Introducing ideas of sustainability into children's everyday lives has never been more important. Here at British Recycled Plastic, we offer a range of products engineered from 100 percent recycled plastic, including children's picnic benches and activity tables. The Holmfirth Junior Picnic Table – similar in design to our classic Denholme table, but shorter and lower to accommodate children up to the age of around eight years old – is a popular choice for home gardens and primary schools.
Our recycled plastic is completely rot-proof, splinter-proof and maintenance-free and it comes with a 25-year guarantee. This means that year after year after year, regardless of whether it is used for sitting at or climbing over, the Holmfirth will keep its good looks and robust functionality without needing anything other than an occasional wash down. Of course, as it is chemically inert, it can be washed as often as wanted, with bleach, disinfectant or any other regular cleaning product.
Kids can also be making use of our recycled plastic while they're at play. Our Otley Activity Tables are specially designed with a choice of games inlaid into the table top, including chess, snakes & ladders, ludo, sudoku and noughts & crosses. We can also supply the Otley with a plain whiteboard top.
Who are we?
British Recycled Plastic is proud to offer a range of products that are not only incredibly tough and durable, but actively help to dismantle the UK's domestic waste mountain and keep plastic out of landfill. Engineered from 100 percent British waste, our products are guaranteed for 25 years and supplied to thousands of organisations and private homes across the UK. We 're making waste wonderful.
Visit British Recycled Plastics Webshop
Get in touch with our friendly and knowledgeable team by phone or email:
01422 419 555
[email protected]
Do check back as we update our blog to regularly.
You'll find more tips to recycle effectively, as well as other relevant topics.