Our Hebden X Grid permeable paving grids are (as far as we're concerned) the eighth wonder of the world. If you're wondering why we love these unremarkable-looking bits of recycled plastic so much, read on…
On boggy and saturated ground, they draw surface water down into their honeycomb structure, holding it there until the ground has capacity to absorb it. In addition, the grids reinforce and support boggy ground prone to churning and erosion. They're also approved as a Sustainable Drainage System (SuDS).
That's all well and good, I hear you say, but what does that really mean? How do I use them? What for? And SuDS – what's that all about?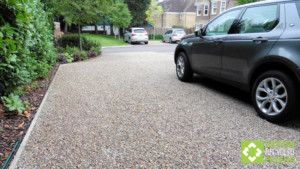 For domestic use on private properties, using a SuDS means that you don't have to have planning permission (unlike for tarmac and concrete). This makes it great for driveways and parking spaces. For commercial usage, approval and funding are more likely when using materials which make a positive contribution to flood prevention and alleviation.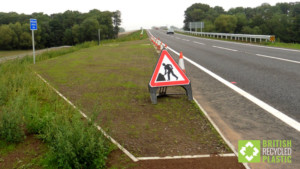 Their application isn't limited to driveways and parking bays, either. We've seen them used by the Highways England for laybys and by large estates for extensive parking developments. They've been laid in busy gateways and paths to reinforce the ground and prevent erosion in areas with heavy footfall. They're great for rural tracks and trails which suffer from sunken tyre tracks, eliminating the need for regular backfilling with hardcore.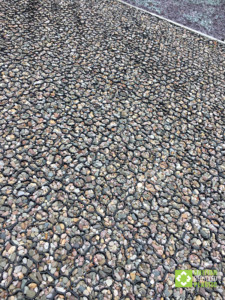 Filled with a surface dressing of sharp gravel, the grids hold the stones in place, preventing migration. Not only does this make them tidier and reduce maintenance, but it means that they're Part M approved – they provide a suitable surface for wheelchairs, which won't sink into the gravel. Again, if you're planning a commercial project, this is a real plus point in terms of getting approval and funding.
And if gravel doesn't appeal? Fill the grids with topsoil and seed with grass. Once you've grown the grass as per our guidelines, you can mow as normal for a free-draining expanse of reinforced turf which will stand up to extensive traffic without pitting or sinking. As long as the appropriate substrate for the types of vehicles that'll be using it is laid underneath first, Hebden X Grids can support virtually any UK road-legal vehicle at any gradient up to 1 in 10.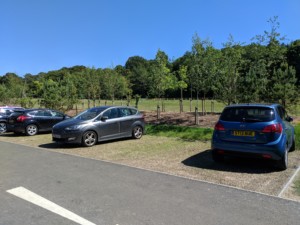 They're easy to lay, too. Correct ground preparation is key, but not particularly complex. Once the correct prep is done, laying the grids is a piece of cake. You'll find a downloadable installation guide, here
You don't have to take our word for just how good this product is – here's what some of our customers have to say about the Hebden X Grids:
FH used them for a parking bay at home:
Lightweight, easy to assemble, durable, reasonably priced and environmentally friendly.
The main reason for installing them was the council's requirement for keeping the grass area in place when creating a new parking space.
DL built a hardstanding for their motorhome:
Chosen as an environmentally friendly alternative to concrete and to ensure there would be no standing water.
It was easy to order, swiftly delivered, easy to lay and works a treat!
DT is a repeat customer, using them for driveways:
Cheapest option by far for driveways…can re-lift and re-fit them if you need to do any repair work…do not need planning permission…the stones will not move or migrate – even if the driveway is sloped…they take a phenomenal amount of weight – skip lorries, delivery lorries etc…order to delivery time was excellent.