Check out this raised bed review from Dr Paula O'Donnell, who loved her first consignment so much that she came back for more. Here at BRP Towers, we've got a serious case of garden envy!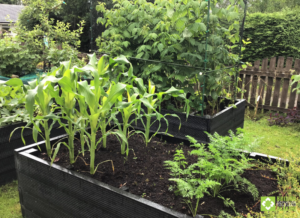 "Buying plastic raised beds for my garden was not something I initially considered but rather stumbled across when researching wooden products. Reading about British Recycled Plastic I realised what a great solution it could be – treated wood is expensive, needs maintenance and will rot, needing replacement in 10 – 15 years. Plastic, whilst still expensive at first, doesn't require maintenance and will outlast me!
My only concerns were about strength and appearance, not wanting a weak and tacky looking set of beds. Ringing the company to ask more about the product I was reassured about their strength, appearance and design features so I put in a large order, taking advantage of a buy 4 get 5 offer. I garden on glacial moraine – a few cm of soil, then compacted stone – that has broken more than one garden fork.
Delivery took a month, being complicated by a local haulage company, but this was sorted out following a call back to BRP. The product arrived on pallets and was very easy to assemble with the enclosed instructions, although the weight required two of us.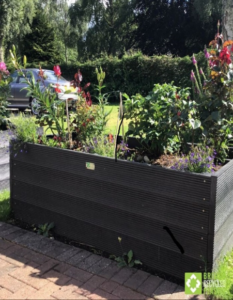 Any reservations I had about strength or sturdiness were unfounded. The supplied screws were good, only a very few rounded as I put them into the very dense plastic; everything is supplied straight and square, so went together well. They were set up on a flat grass area with a weed suppressing membrane at the base followed by a deep layer of rotted manure, then filled with compost.
Having been in place for two years, they have seen sunshine, rain, hail, snow and ice in the Highlands without discolouration, fading or warping. All of the plants, flowers, shrubs, fruit and veg are doing very well.
Overall I am delighted with this products' strength, appearance and overall functionality. Service from the staff has been absolutely outstanding and I wouldn't hesitate to order again, in fact, I have done so. Quality products are not cheap but speak for themselves".
Thanks for sharing your pics with us, Paula. We love a happy customer!
If you're a customer of ours and would like to share a raised bed review with us, please do drop us an email.
You can find more details on our range of raised beds, here.