If you're thinking about purchasing some new outdoor furniture, the level of maintenance and general upkeep that such a product would need is likely be one of your considerations. Maybe you're part of a council, sports club or hospitality venue that wants to install benches and picnic tables in a public space, but are concerned about the amount of cleaning required once they've been is situ for a while. Well, we've got some good news for you.
Quick and easy cleaning
Cleaning our recycled plastic products could not be simpler. It's one of the questions we get asked a lot by potential customers – is recycled plastic easy to clean and maintain? And we can confidently answer with a resounding 'yes!'.
We fully understand that unfortunately some degree of graffiti can be inevitable in popular public spaces, but that's where recycled plastic has another distinct advantage over more traditional materials such as wood. If you find your outdoor furniture with some unwanted scribbles, then all you need is any household surface cleaner and a small sponge to remove ink marks quickly and easily.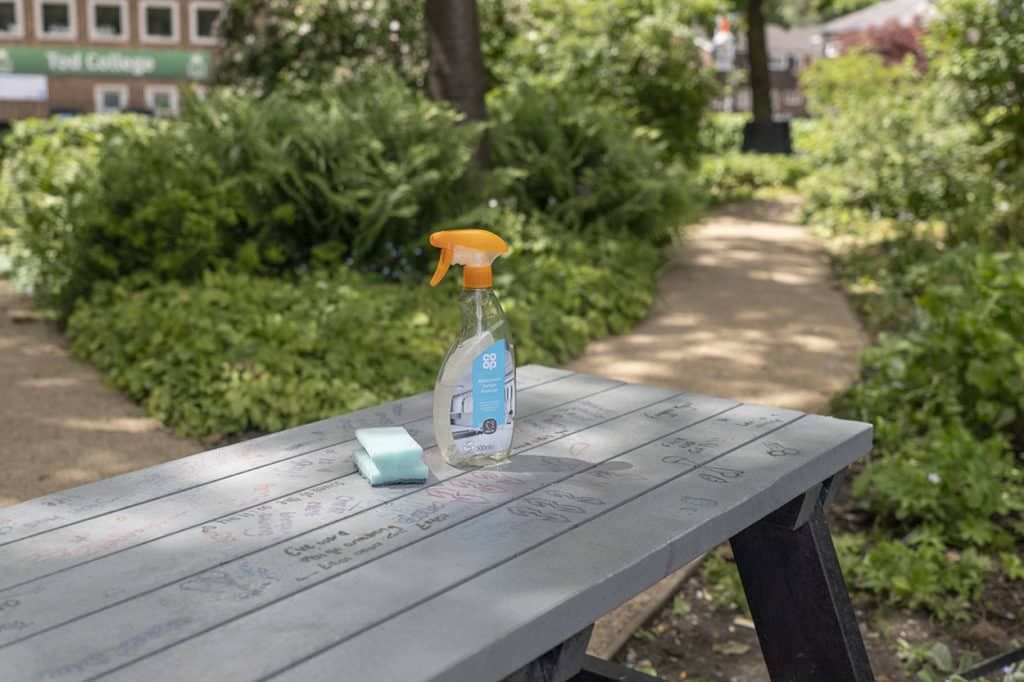 We recently visited Patmos Gardens in Todmorden, West Yorkshire – where our grey-coloured Denholme and Calder picnic tables can be seen – to prove that cleaning graffiti from our products is a walk in the park. You can see the results for yourself in the video below.
So cleaning needn't be a headache, even when the kids with marker pens have been out in force! In no more than a couple of minutes and with minimum effort, your recycled plastic furniture will be brilliantly blemish-free.
As well as making cleaning super easy, our furniture also towel-dries in a few seconds, making it suitable for year-round use. Given that all our products are zero-maintenance, your total-life costs will be dramatically reduced when compared to softwood equivalents. And if you're worried about theft from your site, you'll be pleased to know that fixing kits are available for both soft and hard ground
The longevity of recycled plastic
All of our products are guaranteed for 25 years, and need no maintenance or treatment of any kind to protect them from the elements. One of the main reasons for its resilience and longevity is because our recycled plastic is chemically inert.
Put simply, this means recycled plastic does not react with other chemicals. It will not degrade or leach harmful chemicals into the environment – because no chemical reactions are taking place – and is also resistant to mould and algae. Made from 100% British waste, our recycled plastic is a highly durable and sustainable alternative to traditional materials such as wood or composite.
In terms of general cleaning, you can give our products a cursory jet wash or occasional wipe down with bleach or a household cleaner should you wish, but that's purely a cosmetic consideration. You can subject them to everything the environment and the great British weather has to throw at them, and they'll still be standing proud in several decades' time as solid and strong as the day you installed them.
For further proof, take a look at these picnic tables that have been out in the wild for ten years and still look like new:
As BRP Managing Director Jason Elliott notes: "We've been putting our products into schools, and parks, and all sorts of businesses across the country. And they're pretty much all still there.
"That's the nature of recycled plastic. It doesn't degrade. All that's good about plastic is what other people consider to be bad about it – that it stays in the environment. And when it comes to our customers, and creating something that will save them money over the long term, and last for decades, we think that recycled plastic is a fantastic material"
Choose British Recycled Plastic
By choosing British Recycled Plastic, you're making a making a hugely positive change for the planet and actively helping in the fight against climate change. So why not get on board?
Our products can be seen in an array of locations up and down the country, from parks and playgrounds, to wetlands and nature trails. Some of our prestigious customers include the NHS, the National Trust, the MoD, and various school and universities throughout the UK.
We offer a range of products that are not only incredibly tough and durable, but actively help to dismantle the UK's domestic waste mountain and keep plastic out of landfill.
Our recycled plastic is completely rot-proof, splinter-proof and maintenance-free and it comes with a 25-year guarantee. This means that year after year, it will keep its good looks and robust functionality without needing anything other than an occasional wash down.
We're proud of how our role in the world of recycling is helping to reduce domestic waste and create products which are useful, long lasting and beautiful. Engineered from 100% British waste, our products are supplied to thousands of organisations and private homes across the UK: we believe they are the very best money can buy. We're making waste wonderful.
Visit British Recycled Plastics Webshop
Get in touch with our friendly and knowledgeable team by phone or email: 01422 419 555 [email protected]