One of the best features of our recycled plastic lumber is its sheer versatility. The build possibilities are practically endless – if you can think of a potential project that would normally use timber or composite, it's highly likely that recycled plastic can be used as a durable and sustainable alternative. We've already seen our lumber used for an array of innovative projects, from garden sofas and mini-railways, to bus shelters and bird hospitals. However, aquatic environments are where recycled plastic really comes into its own.
The aquatic advantage
Perhaps unsurprisingly, wooden structures that are permanently underwater – such as the lower portions of fishing platforms – give way to water damage in a few short years, requiring repair or complete replacement. This is where recycled plastic offers a distinct advantage over more tractional materials. It won't absorb water, will never rot, split or splinter, and won't leach any harmful chemicals into delicate ecosystems.
Our recycled plastic is guaranteed for 25 years – though we expect it to last far longer than that – and will never need maintenance or treatment of any kind, even with prolonged exposure to water. So if you're looking to build in an aquatic environment, recycled plastic is the way to go for your pocket and the planet.
BRP and the boat club
Trentham Boat Club in Stoke-on-Trent had an old wooden landing stage that needed urgent attention, as it was rotting and becoming dangerous. The club already had part of the structure blocked off due to safety concerns, so its use was very limited. The club contacted Peter Ratcliff, of PJR Property Maintenance, who came to a quick conclusion:
"I told the club the landing stage needs to be 100% recycled plastic. In my opinion, it was the only option. Timber and composite would not withstand decades of hard use and prolonged water exposure, like recycled plastic will."
Using a selection of our lumber and decking, Peter completely replaced the old structure to make it durable, sustainable and fully operational. He told us about his custom design:
"The main part is about a metre and a half wide, by 24 metres long. That's a landing stage where the canoes and rowing boats launch from. Then there's a raised platform at the end with two steps, then a small section which is lower than the raised platform, but still higher than the main landing stage. And that's where the boats can be parked."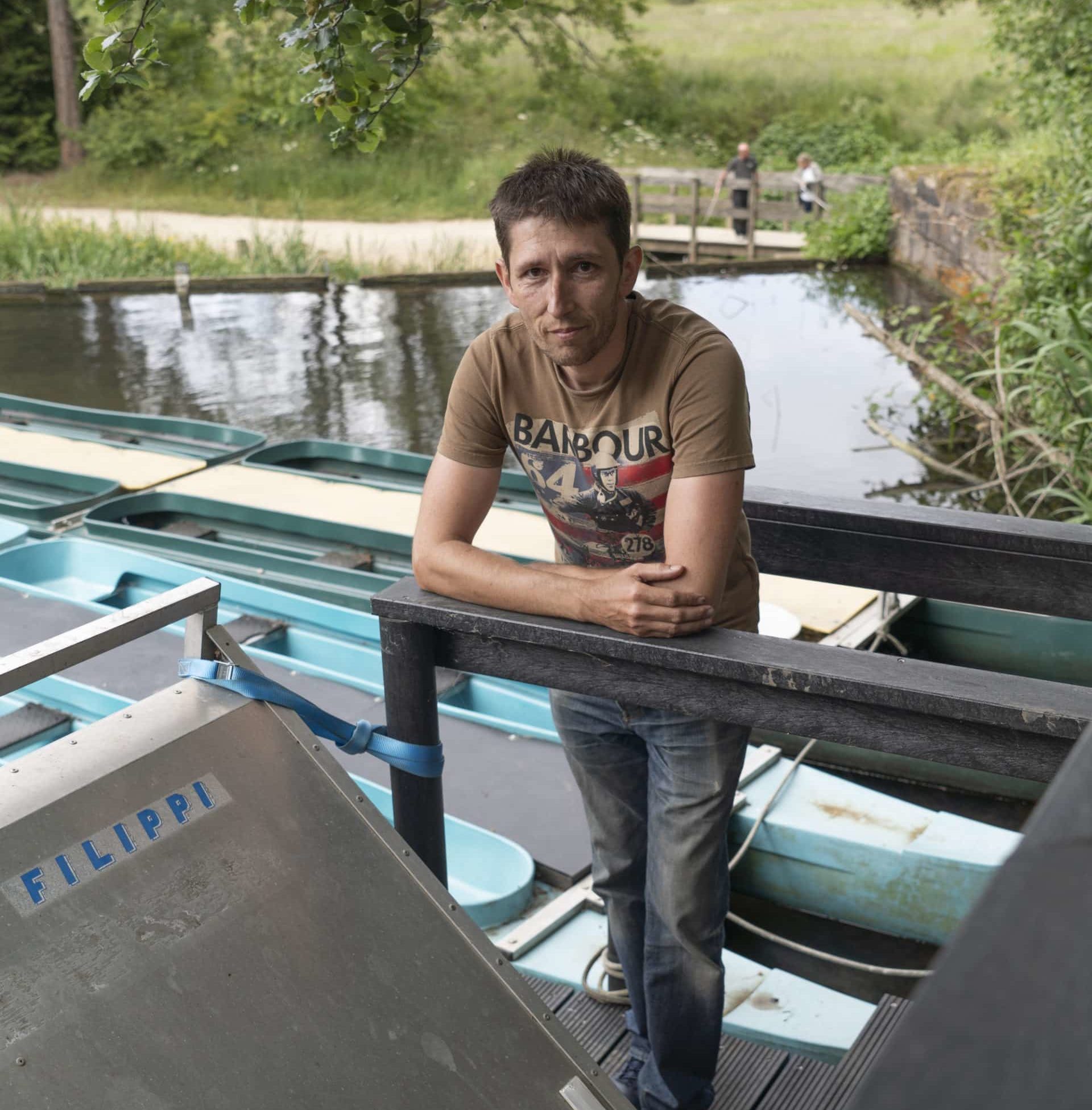 Recycled plastic also has a little more flexibility than timber, something which Peter saw as an advantage in the structure's aquatic environment.
"Because it's more flexible, it's got more resilience and can withstand impact and movement, so it will bend slightly rather than snapping or becoming dented. It will basically put up with a lot of punishment."
The finished job is one of the very best we've seen using our recycled plastic lumber, as you can see from the pictures.
As well as recycled plastic's resilience and longevity in aquatic environments, it also has significantly less slip risk than wood, and is much easier to keep clean. That's got to be welcome news for any club groundskeeper! As Peter noted:
"Apart from giving it a quick hose down and brush off, the decking looks as good as the day I laid it. It doesn't hold onto the dirt like wood or composite might – everything just washes straight off."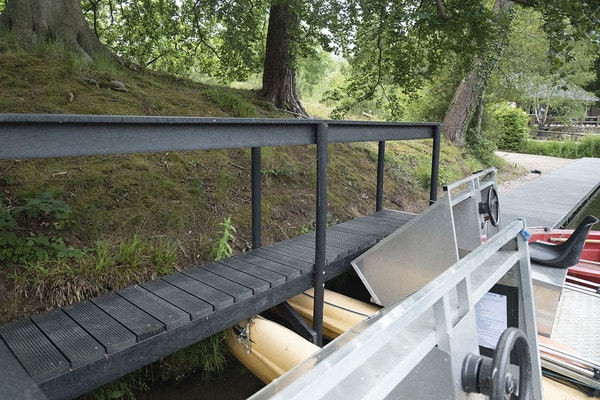 More aquatic builds
Back in 2017, Slipper Bridge Angling Club in Gilberdyke near Hull approached us, as they were looking to replace their rotten and dangerous fishing platforms. A few years earlier, the club had installed hollow composite decking boards to restore two long platforms, but the material had since failed. Keen to ensure the platforms would last much longer this time around, the club opted for recycled plastic lumber and came to us.
Club member Andy Eccles told us the recycled plastic had been an excellent replacement for the previous material, and would prove much more hardwearing:
"It's a lot thicker and more durable. It'll take many years hard wear from our anglers, so it won't need to be maintained by members of the club. The plastic decking is solid and much thicker. The older material had holes in it, which meant it eventually became brittle.
"There are recesses along the length of the decking boards which allow the water to run off, and it's much less slippery underfoot than normal timber. We can quickly and easily clean the boards with a sweeping brush, and they'll be safe and sturdy for many years to come."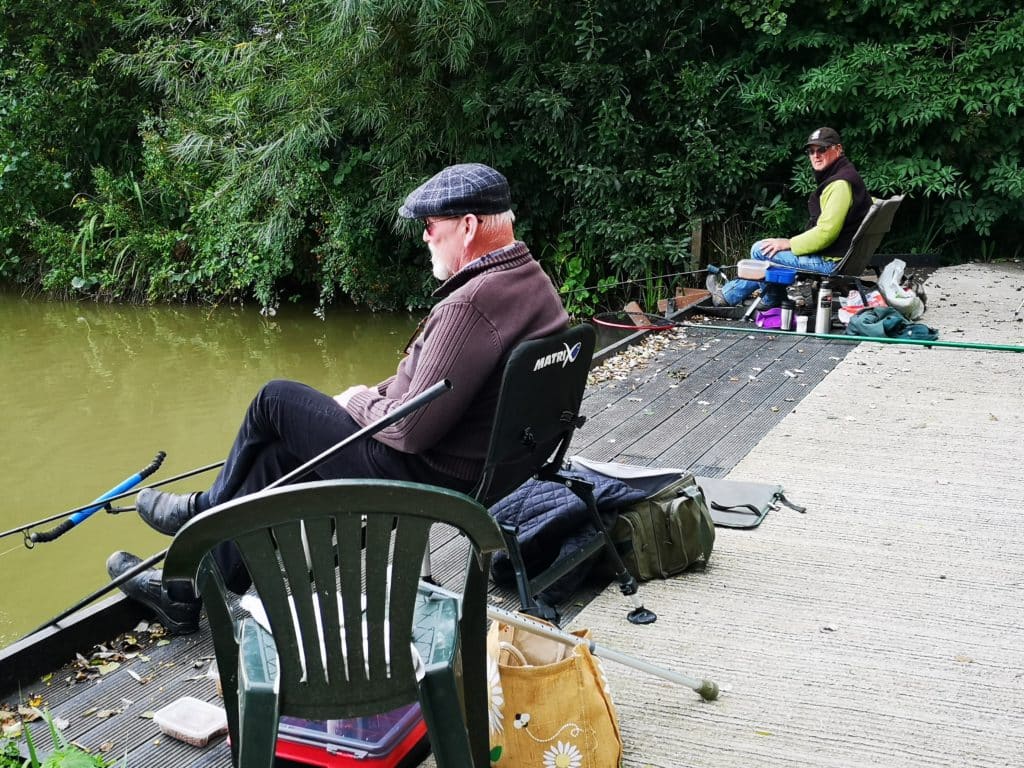 Also in 2017, the well-used pond dipping platform at Filey Dams was replaced using using our recycled plastic lumber. The old platform, which had been in place for fifteen years, was deteriorating and sinking into the water.
The replacement project – carried out by the Yorkshire Wildlife Trust's Tomorrow Natural Leaders – proved very successful and the new platform looks as good today as it did when first installed. Anna Hamshaw, one of the team involved in building the platform, said:
"The pond dipping platform at Filey Dams was a fantastic project to be involved with. My colleagues and I oversaw this project from designing it, using recycled plastic to ensure durability, to getting quotes, ordering materials and building it. We're happy that many people benefit from the finished product."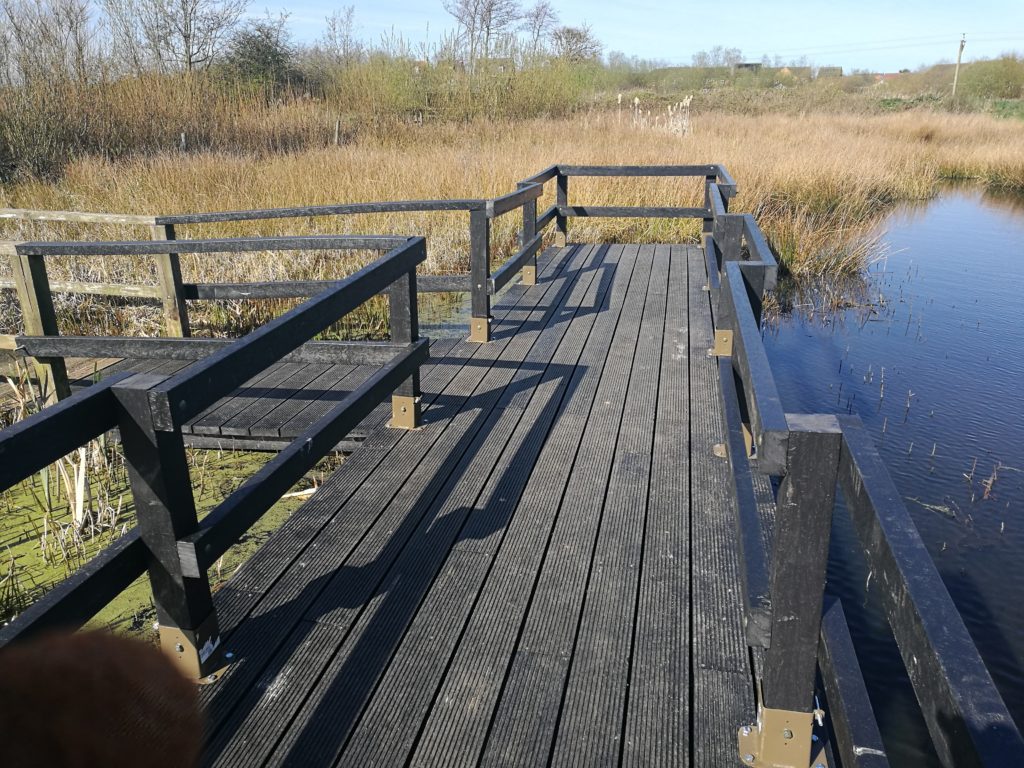 We're big believers in inclusivity here at British Recycled Plastic, so we're always proud to show off this accessible fishing platform project using our plastic lumber. A joint venture between Bideford & District Angling Club and the British Disabled Angling Association (BDAA), the platform was designed especially for anglers with limited mobility. Here's what the club had to say about the build:
"We were planning to construct platforms which were long lasting and offered access to individuals with limited mobility. The BDAA supplied the original drawings and we modified them to utilise your product instead of steel and wood, as per the original drawings.
"The plastic lumber was very easy to work with. Corner fixings were bolted together with all four corner posts driven into and secured to the ground. The decking boards were screwed down to the frame using stainless steel screws with a gap between planks for drainage.
"The decking boards are very forgiving in the wet. They have good grip, thus making them safe for all users, regardless of mobility. Overall we are very happy with the product and are considering installing more in the future."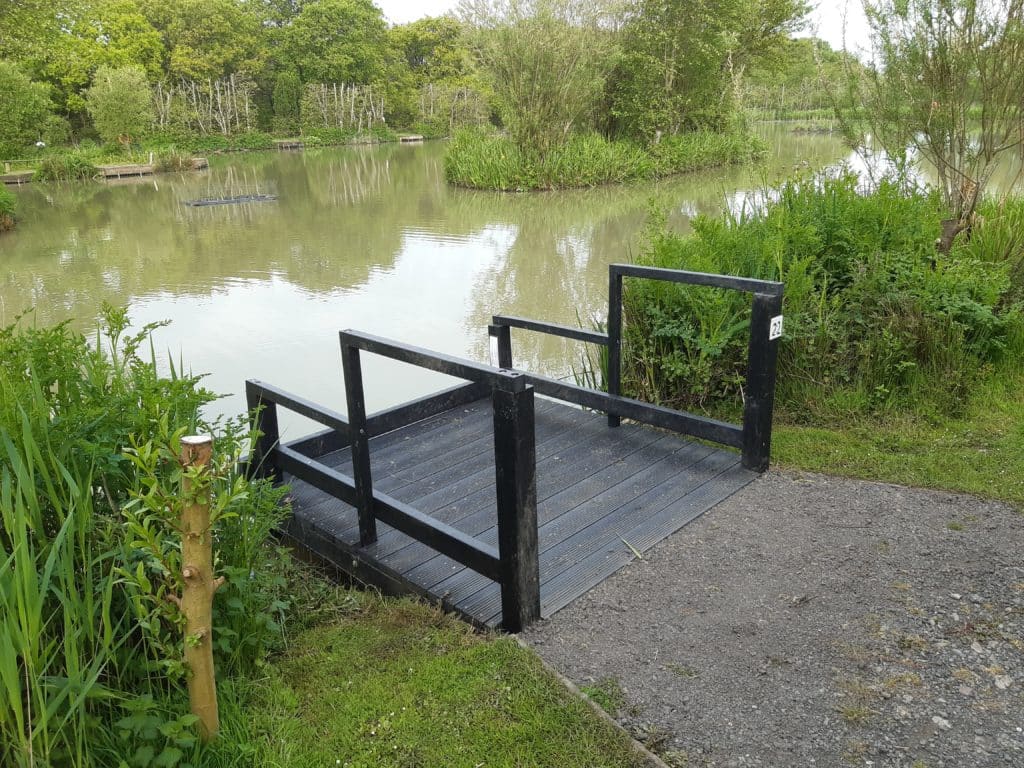 Choose British Recycled Plastic
Whether you're looking to install a new fishing platform at an angling club, build a landing stage for a boat club, or create a wetland boardwalk on a nature reserve, our recycled plastic lumber posts, planks and decking boards are the perfect, sustainable choice for any aquatic environment.
By choosing British Recycled Plastic, you're making a making a hugely positive change for the environment and actively helping to create a more sustainable planet. So why not get on board? We offer a range of products that are not only incredibly tough and durable, but actively help to dismantle the UK's domestic waste mountain and keep plastic out of landfill.
Our products can be seen in an array of locations up and down the country, from parks and playgrounds, to wetlands and nature trails. Some of our prestigious customers include the NHS, the National Trust, the MoD, and various school and universities throughout the UK.
Our recycled plastic is completely rot-proof, splinter-proof and maintenance-free and it comes with a 25-year guarantee. This means that year after year after year, it will keep its good looks and robust functionality without needing anything other than an occasional wash down. Of course, as it is chemically inert, it can be washed as often as wanted, with bleach, disinfectant or any other regular cleaning product.
We're proud of how our role in the world of recycling is helping to reduce domestic waste and create products which are useful, long lasting and beautiful. Engineered from 100% British waste, our products are supplied to thousands of organisations and private homes across the UK: we believe they are the very best money can buy. We're making waste wonderful.
Check out how our products are made here.
Visit British Recycled Plastics Webshop
Get in touch with our friendly and knowledgeable team by phone or email: 01422 419 555 [email protected]