Regular readers will know that we offer a large and varied selection of raised bed kits, including 500mm-wide beds for narrow spaces and urban gardens. For some of you with awkward spaces (or simply a creative eye), a custom self-build might be a better option. Take a look at this creative raised bed…
Our customer Andrew built his project from our recycled plastic lumber planks. He used a combination of RPL018 (100x30x3100mm), RPL019 (150x30x3100mm) and STK400 (50x50x400mm).
Here's what Andrew had to say about his build:
"As I needed extra height I had to join the boards edge to edge. I experimented with adhesive and also found that they could be welded together with a blowtorch, but this proved to be hit and miss, so I eventually joined them with 85mm long stainless steel decking screws at about 600mm centres. The narrower board was routed out to provide a pathway for an extra length drill bit to go in between the two boards. The screws were then driven in with an extra length driver.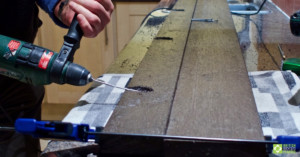 The resulting raised beds are in a zig-zag form. The corners are formed by alternating the board sizes so that the wider board always reinforces the horizontal joins. I used your short stakes, driven 50mm below the top board, midway on all of the longer sides and these also help to reinforce the horizontal joints.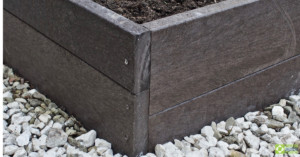 I am a little pleased with myself for working it out and with the results – I now have a veg patch that will not rot before I do!".
Thanks so much for sharing your pictures and experience with us, Andrew. Your creative raised bed is one of our favourite customer projects – we love that you've maximised your growing space and access to your bed.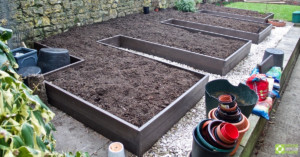 Why choose our recycled plastic lumber?
Our recycled plastic lumber planks, posts, stakes and decking boards are manufactured from UK waste plastic. They need no maintenance whatsoever and no treatments. They're approved for use in SSSIs, so no toxic chemicals will leach into your soil and no harm will come to your plants or the local wildlife. We guarantee our lumber for 25 years, but expect it to last much longer – a project built with our lumber will truly be a once-in-a-lifetime investment.
Check out our
price list
to see our full range of recycled plastic lumber planks, posts stakes and decking boards.
Get in touch with our friendly and helpful team for more information or to discuss your ideas for a self-build:
01422 419 555