Helen from Bedfordshire bought six of our 300mm raised beds a couple of years ago. She got in touch recently to tell us what she thought of them, and to share some of her raised bed tips.
It's always great to hear from the users of our products – after all, they're the real experts on how to get the best out of them.
Here's what Helen had to say:
I was very pleased with the customer service, I was able to chat about where the plastic came from, which was very interesting…The delivery time was pretty quick, and in line with what I'd been told it would be…
…I knew that I only wanted to do the job once…I hope to keep veg growing for as long as I can, so I wanted to have an easy to maintain area. Our soil is pretty sandy and stony so I knew raised beds were the way to go so that all the added compost/muck stays where it is needed…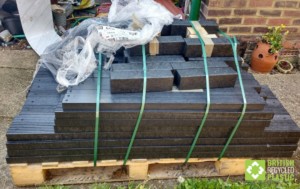 …My daughter started assembling the beds and found it pretty quick and easy, not at all complicated…She and her partner moved them into place and I spend the winter adding material to the beds, general compost, chicken manure etc and my daughter started bagging up horse manure for me. A neighbour provided topsoil from his garden, and I bought some screened topsoil from our gardener's association and emptied the compost bins, it did take me a lot of time as there was so much of it and it is so heavy [so anyone planning on half dozen beds the size of mine needs to bear in mind how much they will need and the cost]…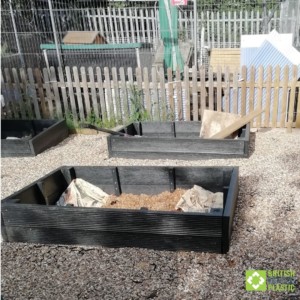 Everyone who has seen them has admired them…people have been impressed…I didn't want wooden ones that needed preserving as didn't like the idea of chemicals leaching into the soil, many other sorts of kit were either the wrong shape or size, not much choice as to the dimensions, and none of them looked that durable. I liked that they are made from recycled British plastic and have such a long guarantee, and am sure that they will outlive me. And they are a British product, and I like to support businesses from my home area [I'm actually from Bradford but Calderdale is close enough!].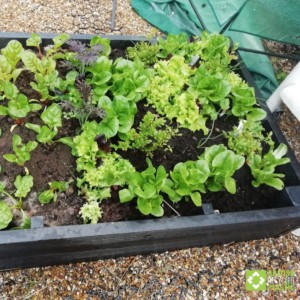 If you're a customer of ours and would like us to feature you on the website, get in touch. If you have some raised bed tips of your own to share, we'd love to hear them!
If this has left you wanting to know more about the benefits of raised beds, check out this article by Gardeners' World.