It's always gratifying to see our raised beds wherever they sit, and they're currently all over the UK – from domestic gardens and allotments, to schools and sports clubs, they're abundant with verdant vegetation right across the country.
But sometimes there's a location that feels especially suited to recycled plastic raised beds, somewhere where their neat structure and vibrantly coloured plants seem to genuinely rejuvenate an outdoor space. Broadgreen Hospital in Liverpool is one such example, and we're very proud to have been part of its recent landscaping project.
Planning the project
The project for Broadgreen Hospital began when the Liverpool NHS Trust contacted The Conservation Volunteers (TCV) about renovating a large area outside the main entrance of the building, including the installation of several raised beds from British Recycled Plastic.
TCV works with communities across the UK to improve a range of green spaces, including parks, community gardens, nature reserves, hospital grounds, waterways and woodlands, so the group was an excellent choice for the job.
However, the project was not without its setbacks. The work was scheduled to start in March 2020, but – as we all now know – a global pandemic had very different plans. Neil McMahon, leader of the TCV team undertaking the work, explained:
"TCV was contacted by a member of the fundraising team at Liverpool NHS Trust about the project in February 2020, mentioning that they wanted an area that had previously been a building, and then wasteland near to the main entrance to the hospital's reception.
"We visited the site and put together an approximate quotation for the proposed works. The quotation was accepted and works were due to start in March 2020. When Covid 19 hit the news, this unfortunately put a stop to all progress due to lockdowns and the fact that TCV engages with volunteers to undertake works of this nature.
"TCV finally managed to get back on site to start the works in September 2020, but could not commit to a date for finishing as we also had other works that needed to be completed that had been on hold due to Covid.
"Firstly, footpaths were excavated and started, work was slow going due to the nature of the ground being rubble and other substrates found on an old buildings site. A new outdoor gym was installed by another company as part of the project, but unfortunately the whole job was put on hold again due to other commitments and further Covid lockdowns, etc.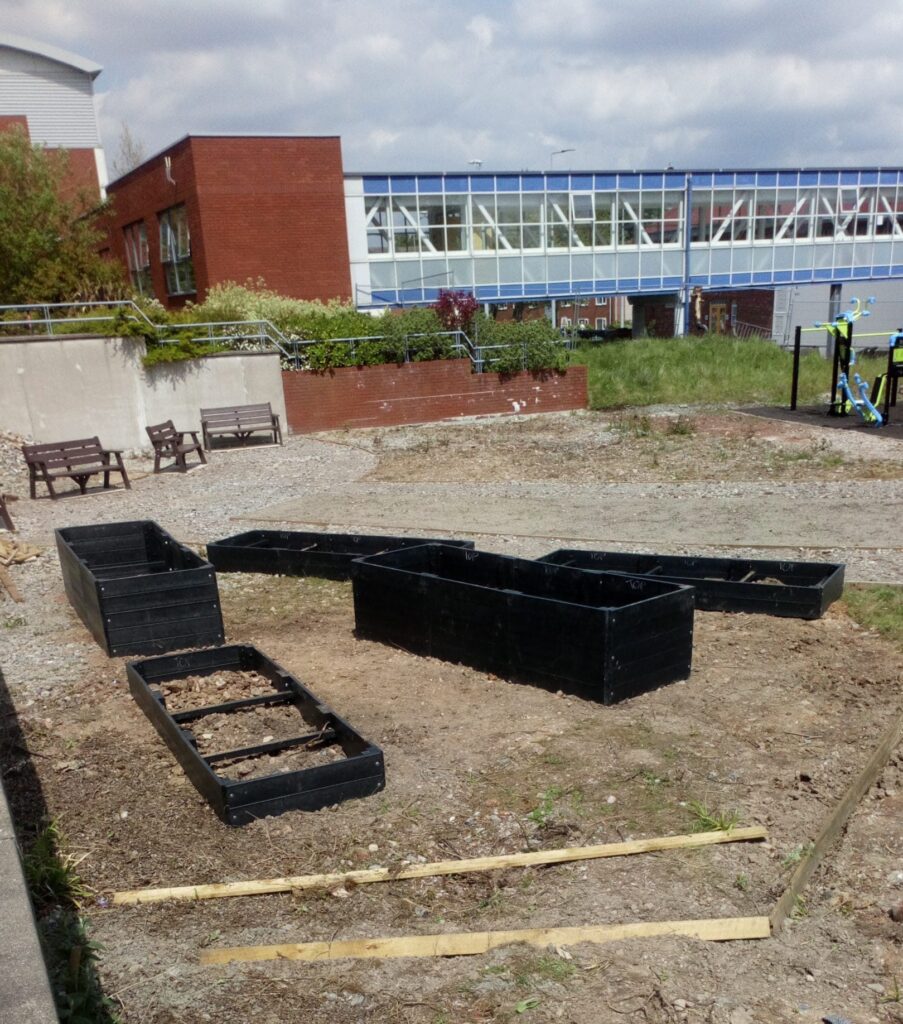 "Finally it came to the actual softer landscaping that was to be done. Soils were brought in to cover much of the area, benches were installed onto concrete plinths, wildflower areas were sown, and raised beds installed. A canopy was erected for shelter from the sun and turfing was done as part of the finishing touches."
The patience and perseverance paid off, as you can see from the pictures of the finished job, which was completed at the end of 2021.
"Looking back, the site is do different, it's hardly recognisable," said Neil.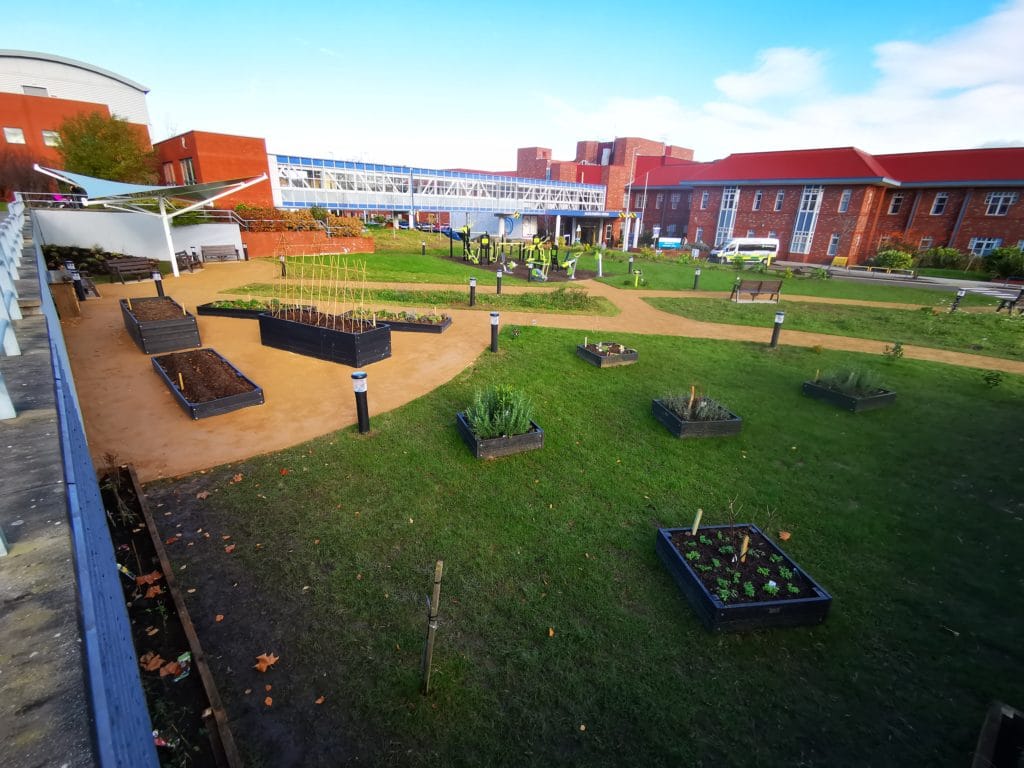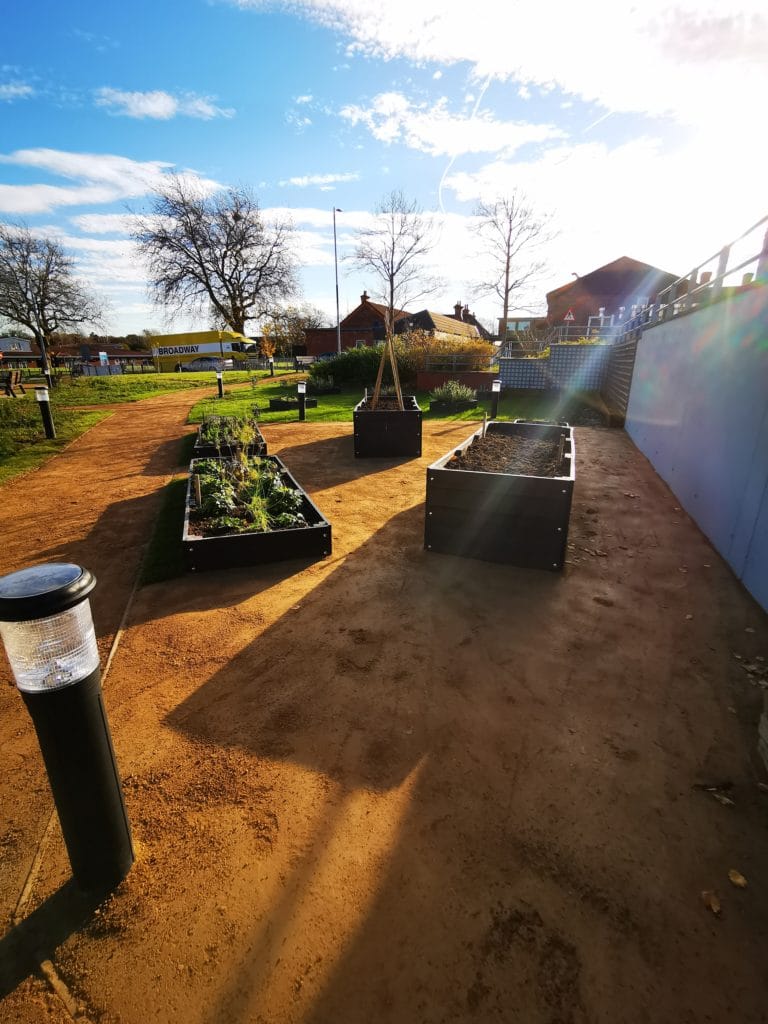 Our raised beds
The are numerous benefits to using our recycled plastic raised beds. As well as encouraging healthy and vigorous growth, they are incredibly easy to assemble and will last for decades without needing any maintenance whatsoever. They don't rot, split or splinter and don't leach toxins into the ground, so your plants and the wildlife around them are safe.
Our raised beds arrive flat-packed in kit form, with all the necessary fixings supplied. They are easily and quickly assembled with bolts, no tricky drilling or cutting is required – welcome news for those less confident when it comes to DIY!
As well as the ease of construction, one of the main benefits of raised bed growing is the ability to work at a comfortable height. Whereas traditional growing patches would have been at ground level, our raised bed kits are available in three different heights to perfectly suit your needs.
The 300mm height is a good choice for those who are comfortable kneeling for longer periods, and prefer their planting to be closer to ground level. However, some of us are not quite as nimble as we once were, so the 600mm and 750mm options mean you can look after your plants while sitting or standing – ideal for wheelchair users and those with limited mobility.
Neil told us these were the fundamental reasons that TVC and the NHS Trust used our recycled plastic raised beds for the Broadgreen Hospital job.
"We chose BRP for the environmental benefits of using recycled materials, and because recycled plastic raised beds will last much longer. They are very easy to assemble – it's a good design, and the beds look great in the garden planted up.
"They look very plush in place with the rest of the garden finished – everyone is very happy with them!"
We've got customers throughout the UK who have discovered the simplicity and satisfaction of growing flowers, fruit and veg in raised beds. Whether for a school, allotment or domestic garden, we're confident you'll find something to suit your requirements in our large range of kits. If you can't, give us a call to discuss your custom order.
Our raised bed kits are designed with ease and convenience in mind – they are all strapped to single pallets, so they can be tail-lifted from the truck and can travel in smaller box trucks, for simpler delivery. They're easy to assemble and need only coach bolts (provided) to fix them together. They're available in our webshop, so your purchase can be completed online, easily and securely.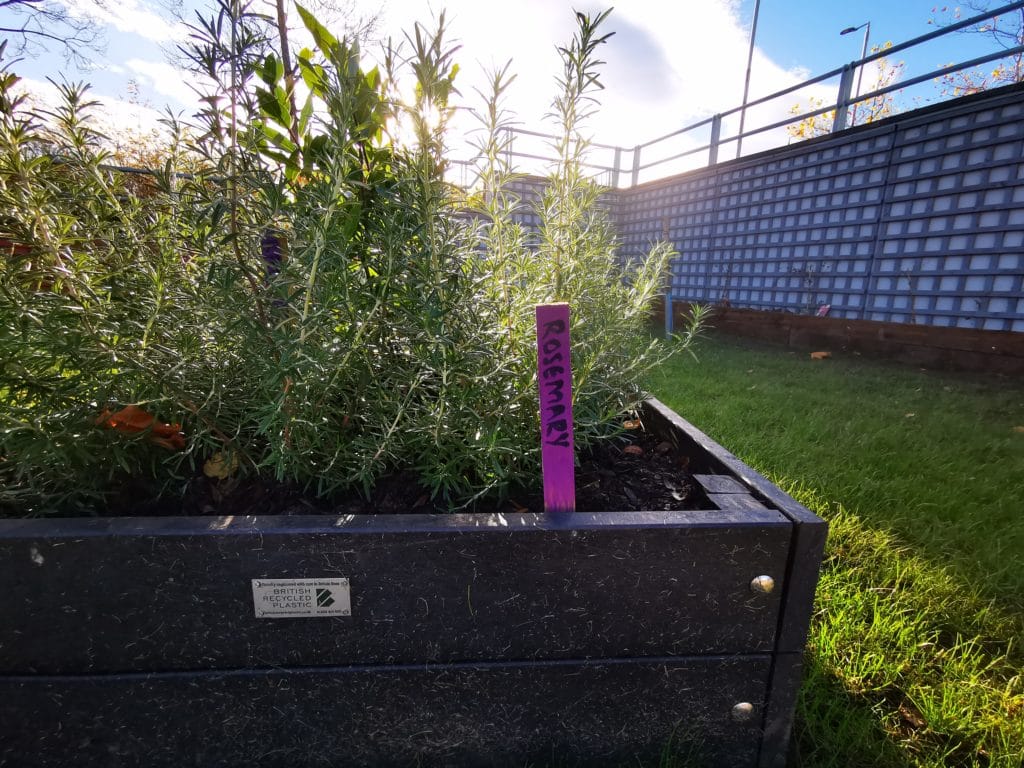 About British Recycled Plastic
We offer a range of products that are not only incredibly tough and durable, but actively help to dismantle the UK's domestic waste mountain and keep plastic out of landfill.
You can check out how we turn waste into picnic tables here.
Our recycled plastic is completely rot-proof, splinter-proof and maintenance-free and it comes with a 25-year guarantee. This means that year after year after year, it will keep its good looks and robust functionality without needing anything other than an occasional wash down. Of course, as it is chemically inert, it can be washed as often as wanted, with bleach, disinfectant or any other regular cleaning product.
We're proud of how our role in the world of recycling is helping to reduce domestic waste and create products which are useful, long lasting and beautiful. Engineered from 100% British waste, our products are supplied to thousands of organisations and private homes across the UK: we believe they are the very best money can buy. We're making waste wonderful.
Visit British Recycled Plastics Webshop
Get in touch with our friendly and knowledgeable team by phone or email:
01422 419 555
[email protected]