We recently posted about the vast array of recycled plastic lumber projects that out canny customers come up with – from bird hospitals and bus shelters, to mini railways and lock paddles – our lumber has been a core component of countless jobs.
The versatility of recycled plastic lumber is one of its best qualities – if a potential build would normally use timber, it's highly likely that recycled plastic can be used as a durable and sustainable alternative. Given that it will never rot, split or splinter, it's even better than wood in terms of longevity, and certainly better for your pocket in the long run!
When planning a lumber project, it's important to keep in mind that the properties of recycled plastic are a little different from timber. It's very easy to work with, with just a couple of simple rules to observe. Treat it like you would any hardwood, but run your tools slightly slower. It must never be cut lengthways as the outer 'skin' is a crucial part of the lumber's structure. It should always be stored flat on the ground, rather than leant up against a wall. Plastic expands in heat, so you'll need to allow for this in your measurements. You can find find useful information on working with recycled plastic here.
Recycled plastic lumber sofa & table
Among our favourite lumber projects is this amazing corner sofa and table that was designed and constructed by Stephen Dale at his home in Sheffield.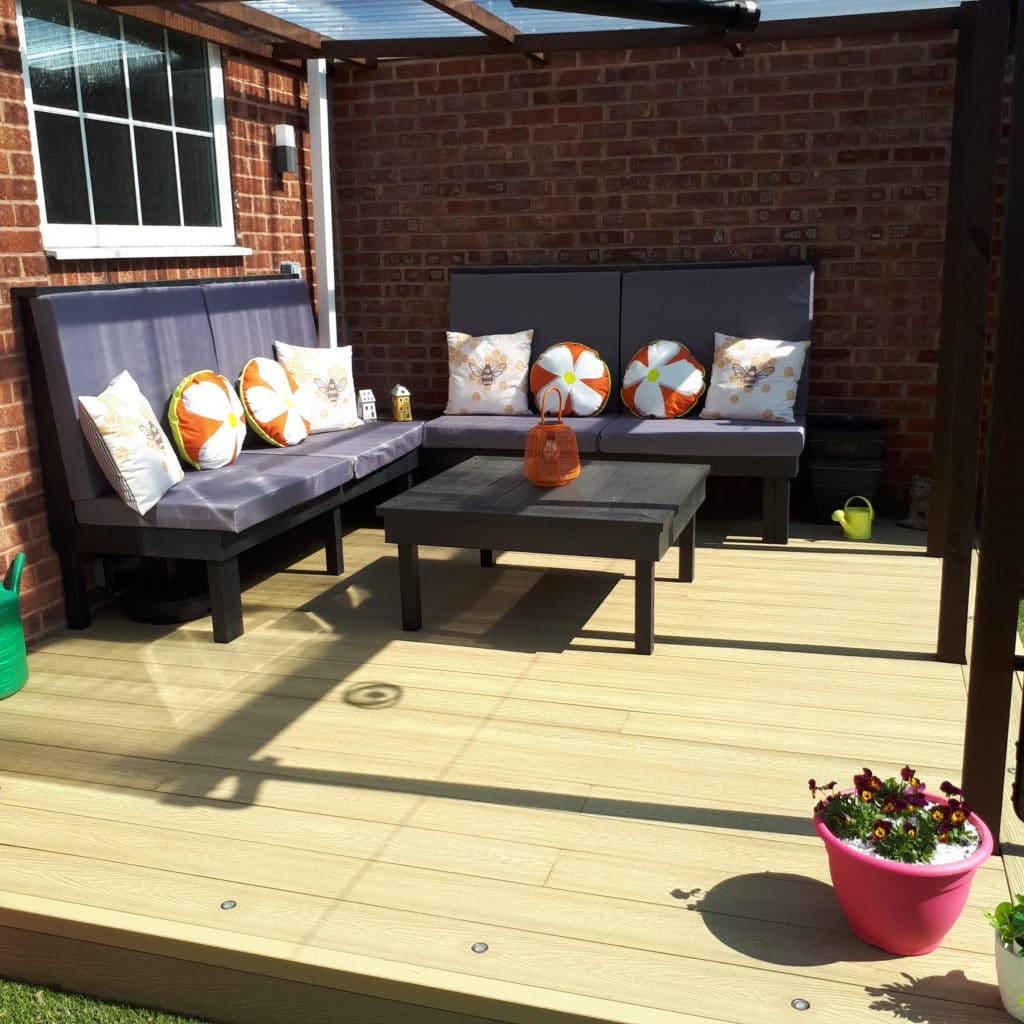 Stephen had been considering some furniture for his outdoor area, but found that many stock products made from traditional materials were either unsuitable for the space or too expensive.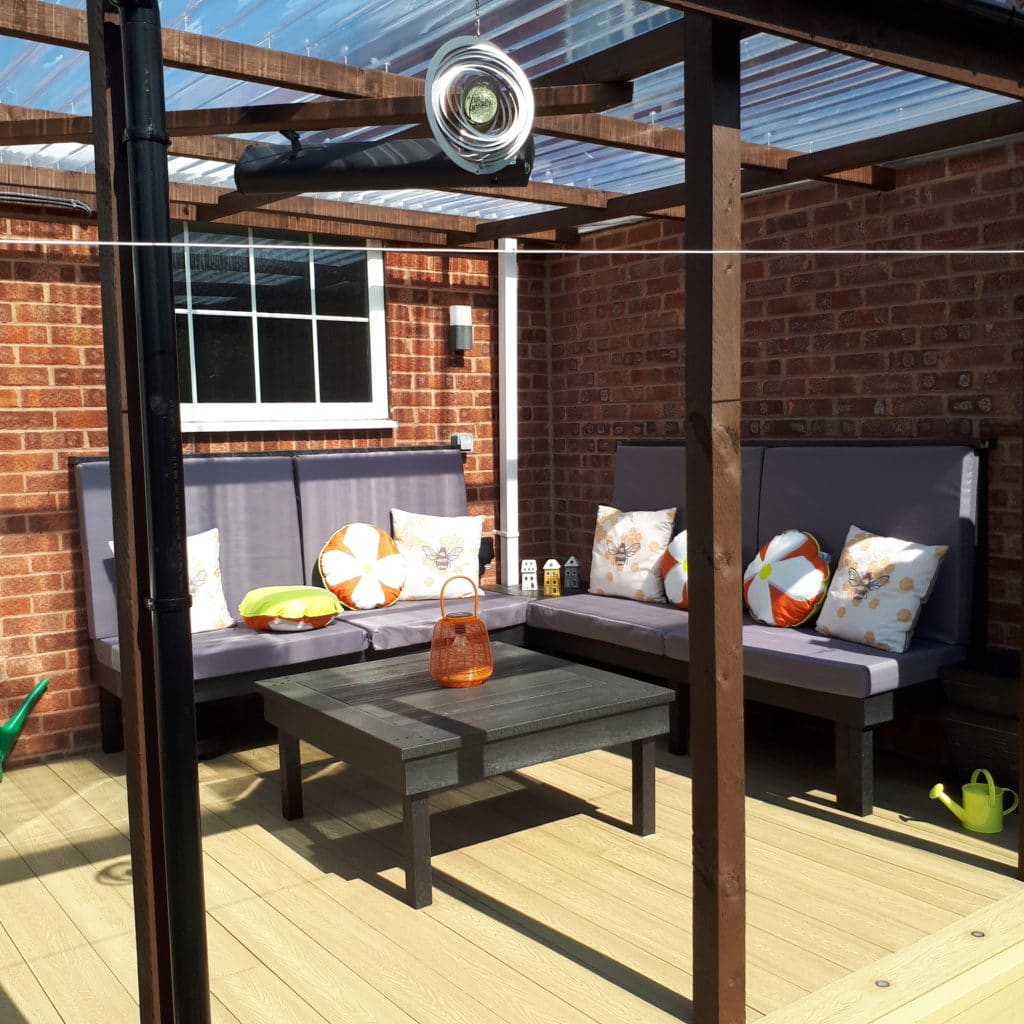 "We'd been looking at corner furniture to purchase but were looking at prices ranging from £1500 – £2000", Stephen told us.
"I have some basic joinery skills so decided to go down the road of constructing something myself, bespoke to our needs and requirements.
"I try wherever to construct/install things that require none or very little maintenance. Working six days a week makes me want to appreciate spare time I have to relax and chill out. Not using up time on repairs and repainting is a good thing to have.
"Recycled plastic obviously fits the bill of being maintenance-free. It's is an extremely strong, versatile product. As it's recycled, I was also aware of helping the environment.
"We were really pleased with the finished look and feel of the finished corner sofa. The accompanying table just finished it off. I would definitely use recycled plastic again.
"British Recycled Plastic's prices were very competitive and the product was delivered as planned. Very pleased all round!"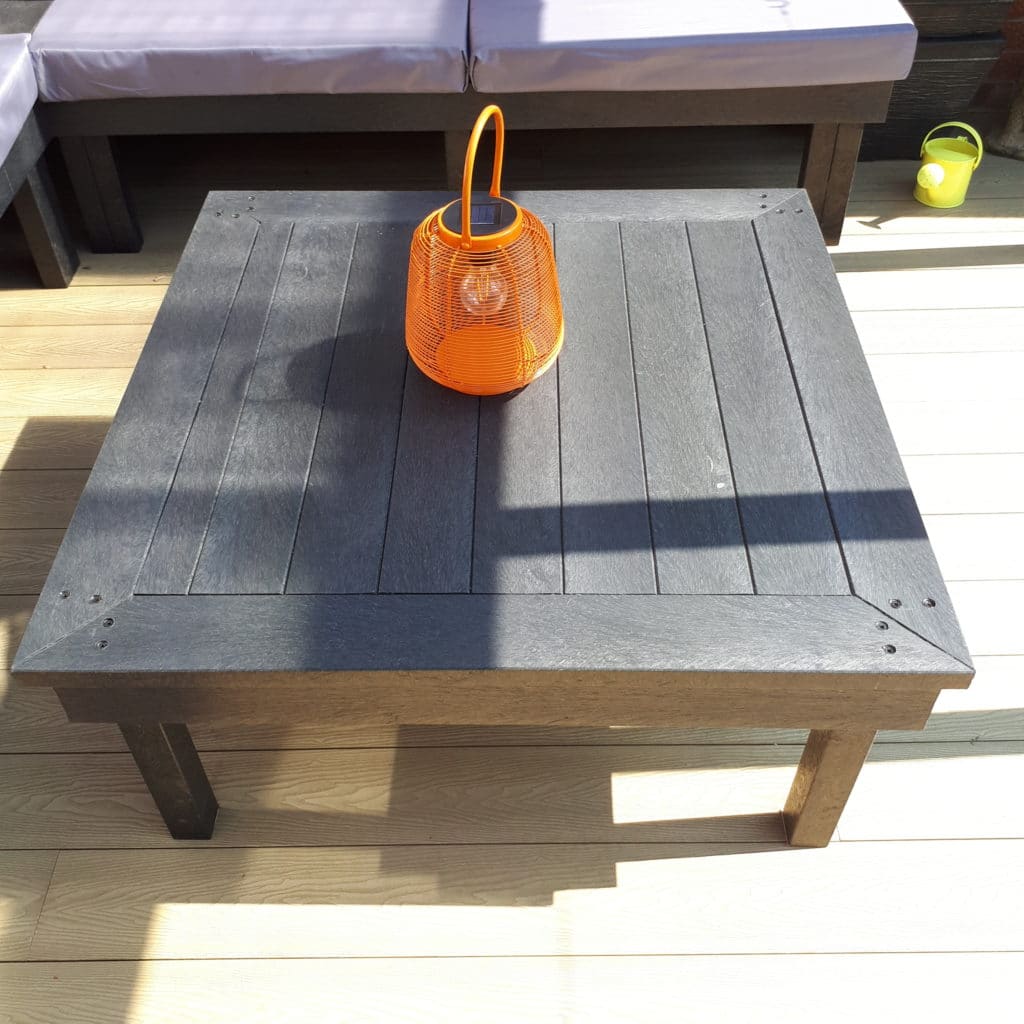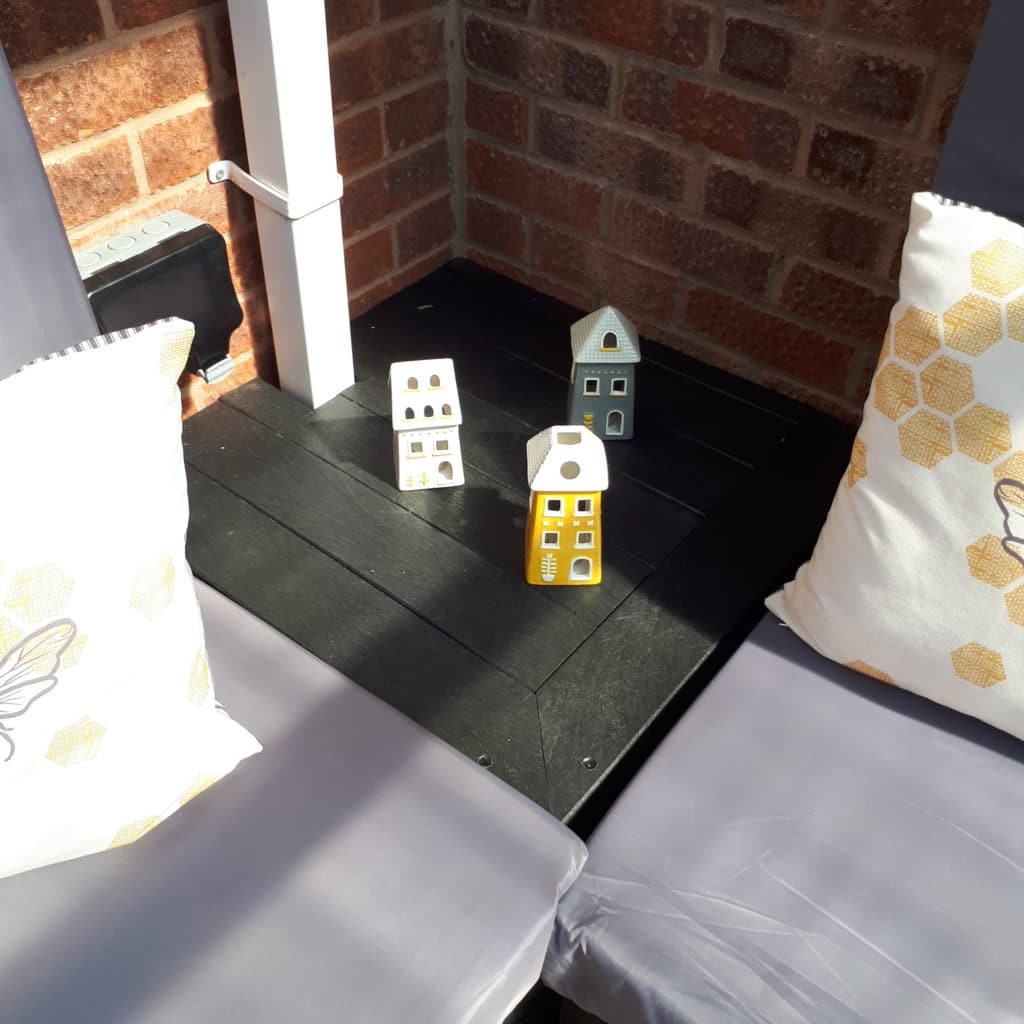 Recycled plastic lumber and raised beds
We offer recycled plastic raised bed kits in a wide variety of sizes, including three different heights for standing, sitting or kneeling, as well as 500mm-wide beds for narrow spaces and urban gardens.
Many of our customers find a kit from our range that perfectly suits their needs, but others have trickier outdoor spaces to deal with, or may just prefer to build to their own specification.
That's where our recycled plastic lumber planks come in again. As we have an extensive list of profiles available, our customers can easily custom-build their own raised beds to the exact size required.
When Chris Fone moved into his new house in North Northallerton, North Yorkshire, he was keen to replace the derelict raised beds that blighted the outdoor area.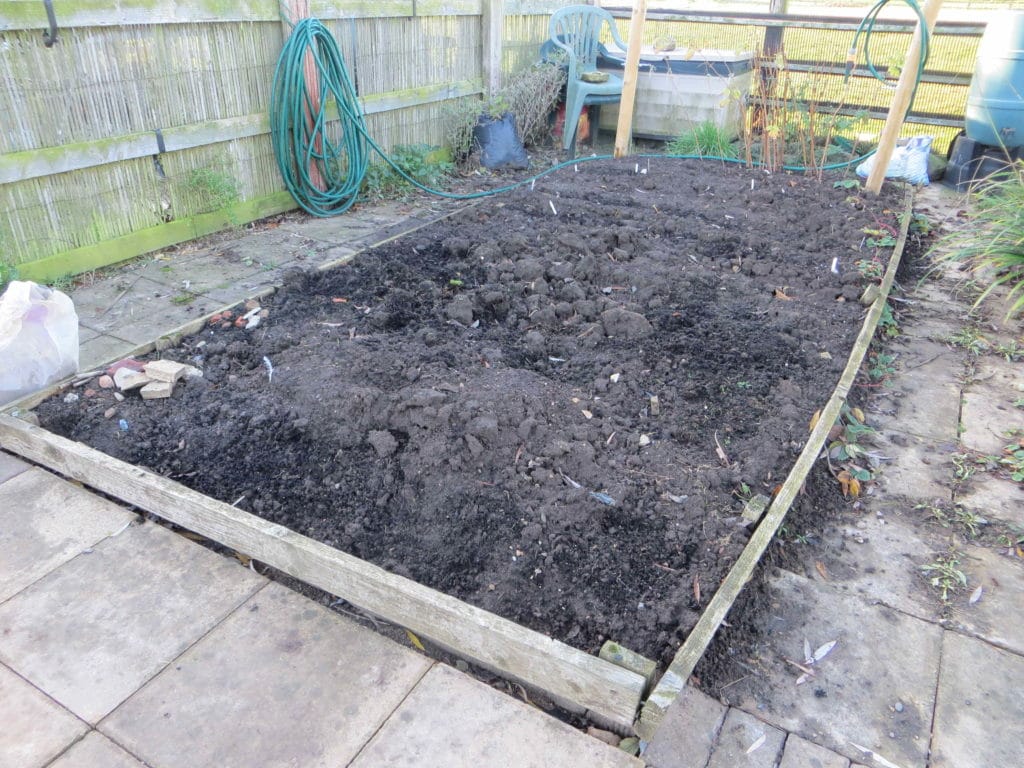 Choosing recycled plastic lumber for his custom raised bed project, Chris soon had the garden restored to its former glory, and won't have to worry about replacing his raised beds ever again!
"The raised bed with your recycled plastic items is a 'special' to replace an existing attempt at a raised bed", said Chris.
"There was paving around the original beds but I relayed these with weed resistant fabric underneath. The new beds look great!"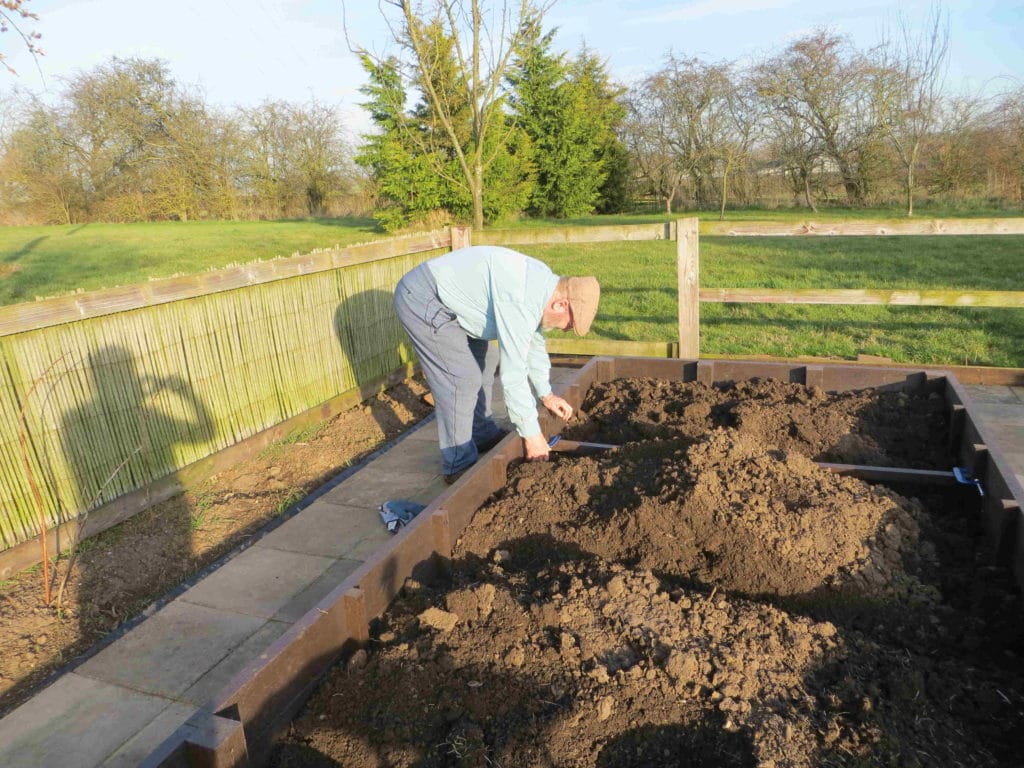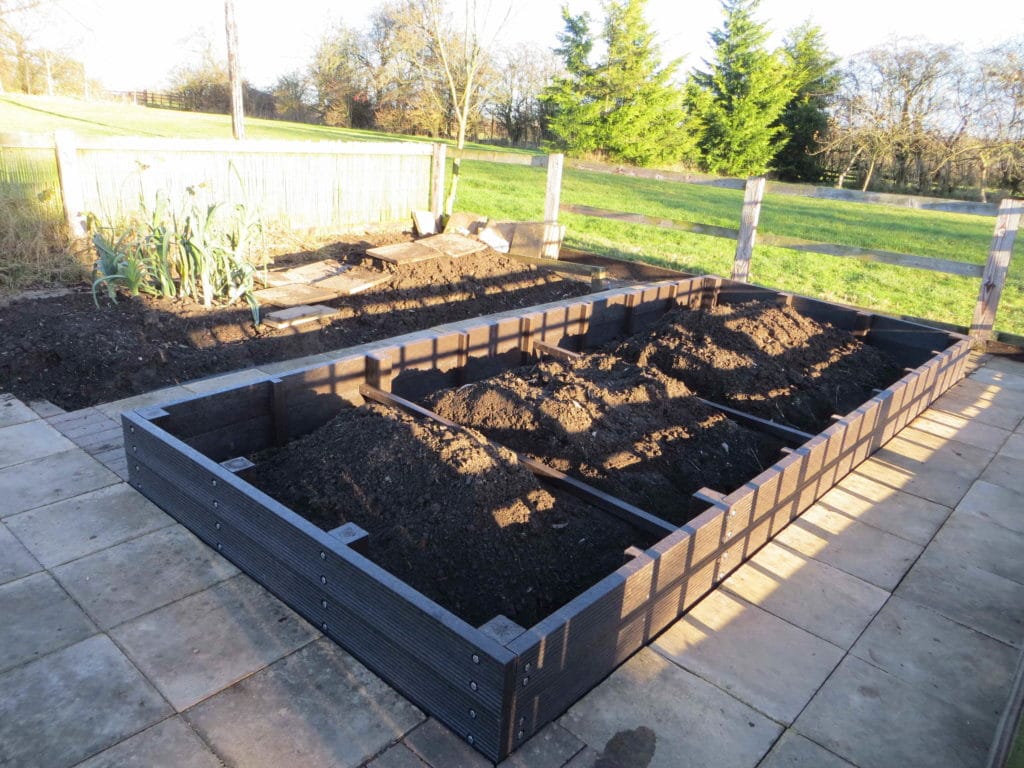 Maximise your design
Some customers also opt to construct their own raised beds out of lumber planks if they have an unusual design in mind. Andrew in Bath was keen to maximise the growing space in his garden, so created his own set of crenellated raised beds.
Here's what Andrew had to say about his build:
"As I needed extra height I had to join the boards edge to edge. I experimented with adhesive and also found that they could be welded together with a blowtorch, but this proved to be hit and miss, so I eventually joined them with 85mm long stainless steel decking screws at about 600mm centres. The narrower board was routed out to provide a pathway for an extra length drill bit to go in between the two boards. The screws were then driven in with an extra length driver.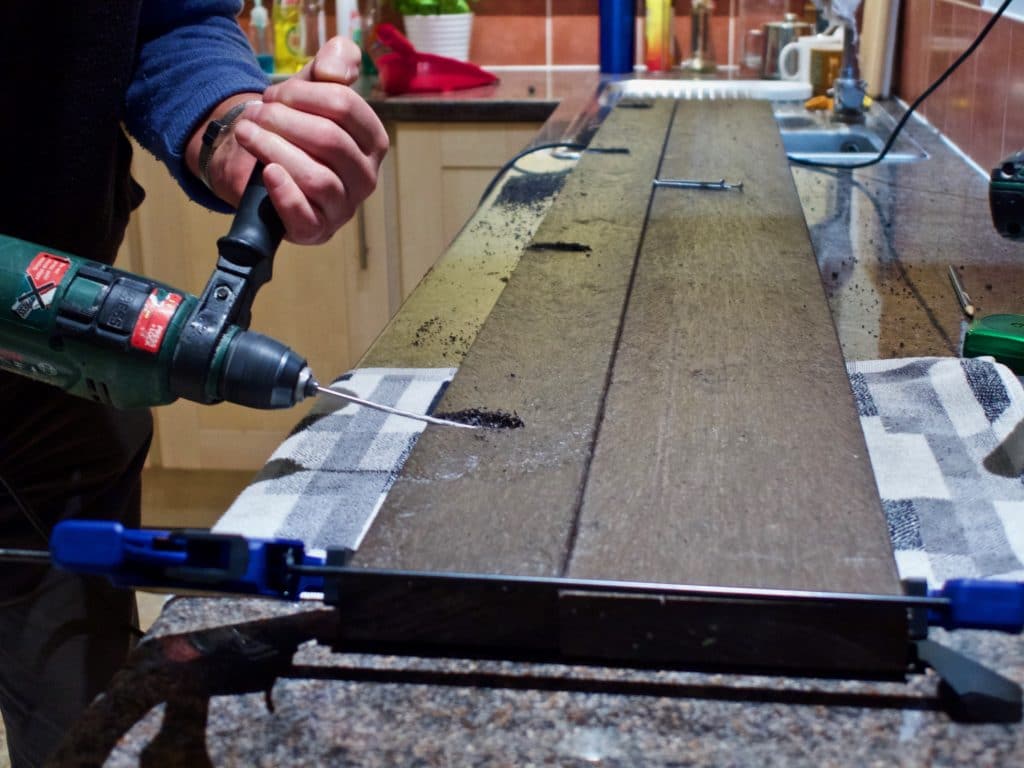 "The resulting raised beds are in a zig-zag form. The corners are formed by alternating the board sizes so that the wider board always reinforces the horizontal joins. I used your short stakes, driven 50mm below the top board, midway on all of the longer sides and these also help to reinforce the horizontal joints.
"I am a little pleased with myself for working it out and with the results – I now have a veg patch that will not rot before I do!".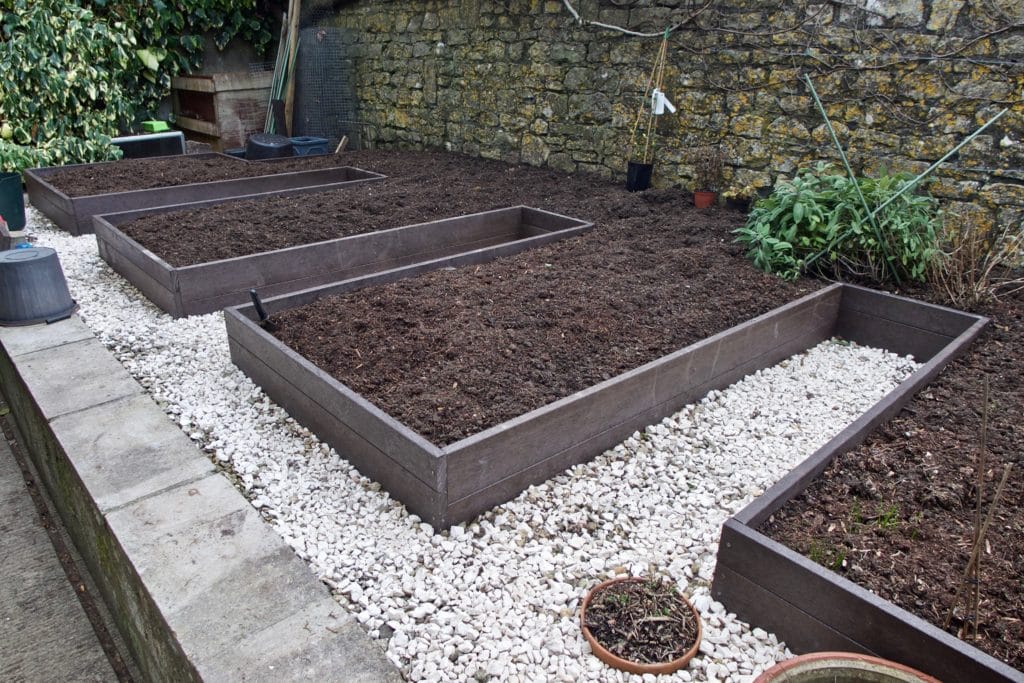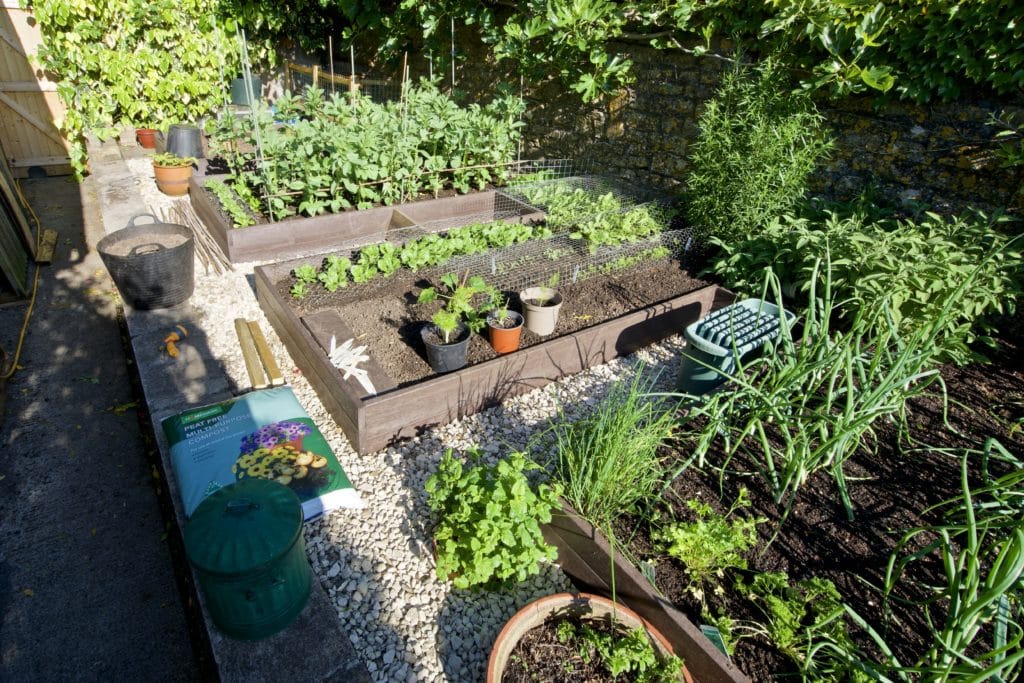 Take it to the bridge
Another one of our favourite recent lumber projects was this bridge, constructed by Leeson at his home in the Scottish Highlands. Given the inclement weather in that part of the country, Leeson needed a material that would prove especially resilient and durable.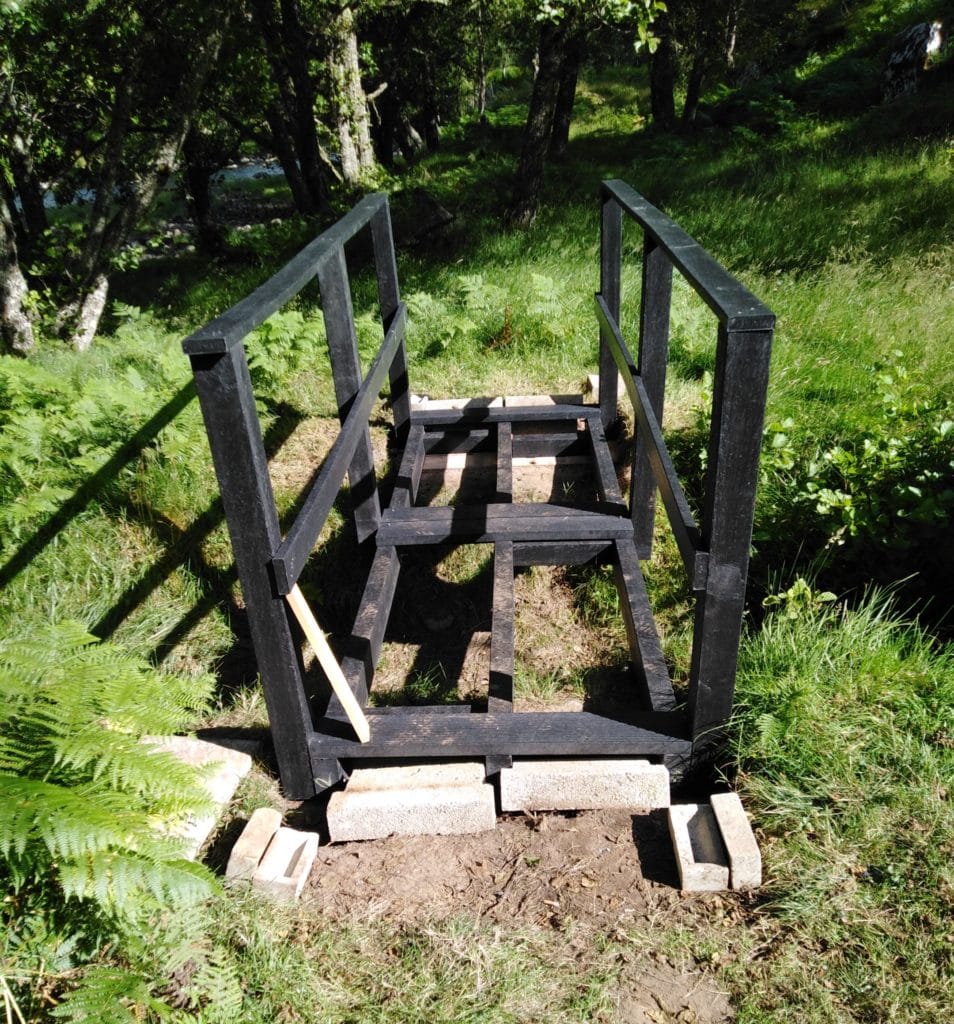 "Recycled plastic wood was chosen for durability, and safety, in the wet conditions of the site (over a ditch, near a river, under trees, replacement for a rotted wooden crossing)", said Leeson.
"The planks were cut to the required length by BRP, which simplified construction. On time delivery was part of the order (given the need to assist with unloading the delivery truck). Importantly, I used the thickest planks – especially given that there isn't an intermediate support for the three-metre span. I used stainless steel fasteners throughout the construction. The bridge has been in place for 18 months, and is holding up very well."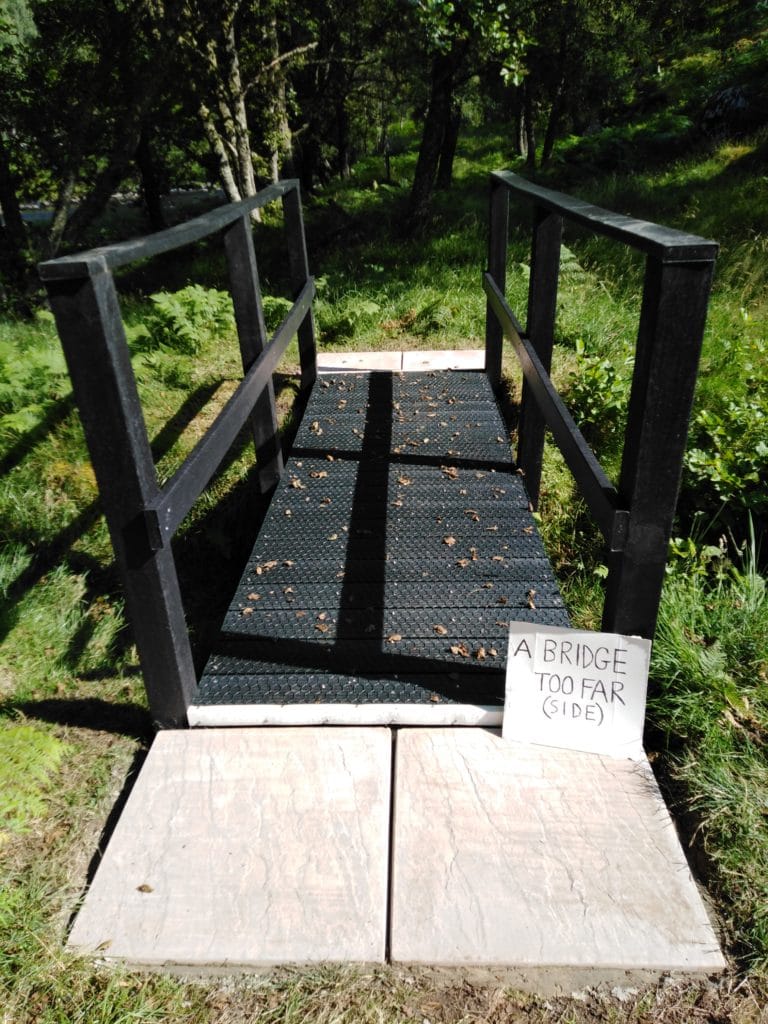 Why choose our recycled plastic lumber?
Our recycled plastic lumber is a durable and sustainable choice for lumber projects. Unlike timber, it won't absorb water and will never rot, split or splinter. It's resistant to UV and the growth of mould or algae, so won't get slimy and will wipe dry instantly. It will never need treating and require no maintenance whatsoever. If you want to hose your recycled plastic lumber down a couple of times a year to get rid of the dust, then feel free, but it won't suffer if you don't.
It's guaranteed for 25 years – although we expect it to last much longer – and at the end of its useful life, it can be safely recycled again. It's the perfect choice for outdoor constructions, soggy environments and inaccessible corners. It performs exceptionally well in marine environments and bears up brilliantly to salty sea winds, as well as permanent immersion in water. It's approved for use in SSSIs (Sites of Special Scientific Interest), so you can be assured that it will cause no harm to the local flora and fauna.
Check out our price list to see our full range of recycled plastic lumber planks, posts stakes and decking boards. For more raised bed inspiration, check out Huw Richards' YouTube channel – he used our materials to make his own raised beds.
Who are we?
British Recycled Plastic is proud to offer a range of products that are not only incredibly tough and durable, but actively help to dismantle the UK's domestic waste mountain and keep plastic out of landfill. Engineered from 100 percent British waste, our products are guaranteed for 25 years and supplied to thousands of organisations and private homes across the UK. We're making waste wonderful.
Visit British Recycled Plastics Webshop Get in touch with our friendly and knowledgeable team by phone or email: 01422 419 555 [email protected]