Whatever your style, fly your flag with our coloured furniture.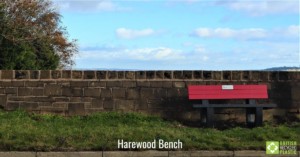 Lots of you will have seen our rainbow-themed picnic tables and benches bringing a splash of colour to school playgrounds up and down the land. Did you know you can also select the colours of your choice and have furniture in your school, team, club or corporate colours? Using colours is a striking way to give your grounds a sense of identity, but you can also use colours to demarcate different functional areas. Playgrounds are the obvious example, but also think food outlets where table service might be zoned, large parks/picnic areas where groups want to be able to locate each other easily, or a nature trail where mapped areas are given different colours.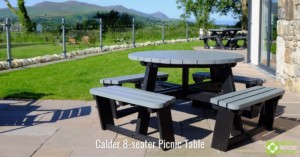 Why choose our recycled plastic furniture?
Our coloured plastic is made from the same material as all our furniture and our regular recycled plastic planks, posts and boards. It won't absorb water and towels dry instantly, making it a great choice for furniture that needs to be available for use whatever the weather. It'll never rot, split or splinter, is UV-resistant and impervious to graffiti and to the growth of mould and algae. It needs no maintenance whatsoever and has a 25 year guarantee – buy once, buy well and watch your total-life costs drop.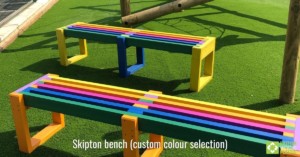 Check out the website to see our full range of picnic tables and benches. There are Junior versions available, as well as several models which accommodate users with limited mobility; in addition, any of our A-frame picnic tables can have a wheelchair-accessible space added at no extra cost.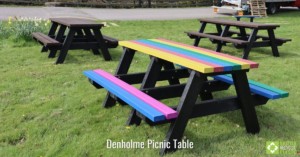 Wondering how our furniture fares over time? Take a look at this video, where our MD checks on some furniture which has been in situ for 10 years.
If you're designing a new outdoor area or developing an existing space, our Buy 4, Get 5 offer is for you. It applies to all of our picnic tables, benches and planters.
Get in touch with our friendly team and find out how to get the most out of your budget.
01422 419 555