Dunblane in Bloom
came to us in search of recycled plastic planks to build new planters for a local rail station forecourt.
They had some lovely old timber barrels which had served them well for many years, but – as lumber is prone to do over time – had eventually rotted and were falling apart.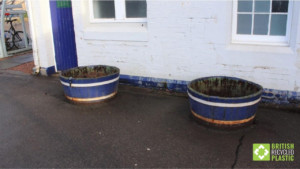 For their new planters, they chose our RPL019 150x30mm recycled plastic planks for the faces, our RPL003 75x75mm for corner posts and our RPL100 38x38mm for battening.
Here's what George Matthews from Dunblane In Bloom had to say:
The planters are on a station platform at Dunblane…Scotrail helps the groups and we provide planters and flowers etc at the stations…The reaction to the planters was very positive. Several other groups have seen the pictures and are interested. Once we start to build more we will be able to send them details and pictures of how we build the planters.
The planters were very easy to assemble. Having the material pre-cut by yourselves was really helpful, with all cuts nice and straight and square. The recycled plastic itself was very easy to drill, following the advice to drill more slowly and a slower speed than we usually do with wood. We took care to collect all the drilled scrap plastic to ensure it didn't end up as pollution in the ground or water. The carriage bolts hold the whole planter together well with no movement. Our wood planters' life varies from about 4 to 9 years, but we hoping these recycled plastic planters will mean we won't have to replace them for a couple of decades at least".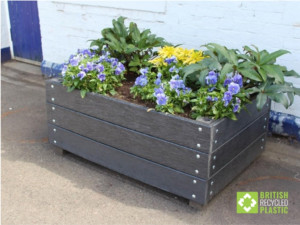 Thanks for the pics and lovely words, George. We think they look absolutely splendid in front of the station.
Our recycled plastic will never rot, split or splinter. It's resistant to UV and to the growth of moulds and algaes, so is less slippery than timber. It's chemically inert, so it's resistant to grafitti, too.
All of our lumber comes with a 25 year guarantee, although we fully expect it to outlast most of us. It's a once in a lifetime investment – unlike timber, it requires no maintenance and will never need replacing. If you like, you can hose the dust off it a couple of times a year, but it will suffer no ill-effect if you don't.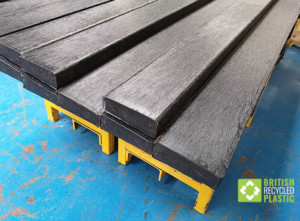 Delivered to your door in as little as five working days.
Do you fancy doing some DIY with our recycled plastic planks?
Check out our lumber page and our price list, to see the full range.