Recycled Plastic Fishing Pegs at Slipper Bridge Angling Club.
Hidden away from the hustle and bustle of Yorkshire life, Slipper Bridge Angling Club in Gilberdyke near Hull is home to dozens of dedicated anglers of all ages who come together to fish for Carp, Roach, Perch and Rudd. They approached us two years ago in search of robust replacements for rotten and dangerous fishing platforms. At Slipper Bridge Angling Club all the work is done by volunteers from the club. Seven years previously they had used hollow composite decking boards (from another company) to restore two long platforms but this material had failed. This time around they wanted to be sure that the platforms would last. So after extensive research they opted for recycled plastic lumber and came to us. Since then, they have restored and built a number of single, double and disabled access platforms with recycled plastic lumber. The anglers found the materials easy to work with both hand and power tools.
Old fishing platform made from hollow core composite.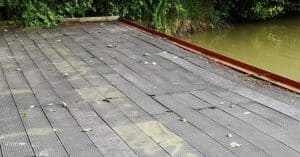 New fishing platform made from British recycled plastic.
The benefits of using recycled plastic lumber for fishing pegs and platforms.
Recycled plastic lumber is ideal for use as fishing pegs in aquatic environments. Slipper Bridge Angling Club used recycled plastic decking boards for the platforms supported by sturdy 100mm x 100mm uprights. Water drains away along the channels of the decking boards and the grooved surface provides an good grip underfoot. The recycled plastic uprights remain submerged 100% of the time and remain as robust, intact and rot-free as the day they were installed. The platforms can be brushed or wiped clean easily. Our recycled plastic lumber is made from a mix of polyolefins; mainly HDPE and LDPE from most of the waste plastic produced by Western Scotland's farming community. Typically this would be hay bale wrapping, silage wrapping, crates and packaging. Find out more about how British Recycled Plastic can help your angling club here.