There's local, and there's local.
We're very pleased to have our zero-maintenance furniture chosen by schools and local authorities all over Britain, but it can't be denied that there's something extra rewarding about being able to work with your immediate community. That's why we're extra delighted to have been able to supply five Otley Junior picnic tables to Riverside School in our very own Hebden Bridge.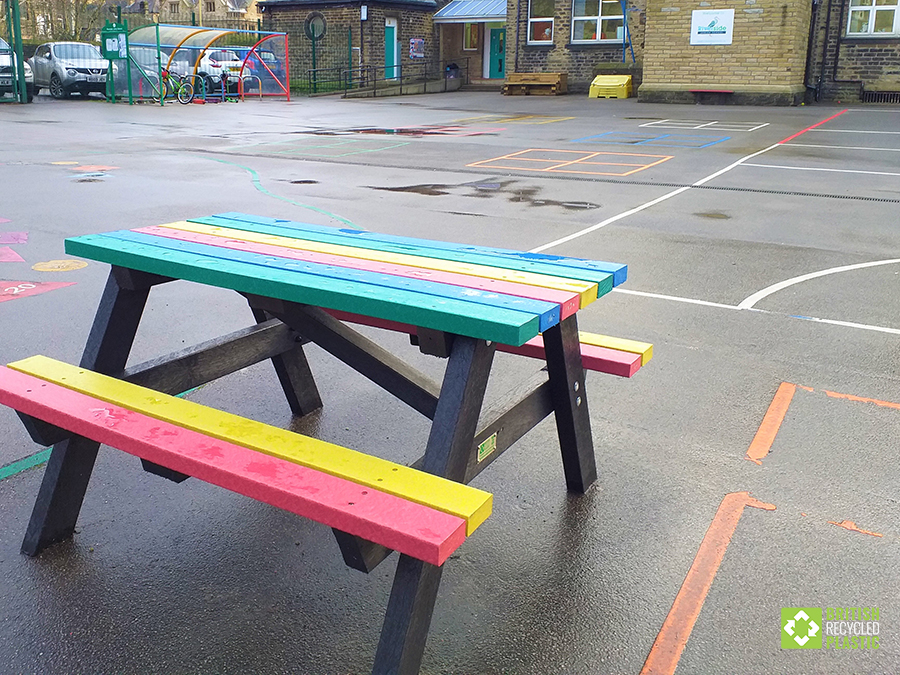 Community
Children of BRP staff past and present, and the children of many of our friends and families, have been pupils at Riverside and many of the excellent staff are well known in our community. They've battled alongside the rest of us in the various flood events that have hit our valley so hard – even in the last month – and the school itself has been awash several times over the years. We all know that the next big one might be just round the corner, and so it's really a relief to be able to take at least one problem off the pile. With their new recycled plastic picnic tables, they have furniture that will never rot no matter how many times it's soaked, and can be simply cleaned with everyday detergent and put straight back into service once the flood water recedes. One less thing to worry about.
David Howes, acting Headteacher at Riverside, had this to say:
"Having a quiet space to sit down at in a busy school playground is gold dust, and we're really glad we have our picnic tables where children can catch up, take a breather or just plain old chill out. On top of that, children in this modern age are extremely concerned about the world they're inheriting, and sourcing these as we did from a company that recycles the plastic they are made of sends the message of reuse and recycle we want our children embodying in the future. More and more it's about leading by example and this was a hugely positive (and comfortable!) step towards achieving this. Our children love them!"
– David Howes, Acting Headteacher.
If the thought of truly zero-maintenance outdoor furniture has got you thinking about what you might do with some of your own, you can find these tables and many more at this page.