Are you considering using our Hebden X Grids for a driveway? One of our customers sent a great review about our planning permission-free ecopaving, with loads of handy tips:
"We are very happy with the grids and the final result is absolutely superb. Several visitors and neighbours have commented who are contemplating the same, but would not have considered gravel before. The experience with most gravel drives is that you sink into them and they are difficult to walk on, but our driveway feels solid underfoot even with heels or on bikes. We chose a 14mm angular granite gravel which has given us a good visual result. The stones are small enough to look quite smooth, but do not get stuck in tyres".
Here's some pics of Richard's groundwork: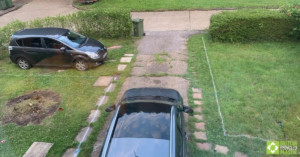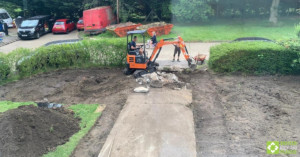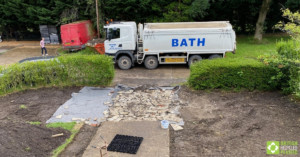 "Laying the grids was very easy and surprisingly fast, even with 2 radius and 2 drains. I completed 95 square metres comfortably on my own in less than a day. I used a hand saw to cut through most of the grids (which was very easy), and a battery jigsaw for a couple of the radius cuts which was obviously faster. There were a few grids left over after the job which I am going to use for a path and new shed base".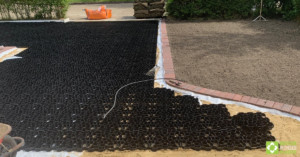 "I purchased recessed drain covers and cut the mats to fit inside the recess. The drains were very prominent before, but now cannot be seen and are very easy to access when required".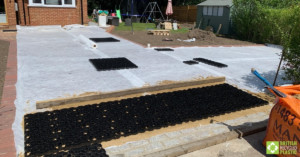 "Although we were also worried about gravel migrating to the lawn or onto the road the grids seem to keep the gravel secure and we have had no issues at all".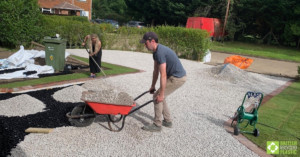 "After months of research I wanted an approach which was eco-friendly and cost-effective, but I was not prepared to compromise on the high-end finish. The gravel grids are completely porous so create no issues with drainage or water run-off; they are recycled and produced in the UK which was a huge plus for us.
The speed at which we could complete the project was amazing – nothing else we found could be completed and driven on in the same day".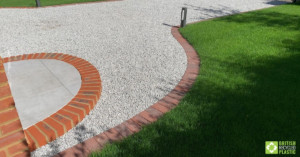 "All it took was a quick call to get some laying advice, place the order and arrange the timing of the delivery. Everything ran very smoothly and the delivery was exactly as agreed. The grids arrived pre-connected in 1m layers which sped things up even further.
I would highly recommend this approach and these grids to anyone and we are really happy to support British businesses and promote eco-friendly approaches to home improvement".
Many thanks to Richard Cox for his fab review and pics.
Why Choose Hebden X Grids for your driveway?
They don't require planning permission because they qualify as a SuDS (sustainable drainage system).
They reduce surface water and help to prevent flooding.
They contain your gravel dressing, preventing migration and sinking. This provides a firm surface, making pushing buggies and wheelchairs, riding bikes (and walking in heels!) much easier. If gravel isn't your thing, they can be filled with topsoil and seeded with grass.
Find the downloadable installation guide and read more about our Hebden X Grids on our website.
Get in touch:
0808 281 2929
[email protected]