Not part of the plastic waste problem
Our recycled plastic furniture, lumber and raised beds are robust, they don't rot or require any maintenance other than a wipe once in a while. They withstand the worst of the weather and once installed can simply be forgotten about. One thing we're not very good at shouting about is the fact that we use British recycled plastic to make our products. To a large extent we've just taken it for granted.
Why is it important to use British recycled plastic?
Making products in the UK from UK plastic waste is important because it saves landfill space for waste that has no recycling option, minimises the risk of harm to the environment, reduces pollution and preserves natural resources. It's important because it means our products are not part of this: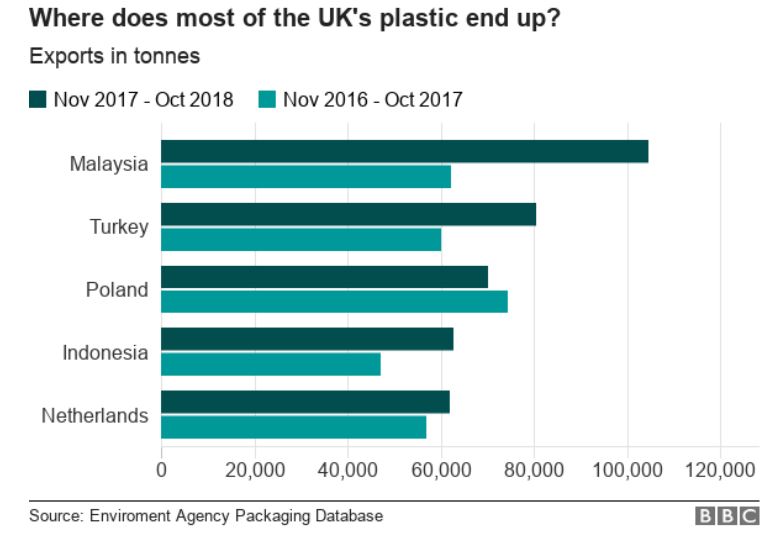 UK Packaging Waste Regulations were introduced to reduce the amount of packaging waste going to landfill, control the amount of heavy metals used in packaging and ensure that packaging fulfils its essential requirements. Depending on it's size and turnover, a company which handles plastic packaging is required to finance the recovery and recycling of plastic packaging waste and buy Packaging Waste Recovery Notes (PRNs) for every tonne of plastic they recycle to prove they have done this. Unfortunately, because of the design of the system, it is often more lucrative for companies to export plastic waste for recycling than it is to recycle it in the UK.
Over the past few years it's become clear that the system introduced 20 years ago to manage waste plastic is broken and open to abuse. Whilst some of the plastic waste carefully sorted by householders throughout the UK gets recycled, much more of it is exported and lots of this ends up polluting villages across Asia. According to the Environment Agency, in 2018 the UK exported 649,563 tonnes of plastic for reprocessing, whilst 384,848 tonnes were reprocessed in the UK. The Department for Farming and Rural Affairs has recognised faults in the system and a consultation on reforming the UK packaging producer responsibility system has recently closed. British Recycled Plastic looks forward to a new system which ensures our plastic waste is managed correctly and the national recycling infrastructure receives the investment it desperately requires.
This film, Dirty Business (2018) from Sky news tells the whole distressing story.
Be part of the solution, not the problem. Take a look at our products here.