With the summer months approaching, many of us will be relishing the prospect of being outdoors and enjoying the fresh air. Whether you prefer to be waited on at your favourite hospitality venue, wander around a nature reserve, or pitch up at a camping spot, it all feels a little better in the warmer season.
Our recycled plastic outdoor furniture is an environmentally sound choice for your venue or public space, a highly durable and sustainable alternative to more traditional materials such as wood or metal. Wherever there are people enjoying the outdoors, our products can add a touch of style while dutifully doing their bit for the planet.
Hospitality venues love our outdoor furniture
Hospitality venues around the country are already making great use of our recycled plastic outdoor furniture. The Boathouse in Christchurch is a hugely popular venue, with a large outdoor area for cocktails and al fresco dining.
When the venue decided it needed to augment its outside area with sustainable outdoor furniture, we were happy to supply it with fifteen of our Harrogate sets. An elegant, space-saving bench and table set with clean lines, the Harrogate is perfect for outdoor areas, and it certainly looks great in situ at the Boathouse.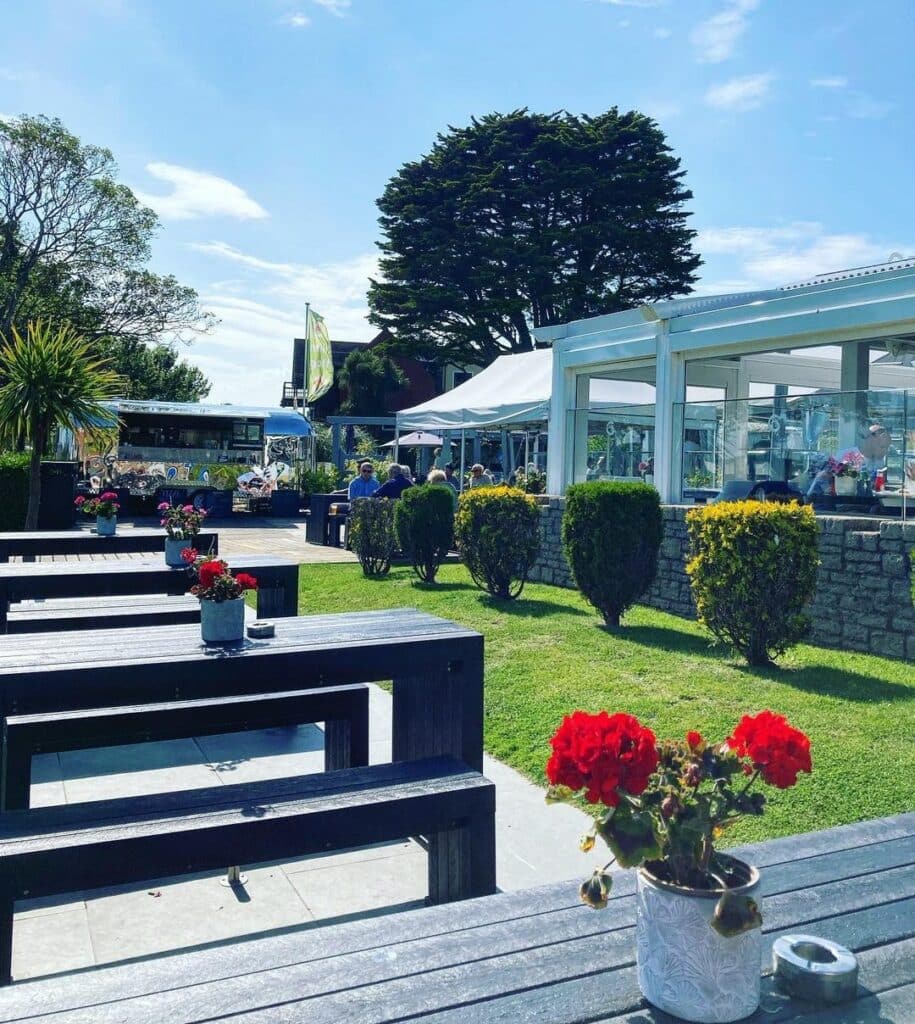 Rich Slater, Operations Manager at the Boathouse, said he was very keen to get outdoor furniture that was not only robust and practical, but also suited the overall aesthetic of the venue:
"Our image is an important part of our business, so when we were looking for outdoor furniture we wanted something that looked the part as well as being functional.
"The benches from British Recycled Plastic were just what we needed; strong, sturdy, and stylish. A very busy year later and they still look like new, we would definitely recommend."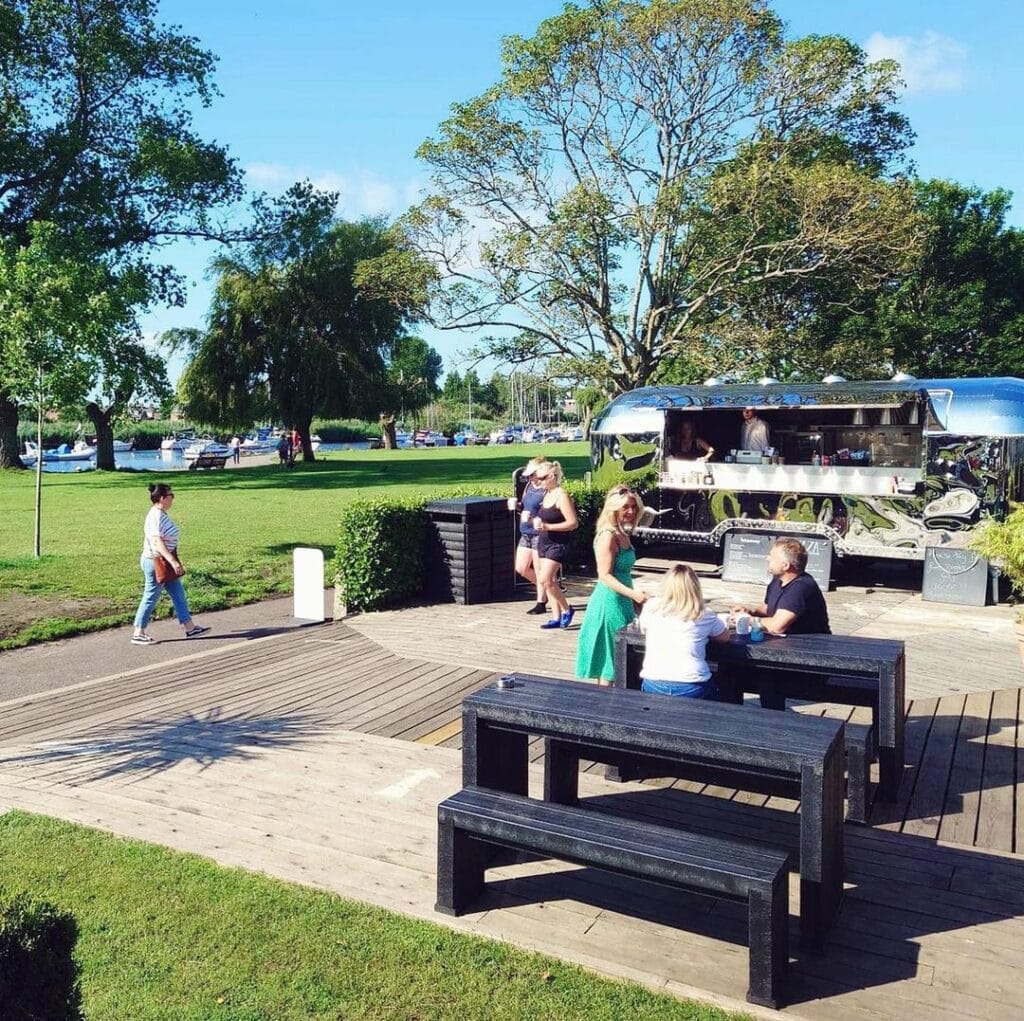 Last year, the iconic Piece Hall in Halifax commissioned forty, brightly coloured, Denholme picnic tables as part of its post-Covid reopening plans. As well as looking resplendent on the venue's expansive outdoor area, the different colours of the picnic tables are a great example of how zoning can be achieved in large outdoor spaces.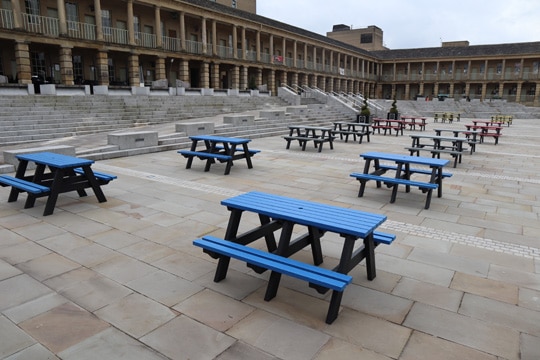 Nicola Chance-Thompson, Chief Executive of The Piece Hall Trust, said: "We are pleased to be working with British Recycled Plastic on this project and to showcase some of the practical products that can be made from recycled plastic. "
The Piece Hall is so much more than just a building. Part of our role is to contribute to the growth of the local and regional economy as well as helping improve people's lives and livelihoods. We aim to do this in a way that is responsible and protects our natural resources."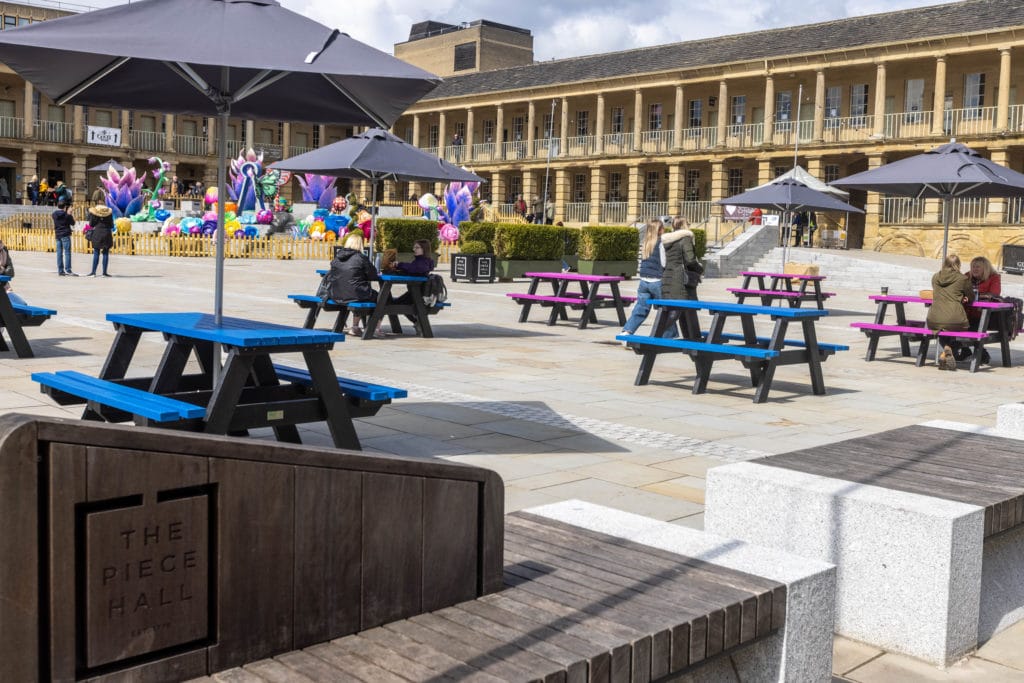 Elton Sailing Club in Bury has a large clubhouse with a public bar, a beautiful spot to sit by the waterside and enjoy the sunshine. And it looks even better with the set of Denholme benches lining the outdoor area – not a bad view!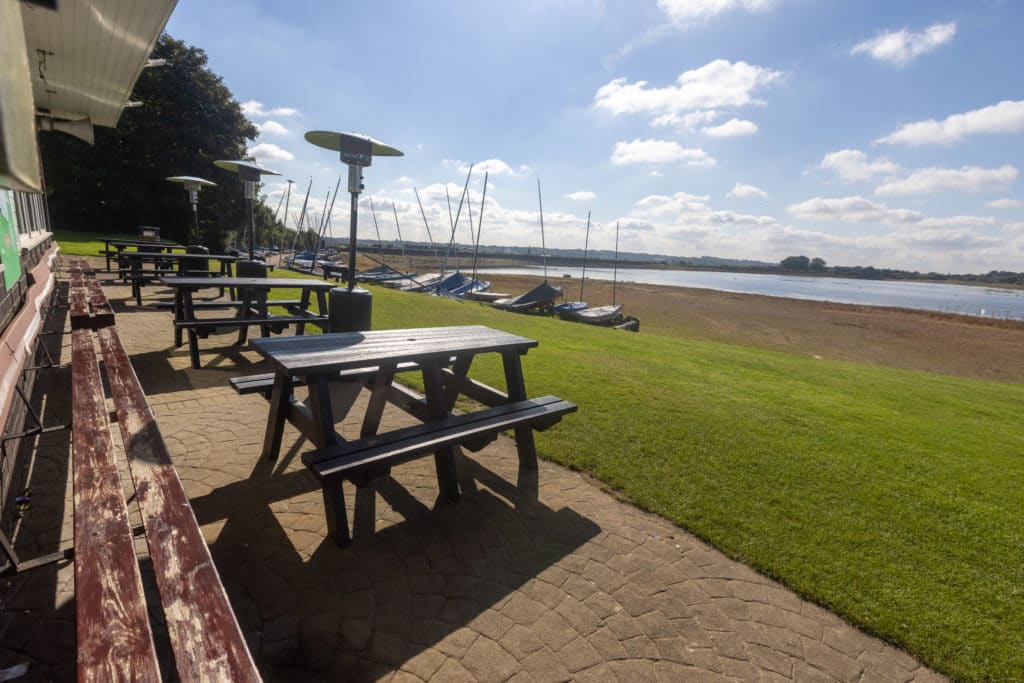 Nature reserves and campsites
The sturdy build and classic looks of our outdoor furniture are perfectly suited to nature reserves and campsites – you may have already seen our products in various locations around the UK.
A beautiful nature reserve covering more than 250 acres, Worsbrough Mill Country Park in Barnsley installed several of our tables in its outdoor seating area. We think the lilac colour looks especially good against that old stone!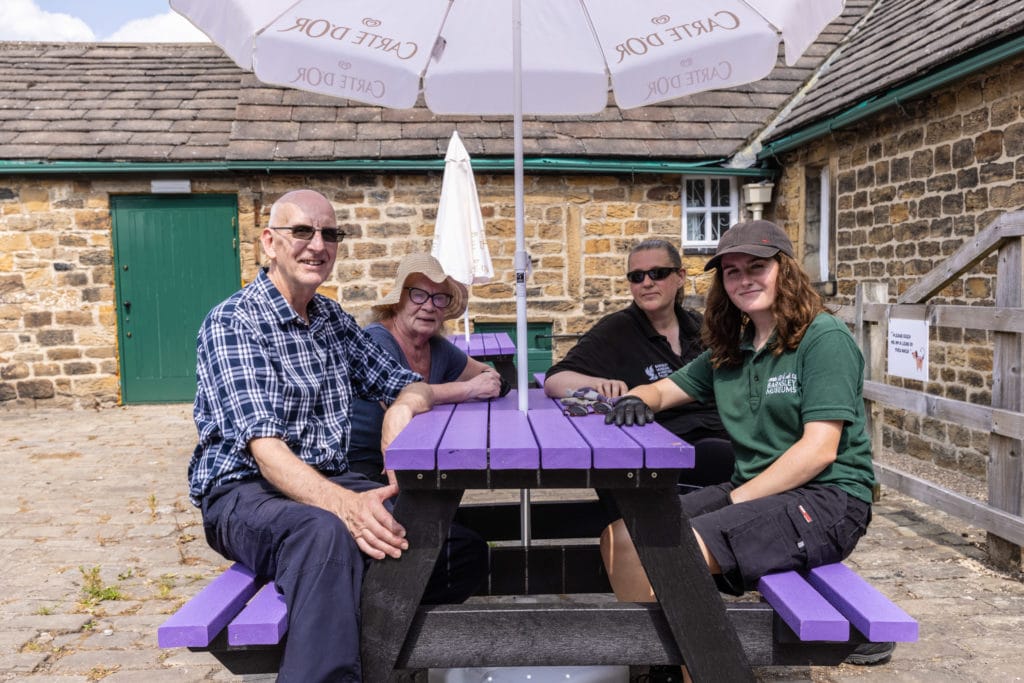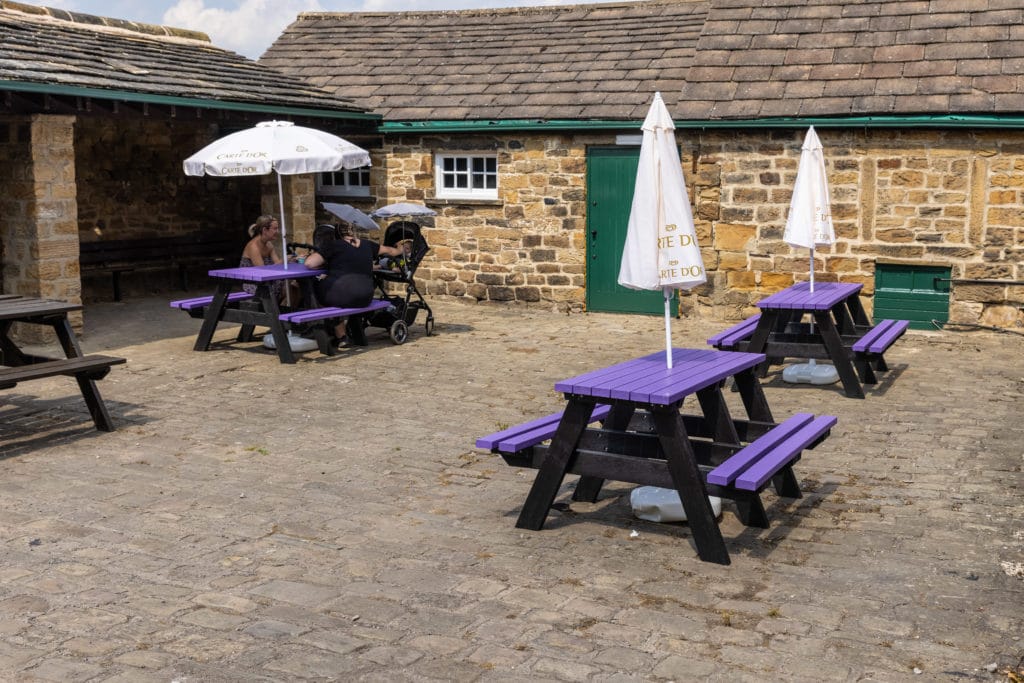 Paradise Wildlife Park in Broxbourne was also keen to add sustainable outdoor furniture to its grounds, and now has a set of brown Denholme picnic tables placed around the site.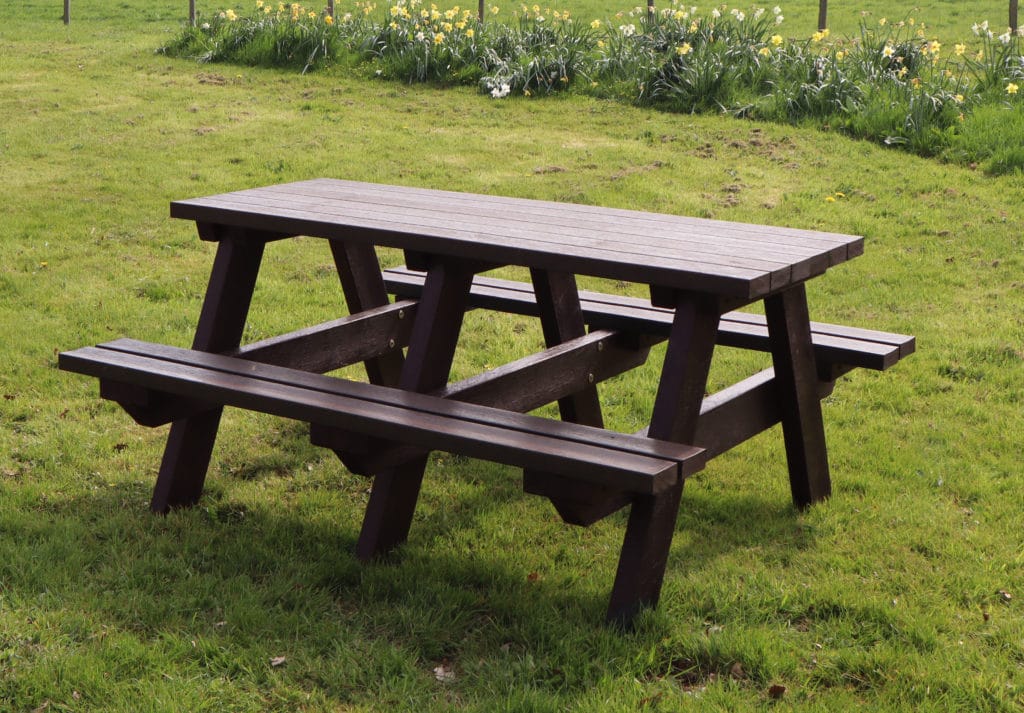 There's always a multi-coloured option if you want your outdoor furniture to really pop. Kingston Ridge Campsite in Essex has several of our Denholme picnic tables with brightly coloured slats.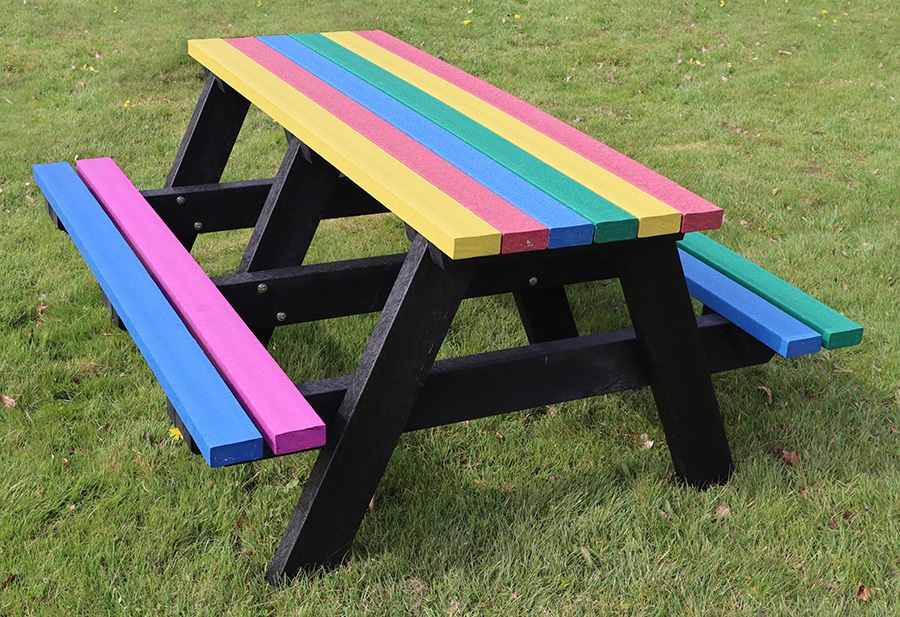 Weatherprooof
Of course, the Great British Summertime is notoriously fickle, so it's also worth keeping in mind that out outdoor furniture will withstand all the elements without needing additional treatment or maintenance.
The volunteers from the Platt's Wood Project recently installed some of our Harewood benches along its nature trail in Derbyshire's High Peak. The conditions were a little challenging on the day, but we're sure the group is glad to know our products will retain their looks for decades to come.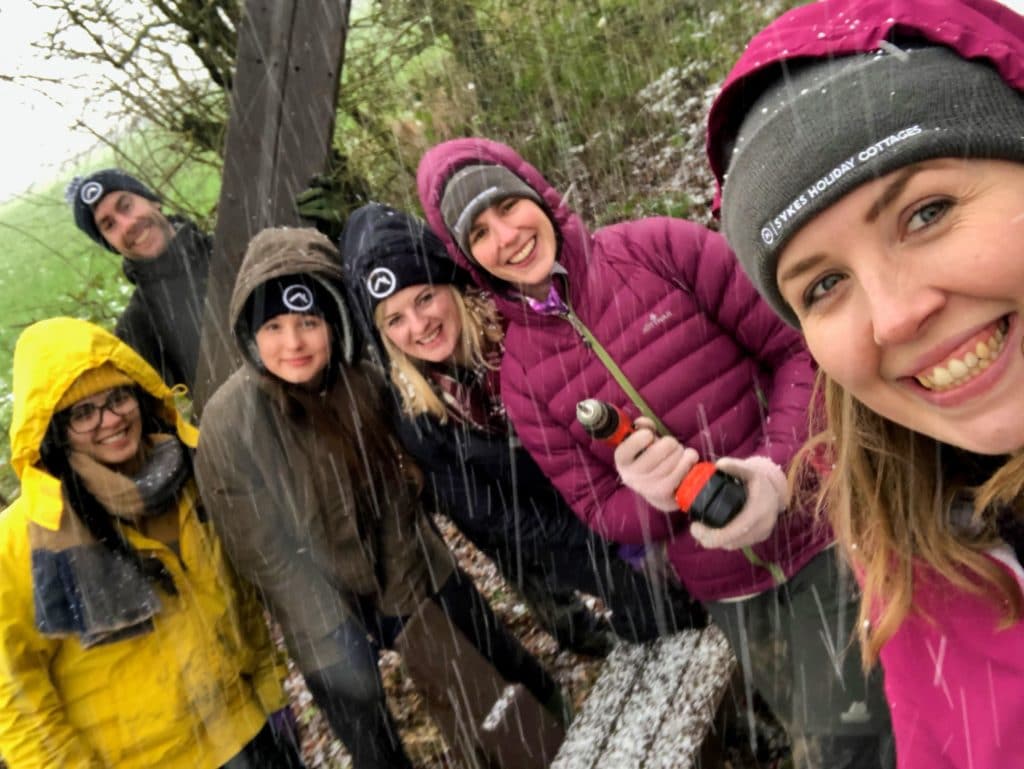 Cari Holmes, from The Platt's Wood Project, said: "We bought five of your benches last year for our community project The Platt's Wood Project in Hayfield, Derbyshire and last week we put up the last one with the help of a group of volunteers.
"We had a great time putting them together, and it seemed everyone got a lot from the day. We love the benches, they are perfect for our needs and look great on site!"
Accessibility
Not only does our outdoor furniture offer robust functionality, but it can also actively improve the accessibility of your public space. Inclusivity is central to our ethos here at BRP, and we firmly believe there's room for everyone at the table.
The Bradshaw Wheelchair-Accessible Picnic Table is based on the classic A-frame design of our bestselling Denholme picnic table, but features a cut-out on one side that allows full, front-facing access to a wheelchair. It is available in black, brown, or a selection of vibrant colours.
One of our Bradshaw tables can be seen in the café area of Hebden Bridge Town Hall, a favourite stop for our friend Krishna. He told us that it's encouraging to see more hospitality venues making their sites more accessible:
"When I'm out and about and I encounter a world that doesn't require me to make sacrifices it's a small joy. It's not always the big, expensive things that are the most helpful. Easy but thoughtful solutions like the presence of a wheelchair-accessible picnic table can mean I have the chance to participate in an ordinary activity like eating out in a pub garden, without giving details like where I'm going to sit a second thought.
"In the moments when the world around me has taken into account the peculiarities of my new way of being I feel present. I'm not the person who needs special attention to be included. I'm also not reminded that the human made environment isn't naturally given to thinking of people in my position.
"Instead I can get on with interacting with friends and family or simply existing in a space that has me already in mind in the way that it has been put together. Feeling ordinary is a boon when everything about the way you live reminds you that you have special needs that distance you from the everyday. More than I feel grateful for good design, I feel ordinary when it has been taken into account for me."
Our full range of accessibility products can be seen here.
About British Recycled Plastic
Our products can be seen in an array of locations up and down the country, from parks and playgrounds, to hospitality venues and nature trails. Some of our prestigious customers include the NHS, the National Trust, the MoD, and various universities throughout the UK.
All of our recycled plastic products are not only incredibly tough and durable, but actively help to dismantle the UK's domestic waste mountain and keep plastic out of landfill.
Our recycled plastic is completely rot-proof, splinter-proof and maintenance-free and it comes with a 25-year guarantee. This means that year after year after year, it will keep its good looks and robust functionality without needing anything other than an occasional wash down. Of course, as it is chemically inert, it can be washed as often as wanted, with bleach, disinfectant or any other regular cleaning product.
Our role in the world of recycling is helping to reduce domestic waste and create products which are useful, long lasting and beautiful. Engineered from 100% British waste, our products are supplied to thousands of organisations and private homes across the UK: we believe they are the very best money can buy. We're making waste wonderful.
Check out how our products are made here.
Visit British Recycled Plastics Webshop.
Get in touch with our friendly and knowledgeable team by phone or email: 01422 419 555 [email protected]