So many urban homes, despite being built over three or four stories, have slender gardens. Our narrower, 500mm wide raised beds are perfect for urban gardens. They're available in a wide variety of sizes and in three different heights, so you can choose to work your beds from a kneeling, sitting or standing position.
Suzi has a few of our 500mm tucked into a corner of her urban garden. She chose to grow flowers in hers, proving that raised beds aren't just for growing veg!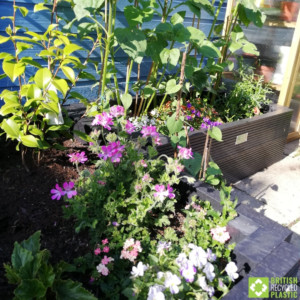 Why are raised beds so good for urban gardens?
Drainage is improved and you can use different soil types for different plants – use separate raised beds for cut flowers, for herbs and for ericaceous plants.
They're great for containing larger plants like trees and shrubs whose growth would be unrestricted if they were planted in open ground.
Raised beds make superb dividers without losing growing space, allowing you to create separate areas within your garden.
For those of us with limited mobility, they improve access and make gardening easier.
They retain heat from the sun, so your plants will actually grow faster!
If you've never grown in raised beds before, Gardener's World have some tips.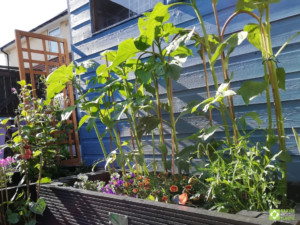 Why choose BRP raised beds?
Whether you're interested in the 500mm or 1000mm widths, you'll find what you're looking for in our large range of kits. If you can't, give us a call to discuss your custom order.
Our raised bed kits are designed with residential customers in mind – they are all strapped to single pallets, so they can be tail-lifted from the truck and can travel in smaller box trucks, for simpler delivery. They're easy to assemble and need only coachbolts (provided) to fix them together. They're available in our webshop, too, so your purchase can be completed online, easily and securely.
They last for decades and never need treating. They don't rot, split or splinter and don't leach toxins into the ground, so your plants and the wildlife around them are safe.
Make these the last raised beds you ever buy.
Get in touch for more info:
01422 419 555